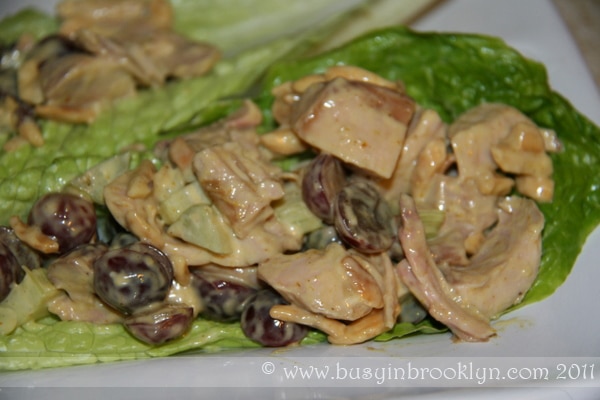 You all know how it plays out. We slave all Friday cooking, baking and preparing and no matter how much we seem to make, or how many guests we seem to invite, we always have leftovers! And then, when we try to serve it up on Sunday night, we get the rolling eyes, and the "_____ again!" (feel free to fill in the blank yourself :)) from around the dinner table. So, instead of serving up the same food, try to come up with ways to spruce it up and tweak it a bit. This week, I decided to turn my leftover Shabbos chicken into a yummy curry chicken salad! With grapes, celery, toasted almonds and a creamy curry dressing you'll have everyone begging for more!
Curry Chicken Salad
adapted from a Paula Deen recipe
2-3 pieces of leftover chicken, skin removed, chopped into 1 inch pieces (I used bottoms)
1/2 cup seedless red grapes, halved
1/4 cup celery, diced small
handful of slivered almonds, toasted
Dressing:
1/4 cup mayo
1/2 tsp soy sauce
1 tsp lemon juice
1/2 tsp curry powder
1 tsp honey
1/4 tsp salt
Method:
To toast the almonds, put them in a 400 degree oven for 6-10 minutes, until browned. Combine chicken, grapes, celery and almonds in a bowl. Mix the dressing and pour over salad. Serve in lettuce cups or with bread.