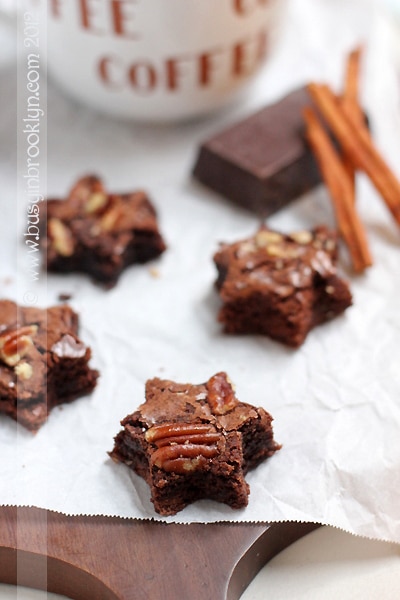 This may come as a surprise to some of you, but when it comes to throwing a party, I'm usually a last minute kind of person. And you know why? Because when I first think about all the food I have to make, all the people I have to invite, and all the cleaning up I'll have to do, I just figure it's not worth all the work. But then I start to feel guilty. And slowly but surely that Jewish guilt just ebbs its way in and at the last minute I scramble for menu ideas, put together a guest list and a couple of hours later we're all having a good time.
I can usually put together a party menu in a jiffy but when it comes to baked goods, I'm all too guilty of passing up Duncan Hines as my own. I'm never one for store-bought mixes, and all those other one-bowl cake concoctions are not up my alley. But Duncan Hines brownies are the exception. And we all know I'm not the only one! How many more of you out there have thrown in a batch of Duncan Hines brownies at the last second and then took the credit when your guests couldn't get enough. They're just THAT good.
Well let me tell you something, dear readers. They can be even better! Adding some cinnamon and nibby dark chocolate gives the brownies a serious Mexican hot chocolate taste that is so decadent and dreamy. Adding the extra ingredients won't even make you feel guilty about passing them off as your own!
So, if you're last minute with your New Year's Eve party (as I am in posting this recipe!), then give these brownies a try. And if you don't want to say you made them, just say they're BIB'S recipe!
Mexican Hot Chocolate Brownies
1 package Duncan Hines chewy fudge brownies
2 eggs
1/4 cup water
3/4 cup canola oil
1 generous tsp cinnamon
pinch of cayenne pepper (optional)
1 bar Scharffen Berger Nibby Dark Chocolate
1/2 cup chopped pecans
Method:
Preheat oven to 350 degrees. Spray a 9×13 pan with cooking spray. In a bowl, mix brownie mix, eggs, water, oil, cinnamon and cayenne (optional, for a spicy kick). Break chocolate bar into chunks and stir into batter. Pour into pan and sprinkle with chopped pecans. Bake for approximately 22-25 minutes, until toothpick inserted comes out clean (check in a few spots because you might be dipping the toothpick into a piece of melted chocolate).
NOTE: If you can't find Scharffen Berger's nibby bar, substitute with 2 tbsp cocoa nibs and 1/4 cup chocolate chips.
VARIATION: If you don't wish to use packaged brownie mix, simply make your favorite brownie recipe and add cinnamon, chocolate and pecans.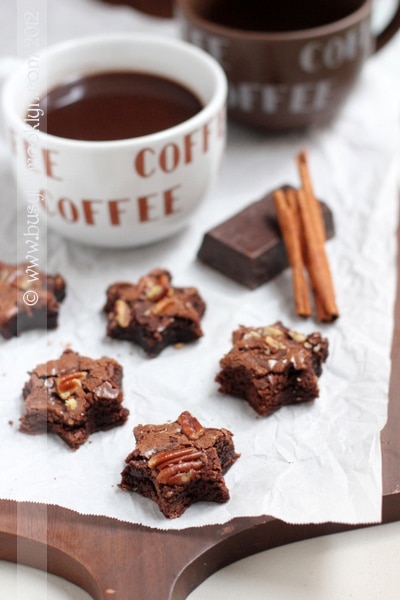 1 year ago: fire roasted tomato rice stoup
Post a Comment