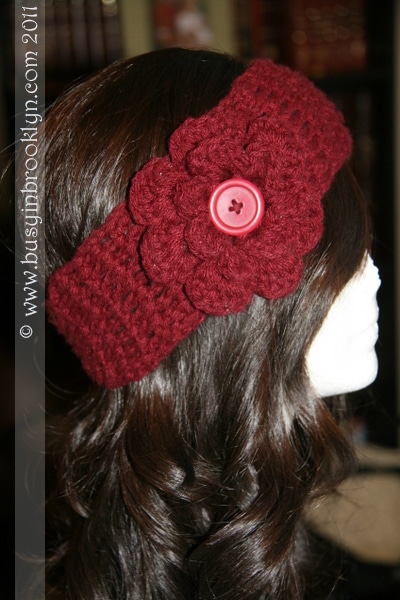 It was Whitney Port, from "The City" who popularized the updated Ear Warmer look in 2009. Anthropologie was the first to introduce the modernized version, in a knitted light-grey tone, called the "Roaring Rose Headwrap." Now these bands are all the rage, available in stores and online, in every color and style. I've made a few in the last year, both knit and crochet. They are incredibly easy to make and warm too!
I like the monochromatic look with the headbands, but I did make my daughters a colorful one to go with one of their skirts. It really completed the outfit (see pictures below). Go ahead and experiment with different color flowers and embellishments.

Ear Warmers
How to:
First make a 1″ square to check your gauge. You'll want to see how many stitches you need for the width of the band. Using worsted weight yarn and a size G hook, I like how 14 stitches look. You can also experiment with single, double, or half double crochet etc. to make the band. I like to use the hdc stitch since it allows me to finish faster, but its not as open-worked as a double crochet. Everyone's head sizes differently. You will need approximately 30 rows, but try the headband on as you go to see if you need more or less.
ROW 1: Ch14.
ROW 2: hdc in each st across, turn
ROW 3-30: repeat row 2
Join and sew in ends.
For a finished look, you can sl stitch around the sides of the headwrap, using the same, or a contrasting color.
If you'd like, you can also crochet your headwrap so that it gets smaller around the back. To do this, start off with about 4 stitches, then increase your stitches by one at the end of each row. When you reach 14, continue to crochet 14 stitches for 10 rows (or more, if needed to fit around your head). Then, start to decrease your stitches by one at the end of each row until you reach 4 again. Join.
For the flower, follow the pattern in the Shell Stitch Crochet Hat post.