It's been a while since my last post about a fun family getaway. In fact, I haven't shared anything with you since last year's post on Kelder's Farm (which I still highly recommend!)
On a recent Sunday in Brooklyn, my family and I decided to head over to Governor's Island for a day of family fun. We had been there previously, so we knew just what to expect – interesting exhibits, fun activities and great time for the whole family. I grabbed my SLR so I could snap and share photos of my experience with you.
Governor's Island,  a 172 acre island in the heart of New York Harbor, was once home to the US army and coast guard. Many of it's historic houses and buildings have remained intact since the 19th century. Just 400 yards from the Brooklyn waterfront, the island is accessible via ferry from Pier 6 (at the intersection of Atlantic Avenue and Columbia Street.)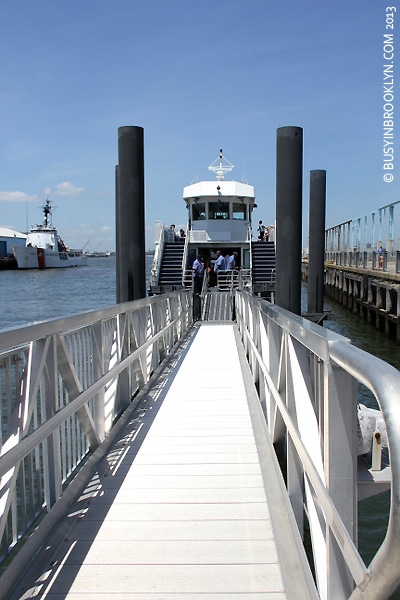 After a fun ride on the ferry, you'll arrive at the the Island where you can pick up a map and a schedule of the day's activities from the information center.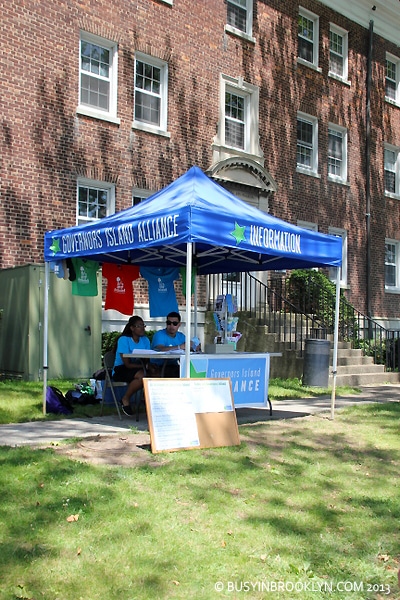 A quick look at the map will show you that most of Governor's Island is actually under construction, with amazing things in the works. You can read more about that here.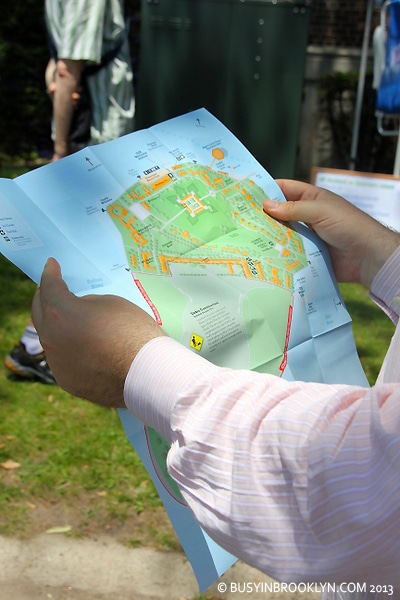 Still, there is still so much to do! At the Island's center is Nolan park, a hub of fun activity for kids of all ages.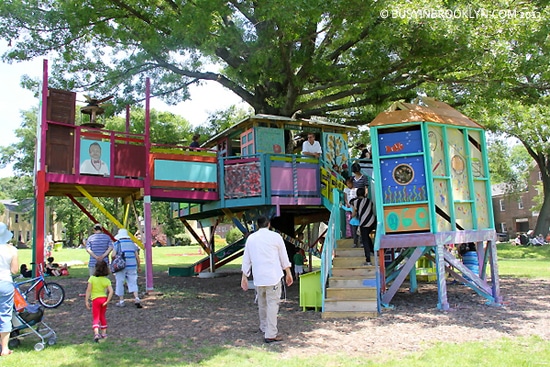 My kids couldn't wait to climb the adorable hand-painted tree house, with little hiding spaces, and a slide. Doesn't every little kid dream about having their own little tree house?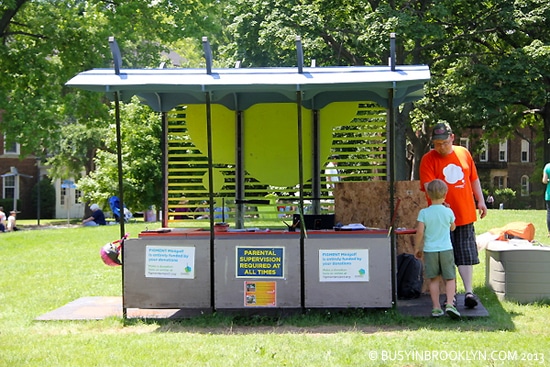 Your kids can also enjoy a game of mini golf, with an amazing artist-designed golf course. Each golf hole is another unique experience with imaginative and innovative design.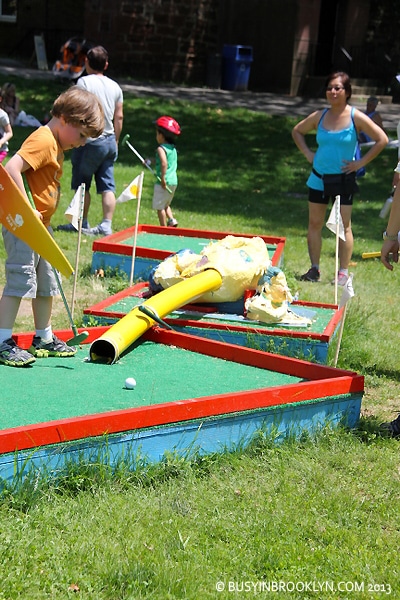 Here's just one example of the colorful and fun designs incorporated into each and every hole.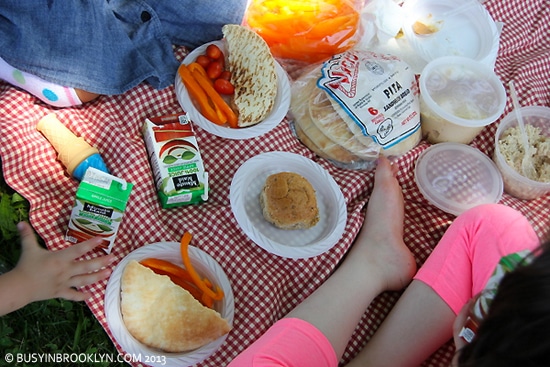 Your kids will probably be hungry by now, so it's a great idea to pack a picnic basket full of goodies, which is just what we did! On our menu: fresh pita or whole grain rolls with tuna or hummus, sliced peppers and grape tomatoes. For dessert: fresh fruit, homemade smores cookies and mini bags of popcorn. Don't forget to stay hyrdrated! We brought along lots of water bottles and juice boxes.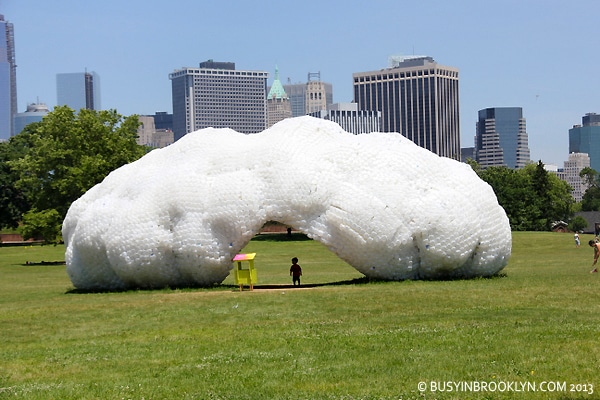 After lunch, it's time to explore some of the unique structures in Nolan park like this interesting "tunnel" or cloud.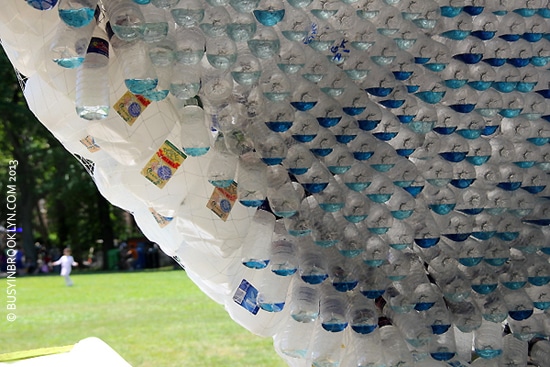 If you look closely, you'll see that it's actually made up of recycled milk jugs and water bottles!
There are lots of other fun and interesting projects to see, designed by FIGMENT.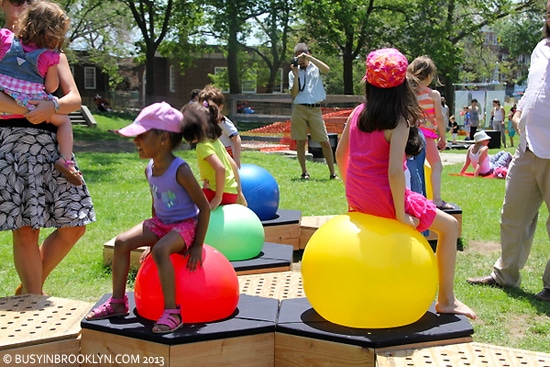 Like these stationary bouncing ball. They were one of my kids favorite areas, I couldn't get them away!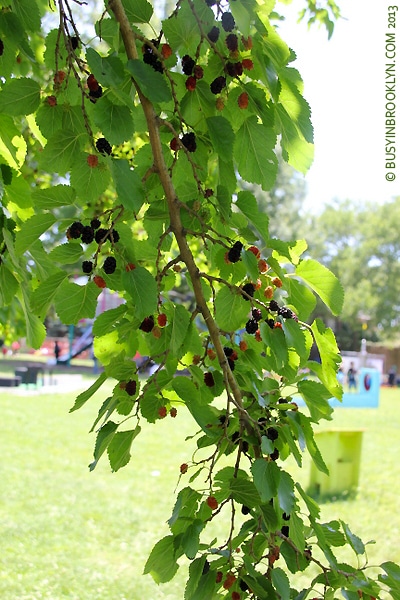 And of course there's the natural beauty, like this blackberry tree that stood humbly among the brightly colored fixtures all around.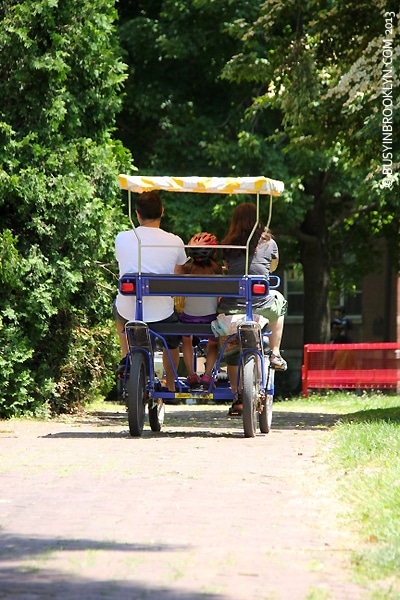 After an exciting time at Nolan park, it's time to experience some more of the Island on a family bike!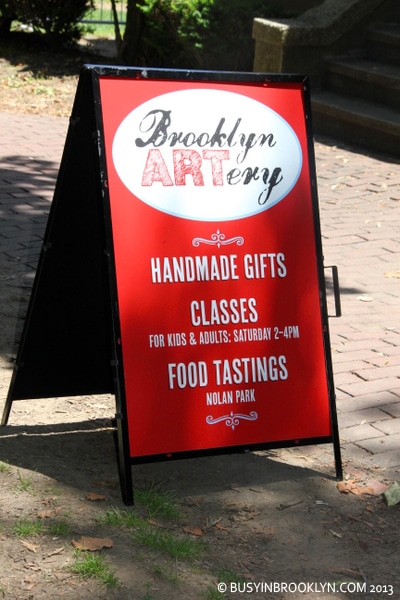 You can also stop by one of the many exhibits held in yellow colonial houses. The exhibits are constantly changing. You can view Governor's Island's calendar here for the current ones.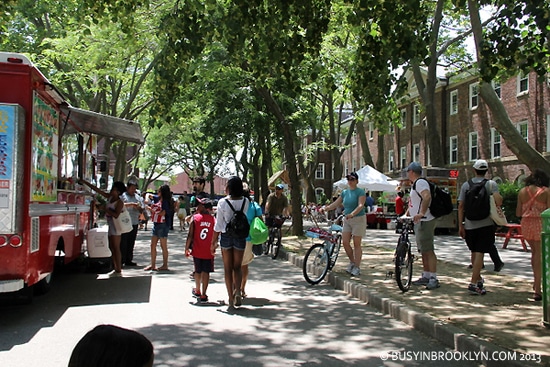 If you're ready for a snack, there's always a line-up of food trucks on the Island with an array of interesting food and drink.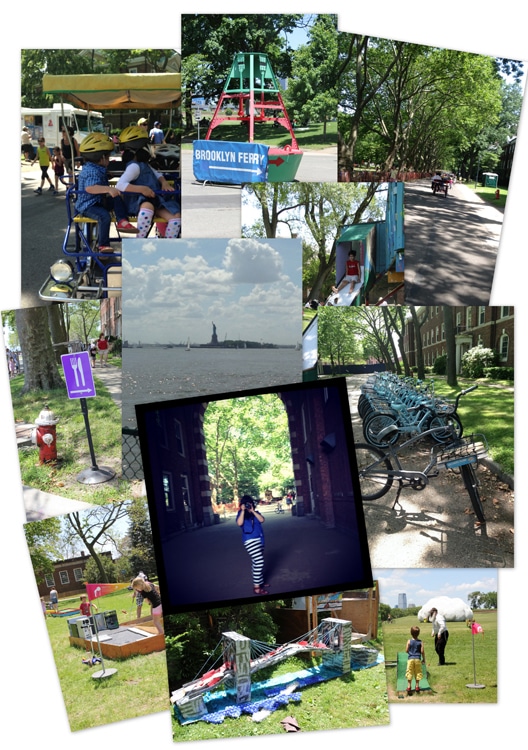 Thanks for joining me on my tour of Governor's Island. It's a great place to get Busy In Brooklyn!
Governor's Island is open from 10 AM – 7 PM every Saturday, Sunday and Holiday Monday (Memorial Day and Labor Day) through September 29.
Fore more info, visit GovIsland.com.
Other BIB getaway reviews:
Hershey, PA
Miami Beach, FL
Kelder's Farm, Upstate, NY