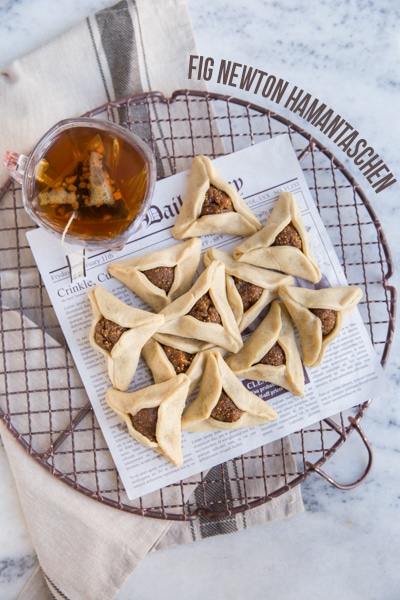 It's officially hamantaschen time and while baking is not my favorite thing, I always try to push myself to a fun twist on the classic 3-cornered-cookies, and these FIG NEWTON delicious bites did not disappoint!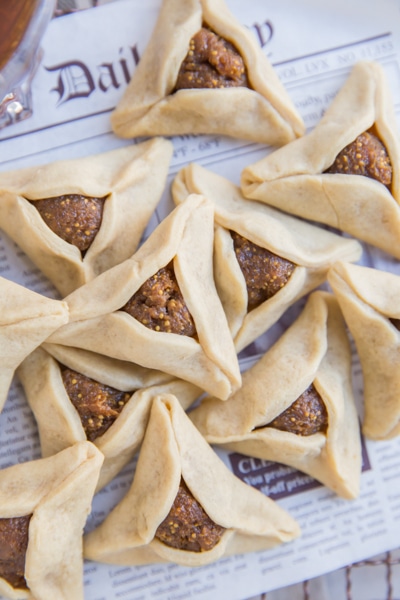 Fun fact – I first tested this recipe three years ago, but it needed tweaking, so I put it off year after year (see above! ;), but recently I made a decision to stop being afraid of dough, and I held myself to it! Yes baking is a science, and I'm not very technical but I can do it, and you can too.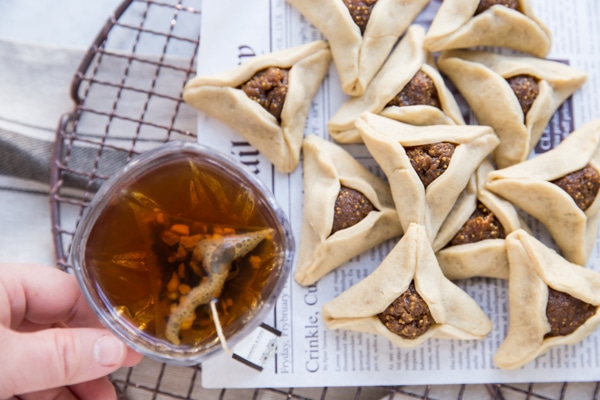 Now if I'm honest, I've never actually had traditional fig newtons because they are OU-D and I keep cholov yisroel (dairy which has been derived from milk that has been milked under the supervision of a religiously observant Jew – not the case with OU-D certified foods), however, I have tasted an off-brand copycat version and I've also made them from scratch a few times (can you tell I like figs?), so I think I have a pretty good idea of what they taste like.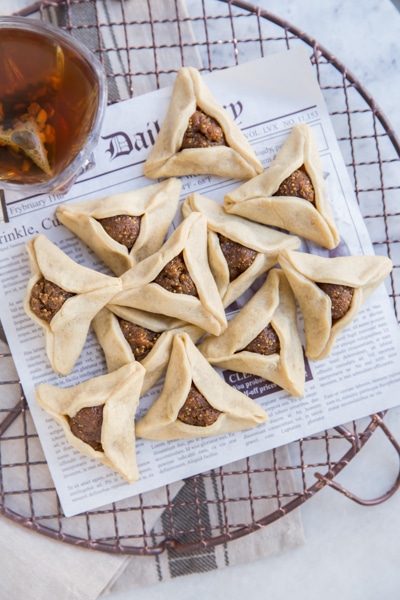 Purim prep is in full swing here with the kids deciding on custumes, shalach manos shopping and menu planning. I for one was dead set on dressing up as the SHTISEL family because I'm a huge fan of the series, but the kids are not having it! So, I'm on my own with this one.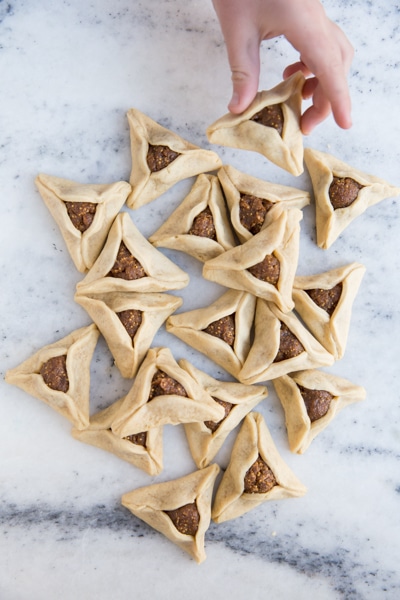 Happy Purim Prep!
Fig Newton Hamantaschen
1 stick butter or trans-fat-free margarine, softened
1/4 cup granulated sugar
1/3 cup brown sugar
1 tsp vanilla
1 egg
1 3/4 cup flour
1/2 tsp baking powder
1/2 tsp salt
Fig filling:
12oz. dried plump califmyrnia figs, stems removed and sliced in half
1/2 cup orange juice
1/4 cup honey
1/8 tsp cinnamon
pinch of salt
Method:
Place the figs into a medium saucepan with the orange juice, honey, cinnamon and salt. Bring the mixture to a simmer and cook over low heat for 10 minutes.
While the figs are cooking, place the butter and sugars in a large mixing bowl and beat with a mixer until creamy. Add the vanilla and egg and beat until smooth. Add in the flour, baking powder and salt and mix until combined. Press the dough together to form a ball.
Place the figs mixture in a food processor blender and puree until completely smooth.
Preheat oven to 350 degrees.
On a lightly floured surface, roll out the dough to around 1/4 inch thick and cut out circles with a cookie cutter or a drinking glass. Place a teaspoon of fig jam into the center of the circles and pinch the corners closed to form a triangle. Bring all the scraps together and roll out again, repeating the process until you've used up all the dough and jam.
Place the hamantaschen on a parchment lined baking sheet (or 2, if needed) and bake for approximately 12 minutes, until the bottoms start to turn light brown. Transfer to a cooking rack.
Store cooled hamantaschen in an airtight container for up to 4 days or freeze for later, if desired.
YIELD: approximately 2 dozen hamantaschen.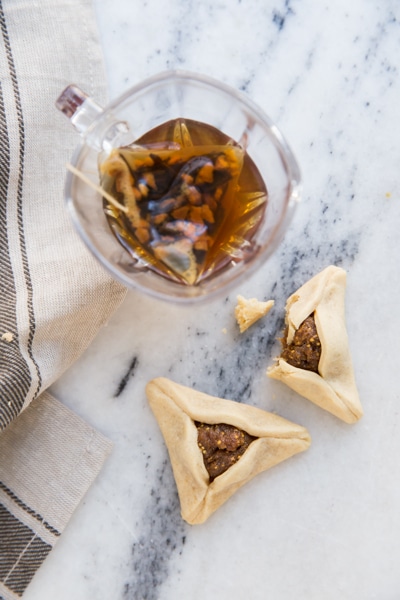 Related Recipes:
ma'amoul hamantaschen
raspberry hamantaschen hand pies
healthy thumbprint hamantaschen
baklava hamantaschen