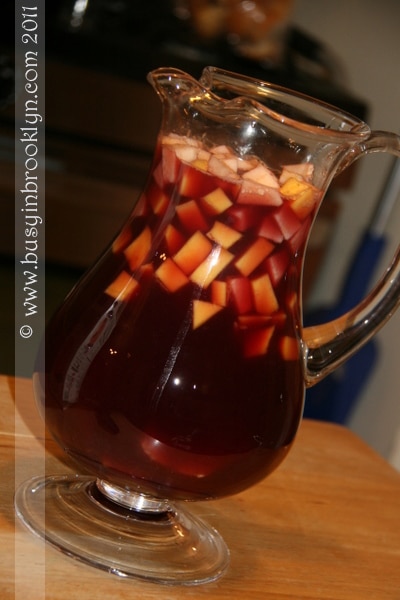 In the spirit of Chodesh Adar, I decided to throw a Sunday Fun Day Party here, with a recipe for delicious light and fruity sangria, and some kick-off-your-shoes music! First things first…the sangria!  Sangria is a chilled Spanish drink, typically made using red wine, sugar, juice and seltzer. It is sometimes laced with brandy and/or liquor. It can be made with a range of fruits to soak up all the delicious flavors. I wanted to make something for the ladies out there so I played around with measurements, and this one isn't too heavy or too sweet, it's just right!
Sangria
1 bottle of Matiz Rioja (Spanish table wine) or any fruity dry wine
1/2 cup brandy
1 shot of peach shnapps
1 cup orange juice
2 cups ginger ale
1/4 cup simple syrup – How to make simple syrup
1 mango, diced into small chunks
1 apple, diced into small chunks
1 orange, segmented – How to Segment an Orange
1 cup grapes, halved
Sliced lemons and limes for serving
How to:
Sangria requires the use of simple syrup. Simple syrup is a liquid form of sugar which can also be referred to as sugar syrup or sugar water. It's a sweetening agent used by bars and coffee shops, and is best used when making cold homemade beverages that require a sweetener (since sugar can't dissolve easily in a cold beverage).
Cut up fruit and add it to the pitcher. Pour wine, brandy, shnapps, orange juice, ginger ale and cooled simple syrup into pitcher. Refrigerate to chill and allow flavors to blend. The longer the Sangria sits, the better it tastes (try refrigerating it for 24 hours!).
To serve, spoon some fruit into a glass. Pour Sangria over fruit and garnish with a sliced lemon in the cup and a lime on the rim. If you choose, you can add the lemons and limes into the pitcher. I prefer not to do this, because if it sits for too long, the bitter rind seeps into the drink and it becomes undrinkable.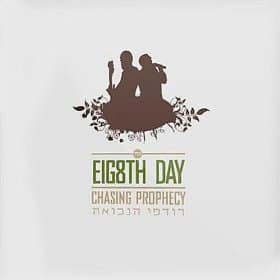 Now for the music! Where oh where do I start. It's Adar and I'm sure you're all familiar with the phrase "Mishenichnas Adar Marbim B'simcha." I'm not sure how literal I've taken that in the past few years (or since I've been a teenager). Adar nowadays has me scurrying about for Shalach Manos for family and friends, gifts for teachers, costumes and shalach manos for the kids. When do I ever take a minute to breath and just, I dont know…dance?! Yeah, that's right, dance! And I'm the type who barely dances at weddings. Someone has to pull me by the hand and drag me into the middle of the circle for that awkward moment when you dance with the kallah, and you have nothing in the world to say to her (you ALL know what I mean!). I'm the one standing outside the circle, trying to look busy, or out searching for a bottle of wine! So, you know what? Being as I'm such a horrible dancer (I once took "wedding dance classes" and when everyone was following the instructor to the right, I was going to the left), the one place I can let loose is at home, where no one over the age of four can see me (and yes, even my four year old dances better than me!).
Now what can get me, the ultimate bad dancer to kick off my shoes and move to the beat? Some unbelievably good music. And that's what I got! My amazing sister-in-law, Chanie, just bought me the new EIG8TH DAY CD, CHASING PROPHECY. I'm a huge fan of Eighth Day and their eclectic music. It's bluesy and chassidic all at the same time. And their poetic lyrics are so full of soul! Chasing Prophecy is by far their best CD yet. I love EVERY SINGLE song. I have been listening to it over and over and over again, and I just love it more and more with each time. And yes! It made me kick off my shoes and dance! Like a little girl, I swirled around, and grabbed my kids by the hands. They looked at me like I fell off the moon. Because for once, just once, I let all my inhibitions go, and I danced like a free bird with not a care in the world. And you know what? it felt SO GOOD! As for my kids, they giggled and giggled and are wishing on their lucky Adar stars that these happy months of candy, costumes and dancing mommies never come to an end. And so too, am I. Happy Dancing!