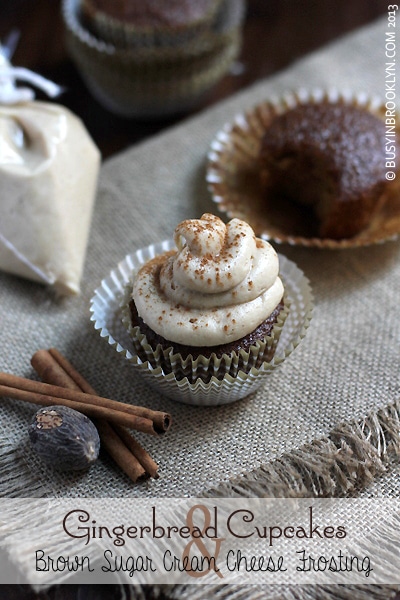 If you follow me on Facebook or Instagram, you've probably already drooled over these gorgeous gingerbread cupcakes. I made them during the fast of Tisha B'av, so I wasn't about to photograph them, but I did talk about them, a LOT. The next day, I had just 3 cupcakes left, so I decided to do what any foodie/blogger would – share! It was hard not to gobble down the last of them before getting a good shot, they're just THAT good.
Besides being incredibly moist, these gingerbread cupcakes are chock-full of warm autumn spices. I didn't think my kids would go for the flavors of ginger and nutmeg, but I was SO wrong – they could not get enough. Not only that, my little cream-cheese-haters were licking the frosting off their fingers! I think I'm going to start whipping up sweet cream cheese concoctions and call them "frosting sandwiches." It will make lunch a whole lot easier for me!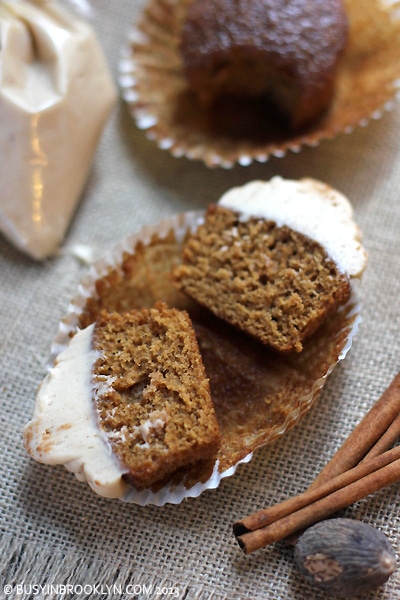 Gingerbread Cupcakes with Brown Sugar Cream Cheese Frosting
adapted from The Collegiate Baker
2 cups flour
1 tsp baking soda
1 tsp baking powder
1 1/2 tsp ground ginger
1 1/2 tsp ground cinnamon
1/2 tsp ground nutmeg
1 cup sugar
3/4 cup brown sugar
1/2 cup oil
1 tsp vanilla extract
2 eggs
1/3 cup molasses
1 cup hot water
Method:
Preheat oven to 350 degrees. Add the flour, baking soda, baking powder, ginger, cinnamon, and nutmeg to a bowl and whisk to combine. In a separate bowl, mix the  oil, sugar, brown sugar, and vanilla. Add eggs and mix to incorporate. Add the molasses and stir to combine. Add half of the dry ingredients and half of the hot water to the wet mixture and mix until incorporated. Repeat with the second half of the dry ingredients and hot water.
Fill cupcake pans about 2/3 full and bake for approximately 18 minutes, until toothpick inserted comes out clean.
Brown Sugar Cream Cheese Frosting
1 8oz. container whipped cream cheese
4 tbsp softened butter
1 cup confectionars sugar
1/4 cup brown sugar
1/4 tsp cinnamon
1/2 tsp vanilla
Method:
Add the cream cheese and butter to a bowl and mix with a spoon to combine. Add the brown sugar cinnamon and vanilla and mix until incorporated. Add the confectioners sugar 1/3 of a cup at a time, stirring until thickened.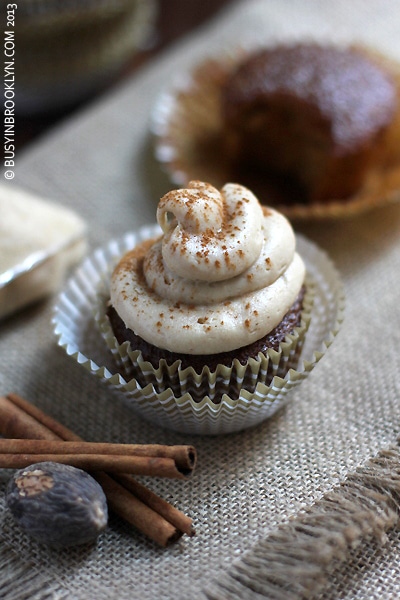 1 year ago: chicken lollipops 
2 years ago: cherry yogurt popsicles