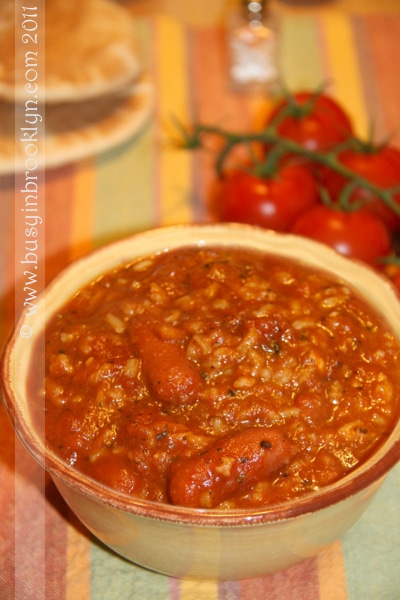 There is nothing more comforting on a cold winter day than a hot bowl of stoup. A stoup is a cross between a soup and a stew – it's not quite as thin as a soup, but not quite as thick as a stew either. I don't know about you but after 8 days of cooking and entertaining, I just don't feel like sitting in the kitchen, even if it's just to prepare dinner. That's why I love this recipe. It's an easy one-dish meal that is great for kids and extremely budget friendly. With fire-roasted tomatoes and franks, this hearty dish is reminiscint of summer bbq's.
This recipe is currently featured in Bitayavon Magazine.
Fire Roasted Tomato Rice Stoup
1 medium onion, diced
3 cloves of garlic, minced
2 tbsp olive oil
3 tbsp tomato paste
3 cans diced fire roasted tomatoes
2 cups chicken stock
2 tbsp brown sugar
1 tsp basil
2 bay leaves
salt, to taste
pepper, to taste
1 pkg cocktail franks or 4 franks diced into 1/4″ rounds
1-2 cups precooked or leftover rice
Method:
Saute onion and garlic in olive oil until golden. Add tomato paste and continue to saute until it gets pasty and the bottom of the pot begins to brown. Add canned tomatoes and simmer, covered, for 10 minutes. Remove cover from pot and using a hand blender, blend the mixture until pureed but slightly chunky. Add chicken stock, brown sugar, basil, bay leaves, salt, pepper and franks. Bring soup to a boil and simmer on low heat for 20 minutes. Remove bay leaves and add rice. Cook for a few minutes until rice is soft and fluffy.
NOTE: The rice will expand considerably after warming. Add one cup at a time until you reach desired consistency. Two cups of rice will thicken the soup and turn it into more of a stew.
TIP: Sauteeing tomato paste mellows it's flavor and cuts the acidic taste.