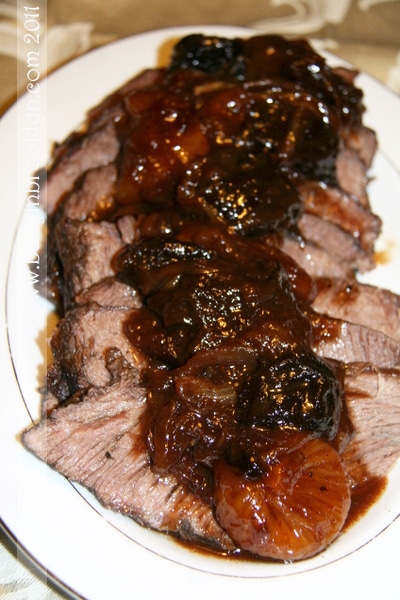 A Yom Tov meal, especially a regal one like Rosh Hashanah, deserves a dish fit for a king. In this recipe, a French roast is braised in red-wine with jewels of dried fruit reduced in it's sauce. I can't think of anything more festive or delicious for a chag in which we coronate Hashem as our king!
Rosh Hashana Roast
1 large onion
olive oil, for sauteeing
2 lb. French, Chuck, or Minute steak roast
1 1/2 cups port (or any sweet red) wine
salt and pepper, to taste
2-3 cups assorted dried fruit (apricots, dates, figs, prunes)
1/4 c honey
1/4 c brown sugar
1 tsp cinnamon
1/2 tsp nutmeg
1/2 cup water
Method: Saute onions in olive oil until golden, set aside. Season the roast with salt and pepper and sear on all sides (see tip). Pour wine into pot and scrape up any bits and pieces from the seared meat. Return onions to the pot and spread around the meat. Bring wine to a boil over high heat. Simmer, uncovered, for 1-2 minutes until the alcohol evaporates. Cover the pot and cook for 1 1/2 hours over low heat. Turn over meat, add dried fruit and season with honey, brown sugar, cinnamon and nutmeg. Add 1/2 cup water and simmer for 30 more minutes. Remove meat from the pot, and cover with foil to keep warm. If needed, continue to simmer the dried fruit until the sauce has reduced and thickened, about 30 minutes. Slice roast against the grain and spoon sauce over meat before serving.
TIP: Searing the roast seals in the juices resulting in meat with a nice brown color and moist flavor. For a good sear, make sure the pan is nice and hot. Once the meat is browned, turn over and repeat. Hold the meat on it's sides using tongs, so that every edge is covered.
NOTE: For a larger roast, increase cooking time (in the beginning, before you add the dried fruits) approximatley 30 minutes-1 hour per lb.
FREEZING: This roast freezes beautifully. Slice it first so that it's easier to thaw and freeze it separately from the dried fruit.
UPDATE: 9/1/2014: While I used to simmer my roasts over a low flame, I have learned over time that gentle cooking in the oven is best. You may use an oven-safe pot and place in the oven at 350 degrees for the 1 1/2 hour cooking time. Turn over the meat, add the dried fruit and seasoning and return to the oven for 30 minutes (or more, if roast is larger than 2 lbs.). Remove the roast from the pan and simmer the sauce until thickened.