Ah strawberry season…you are finally here! There is nothing I love more than to walk into a supermarket and be greeted by the sweet scent of strawberries. (OK, to be honest, I'd prefer to walk past the farm stand and smell the sweet scent of freshly picked strawberries).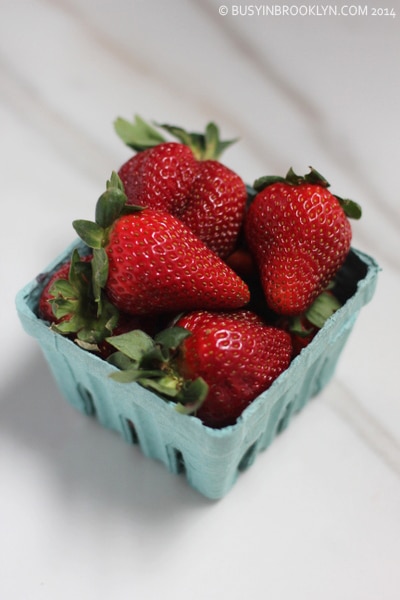 I wait all year for sweet berry season, when the strawberries are so naturally sweet, they're like nature's summer candy. I never understand those people that dip their strawberries in sugar, I mean, aren't they sweet enough?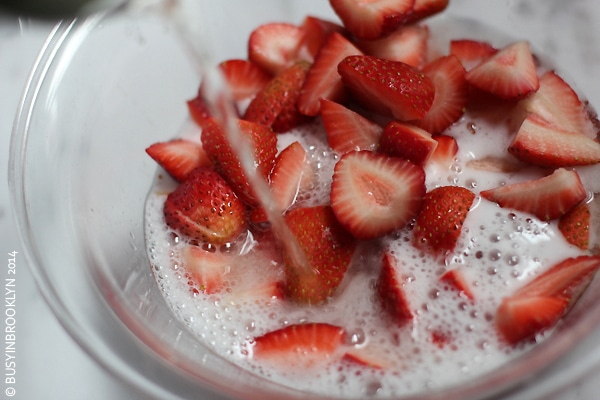 While I may not agree with dipping my strawberries in sugar, I do love me some macerated strawberries. Macerated strawberries are strawberries that are sprinkled with sugar to draw out the liquids and create a sweet, syrupy sauce, without cooking. I like to add a hint of balsamic vinegar to balance out the sweetness, for a truly luscious summer dessert.
Besides for balsamic macerated strawberries, I also love to macerate strawberries in some light and sweet Moscato wine. The wine infuses the strawberries with it's peachy goodness, while the strawberries infuse the wine with their juicy sweetness. Win-win, wouldn't you say?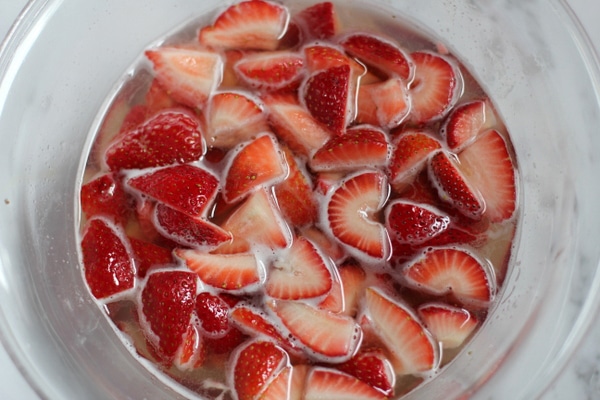 This stuff is delicious straight out of a glass, but you can also serve it over ice cream, pound cake or even yogurt.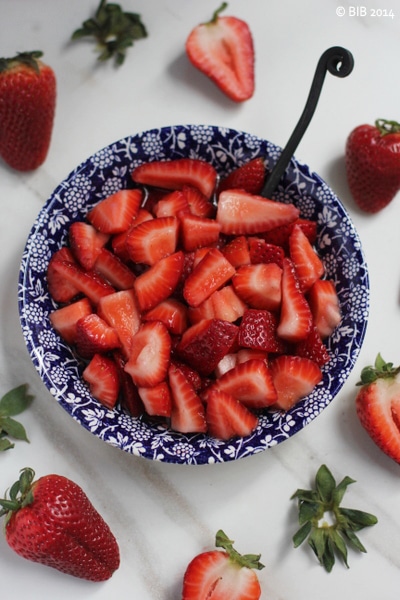 Moscato Macerated Strawberries
1 lb. strawberries
1 cup Moscato wine
3 tbsp honey
Method:
Wash and hull strawberries and cut into quarters. Place in a bowl with wine and honey and let sit in refrigerator until strawberries soften and release their juices, 2 hours-1 day.
VARIATION: try macereating other fruit like blueberries or raspberries.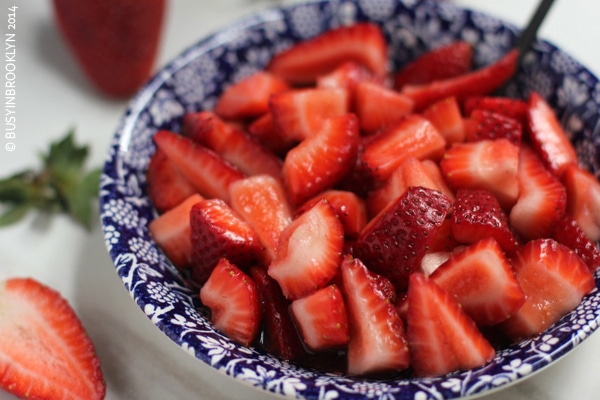 Now if you're a strawberry purist and think raw strawberries should only be eaten straight out of the carton (or dipped in sour cream), I totally get you. Macerated strawberries are not for everyone! Buttttt I want to shift your attention to another preparation – that of cooked strawberries, ala strawberry sauce! Of course you can simmer up some strawberries with lots of sweet sugar for a thick strawberry syrup that's achingly sweet. Or…or you can do something a little more glam and little less cloying, and simmer your strawberries in some honey and moscato until you get a lovely sauce that's just perfect over angel food cake or lovely on some goat cheese ice cream.
Speaking of goat cheese ice cream, I just may have the creamiest, most delicious, sweet yet mildy tangy cheesecake ice cream coming your way. Oh yes. You're welcome.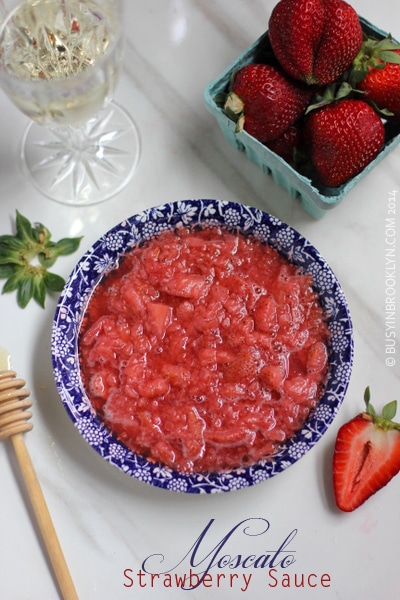 Moscato Strawberry Sauce
1 lb. strawberries
1 cup Moscato wine
3 tbsp honey
Method:
Wash and hull strawberries and cut into quarters. Place in a pot with wine and honey and bring to a simmer. Cook strawberries until they begin to fall apart (you can mash them a little with a fork to help them along), and the sauce thickens to a syrup, 20-30 minutes.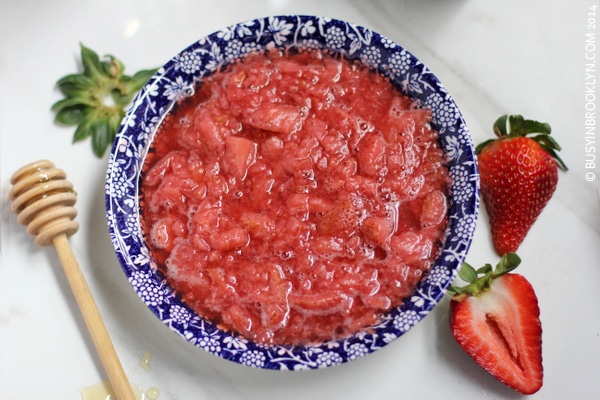 Related Recipes:
Moscato, honey & vanilla bean poached apricots
cherries in red wine syrup
strawberry limonana
strawberry rhubarb soup