I'm so excited to have Sheva from over at MyShtub, guest posting on my blog. With her magnificent photography and fun spirit, Sheva takes you on a journey of life's trials and triumphs. She is an amazing mom of 3, a talented crafter and an avid do-it-yourselfer. At the forefront of her blog is her adorable daughter Rozie, who just happens to have down syndrome. Her real life photography helps to break the stereotypes of down syndrome, and you can't help but just fall in love with her rosy little Rozie :)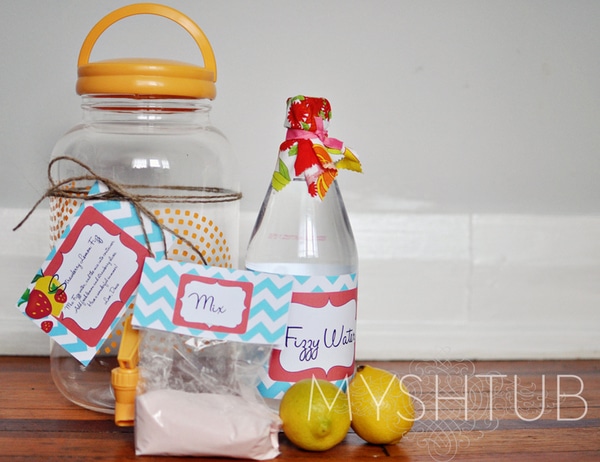 Hi this is Sheva from MyShtub and I'm so excited to be guest posting here on Busy in Brooklyn. Since the school year is coming to an end, most of us are scrambling to find that perfect gift to say thank you to your child's teacher. In my son's school we usually do a group gift from all the parents, but I was a Morah for years, and know how hard they work, so I like to give a little something special just from us. Since I usually don't want to spend a ton, especially if I contributed to the class gift, I came up with something perfect for most budgets.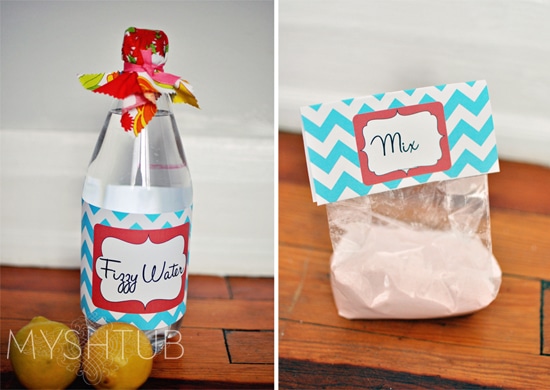 What you need to create this summer fun strawberry-lemonade fizz gift package
1. Plastic drink dispenser (I got this one at Target for $5)
2. One bottle of sparkling water
3. One container of strawberry lemonade mix ( Country Time brand was OU)
4. Twine or ribbon
5. Wooden spoon
6. Scrap fabric
The first thing I did was choose a color theme. I'm currently obsessed with the aqua salmon color combo and decided to go with it. I made all my labels first and printed them on cardstock *. I also covered the bottle lid with a scrap piece of fabric and tied it with twine. Next, I poured Strawberry-Lemonade mix into a cellophane goody bag, rolled the top down, and stapled a label to hold the bag shut. Lastly, I made a recipe card with a small thank you note.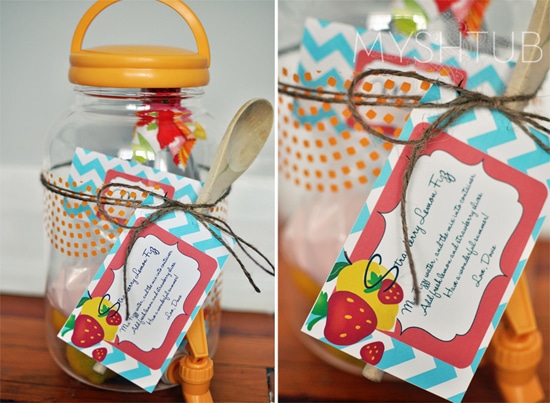 Strawberry –Lemonade Recipe:
Mix the fizzy water with the powder mix in the canister. Add fresh lemon and strawberry slices. Enjoy!
Once the items are all ready I put them inside the canister with a couple of lemons. I tied it up with twine, the recipe card, and wooden spoon. Voila! A perfect thank you gift for under $10!
*I designed my labels in Photoshop but they can easily be done with scrapbook paper and hand written labels.