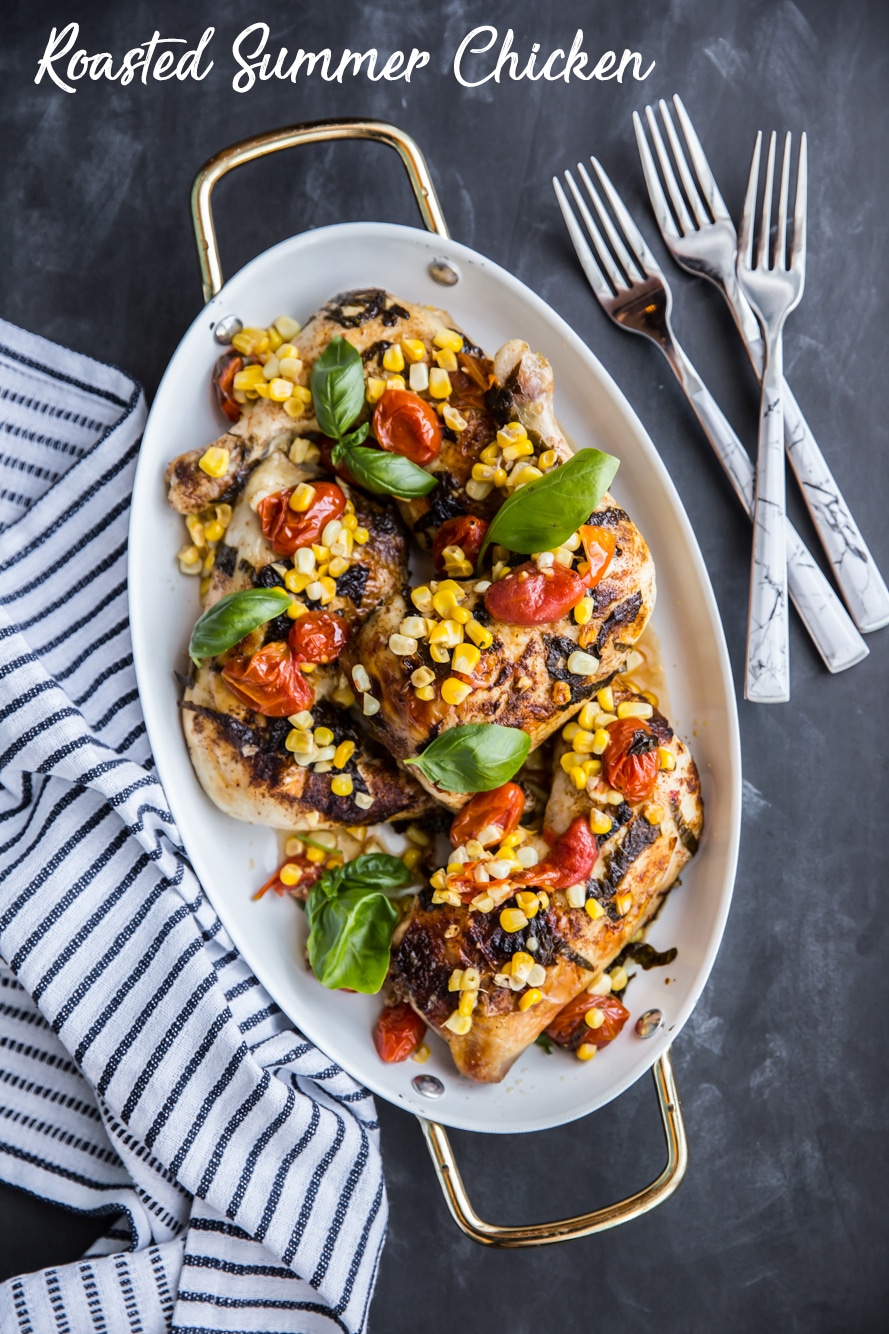 After weeks of summer prep and camp shopping, I am SO HAPPY that I can officially say welcome the start of summer. The kids are in camp. Everyone is settled in. And I am relishing every moment.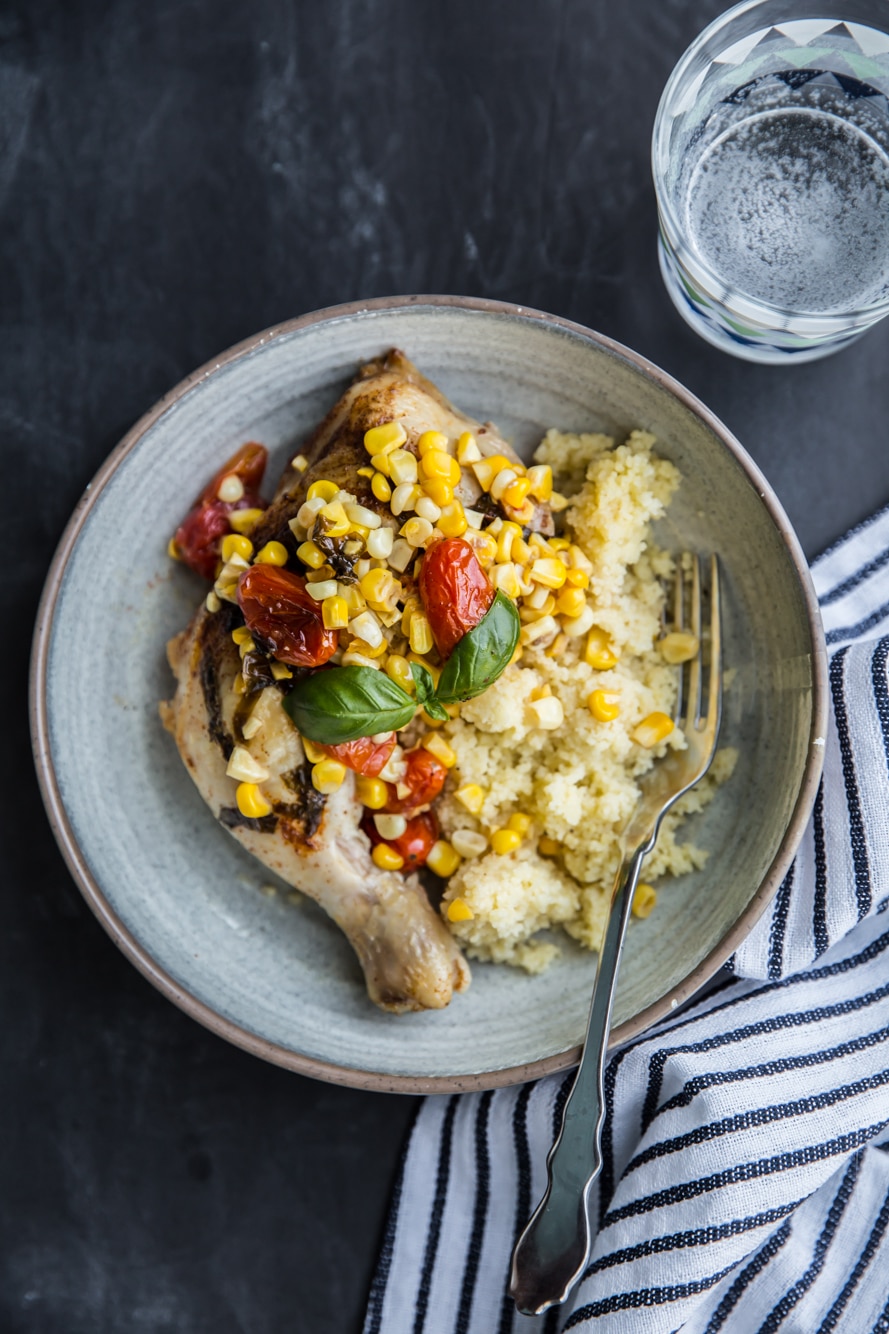 I try to keep dinners simple in the summer, but after a day of running around in the summer heat, and hours spent at the pool, my kids voracious appetites demand more than just frozen pizza. They are HUNGRY! I try to keep the fridge stocked with lots of fruits and veggies, plenty of protein in the freezer and fresh herbs on the window sill.
I think we all associate summer with barbecue but I try to do away with heavy bottled sauces and season food simply instead. Juicy seasonal tomatoes, fresh summer corn and a bunch of fragrant basil are always handy, which is how this delicious light summer dinner came together in no time. My kids literally licked their plates clean!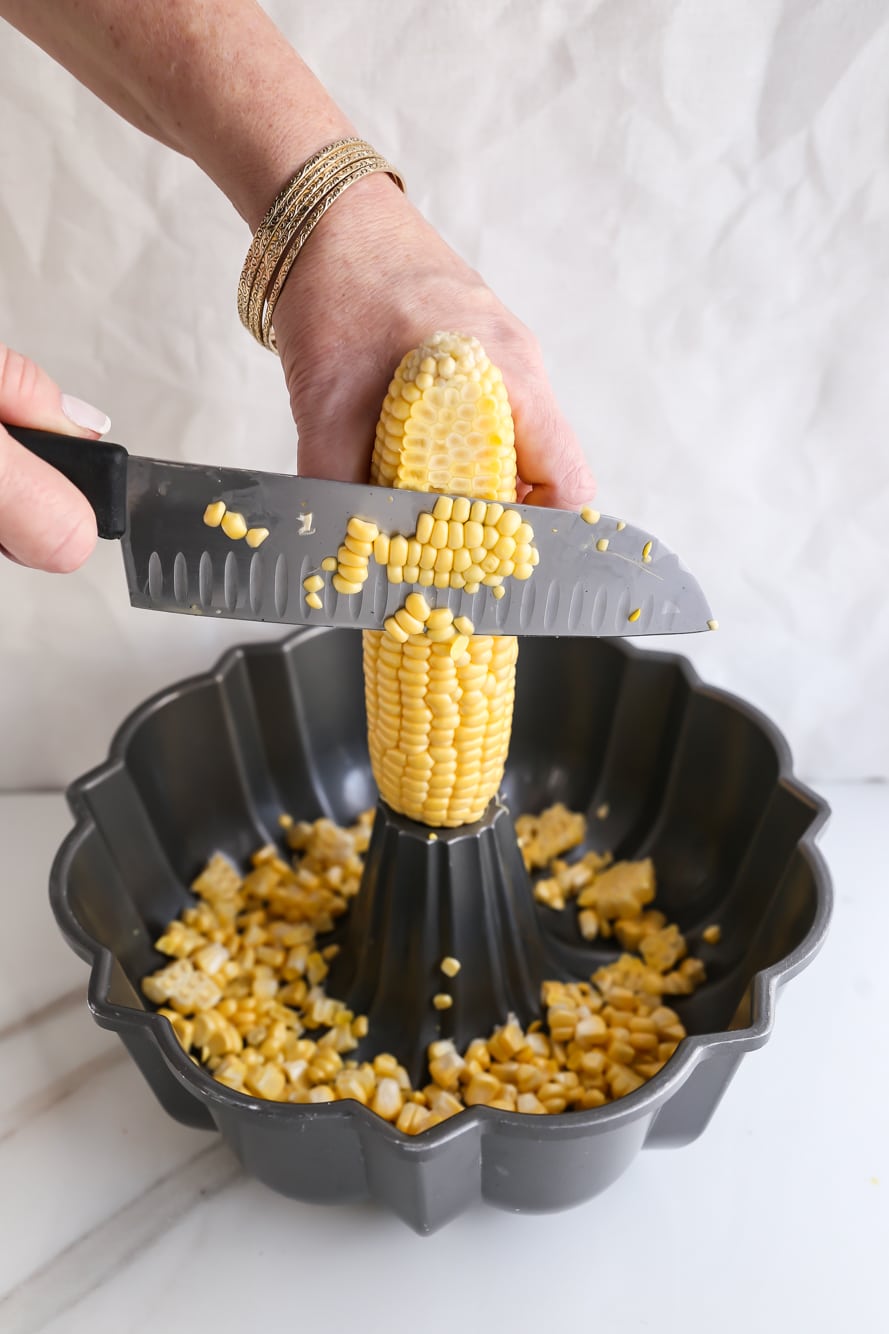 Now that corn is in season, here's a great trick for cutting it!!
Israeli couscous is another summer staple – it rounds out the meal, cooks in five minutes, and isn't as heavy as other starches. But feel free to serve with any starch of your choice!
Roasted Summer Chicken
2 ears fresh corn, shucked
1 heaping cup grape tomatoes
4 chicken legs
1 tsp chili powder
kosher salt, to taste
juice of 1/2 lime
1/4 cup fresh basil, thinly sliced
1 tbsp olive oil
drizzle of honey
Method:
Preheat oven to 375 degrees. Place the corn on the bottom of a 9×13 pan, scatter tomatoes around the pan and top with chicken thighs. Sprinkle the chicken with chili powder and salt and spread the basil on top. Drizzle olive oil and honey and squeeze lime juice over the top. Cover tightly with foil and bake for one hour. Uncover, baste with the sauce and bake at 400 degrees for an additional 20-25 minutes, until chicken is browned.
Serve with couscous, quinoa or rice.
NOTE: if you dont have fresh corn on hand, you can substitute 1 package frozen corn (thawed) or 1 can corn, drained.
Related Recipes:
chimichicken
ratatouille roast chicken
corn and heirloom tomato salad with basil lime vinaigrette