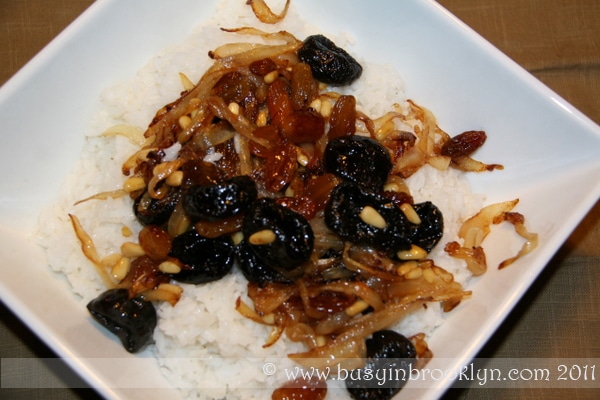 My mom has been making this yummy rice for years. I had no idea that it was a version of Persian jeweled rice, but once I learned of the traditional Persian food, I realized that it's the absolute perfect name for this recipe. Bejeweled with sweet and delicious dried fruits, this rice turns a simple side dish into a meal fit for a king!
I don't even want to bring up Rosh Hashana because I cannot believe that it's almost here. Where did the whole summer go?! But, sans the nuts, I do have to say that this would make a beautiful accompaniment to your yom tov seudah. Just thinking about sweet tzimmis and honey cake is making me pine for the sweet New Year. It's just around the bend!
Simple Jeweled Rice
2 cups white rice, cooked according to package directions (I prefer Basmati)
1 medium onion, sliced into thin half-circles
1/2 cup pitted prunes (roughly chopped, if desired)
1/3 cup plump golden raisins or currants
1/4 cup pine nuts
Method:
Cook rice according to package directions (include salt and oil, butter or margarine). Set aside. Saute onion in oil until golden. Add prunes, raisins and pine nuts and stir until dried fruit has softened and nuts have toasted. Add mixture to the rice and serve.
NOTE: traditional Persian jeweled rice varies but most include a range of spices (cinnamon, allspice, coriander, cardamom, cumin, turmeric, saffron), nuts (pine nuts, pistachios, hazelnuts, almonds), dried fruit (raisins, craisins, dried cherries, barberries, apricots) as well as orange rind, shredded carrots, crushed rose petals and/or pomegranate seeds mixed into basmati rice. Persian rice is a lot more labor-intensive than my mom's simple recipe. For a lighter and easier version, just saute any mixture of these spices, fruits, and nuts and mix into rice.