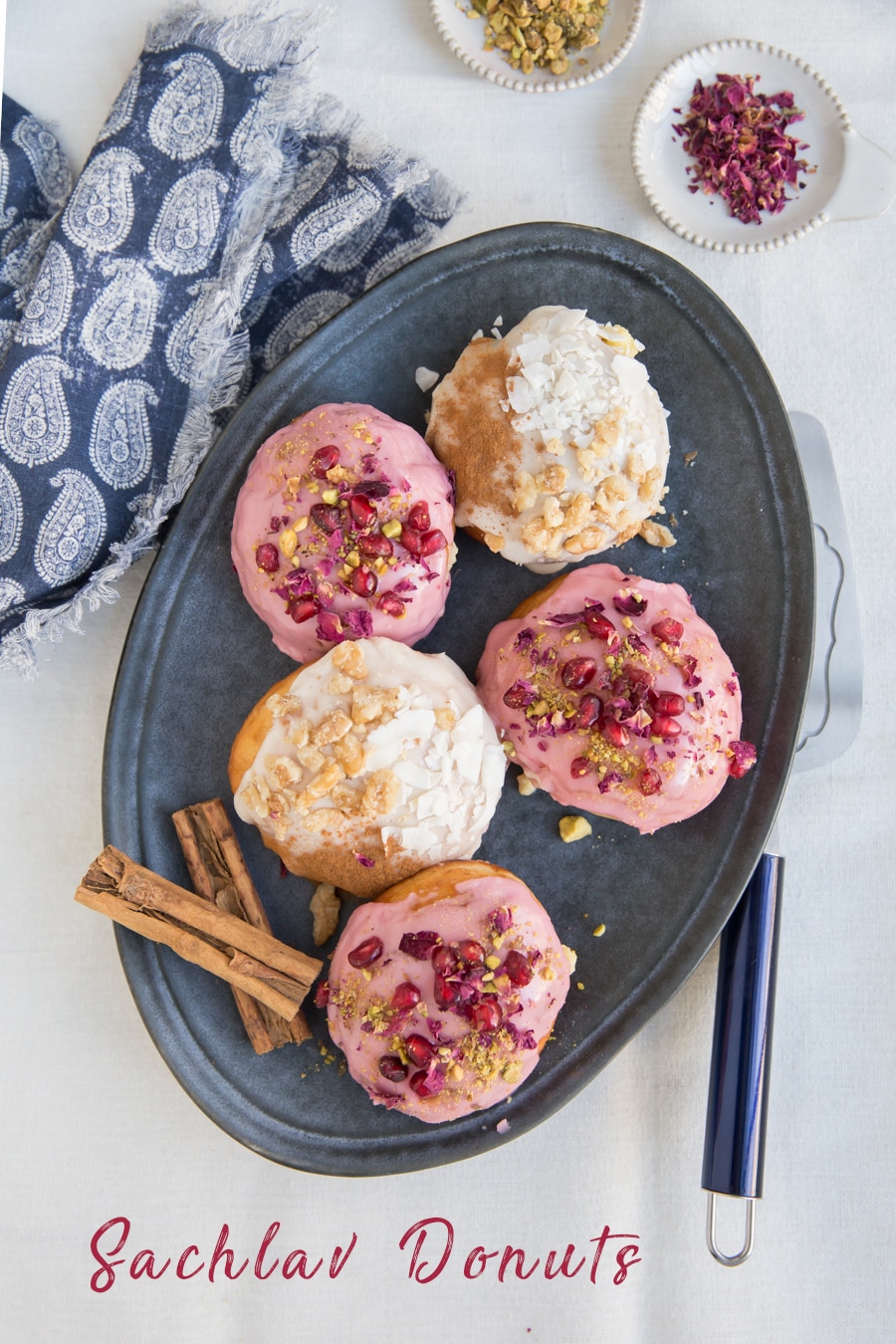 Ah, sachlav, the warm and milky pudding drink that gets me through the winter, and transports me to my favorite place on earth… Israel.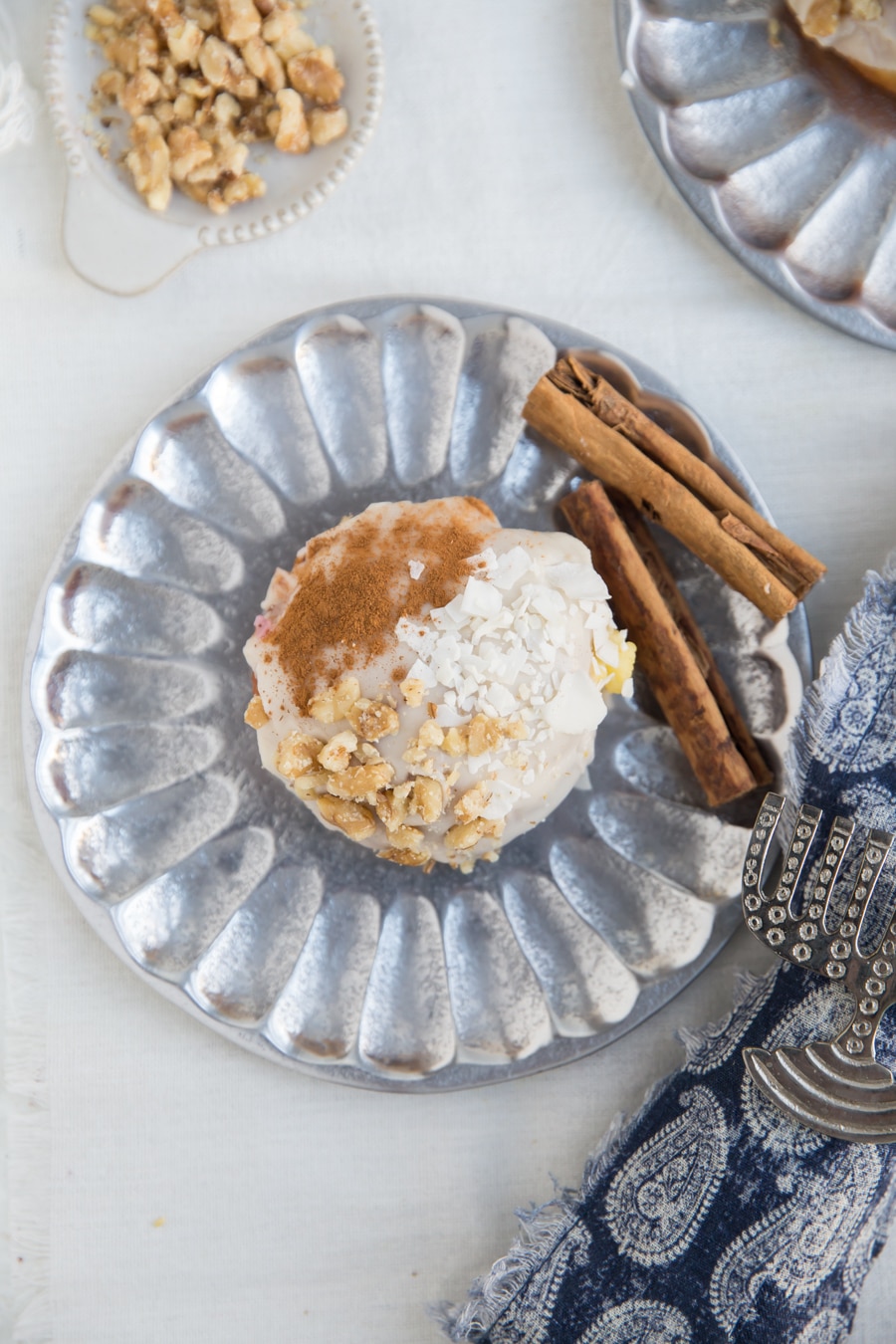 Sachlav is an #oldiebutgoodie here on the blog and I've been making it forever. But I dreamed up a sachlav donut a couple of years ago and I'm so glad I finally made it happen!!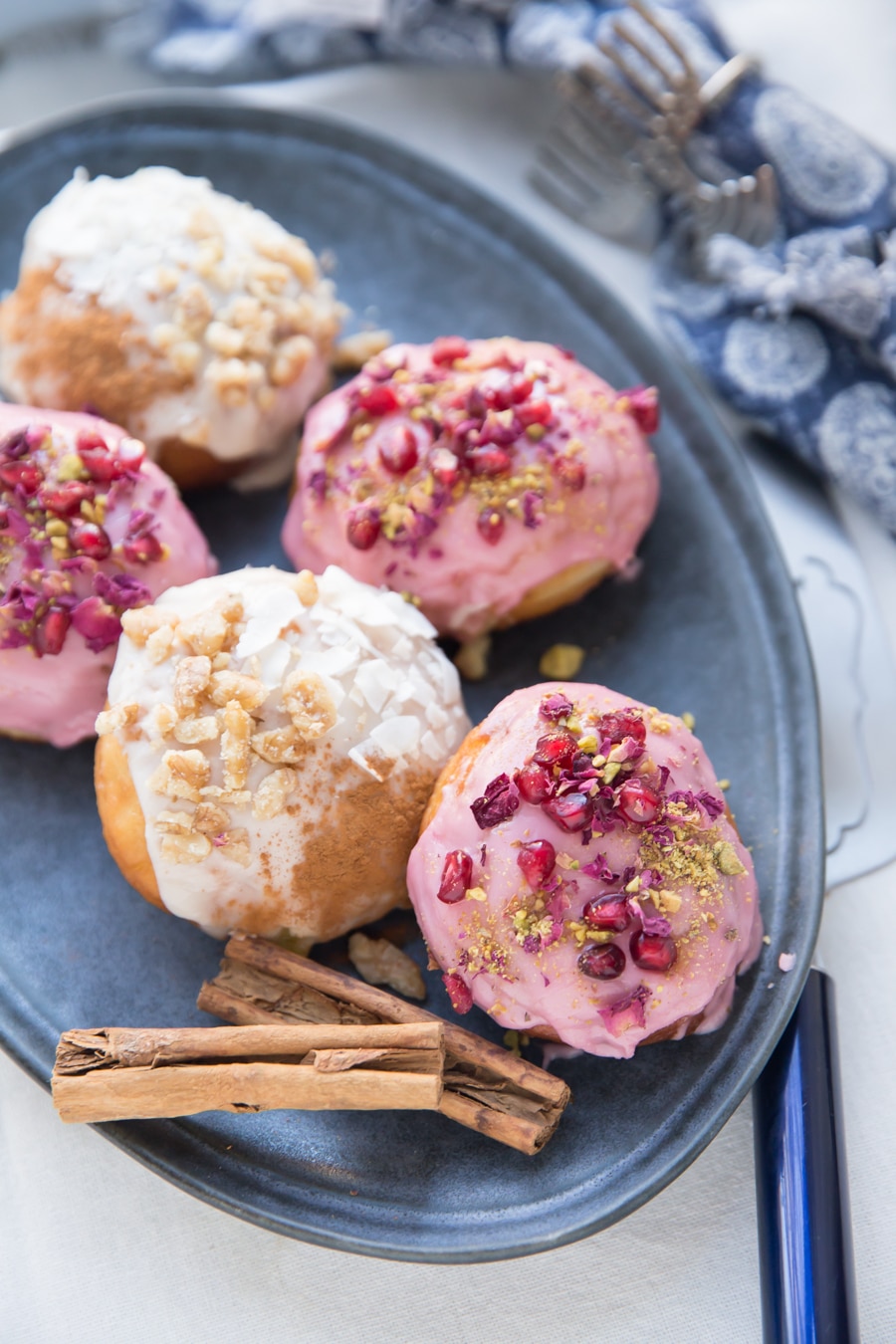 These donuts are really a cross between malabi and sachlav, malabi being the chilled version of sachlav – usually topped with a pomegranate syrup and pistachios – so I kind of fused the concepts together here to give you two different flavors.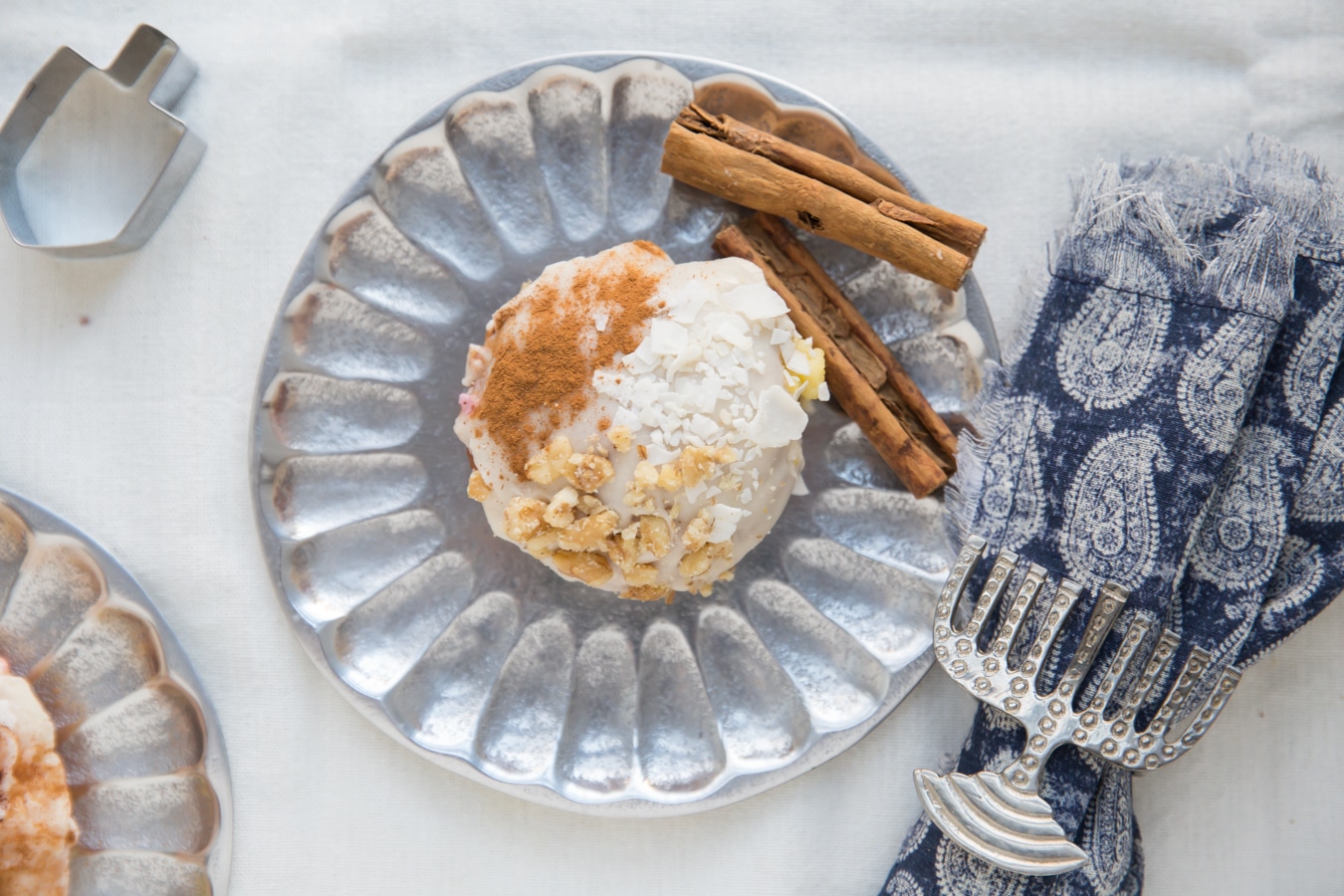 But donuts are donuts and this dough is beautiful, soft and supple and you can use it with any filling or glaze you like! Or just roll in some cinnamon sugar and stuff with caramels.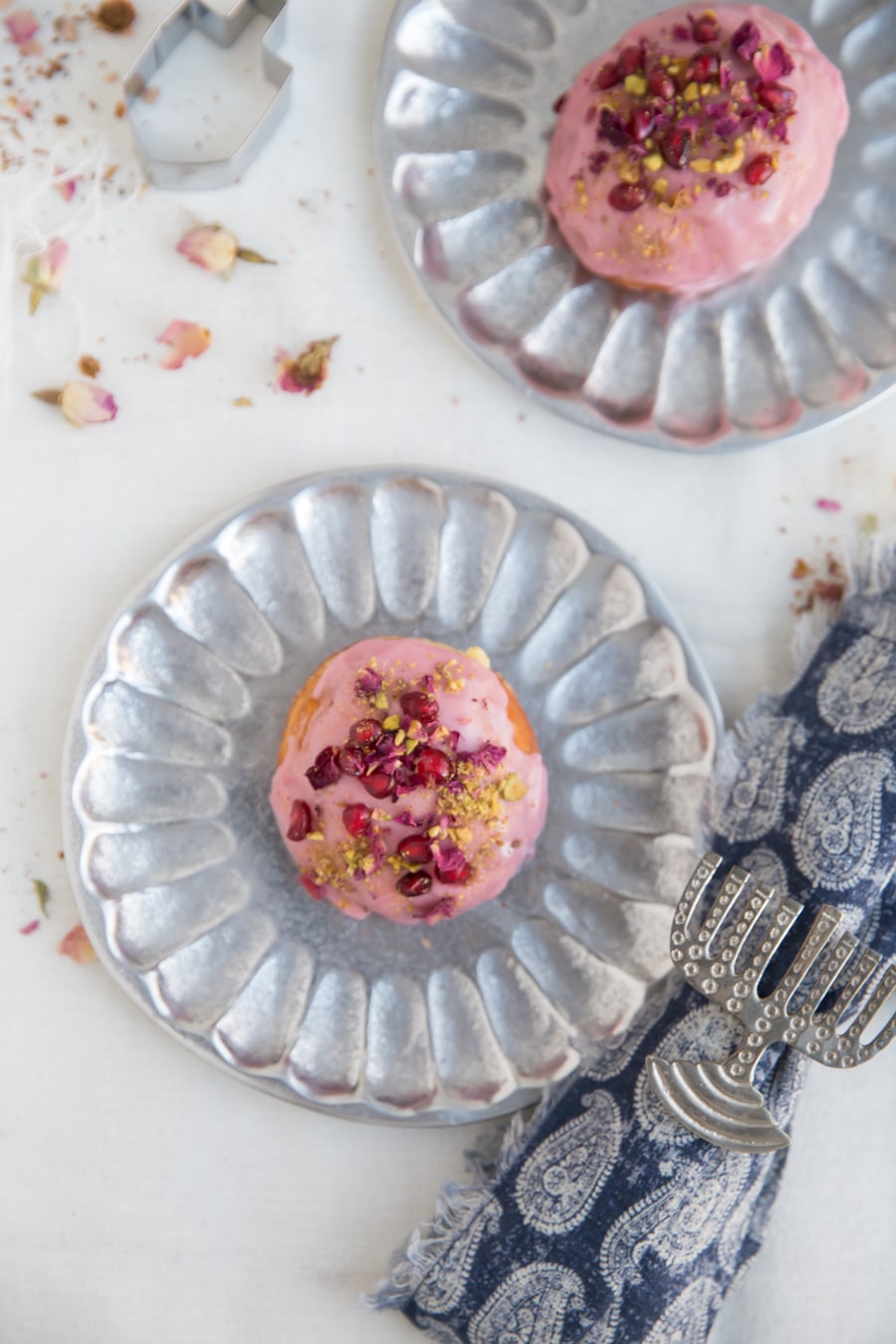 If you're a lazy dough maker, like I used to be, I totally won't just you for going on a donut crawl and ditching the fryer, that's what bakeries are for! There are so many amazing flavors around nowadays, I don't think homemade donuts are essential. But latkes are another story.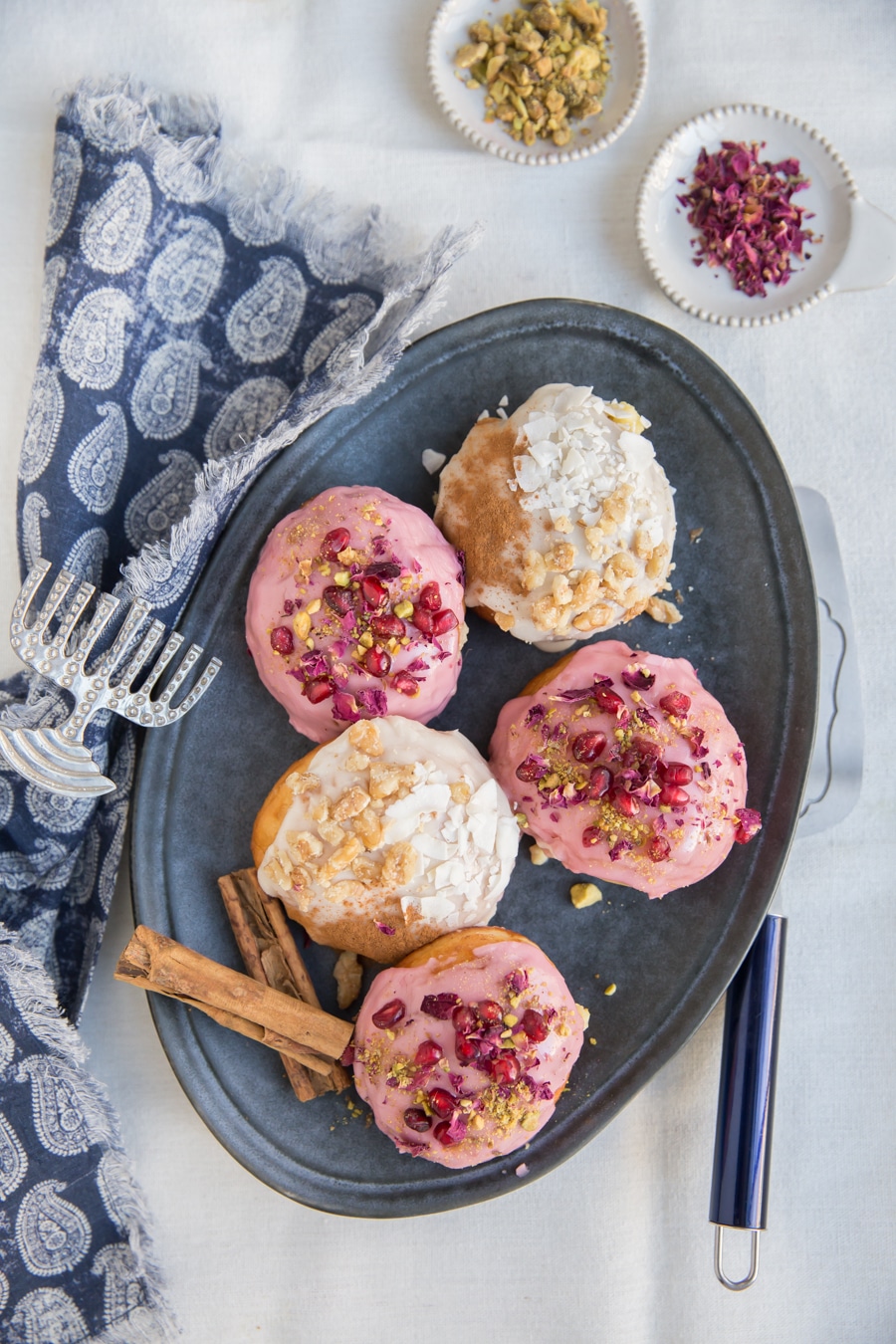 I hope these donuts warm you up and give you that fuzzy feeling I get when I drink a warm cup of sachlav on a cold winter day. Happy  Chanukah!
Donuts:
1½ cups milk
6 Tbsp butter
4½ tsp (2 packets) active dry yeast
⅓ cup warm water
¼ cup sugar plus 1 tbsp, divided
2 eggs, beaten
1/2 tsp salt
5 cups all-purpose flour
canola oil, for frying
Method:
Warm up the milk and butter in a saucepan over medium heat. If the mixture is hot, transfer it to a bowl and put it in the fridge until lukewarm (if it's too hot it will kill the yeast).
While the milk is cooling, place the yeast in a stand mixer with the paddle attachment and add the warm water and 1 tbsp yeast. Stir gently and let it dissolve for 5 minutes. The mixture should be foamy when ready.
Add the lukewarm milk mixture to the the yeast. Add eggs, remaining sugar and salt, stir till creamy. Add half of the flour and stir on low-speed until the flour is incorporated. Add the remaining flour and turn the speed to medium, beat until well combined.
Change to the dough hook attachment and knead on medium speed until the dough pulls away from the bowl and is very smooth, about 3 to 4 minutes. The dough will be a bit sticky.
Transfer the dough to a well-oiled bowl, cover and let it rise for 1 hour. Punch down the dough and roll it out on a floured surface to ½-inch thick. Cut out rounds using a 2½-inch wide drinking glass or cookie cutter. The donuts should weigh about 2oz. each.
Line a cooling rack on a sheet pan with paper towels and set aside.
Fill a deep skillet with oil so that it's one third full with oil. Heat oil to 350 degrees (use a candy thermometer) and gently drop 3-4 donuts at a time in the oil. Fry for 1-2 minutes each side. Place on paper towels to drain excess oil and transfer to cooling rack. Cool completely before filling and decorating.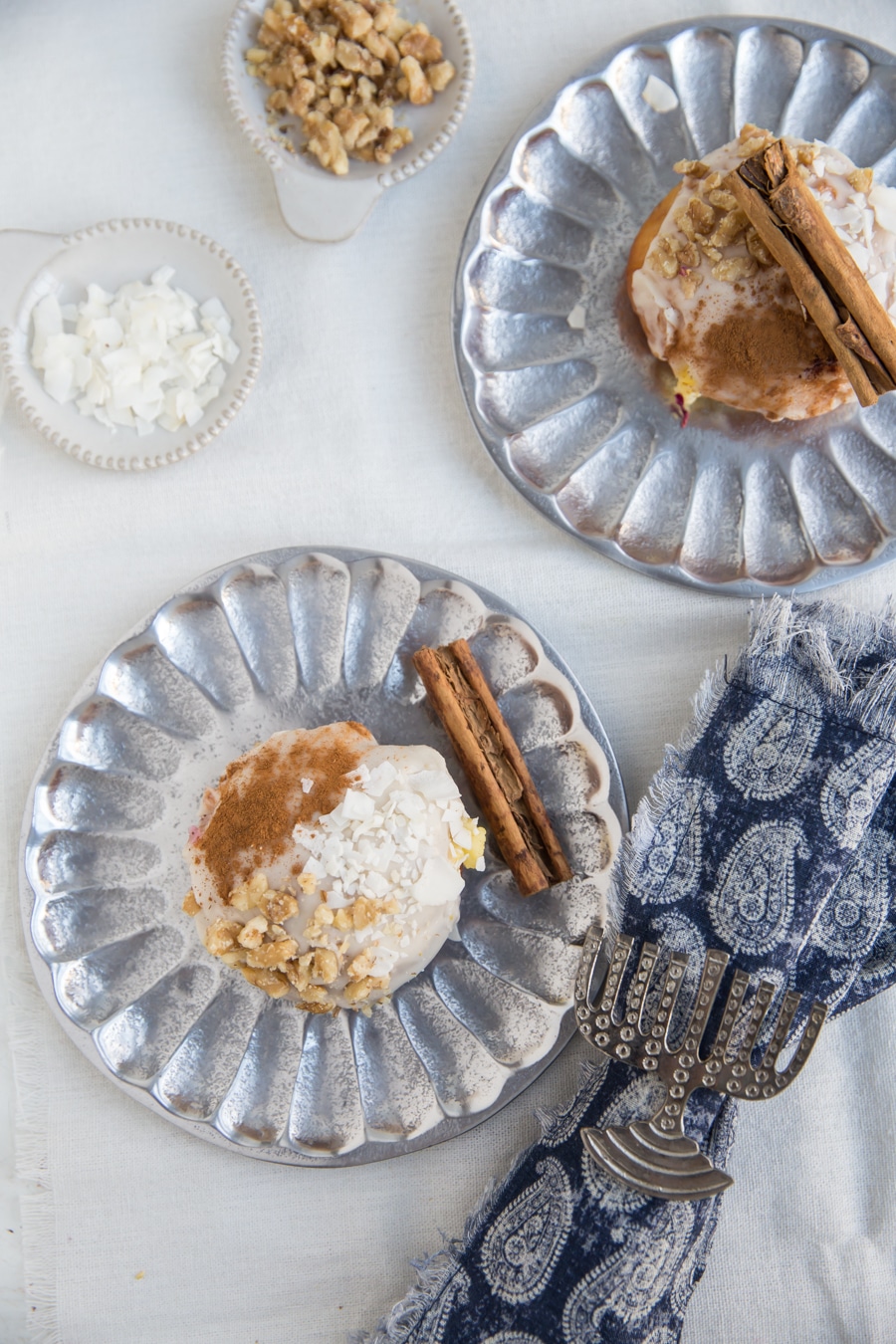 Sachlav Fillings & Toppings:
Custard:
2 cup whole milk
1/2 cup sugar
5 egg yolks
5 tablespoon cornstarch
1 tbsp orange blossom or rosewater, or, to taste
To make the pastry cream, place the milk and sugar into a saucepan and heat until scalded. In the meantime, whisk the egg yolks until fluffy and add in the cornstarch. Continue to whisk until all the starch is incorporated and the mixture is smooth. Slowly pour the milk into the eggs, whisking continuously as you warm the egg mixture with the milk. Pour the mixture back into the saucepan and continue to whisk over medium heat until the cream begins thicken and boil. Remove from the heat and transfer to a bowl set over an ice bath (if mixture is lumpy, strain through a fine mesh strainer first). Whisk in the orange blossom or rosewater. Cover the pastry cream with plastic wrap, touching the surface of the cream so that it doesn't develop a film. Transfer to the fridge until ready to use.
Vanilla Glaze:
1 cup powdered sugar
2-3 Tbsp milk
1/2 tsp vanilla extract
Pomegranate Glaze:
1 cup powdered sugar
2-3 Tbsp pomegranate juice
Toppings:
pomegranate seeds
chopped toasted pistachios
dried rose petals
chopped toasted walnuts
shredded coconut
cinnamon
To prepare the rosewater donuts: transfer rosewater custard to a piping bag fitted with a tip. Pierce the side of the donut and fill with custard. Top with pomegranate glaze, pomegranate seeds, chopped pistachios and rose petals.
To prepare the orange blossom water donuts: transfer orange blossom custard to a piping bag fitted with a tip. Pierce the side of the donut and fill with custard. Top with vanilla glaze, chopped walnuts, cinnamon and shredded coconut.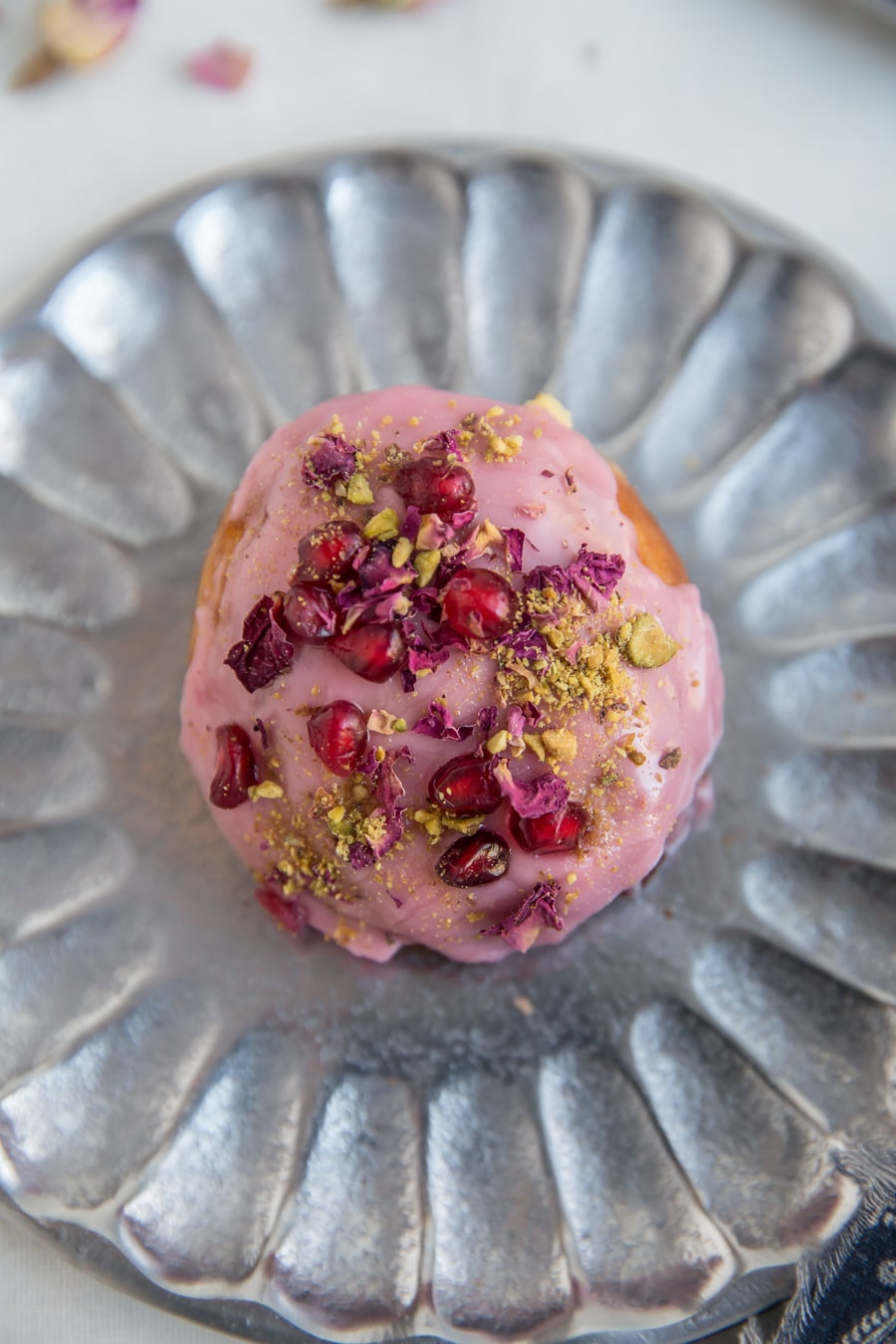 Related Recipes:
sachlav rosewater pudding
rosewater creme brulee
orange cardamom malabi with drunken figs
rosewater cheesecake mousse parfaits