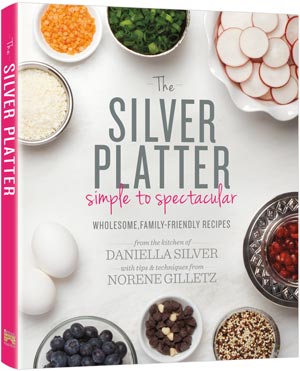 My first impression of The Silver Platter cookbook was how big and beautiful it is, almost a coffee table book. Having formerly trained in graphic design, I always look at the layout first. And the pictures. Both are stellar. Beautiful, bright and colorful photos accompany each meticulously-written recipe. And the food doesn't just look good, it looks inviting, and not intimidating in the least. I love the partnership of Daniella and Norene in this book. Daniella is a young mom looking to feed her kids easy and healthy dinners, while Norene brings her culinary expertise, offering sage advice for each recipe.
I think my favorite part about The Silver Platter is that all of the recipes can be made with basic pantry ingredients. Daniella managed to bring a variety of dishes that are packed with flavor using basic ingredients and no added junk. Her recipes are healthy, wholesome and family-friendly without being boring. Many are gluten free and allergy-friendly too. A nutritional index for each recipe is even included in the appendix.
The Silver Platter features recipes that are both basic enough for every day and innovative enough for the holidays. From appetizers, soups and salads, to fish, poultry, meat and dairy, as well as grain side dishes, vegetable side dishes, cookies, treats and cakes, they've got everything covered! I can't wait to try the baby eggplant fans (genius!), crunchy corned beef strips, berry plum soup, snap pea salad with basil-mint dressing, broiled lemon fish, three-seeded schnitzel, basil chicken with sundried tomatoes, raspberry london broil, cheesy quinoa bites, panko-topped bok choy and edamame, fudgy pretzel brownies, white chocolate popcorn clusters, blueberry flan and heavenly halva cheesecake!
In honor of Thanksgiving, I'm sharing some festive recipes for apple cranberry couscous and sweet potato squash soup below, AND, I'm also giving away a copy of The Silver Platter! To enter, simply leave a comment below about your favorite Thanksgiving dish. For an extra entry, follow Busy In Brooklyn via any of the channels below. Just be sure to leave a note in the comment letting me know where you follow.
Facebook
Twitter
Instagram
Pinterest
Giveaway is open to U.S. residents (for international entries, prize can only be shipped in the U.S.). Winner will be chosen at random at 10:00 AM EST on Tuesday, November 24th, 2015.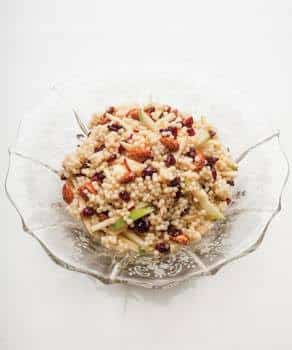 Apple Cranberry Couscous
Recipe from The Silver Platter by Daniella Silver with Norene Gilletz
Reprinted with permission from the copyright holders: ArtScroll/Mesorah Publications
http://www.artscroll.com/silver
1 1/2 cups (about 1 8.8 oz pkg) Israeli Couscous (see Norenes notes below)
1/2 green apple, julienned (do not peel)
1/2 red apple, julienned (do not peel)
1 tbsp lemon juice (preferably fresh)
3/4 cup dried cranberries
1/2 cup candied almonds or pecans, optional
Dressing:
1/4 cup extra virgin olive oil
1/4 cup apple cider vinegar
2 tbsp honey or pure maple syrup
1 tsp kosher salt
freshly ground black pepper
Instructions:
Cook couscous according to package directions. Fluff with a fork; let cool.
In a serving bowl, toss apples with lemon juice. Add couscous and cranberries.
Dressing: Combine ingredients for dressing in a glass jar; seal tightly, and shake well.
Add dressing to couscous mixture and mix well. Top with almonds, if using. Serve chilled or at room temperature.
Norene's Notes:
To make this dish gluten-free, use brown rice couscous, quinoa, kasha, or a rice blend; cook according to package directions.
Israeli couscous is actually toasted pasta and originated in Israel. It is also known as pearl couscous or maftoul.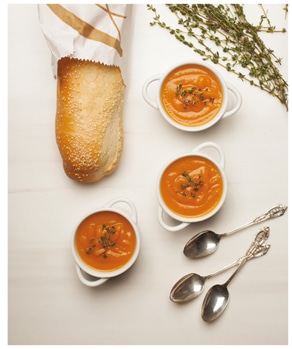 Sweet Potato & Squash Soup
Recipe from The Silver Platter by Daniella Silver with Norene Gilletz
Reprinted with permission from the copyright holders: ArtScroll/Mesorah Publications
http://www.artscroll.com/silver
1 tbsp olive oil
1 large onion, diced
1 butternut squash (about 3 lb/1.4 kg), peeled and cut into chunks (see Norene's Notes below)
3 large sweet potatoes, peeled and cut into chunks
3 tbsp honey
2 tsp kosher salt
freshly ground black pepper
6 cups water or vegetable broth
1 tsp minced fresh thyme leaves
additional thyme leaves, for garnish
Instructions:
Heat oil in a large soup pot over medium heat. Add onion, saute for 5 minutes, or until softened.
Stir in squash, sweet potatoes, honey, salt , pepper and water. Bring to a boil.
Reduce heat. Simmer, partially covered, for 45 minutes or until vegetables are tender. Stir occasionally.
Add thyme. Remove soup from heat. Cool slightly.
Using an immersion blender, process soup until smooth. If soup is too thick, add a little water or broth. Adjust seasoning to taste. Garnish with thyme.
Norenes Notes:
To cut squash into chunks easily, try this easy trick. Slash squash in several places with a sharp knife. Microwave for 5 minutes on high (or bake at 350 for 15-20 minutes) Cool slightly. Cut squash into two pieces at the neck. Cut the round bottom part in half. Using a large spoon, scoop out and discard seeds and stringy fiber. Peel squash with a vegetable peeler. Cut in chunks.