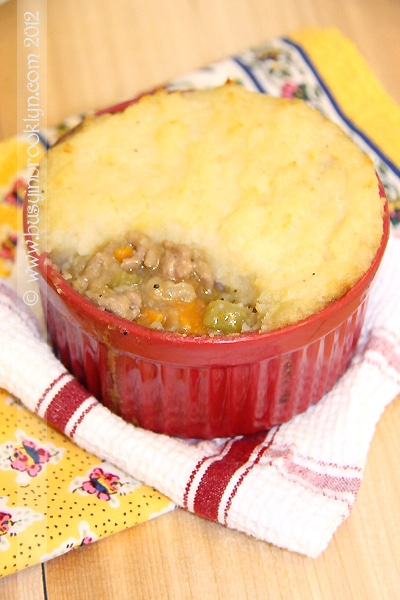 I love shepherd's pie, especially in the fall, when the weather is turning cold. Warming up to a hearty one-dish meal is the perfect end to a chilly night. I was getting a little bored of the classic beef sherpherd's pie, so I decided to reinvent it with lighter and tastier ingredients.
For inspiration, I went to my local produce store and looked around for some seasonal ingredients to help take my shepherd's pie to the next level. The knobbly celery root (also known as celeriac) caught my eye and I was determined to find a place for the humble root vegetable. Celery root adds a delicious hint of flavor to mashed potatoes, and lightens up it's texture. Of course, it also helps deguiltify the whole mashed potato thing altogether :)
To go along with my lightened up topping, I replaced the beef with veal – a tender calf meat that's lighter and lower in fat than beef.  This nontraditional shepherd's pie recipe turned out extraordinary. It might be even better than the original!
Check out the creative uses of other root vegetables in the Kosher Connection October Link-Up below!
Veal Shepherd's Pie with Celery Root Mashed Potatoes
1 tbsp olive oil
1 onion, diced
1 carrot, peeled and diced
2 celery sticks, diced
1 lb. ground veal
2 tbsp flour
1 1/2 cups beef or chicken stock
1 dried bay leaf
2 tbsp dry red wine
Salt & freshly ground black pepper, to taste
3 russet potatoes, peeled and chopped
1 large celery root, peeled and chopped
2 tbsp margarine (I used smartbeat light)
1/3 cup pareve milk (I used almond milk)
pinch of nutmeg
salt, to taste
Melted margarine or olive oil, to brush
Method:
Saute onion, carrot and celery in olive oil until golden. Add veal and stir to break up the meat. Cook until veal changes color. Add flour and stir for about 2 minutes, until combined. Add stock, bay leaf, wine, salt and pepper and bring to a boil. Lower the heat and cook for approximately 30 minutes, until thickened.
For the topping, add potatoes and celery root to a pot of salted water. Bring the water to a boil and cook until fork-tender, about 20 minutes. Strain in a colander. Return the vegetables to the pot and mash well over a low flame. Remove from heat and mix in margarine, milk, salt and nutmeg. Taste and adjust to desired consistency and flavor.
Preheat oven to 350 degrees. Spoon veal mixture into a greased baking dish (or individual baking dishes) and top with mashed potatoes. Brush with margarine or olive oil and bake until golden, about 25 minutes.
1 year ago: leftover turkey pot pie