It's been a whirlwind of a week! Melinda Strauss of Kitchen-Tested and Shelley Serber of The Kosher Home hosted the first Kosher Food Blogger Conference at the Carlton Hotel. It was great meeting so many people and learning so much from an expert lineup of speakers including Jamie Geller of JoyOfKosher, Noah Fecks, food photographer extraordinaire of thewayweate, Leah Schapira of CookKosher, Dani Klein of YeahThatsKosher, Joe Apfelbaum SEO expert and CEO of AjaxUnion, and many more! I also attended the 2nd annual KosherFeast Social Media Dinner at Abigaels restaurant, hosted by the wonderful ladies Lois Held and Roberta Scher of KosherEye and the SweetUp Team, Esti Berkowitz of PrimeTimeParenting and Abbey Wolin of Not2Shabbey.
Of course, there was also a little something called KosherFest, where I was lucky enough to sample many of the new (and old) kosher products on the market! I'm so excited to show you some of my faves!
Did any of you visit KosherFest? I'd love to hear about some of the products that you sampled and enjoyed!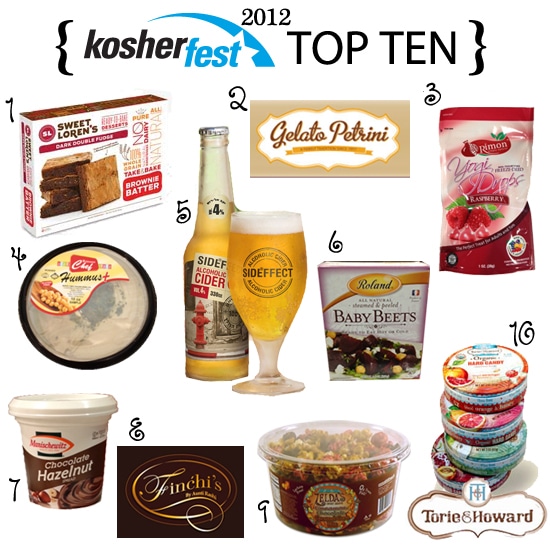 1. Sweet Loren's Ready-To-Bake Frozen Dark Double Fudge Brownie
One taste of these delicious nondairy, wholegrain, natural brownie bars and you'd never imagine they were made from freezer batter. The batter comes in the pan so all you have to do is stick it in the oven. Sweet Loren's makes lots of other ready to bake desserts as well. SweetLorens.comUPDATE 1/2/13: Although this product is dairy free, it is made on dairy equipment and is actually OUD.
2. Gelato Petrini
This handmade, low fat, gluten free gelato was my favorite of the whole day. The family-owned company is based in Delray Beach, FL, but they plan on distributing to New York locations soon. In the meantime, their fig & honey gelato and lychee sorbetti are good enough to travel for! GelatoPetrini.com
3. Rimon Freeze-Dried Yogi Drops
Freeze-dried yogurt drops have never been seen on the kosher, cholov-yisroel market. I'm really excited about these delicious pop-in-your-mouth healthy treats that are great for kids and adults alike. Many delicious flavors, and more, coming soon to your kosher supermarket.
4. Mediterranean Chef Hummus+
Besides for the fact that the people at this booth were so nice and generous, their hummus speaks for itself. They had a range of delicious flavors, but their pesto variation really stood out. It was one of the best hummus's I've ever tasted! MonteCarlo-Salads.com
5. SideEffect Alcoholic Cider
I'ma huge fan of apple cider, so this alcoholic variety really got me excited. The only thing in this smooth and delicious drink is apple juice and because it's made purely from apples, it is also kosher for passover!
6. Roland Cooked Baby Beets
If you follow my blog, you know just how much I love beets – and not the canned variety. These steamed and peeled baby beets are vacuum packed and ready to eat. I always see it at Trader Joes, but there was nothing like it on the kosher market until now! RolandFood.com
7. Manischewitz Chocolate Hazelnut Spread
If you only eat cholov-yisroel like me, you probably drool over all the nutella desserts you see on pinterest. Finally, there is a chocolate hazelnut spread that is pareve, AND it's kosher for passover! It's out of this world delicious. Now I know what I've been missing all this time! Manischewitz.com
8. Finchi's Desserts
Finchi's desserts makes the most delicious chocolate mousse (and brownies) that are gluten, nut and dairy free. They also have a sugar free variety that rivals any mousse you've ever tasted. Finchis.com
9. Zelda's Cinnamon Chocolate Popcorn
I've long been a fan of Zelda's gourmet confections, but this cinnamon chocolate popcorn just hits the spot. That stuff is seriously dangerous, I can eat an entire tub in one sitting. Also available in many other flavors including jalapeno, sparkling candy cane and blue Hannukkah! ZeldasSweetShoppe.com
10. Torie & Howard Organic Hard Candy
Not only is this organic candy unbelievably mouth-puckering delicious, they have the most beautiful packaging I have ever seen! I aslo love that they don't use artificial food coloring. Their four original flavors include pomegranate & nectarine, pink grapefruit & tupelo honey, blood orange & honey and d'angou pear & cinnamon (my favorite!) TorieAndHoward.com
1 year ago: Kosherfest 2011 Top Ten