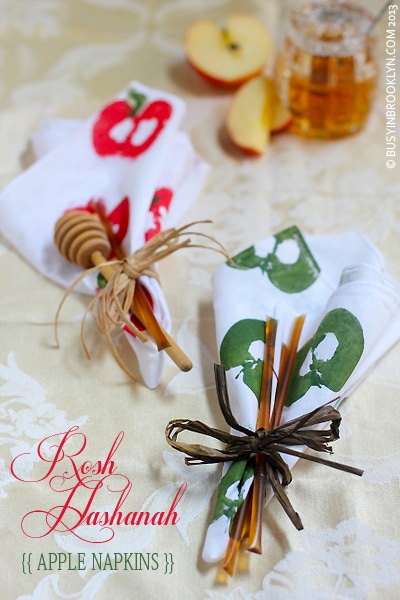 This is just one of those crafts that has been on my mind since forever. OK maybe not forever. But ever since I saw this on Pinterest. Pinterest will do that to you. Just when you think you're over the whole crafting thing, you'll see a really awesome idea, and it will just pick at your brain until you do something about it. So I did. And my Rosh Hashanah table will thank me for it!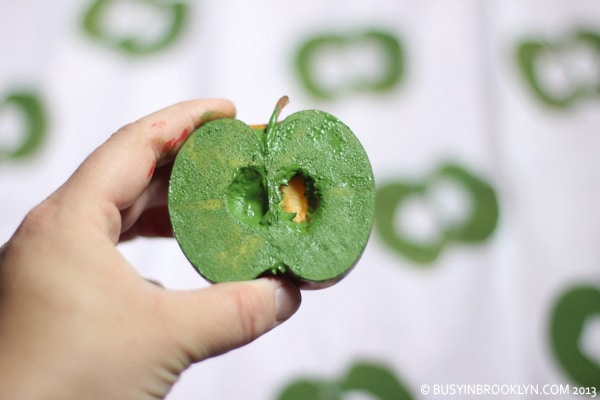 Fruits & veggies aren't just for eating anymore. They make the prettiest natural stamps when brushed with some paint. The ends of endives and celery stalks are no longer trash as more & more people are turning to fruit and vegetable stamping as a hobby. Follow my instructions below for adorable Rosh Hashanah apple napkins (I also decorated an apron!), or find inspiration in your refrigerator to create naturally beautiful projects.
For other great holiday crafting ideas, check out the August issue of JCreate Magazine. You'll find my crocheted apple trivet on page 26.
What you'll need:
1 fresh apple
1 celery stick
melon baller or measuring spoon
linen napkins in white or cream
fabric paint in red and green (I used these from Target)
paintbrush
How to:
Slice your apple in half and using a melon baller or measuring spoon, remove the seeds and scrape the apple to define the shape. Using a small paintbrush, paint the apple with fabric-safe paint and press down firmly on the linen napkin (you may want to practice on some paper towel first). Repeat to create desired pattern, painting the apple in between each "stamp." If leaves are desired, use a celery stick to create a leaf shape on top of the apples.
Set the napkins aside to dry overnight.
For your place setting, tie the napkins in raffia and fill with honey sticks and/or wooden honey dippers.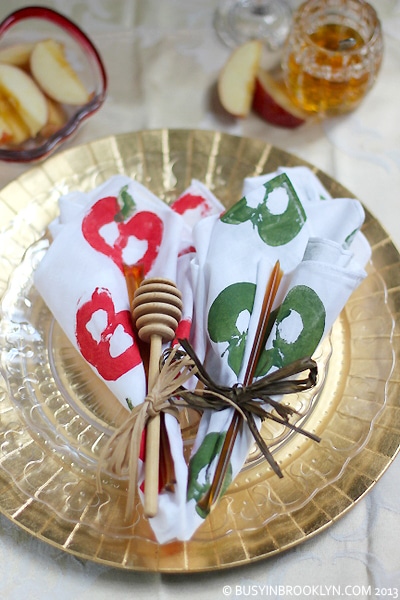 Related Posts:
crocheted apple trivets
easy paper napkin roses