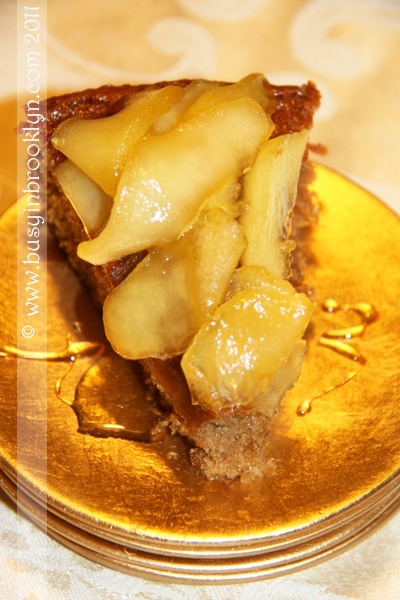 Caramelized apples are apples that have been sauteed in sugar and butter until soft and golden. They are not, as the name suggests, related to caramel/candy apples.
Method:
2 tbsp unsalted butter or margarine
3 tbsp brown sugar
2 large firm apples
pinch of cinnamon
1 tbsp lemon juice
1 tsp cornstarch
1 tbsp apple juice or water
Core apples and peel if desired. Slice into 1/4″ wedges. Melt butter and sugar over low-medium heat until sugar dissolves and mixture is bubbly, about 1 minute.  Add apples and lemon juice and cook over medium heat for approximately 10 minutes, stirring constantly. Add in the cinnamon. Mix the cornstarch with the apple juice or water and add to the pot. Continue cooking until the liquid thickens.
NOTE: Be sure to use firm apples such as Braeburn, Honeycrisp, Pink Lady, Fuji or Gala. Softer apples will fall apart during cooking.
Uses:
Caramelized apples work well with breakfast dishes such as waffles, pancakes, french toast, and oatmeal. They are a great addition to desserts such as pastry, pies, cakes and served hot over ice cream. They also work well over savory dishes like chicken and turkey roast.