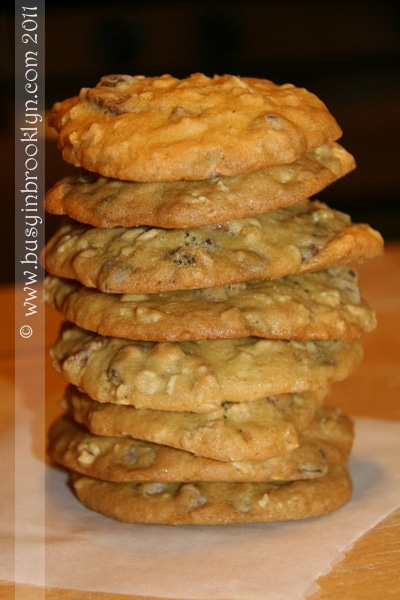 We decided to throw together a quick Game Night on Motzei Shabbat with the family. I told everyone they could bring something. As for myself, I whipped up a quick batch of cowboy cookies a' la Martha Stewart. This recipe is chock full of flavor, using chocolate, coconut, pecans and oats. I'm not the biggest coconut fan, but in these, they offer an added chewiness that's worth it. Why are they called Cowboy Cookies? The origin is unclear, but the cookies do seem hearty enough for the Wild West. As for game night, the girls won by a landslide!

Cowboy Cookies
(Yields 3-4 dozen cookies)
2 cups all-purpose flour
1 teaspoon baking soda
1 teaspoon salt
1/2 teaspoon baking powder
1 cup (2 sticks) unsalted butter, softened (I used 1 tub of Smart Balance Light)
3/4 cup granulated sugar
3/4 cup packed light-brown sugar
2 large eggs
1 teaspoon pure vanilla extract
1 1/2 cups old-fashioned oats (not instant or quick-cooking)
6 ounces semisweet chocolate, cut into 1/4-inch chunks (I used 1 cup of chocolate chips)
1/2 cup shredded unsweetened coconut
3/4 cup pecans (3 ounces)
Vegetable-oil cooking spray
Method:
Preheat oven to 350 degrees. Spread pecans in a single layer on a rimmed baking sheet. Toast in oven, tossing occasionally, until darkened and fragrant, 10 to 13 minutes. Let cool, then coarsely chop. Into a bowl, sift together flour, baking soda, salt, and baking powder.
With an electric mixer on medium-high speed, cream butter and both sugars until pale and fluffy. Reduce speed to medium. Add eggs, one at a time, beating well after each addition. Beat in vanilla.
With mixer on low speed, gradually add flour mixture, beating until just incorporated. Beat in oats, chocolate, pecans, and coconut until just combined. (Dough can be covered with plastic and refrigerated up to 3 days.)
Coat baking sheets with cooking spray; line with parchment, and spray parchment. Using a 1 1/2-inch ice-cream scoop or a tablespoon, drop dough onto prepared sheets, about 3 inches apart.
Bake, rotating sheets halfway through, until edges of cookies begin to brown, 16 to 18 minutes. Transfer sheets to wire racks to cool 5 minutes. Transfer cookies to racks to cool completely. Cookies can be stored up to 3 days at room temperature in airtight containers.