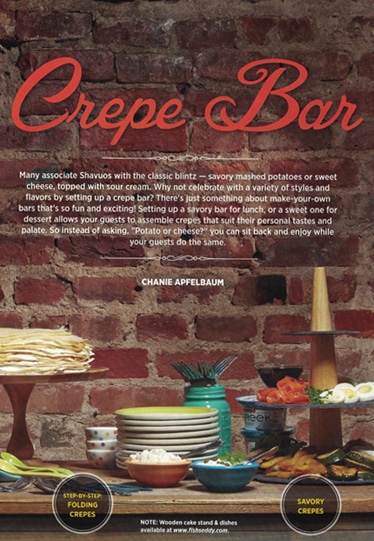 Many associate Shavuos with the classic blintz – savory mashed potatoes or sweet cheese, topped with sour cream. Why not celebrate with a variety of styles and flavors by setting up a crepe bar? There's just something about make-your-own bars that's so fun and exciting! Setting up a savory bar for lunch, or a sweet one for dessert allows your guests to assemble crepes that suit their personal tastes and palate. So instead of asking, "Potato or Cheese?" you can sit back and enjoy while your guests do the same.
Basic All-Purpose Crepes:
1 cup whole milk
1 cup all-purpose flour
2 tsp. sugar
1/4 tsp salt
2 eggs
Melted unsalted butter for greasing pan
Add ingredients to a blender and blend until smooth. Pour the batter into a measuring cup and place in the fridge for 1 hour (or up to 2 days) until bubbles subside. Heat a nonstick pan and add butter to coat. Pour 1/4 cup of batter into pan and swirl to spread evenly. Cook until the bottom starts to brown and the batter looks set, about 1 minute. Lift the edge with a spatula and flip the crepe over. Cook until slightly browned, about 10 seconds. Repeat with remaining batter, adding more butter to coat the pan as necessary. Stack the crepes between sheets of wax paper and store in a ziploc bag. Refrigerate for 2-3 days or freeze for up to 2 months.
Variation: Add chopped fresh herbs to savory crepes or vanilla to sweet crepes.
Yield: 8 crepes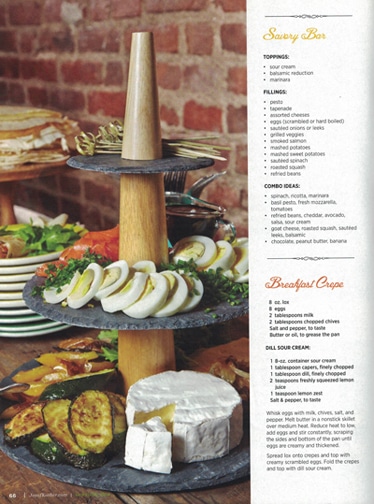 SAVORY BAR

Greek Style Crepes
1 lg zucchini, quartered and diced
10 oz baby bella mushrooms, quartered
1 lg red onion, diced
1/3 cup sundried tomatoes, finely diced
1/4 cup olive oil
1/2 tsp oregano
1/2 tsp basil
kosher salt, to taste
feta cheese
2 cups balsamic vinegar
Add the vegetables to a baking sheet and mix with oil and spices to coat. Bake at 400 degrees for 40-45 minutes, stirring occasionally.
VARIATION: add eggplant, yellow squash and/or peppers. Use goat cheese instead of feta.
Balsamic Reduction:
Add the balsamic vinegar to a pot and bring to a boil over medium-high heat. Reduce the heat to a simmer and cook until reduced by at least half (longer for a thicker syrup).
Divide the roasted veggies among crepes and sprinkle with feta cheese. Fold and drizzle with balsamic reduction.
Breakfast Crepe
8 oz. lox
8 eggs
2 tbsp milk
2 tbsp chopped chives
salt and pepper, to taste
butter or oil, to grease the pan
dill sour cream:
1 8oz container sour cream
1 tbsp capers, finely chopped
1 tbsp dill, finely chopped
2 tsp fresh squeezed lemon juice
1 tsp lemon zest
salt & pepper, to taste
Whisk eggs with milk, chives, salt and pepper. Melt butter in a nonstick skillet over medium heat. Reduce heat to low, add eggs and stir constantly, scraping the sides and bottom of the pan until eggs are creamy and thickened.
Spread lox onto crepes and top with creamy scrambled eggs. Fold the crepes and top with dill sour cream.
SAVORY TOPPINGS
sour cream
balsamic reduction
marinara
SAVORY FILLINGS
pesto
tapenade
assorted cheeses
eggs (scrambled or hard boiled)
sauteed onions or leeks
grilled veggies
smoked salmon
mashed potatoes
mashed sweet potatoes
sauteed spinach
roasted squash
refried beans
COMBO IDEAS
spinach, ricotta, marinara
basil pesto, fresh mozzarella, tomatoes
refried beans, cheddar, avocado, salsa, sour cream
goat cheese, roasted squash, sauteed leeks, balsamic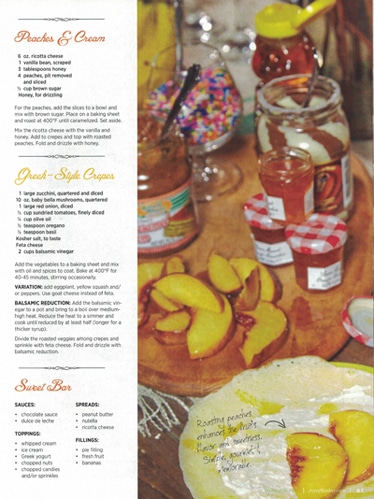 SWEET BAR
Peaches & Cream Crepe
16 oz. ricotta cheese
1 vanilla bean, scraped
3 tbsp honey
4 peaches, pit removed and sliced
1/2 cup brown sugar
honey, for drizzling
For the peaches, add the slices to a bowl and mix with brown sugar. Place on a baking sheet and roast at 400 degrees until caramelized. Set aside.
Mix the ricotta cheese with the vanilla and honey. Add to crepes and top with roasted peaches. Fold and drizzle with honey.
SWEET TOPPINGS
chocolate sauce
dulce de leche
maple syrup
honey
whipped cream
ice cream
greek yogurt
shredded coconut
chopped nuts
chopped candy and/or sprinkles
cinnamon-sugar
powdered sugar
SWEET FILLINGS
peanut butter
nutella
butter
sweetened ricotta cheese
lemon/lime curd
pudding
good quality jam
pie filling
fresh fruit
COMBO IDEAS
chocolate, peanut butter, banana
pumpkin pie filling, ricotta, maple syrup
strawberries, cream, chocolate syrup
blueberries, lemon curd, powdered sugar, whip cream