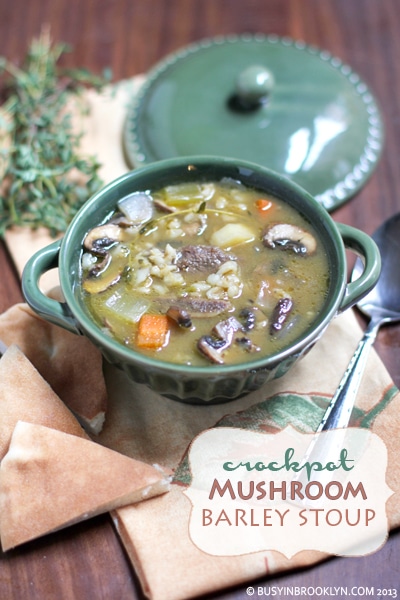 It was Rachel Ray who first coined the phrase stoup, and this is a perfect example of what it is: thicker than a soup but thinner than a stew. It's surprising that I'm posting a hearty dish like this when the weather is finally starting to warm up, but when I made this on a cold and chilly day earlier in the week, my Facepage page went gaga over it. I don't know if it's the whole slow cooker thing, but I definitely wasn't expecting this soup to go viral. Not that it's not delicious. Because, my, is it ever. With fall-off-the-bone flanken, two types of mushrooms and hearty root vegetables simmered in a thyme-scented chicken broth, this is good enough to make purely for the smell that will waft through your house for hours.
Serve with crusty bread for a whole meal in one bowl!
Crockpot Mushroom Barley Stoup
2 pieces flanken (short ribs)
1 tbsp olive oil
1 onion, diced
4 cloves garlic, minced
2 stalks celery, diced
2 parsnips, diced
2 carrots, diced
1 container button mushrooms, cleaned and sliced
1 container baby bella mushrooms, cleaned and sliced
5 sprigs thyme
1 tbsp soy sauce
10 cups beef or chicken broth
3/4 cup barley
salt and pepper, to taste
Method:
In a hot pan, sear the flanken, browning it on all sides. Add it to the crockpot. To the same pan, add oil and saute the onion, garlic, celery, parsnip and carrots, scraping up the bits of the flanken as you go. Add to the crock pot. Saute the mushrooms (add more oil, if needed) and add to the crockpot. Add remaining ingredients and cook on low for 6-8 hours.
VARIATION: To make this soup pareve, omit the flanken and cook on low for 4-6 hours.
SUBSTITUTIONS:  If you don't like thyme, you may use 2 bay leaves instead.
SHABBAT OPTION: to make this for Shabbat lunch, just add 2 cups of water or stock and cook on low overnight.
Note: If you don't have a slow cooker, you may cook the soup in a pot. Bring to a boil, then reduce heat and  simmer for approximately 2 hours, until barley and flanken are tender.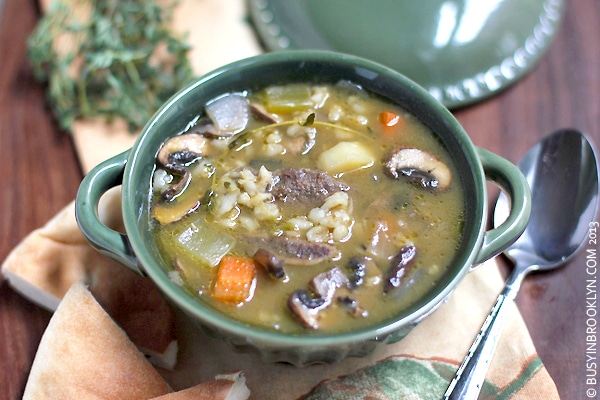 Related Recipes:
fire roasted tomato rice stoup
wild mushroom barley soup