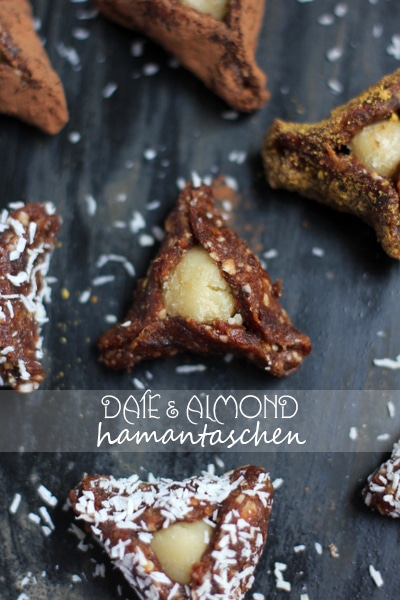 You know Purim is coming around when the blogosphere is overflowing with creative hamantasch recipes. It almost feels as if no-one makes classic hamantaschen anymore! The funny thing is, I'll make just about any triangular-shaped-cookie-concoction besides classic hamantaschen. I've heard way too many disaster stories of the corners splitting open and jam spilling all over the place.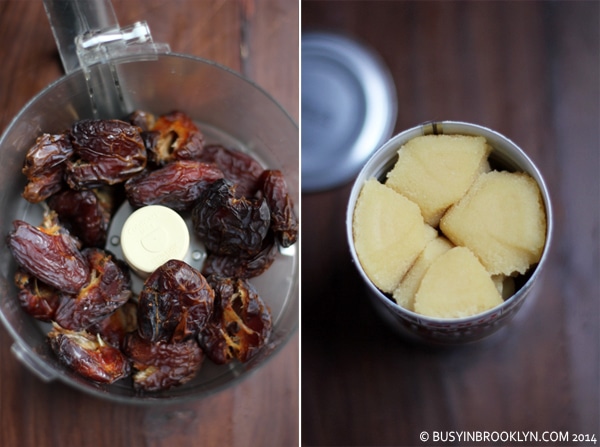 Call me a hypocrite but if I want good old-fashioned hamantaschen, I reach for the highly-processed Reisman's variety. I mean, if I'm gonna eat a hamantasch, I might as well eat. a. hamantasch. Right?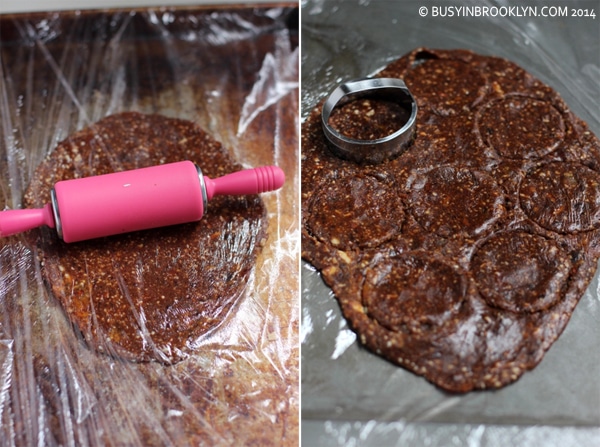 But if I'm eating a different kind of hamantasch, well then I might as well go crazy, right? And by crazy I mean whipping up some sushi hamantaschen, baklava hamantaschen, or a trio of savory puff pastry hamantaschen.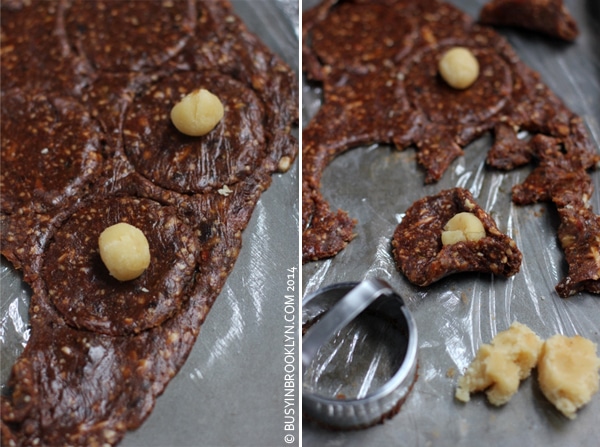 Believe me, I've been dreaming up some crazy hamantaschen ideas all year long! But as we got closer to Purim, I couldn't imagine breaking the momentum of my diet for some 3-cornered cookies. Instead, I challenged myself to come up with a healthy hamantasch for a change. And by healthy, I don't mean spelt, or whole wheat, or even sugar-free. I'm talking no-flour, no-baking, no-dough or jam of any kind!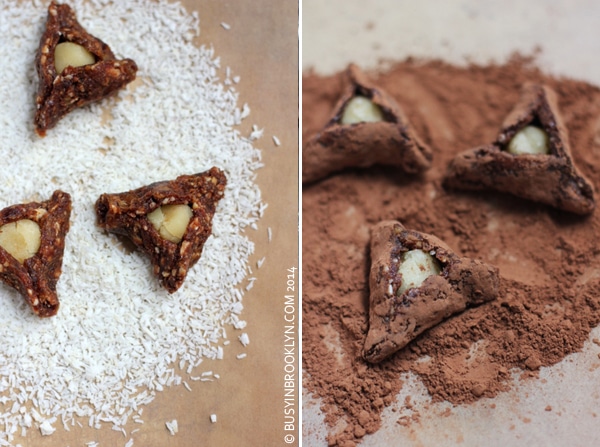 My first thought was to create a raw hamantasch using dates to create a cookie "dough". I went to my local produce market to pick up some medjool dates and there was my inspiration – marzipan stuffed dates! Brilliant!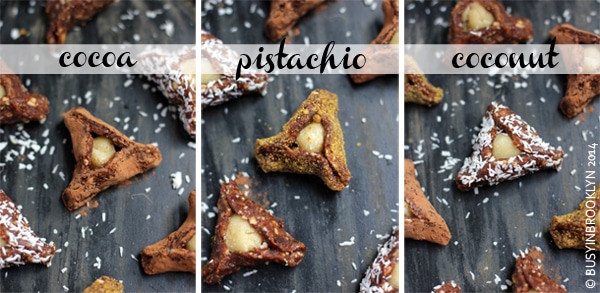 I got right to work creating my healthy no-bake hamantaschen. It's amazing how something with such few natural ingredients can come out so spectacular! Not only do the raw hamantaschen resemble a real cookie, they taste incredible too, all without the guilt.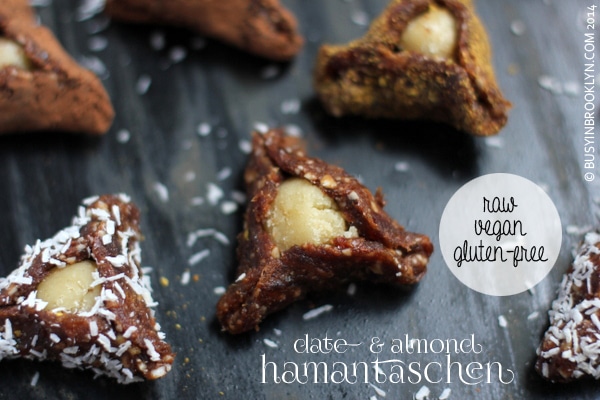 The best part about making these cookies is choosing what to roll them in. While coconut, pistachios and cocoa keep things healthy, you can up the fun-factor with some nonpareils or colorful sprinkles. Don't worry, my lips are sealed. We'll call it our Purim secret ;)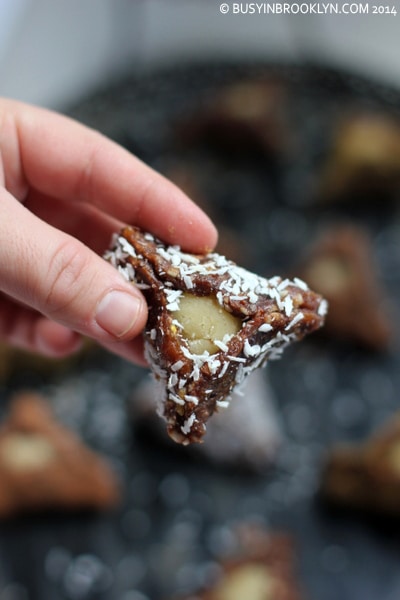 Date & Almond Hamantaschen
10 oz pitted medjool dates (approximately 1 cup, condensed)
1/2 cup almonds
1 tbsp cocoa powder
1 tsp cinnamon
pinch of sea salt
2 oz almond paste (canned or use recipe below)
cocoa powder, coconut & ground pistachios, for rolling
Method:
Add dates, almonds, cocoa powder, cinnamon and sea salt to a food processor and process until the mixture starts to clump together and pulls away from the side of the bowl. If it doesn't form a ball of dough, add a bit more nuts.
Line a baking sheet with plastic wrap and place the date mixture on it. Cover the mixture with another sheet of plastic wrap, wrapping it around the bottom of the tray so that it's secure. Using a rolling pin, roll out the "dough" from on top of the plastic wrap until it is about 1/8″ thick. Remove the top layer of plastic wrap and cut the dough into circles using a cookie or biscuit cutter. Collect the scraps and roll them out as above to create more circles.
Roll the almond paste into teaspoon-sized balls and place in the center of the cookies. Fold the cookies over the almond paste from each side and pinch lightly at the corners to create a triangle. Roll the hamantaschen in cocoa powder, coconut and/or ground pistachios.
Serve immediately or refrigerate for up to one month. May also be frozen for up to six months.
YIELD: approximately 18 hamantaschen.
Homemade Almond Paste (Egg-Free)
1 1/2 cups blanched almonds
1 1/4 cup powdered sugar
1 1/2 tbsp water
1 tsp almond extract
pinch of salt
Method:
Add the almonds and sugar to a food processor and process until the almonds are finely ground (stop to scrape the sides of the bowl, if needed). Add remaining ingredients and blend until the mixture forms into a dough and pulls away from the side of the bowl.
Wrap the almond paste tightly in plastic wrap and store in a ziploc bag. Can be refrigerated for up to 3 months or frozen for up to 6 months.
YIELD: approximately 12 oz. or 1 1/2 cups.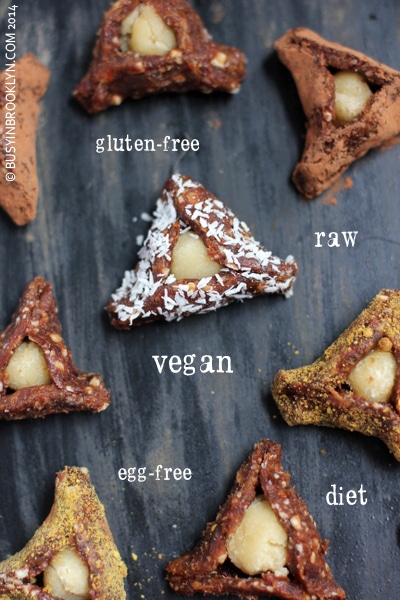 Other hamantasch recipes:
trio of savory puff pastry hamantaschen
sushi hamantaschen
baklava hamantaschen
"The Hamantini" Purim cocktail