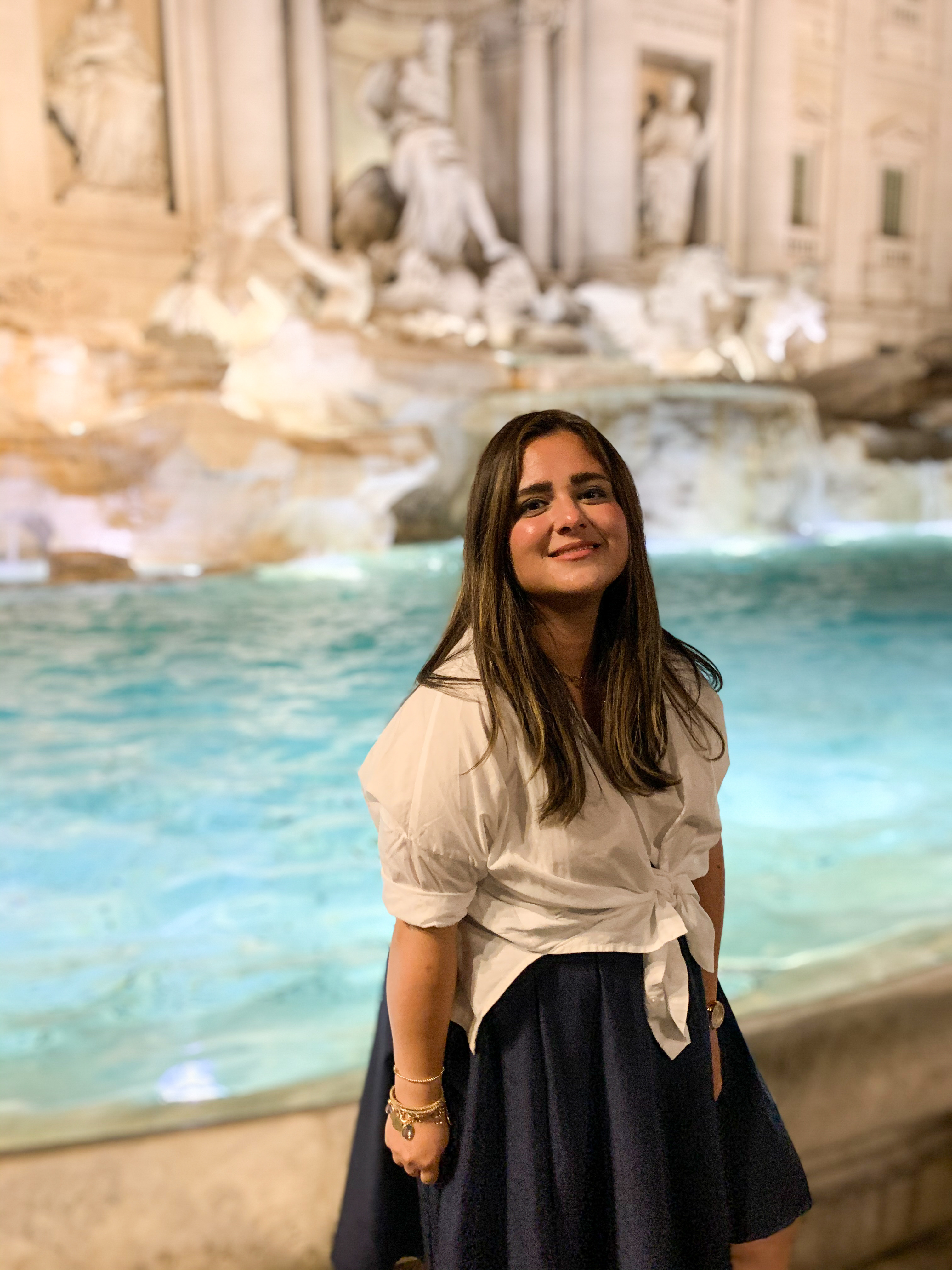 Trevi Fountain, where dreams come true

It has been a dream of mine to travel to Italy since my teens, and when Italy removed their Covid travel restrictions this summer, I decided to make it a reality. I had 7 days, including travel time, and I wanted to see as much as possible, but I had no clue where to start. So I reached out to my friend Noah Lang from @thekosherconcierge for help. Noah has pretty much traveled everywhere in the world, and he put me in touch with his friend Judith Rozen-Romano from @divine.italy who plans travel itineraries throughout Italy. Judith and I hit it off from the start. She is extremely knowledgeable in the food world, and it has always been a dream of hers to plan a trip for a chef, so it was a match made in heaven. She asked about my passions and interests and we put everything on the table, pun intended. After a couple of days of back-and-forth planning, lots of last-minute reservations and research, my trip was planned! Thank you Judith and Noah for making my dream trip a reality!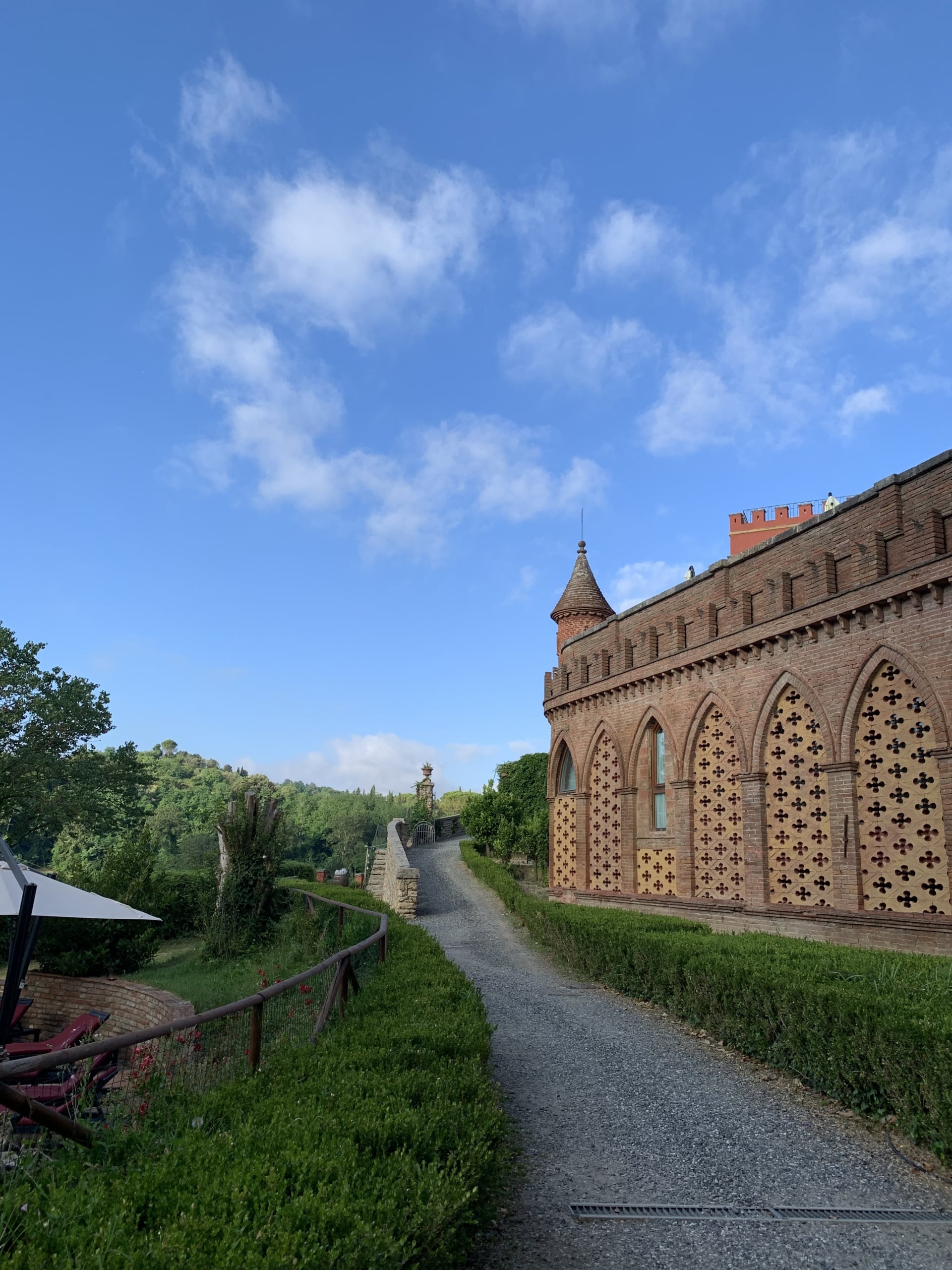 San Ruffino Resort, Tuscany
I put my friend Rivky to work booking the train tickets, we made hotel reservations and booked our Covid testing appointments and before I could even blink, we were off and headed for the trip of a lifetime.
Our Basic Itinerary:
Venice –> Tuscany (Pisa + Cantina Guilliano) –>> Cinque Terre –>> Florence –>> Rome.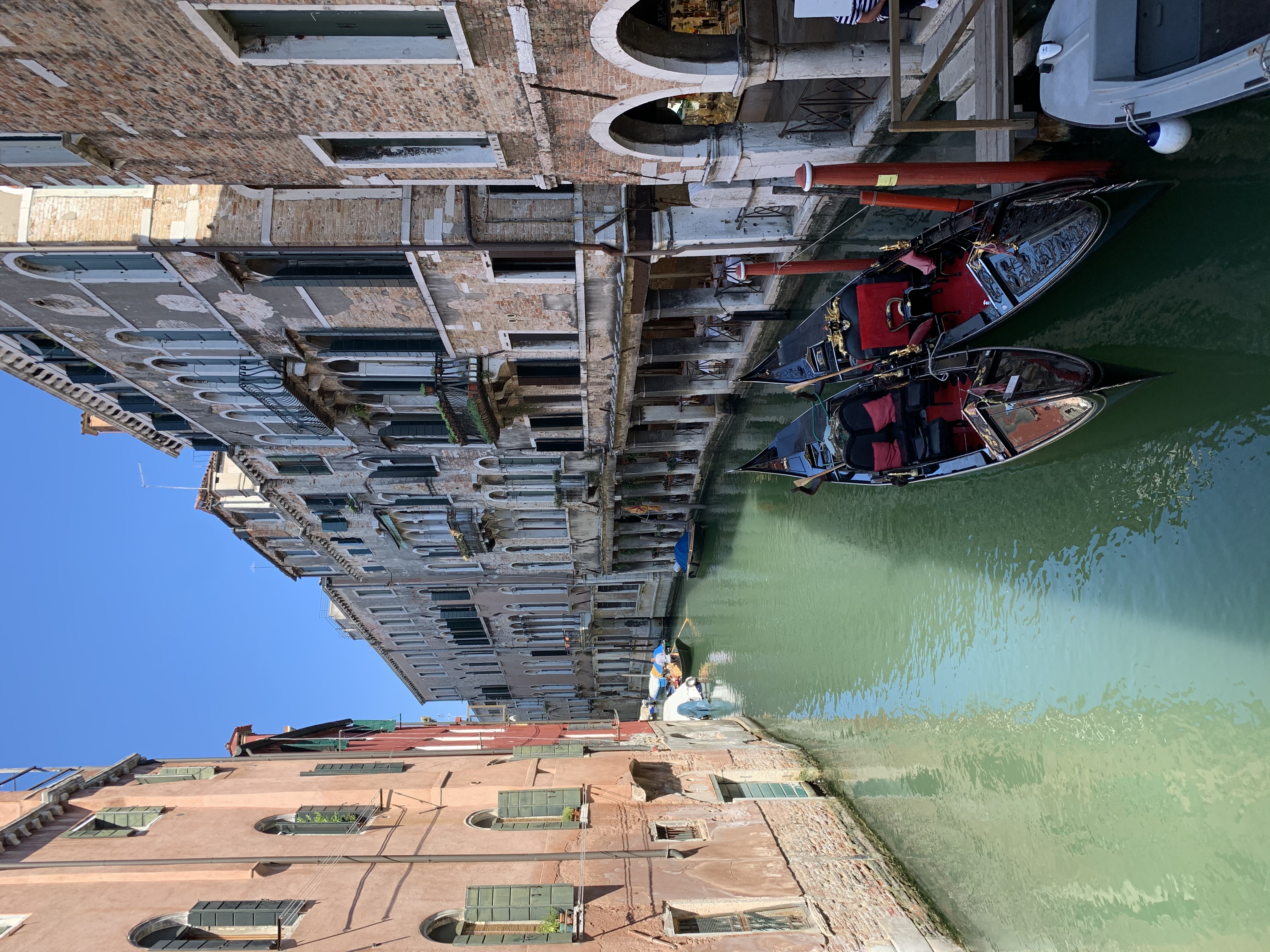 Gondola Rides, Venice, Italy
Day 1-2: Venice
We arrived in Venice on Friday morning and headed straight for the dock where we took our own water taxi to our hotel, the Carnival Palace, which was recommended to us by Rebbetzin Shachar Banin of @rebbetzinunplugged and JewishVenice. Rebbetzin Banin has been a follower of mine for a while and also hosted my mom a few years back. Her restaurant Gam Gam is world renowned for it's Shabbos experience, which is why I decided to start my trip in Venice so I could experience it for myself.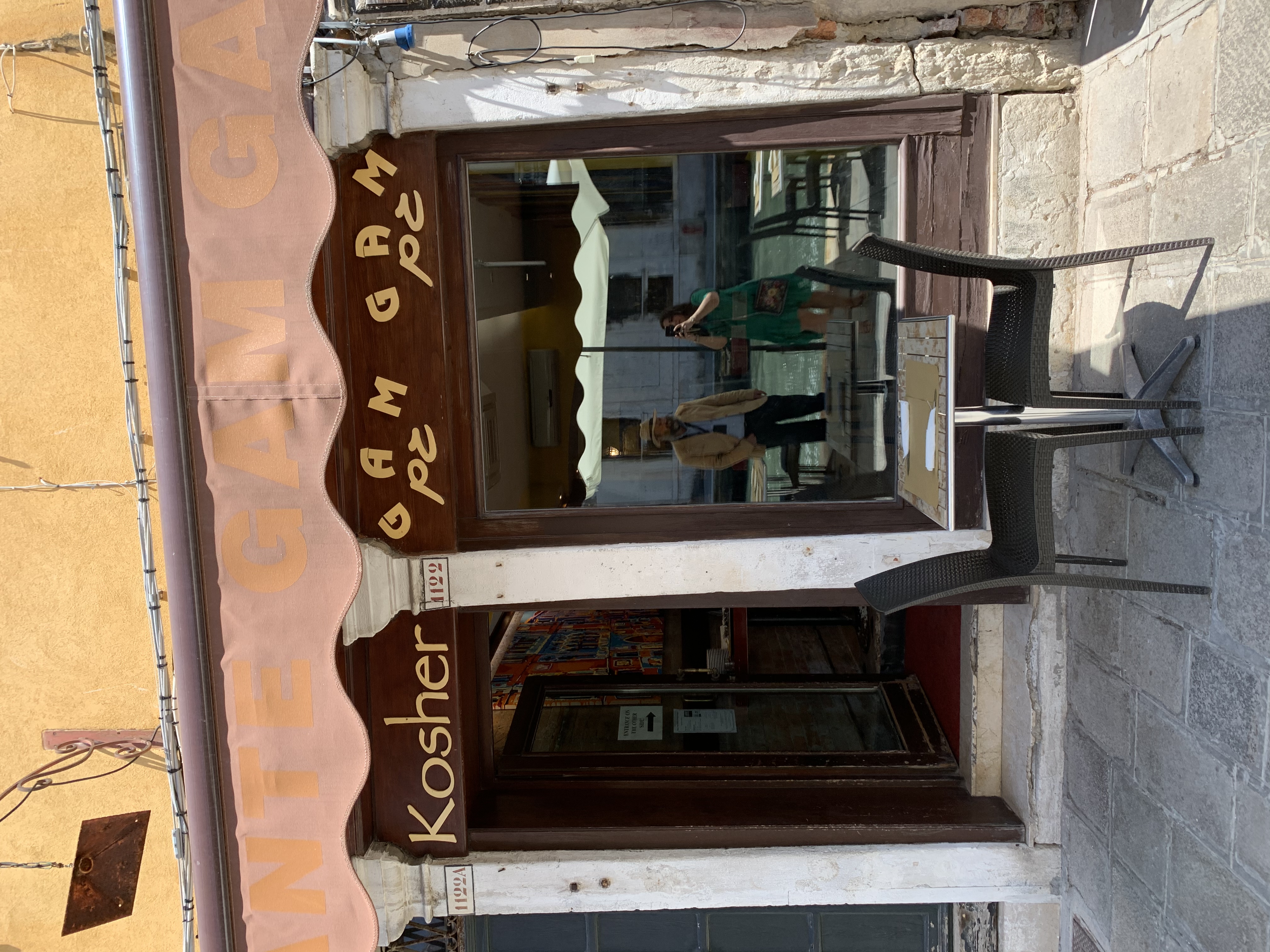 Gam Gam Kosher Restaurant, Venice
We settled in and met Judith for a quick chat, then off to explore the history of Jewish Venice with our tour guide Moshe Bassali @jewish_italy. Moshe took us around the old and new Jewish ghetto, some of the old synagogues, Jewish bakery, and art gallery. We stopped for pizza and falafel at Gam Gam goodies, where I was lucky enough to "take challah" with the Rebbetzin from the pizza dough.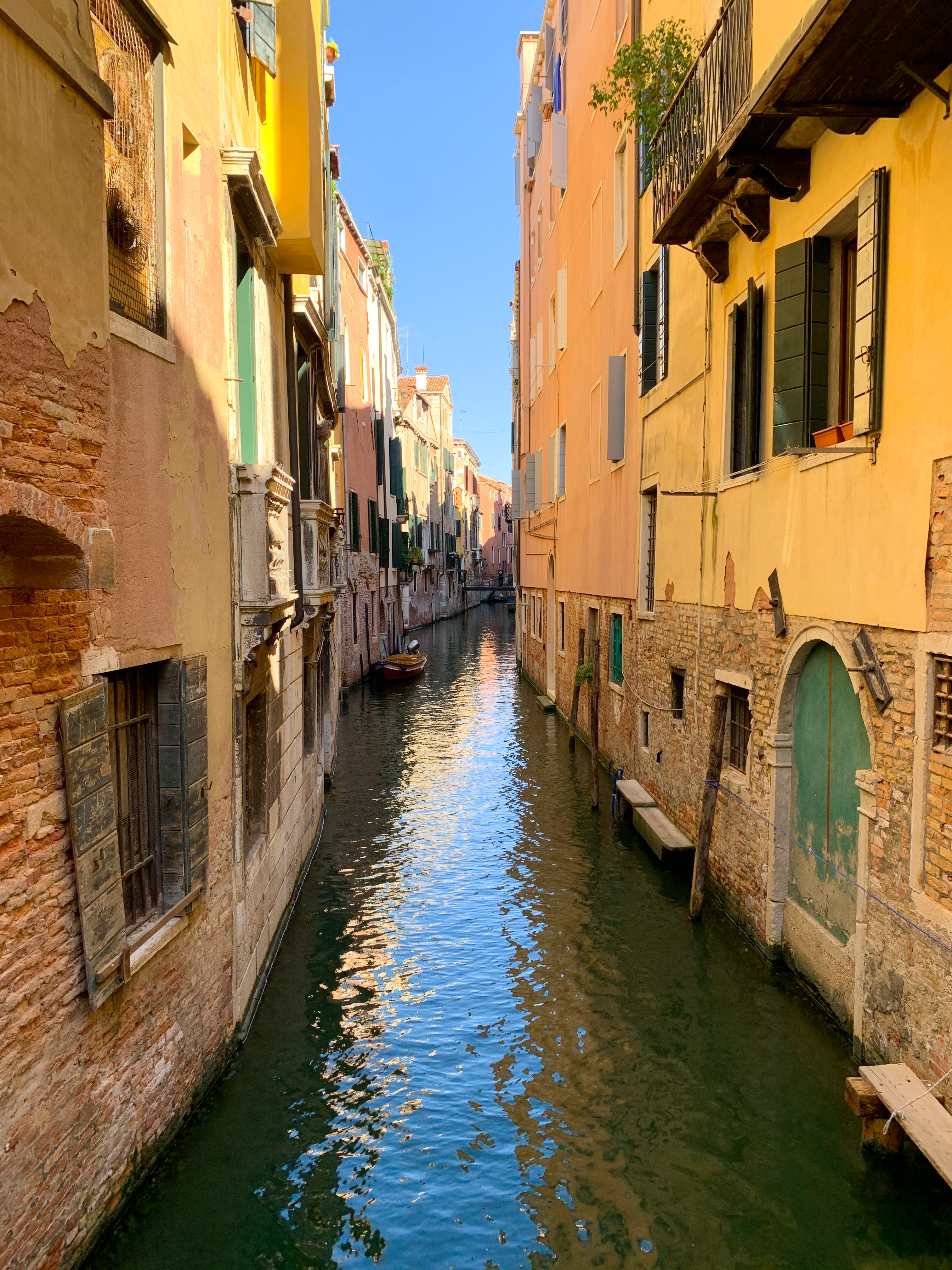 Venice, Italy
With a few hours till Shabbat, we took a stroll through the city streets, shopped around the small boutiques and took the most magnificent gondola tour through the Grand Canal (you'll find tours throughout the streets, the cost is typically 80 Euro). If you have time, a visit to Murano and Burano are definitely worthwhile.
Shabbat in Venice lived up to the hype. We met the most wonderful people, sat outdoors alongside the canal for a delicious Friday night dinner, then enjoyed lunch at Gam Gam, an afternoon stroll through town and finally the most beautiful havdalah in the new Ghetto square.  We finished off our tour of Venice at San Marco square and the Rialto Bridge late into the night.
Leaning Tower of Pisa
Day 3: Tuscany (Pisa + Cantina Giuliano)
Sunday morning, we shlepped our luggage through the cobblestone streets (not an easy feat!) to catch our train to Pisa. It was a last minute addition to our itinerary but it was on the way to the winery we were headed to, and I wanted the photo op!
While headed to Pisa, I took in the most breathtaking scenery I had ever seen, Tuscany has my heart! We got off the train without any real plans, so we hailed a cab from outside the station and asked him to take us to the Leaning Tower. We took some pics and then asked the driver to take us around to the most popular spots in the city. He was so gracious and gave us an amazing tour!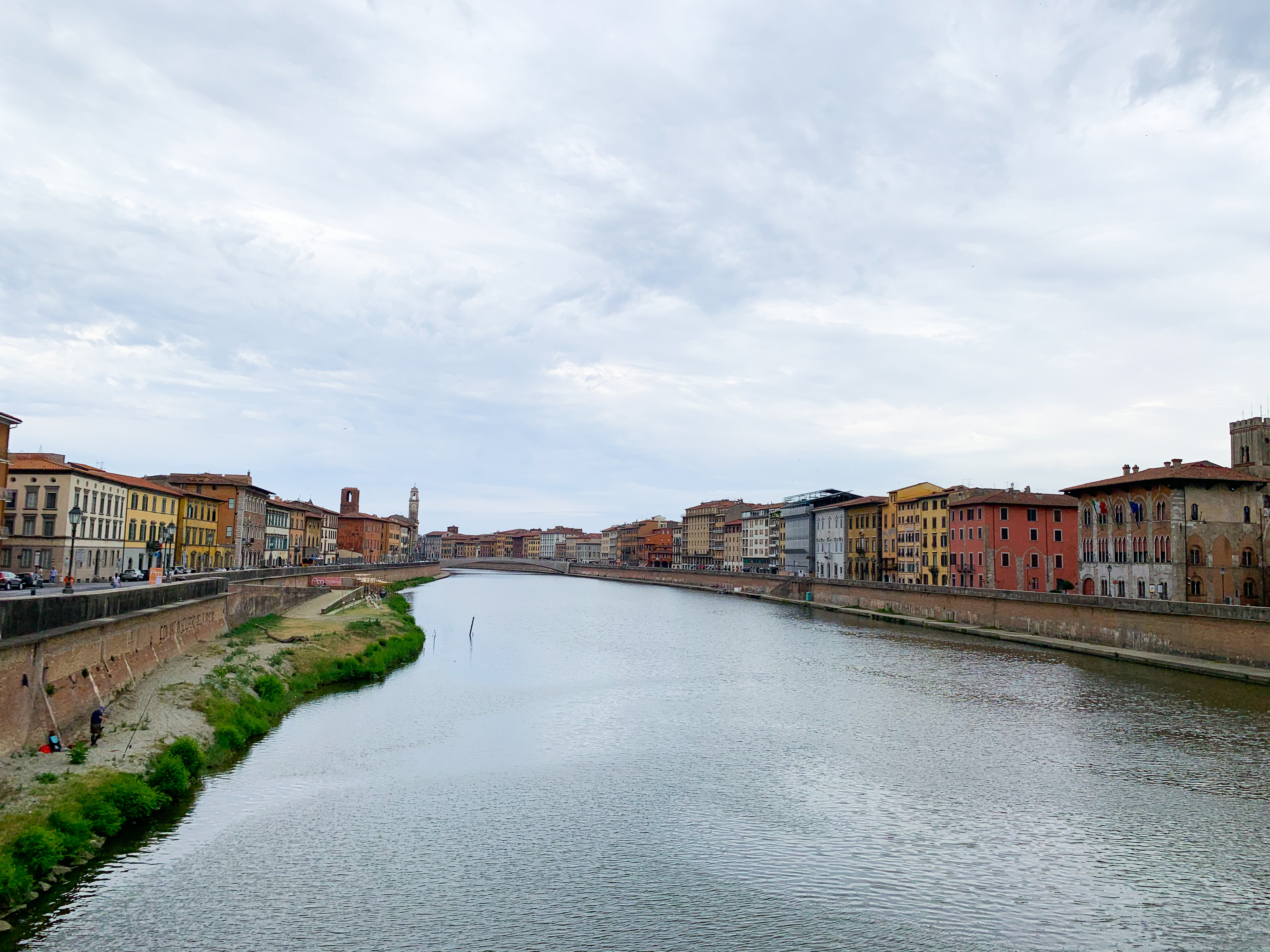 Arno River, Pisa
And then, we were off to the place I'd been dreaming about going for years – Cantina Giuliano, a boutique kosher winery and farm to table restaurant in the heart of Tuscany. I had first heard about the winery from my friend Rochie Pinson , I drooled over her Instagram stories when she went truffle hunting and then returned to the winery to make homemade truffle pasta. She later wrote about her trip in Fleishigs magazine and that's when I decided I was going to make that trip happen, some day, some how.
Funny story! I was in Miami a couple of months ago, and I bought a Tuscan-inspired lemon dress at a shop there, thinking that one day when I make it to Tuscany I am going to wear it (limoncello and all!), I never dreamed I would have the opportunity just a few months later, but alas, I made homemade pasta in my Tuscan dress in the heart of Tuscany and I'll never forget it!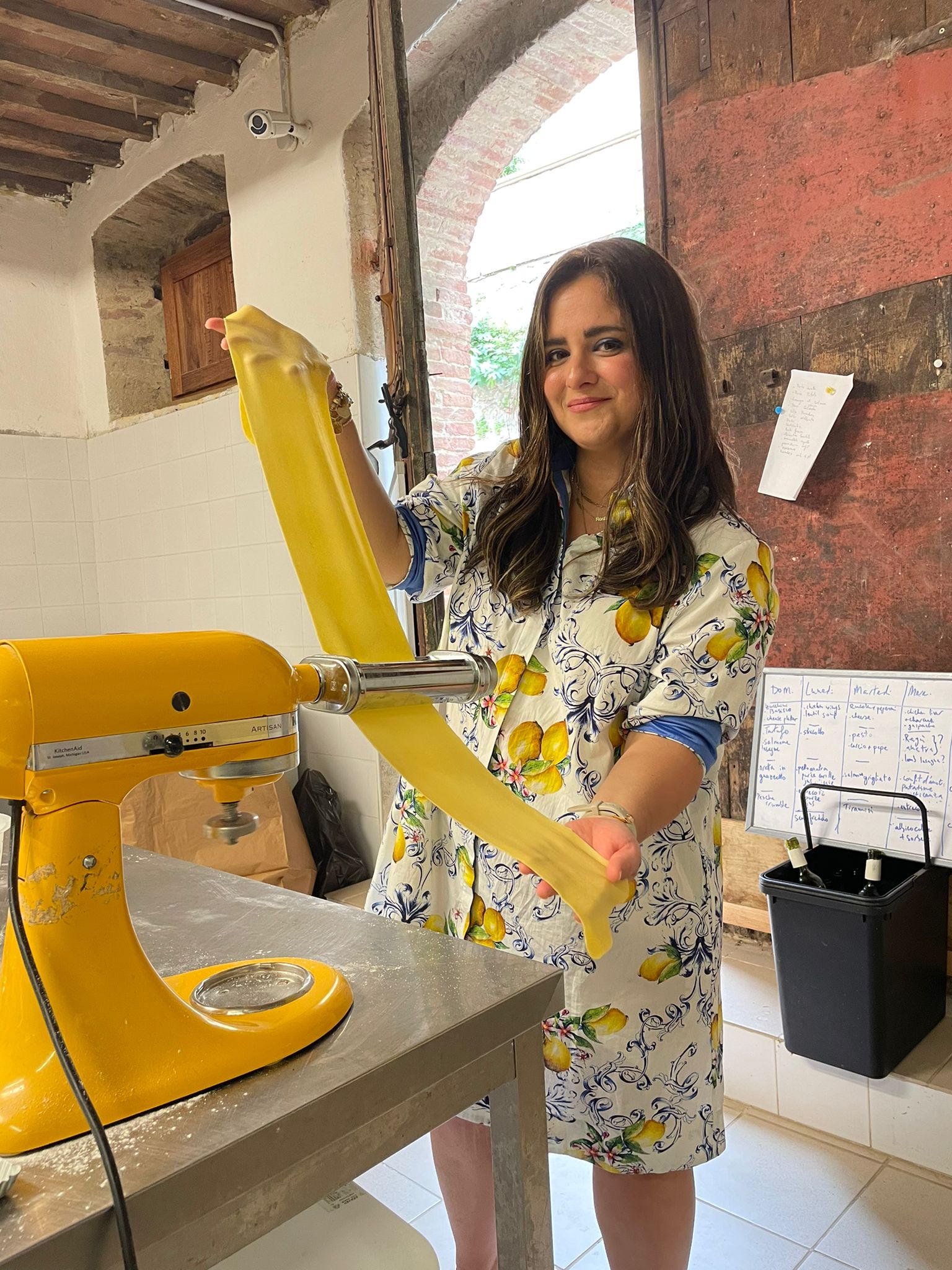 Making homemade pasta at Cantina Giuliano
Cantina Giuliano was everything I had hoped it would be – and more! We met up with Lara Gauthier for a hands-on pasta workshop at the restaurant, where buckets of freshly picked figs overflowed, duck confit simmered in the meat kitchen, and peach lavender jam was being canned in the dairy. Lara took us across the road to her mother's garden where we picked fresh herbs for dinner, and ate the juiciest plums straight from the tree.
Back at the restaurant, we rolled out fresh pasta dough, stuffed it with artichoke puree and set aside the ravioli for dinner while I sat down for a chat with Eli, Lara's winemaker husband (you can watch it on my IGTV!). If available, I highly recommend truffle hunting, which Eli can set up for you, a boat ride along the Tuscan coast, or a tour of the winery!
After a long day, we finally sat down to the most amazing farm-to-table meal paired with the most incredible wine I've ever had!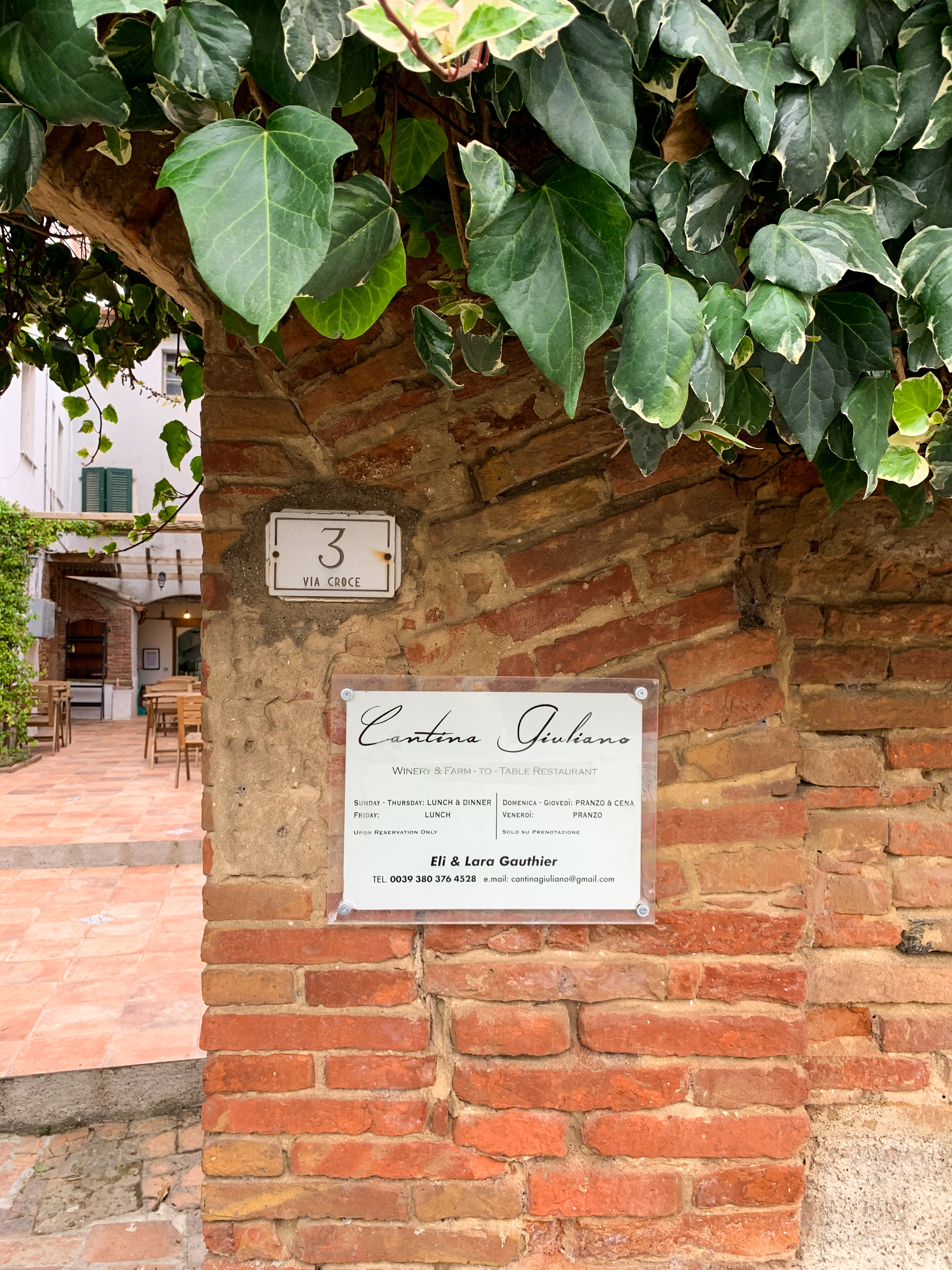 On the menu:
baked herb-crusted ricotta cheese, candied tomatoes, onion jam, arugula roasted pepper salad with parmesan and homemade Polish bread.
Artichoke ravioli with botarga
Sea Bass with roasted cherry tomatoes, potatoes and fresh herbs
Dessert: farm fresh peach crumble and tiramisu
Simple, humble but oh. so. incredibly. delicious!!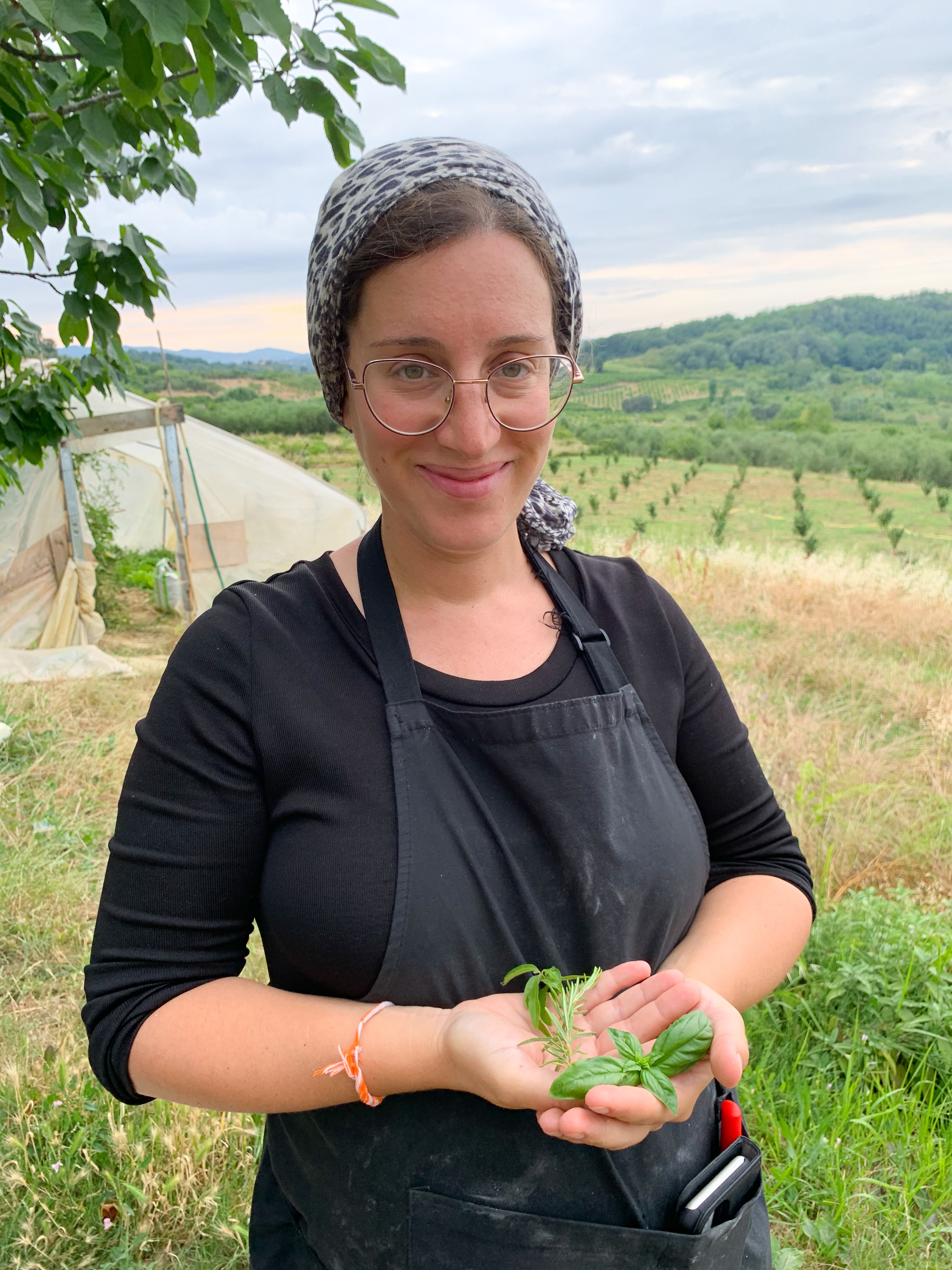 Lara Gauthier, chef and owner of Cantina Giuliano
Eli & Lara packed us with some goodies to go for our trip the next day – tuna barley salad with cucumbers, semolina cake, fresh bread, peach lavender jam, butter and fresh fruit. Watching Eli carefully wrap the fresh figs like they were jewels, made me appreciate just how much they cherish the produce that they grow, a testament to their approach and quality of service.
Slightly inebriated (who are we kidding?!), as if our day couldn't get any more special, we headed to our hotel, a castle nestled in the Tuscan mountains that Eli had arranged for us. A magical day with an equally magical ending.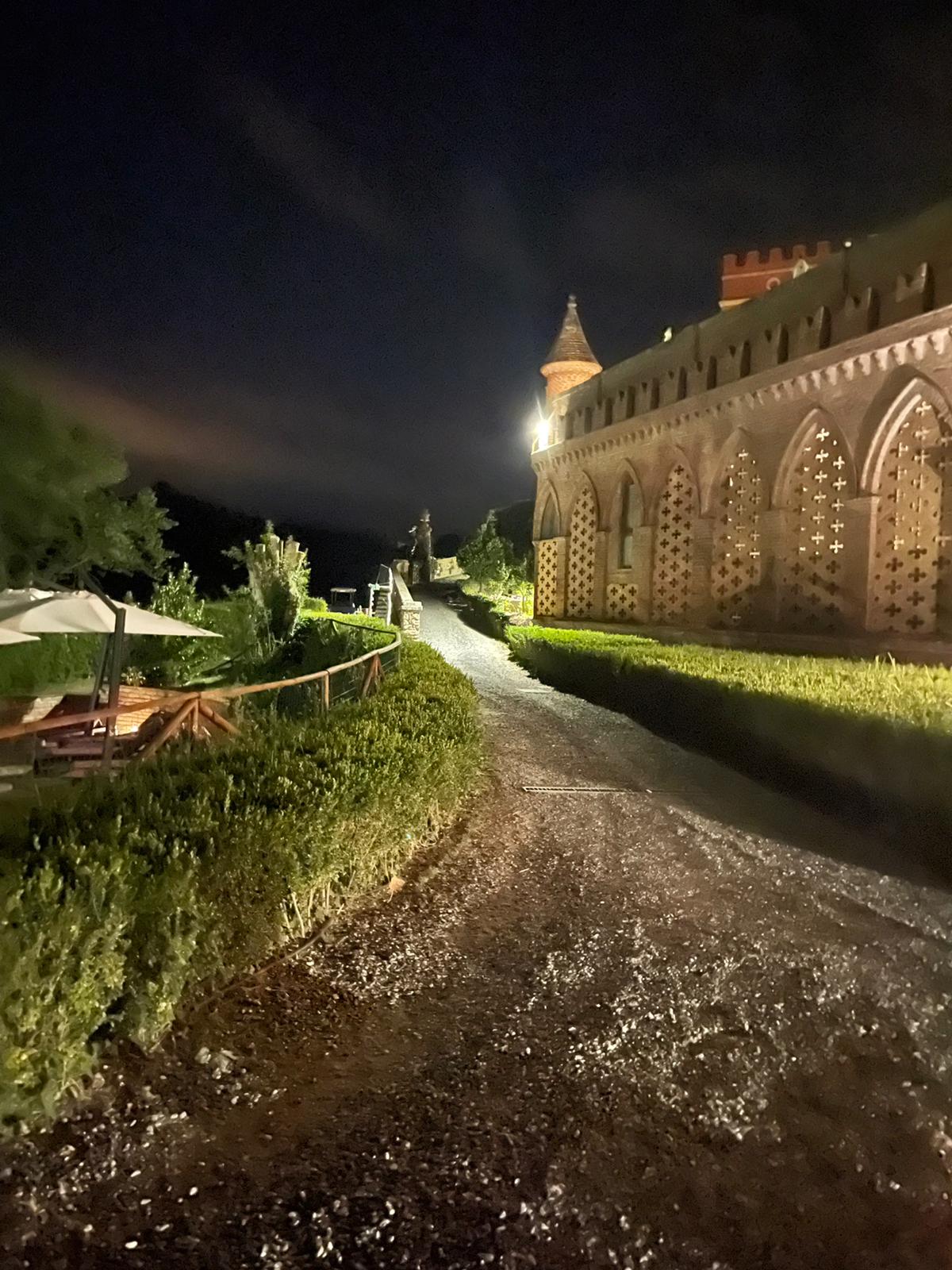 San Ruffino Resort, Tuscany
Day 4: Cinque Terre
I woke up early to the sound of roosters, dogs and birds singing in harmony to the most beautiful backdrop I had ever seen. I walked through the streets, soaking in every scene, breathing the crisp air, and crying from gratitude for seeing my dream realized, and having it be even greater than I could have every imagined. I considered changing my itinerary to stay for another night, wanting to experience Lara's meat meal at the restaurant (lentil soup with a sous vide egg and duck rillette were on the menu!), but alas it was too complicated, even with Judith's help, so we called a taxi to head to La Spezia train station for another day in paradise.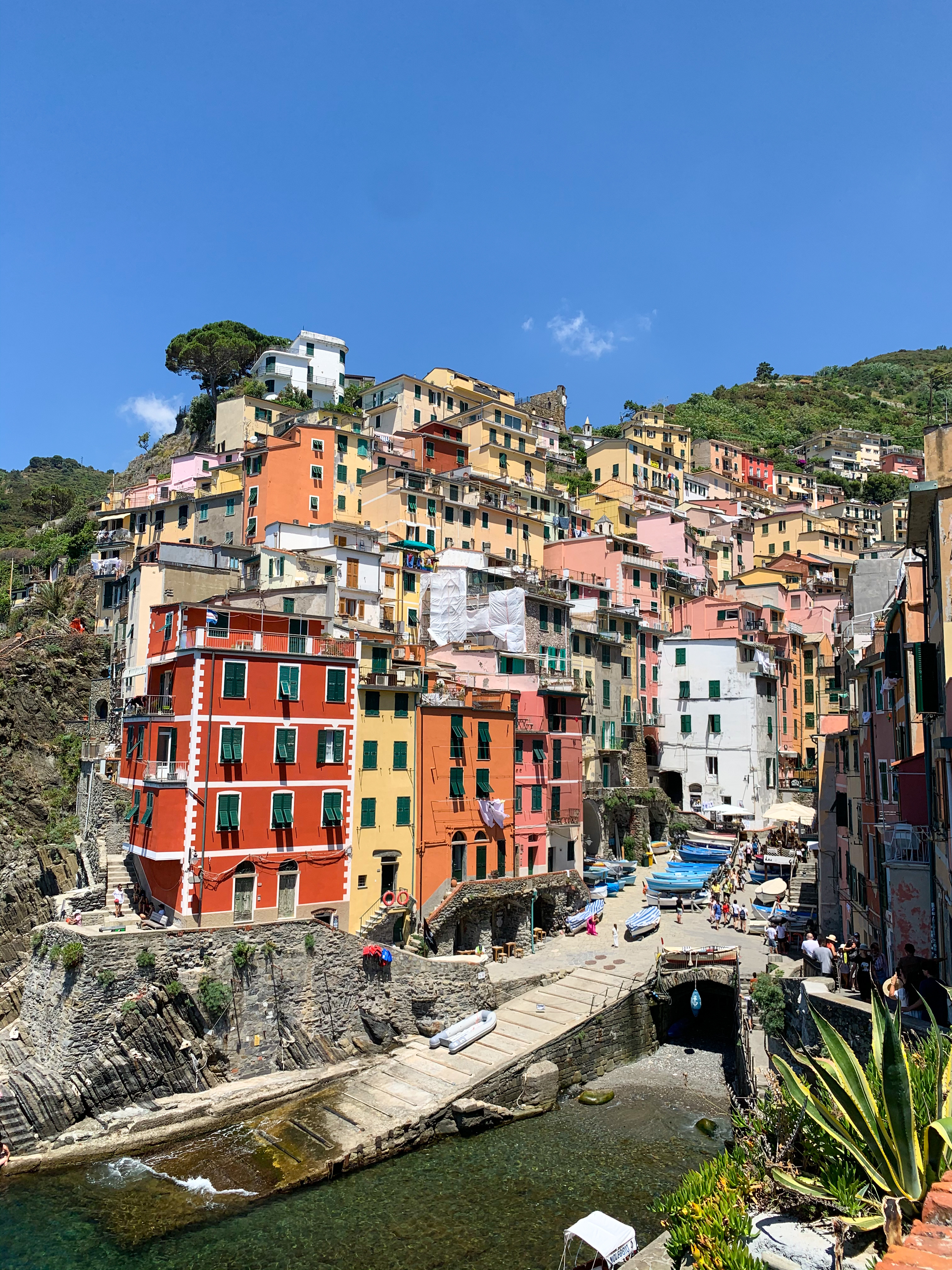 Monterosso, Cinque Terre
At La Spezia, we met with our tour guide, Antonella, who took us around for the day to explore the 5 seaport villages of Monterosso, Vernazza, Corniglia, Manarola and Riomaggiore. Dubbed "The Amalfi Coast of the North", Cinque Terre was breathtaking. The color of the water, the vineyards tucked between the mountains, the colorful boats and houses, the lemons!!, the shops… what an incredible day. We took the train to Monterosso, then a boat ride along the following three villages, and finished in Riomaggiore, where we took in the most awe-inspiring views. You can hike through Cinque Terre, rent a boat or tan water-side amid a sea of  chic umbrellas, but make sure to pack food as there are no kosher options.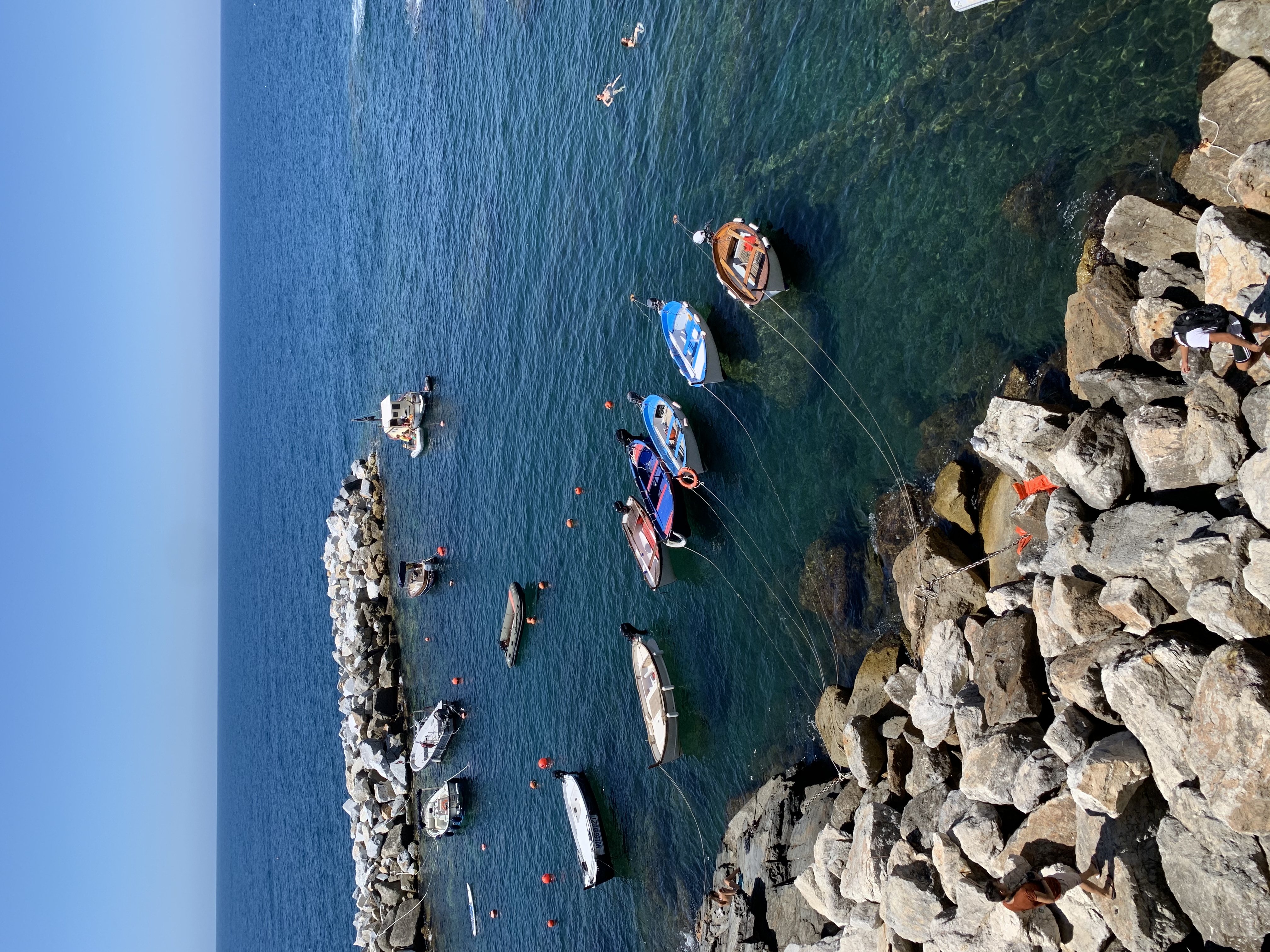 Monterosso, Cinque Terre
After a long day, we headed back to the train station to return to Florence, taking in the sites of Tuscany with each breath. Our train broke down en route, and we were so thankful to have Antonella with us to guide the way! After a very long trip, we arrived in Florence.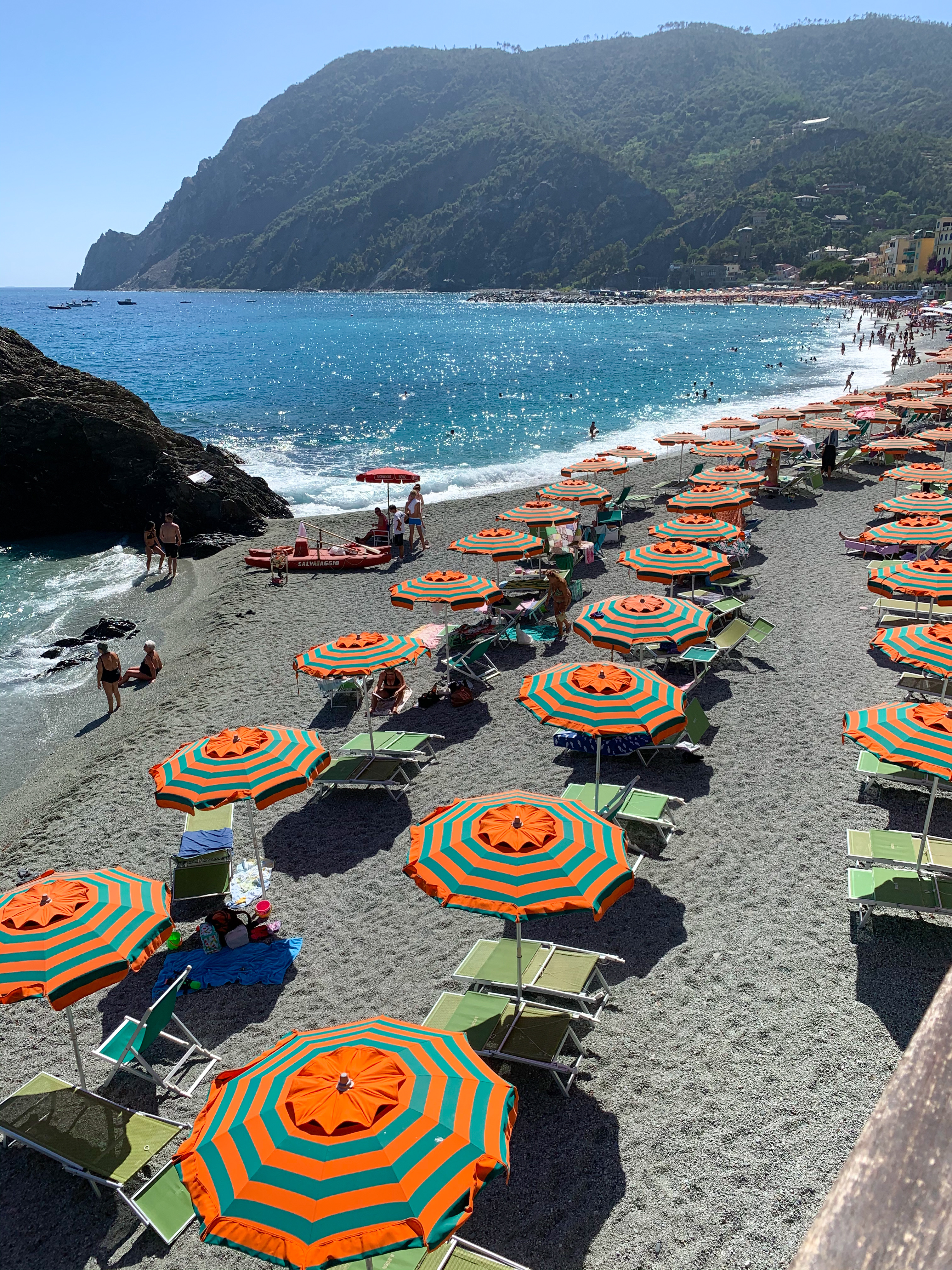 Riomaggiore, Cinque Terre
Exhausted from a night in the sun, we made it to our hotel in the heart of Florence, Hotel Calimala, which boasts a rooftop bar that is worth visiting for it's beautiful view of the city. We were spent but we couldn't resist a quick walk through the city before going to bed, so we hit the streets, ran into many, many statues, and then finally forced ourselves to catch some zzz's!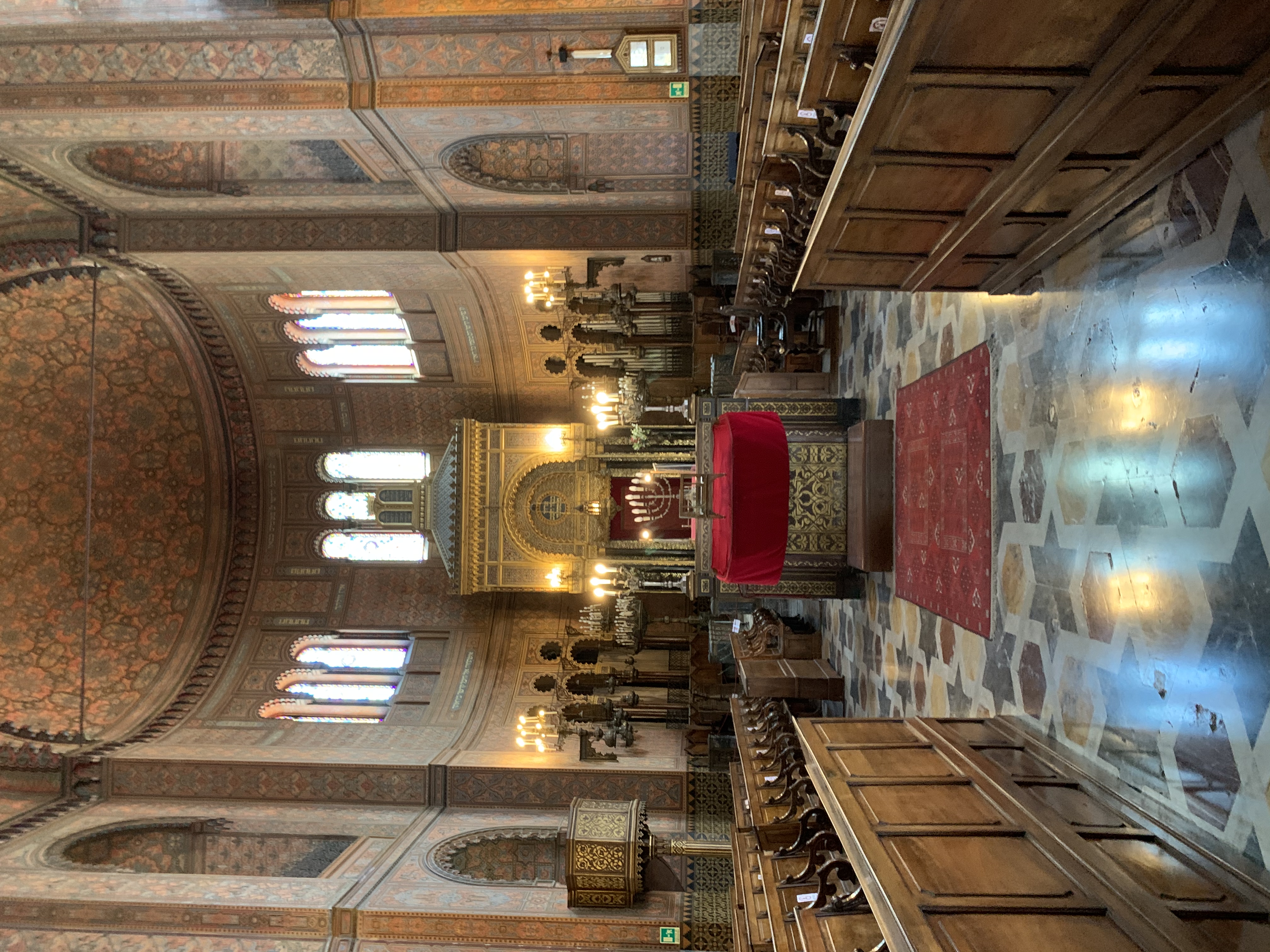 Jewish Synagogue, Florence
Day 5: Florence
In the AM, we once again met up with Antonella for a tour of the city. We walked through the many attractions, most notably the Jewish Synagogue which was by the far the most fantastic shul I had ever seen! The Jewish museum, The Gucci Museum, Ruth's kosher dairy restaurant for a quick pizza, and all the boutique shops that Florence is known for: olive wood, silk scarves, leather gloves (where they rest your elbow on a pillow and put the gloves on for you!), and of course the leather purse market.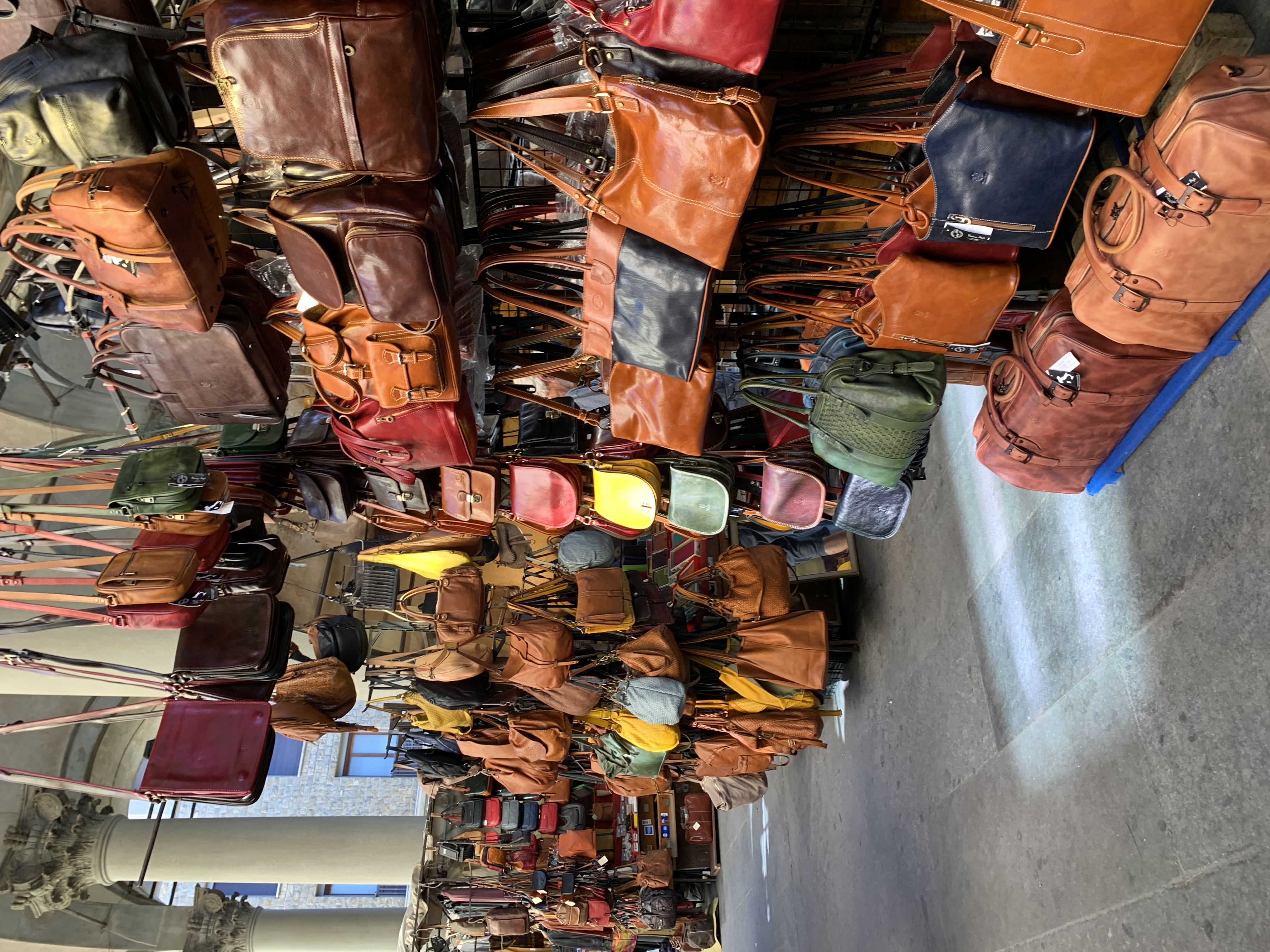 The leather market, Florence
We finished our amazing day in Florence with dinner at Ba'ghetto and a private class with the chef who made us traditional Jewish fried artichokes. We toasted on limoncello and Campari spritz's, tried some of their house-made beer and charcuterie, Jewish fried cod, incredible truffle pasta, couscous bamia with okra, and date baklava. You can view the live classes from the restaurant here and here!
Off to Rome!!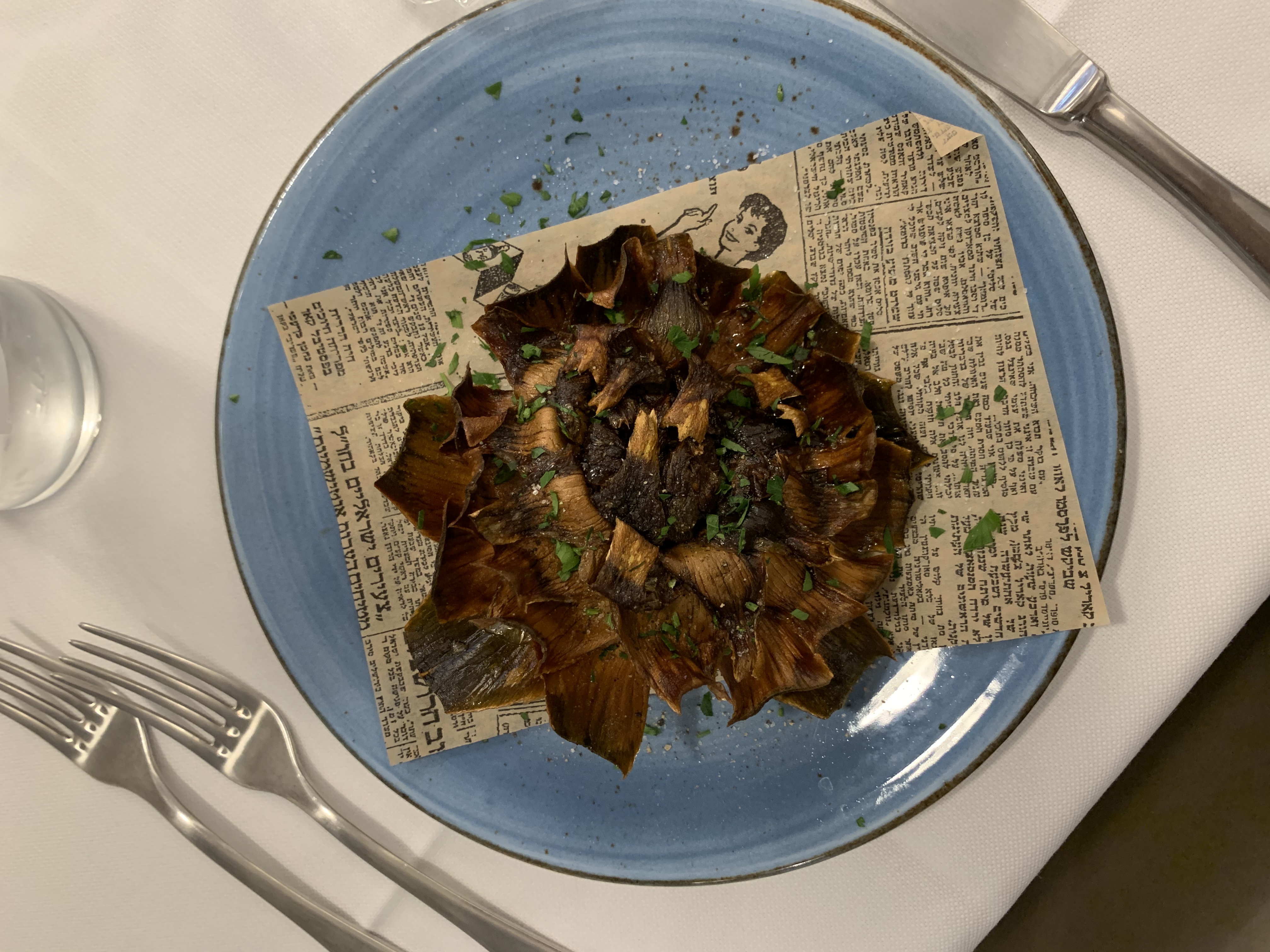 Jewish Fried Artichokes at Ba'Ghetto in Florence
We arrived in Rome just as Italy won the finals of the Euro cup and the streets were on fire! Cars were honking, thousands of people took to the streets drinking and dancing…what a welcome!! We dropped off our bags at Neman Maison, a kosher bread and breakfast in the heart of the Jewish Ghetto, and headed straight for the crowds. And then…we crashed.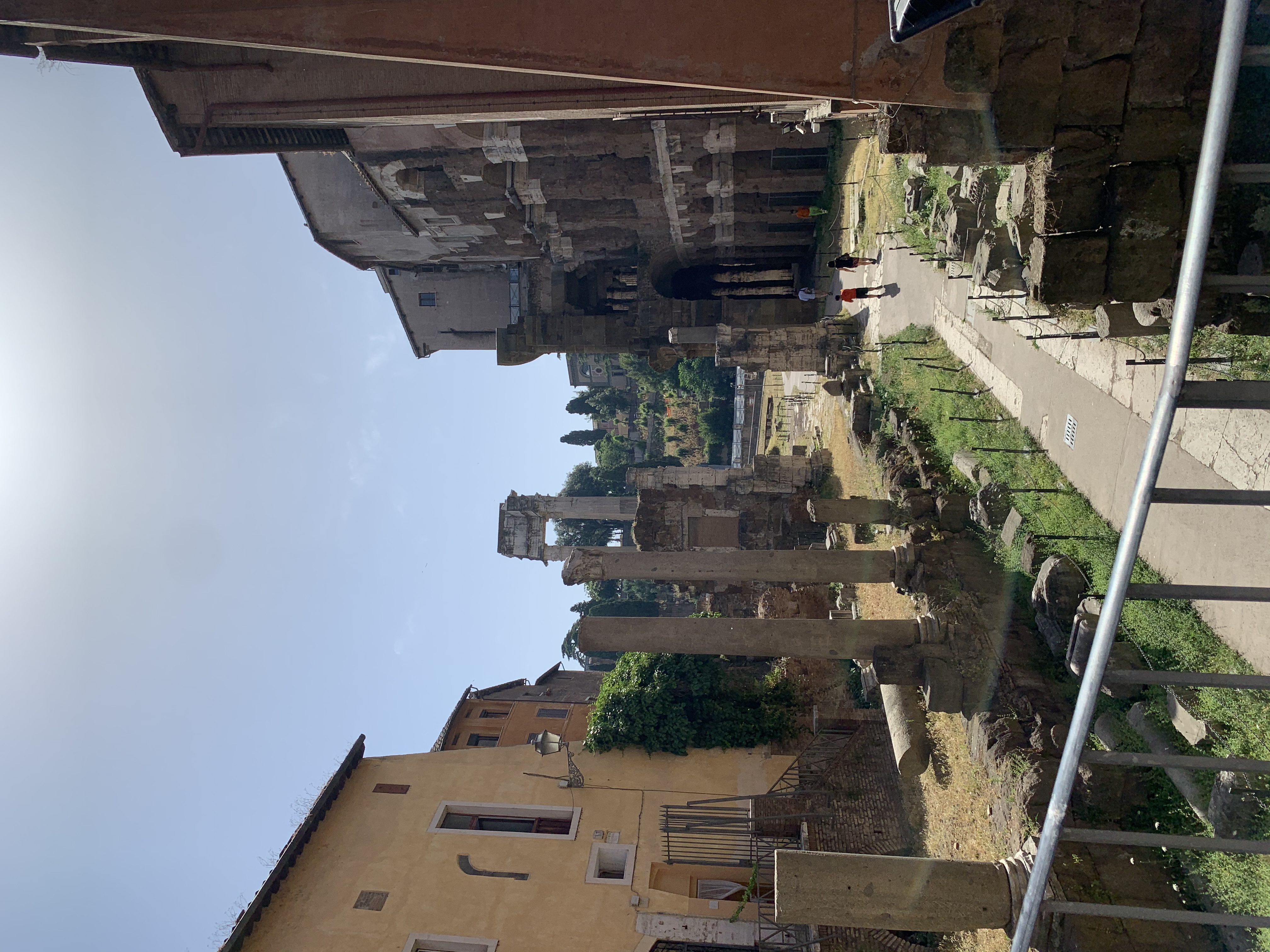 Jewish Ghetto in Rome
Day 6: Rome
What a novelty to wake up to a kosher breakfast in a hotel outside of Israel! Nofar Kashi, the general manager who restored the historic Gucci-owned apartment came to meet us after a breakfast of Italian cappuccino, eggs, toast, jam and pastries.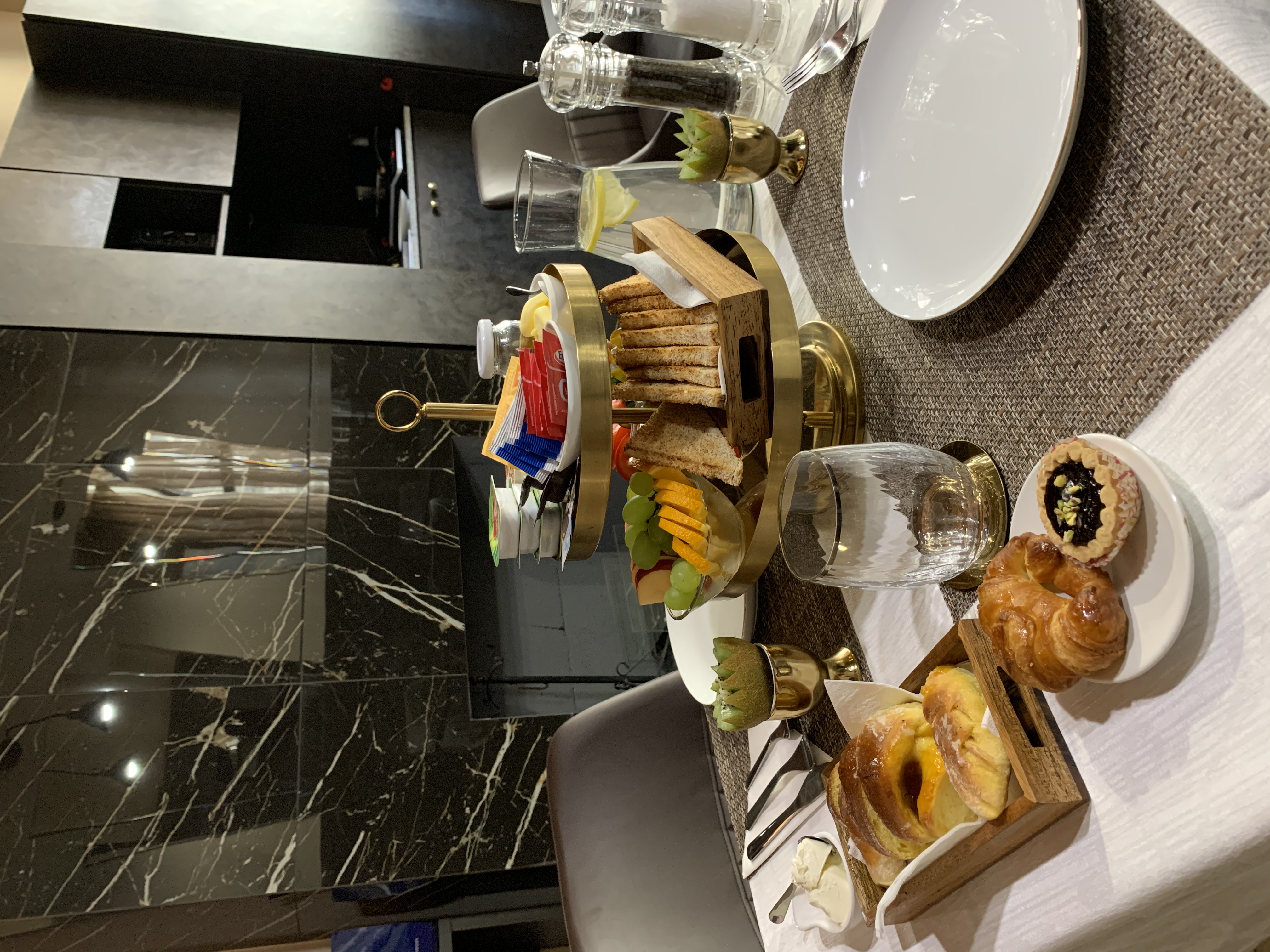 Breakfast at Neman Maison in Rome
Nofar also offers gastronomic tours of Rome, and I was so excited to experience Roman culture through food, with history at every turn. We started with a tour of the Teatro Marcello, the small colosseum, and site of the ancient fish market. I then got a taste of true Roman tradition with burnt cakes filled with ricotta and jam, maritozzo, a whipped cream-stuffed brioche sandwich, and shakerato, and iced coffee with foam that took the edge off in the 90+ degree weather!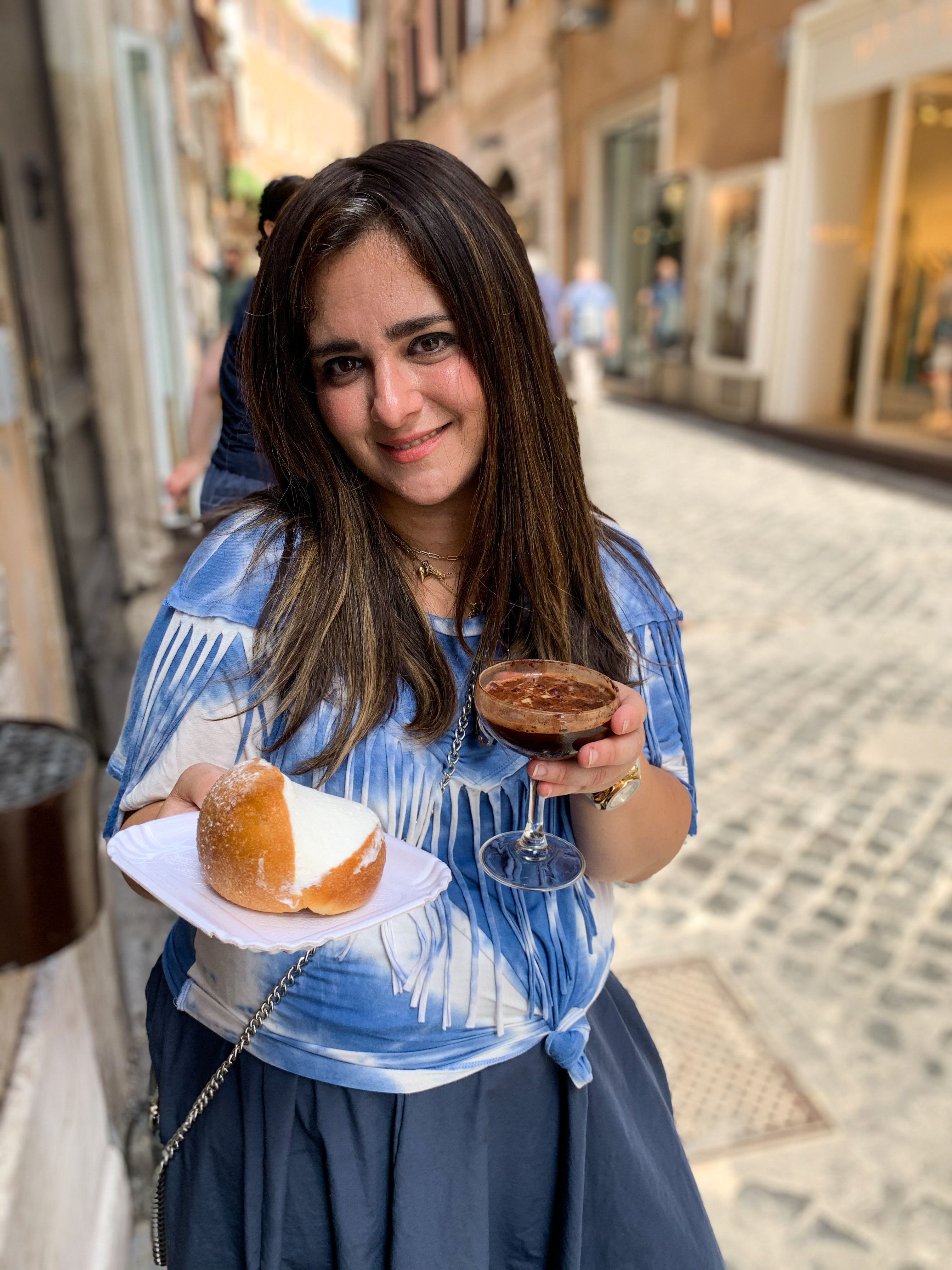 The "Shakerato" + the Maritozzo sandwich
We continued to Campo de Fiori, the fresh produce market, where I sampled limoncello and the most incredible produce. We moved on to the 200 year old bakery to try the pizza bianca, the burnt slices and a variety of breads.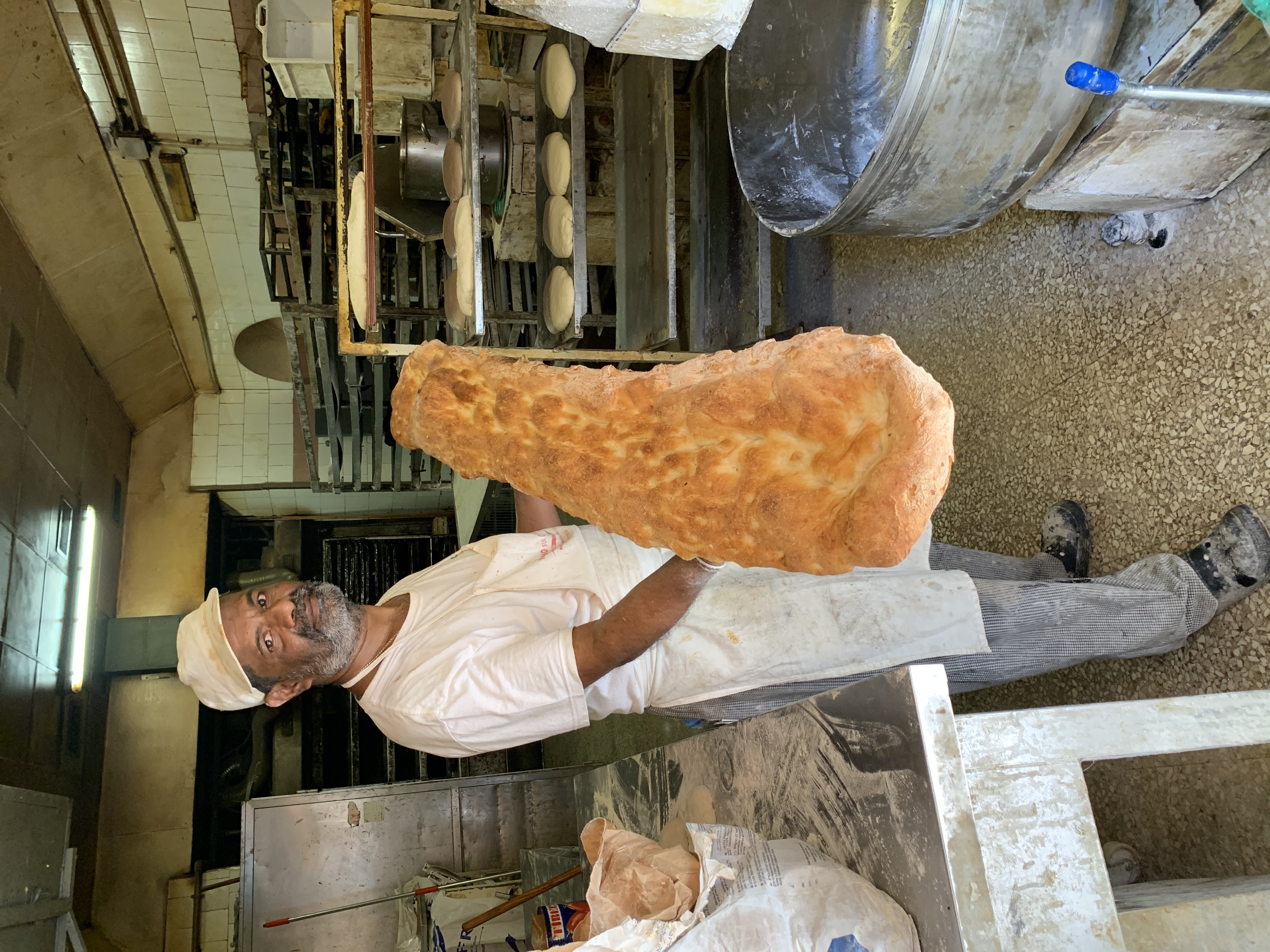 200 year old bakery in the Jewish Ghetto in Rome
Then onto Casalino Osteria a local restaurant where they found a medieval well during construction! We sat down for a mouthwatering cheeseplate of buffalo mozarella, 4 years aged parmesan, pecorino Romano, bleu cheese and an assortment of homemade jams and mustards. The cheese basket with homemade pasta, fried artichokes and parmesan was to die for!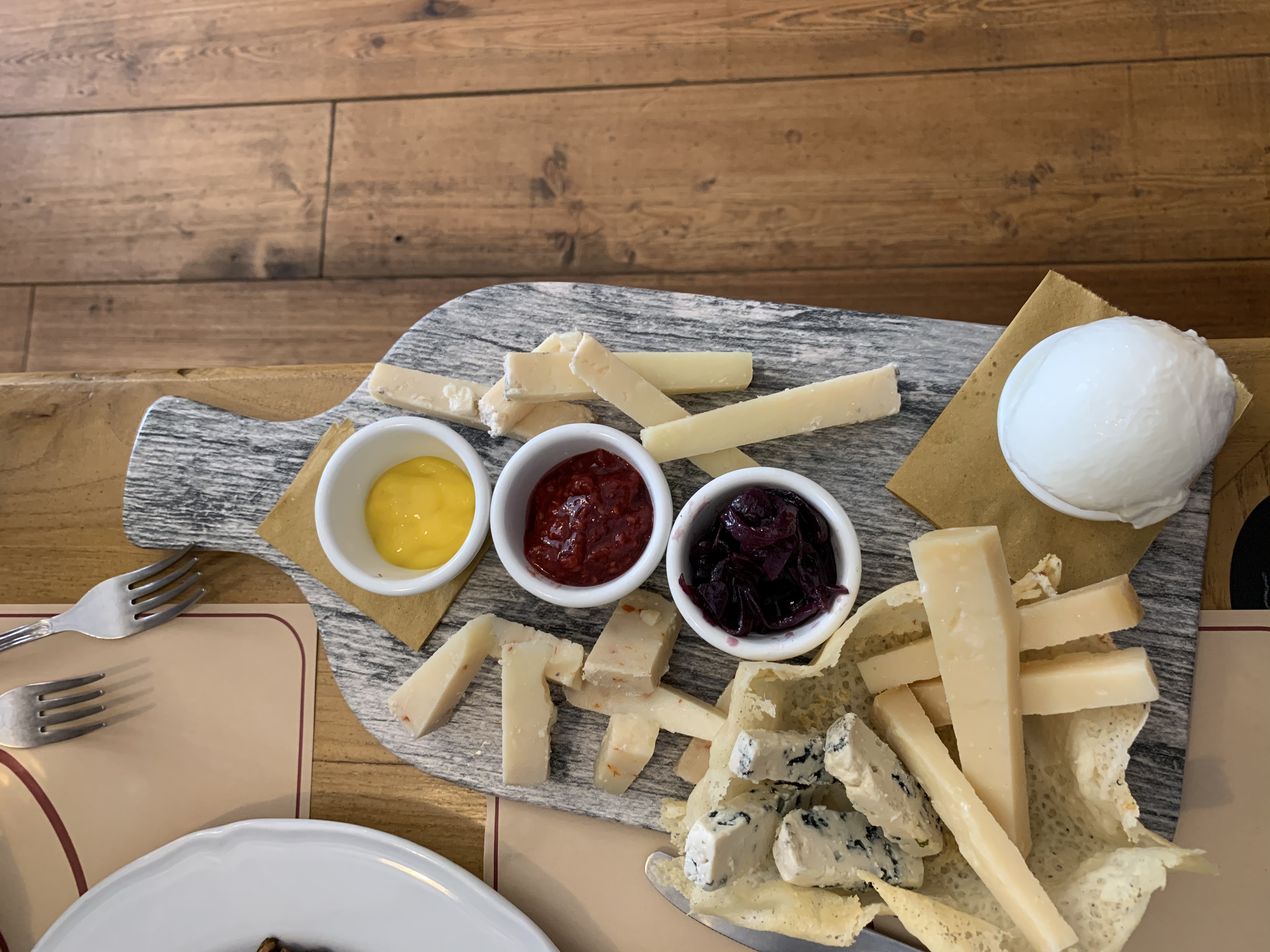 Cheese Plate at Casalino Osteria
Stuffed, we moved on to Renato al Ghetto where Chef Kevin made a delicious pasta with sofrito and fish, zucchini blossom stuffed with fish and the most incredible tiramisu. Next stop was Bona, for true Italian pizza (which ruined me for life!).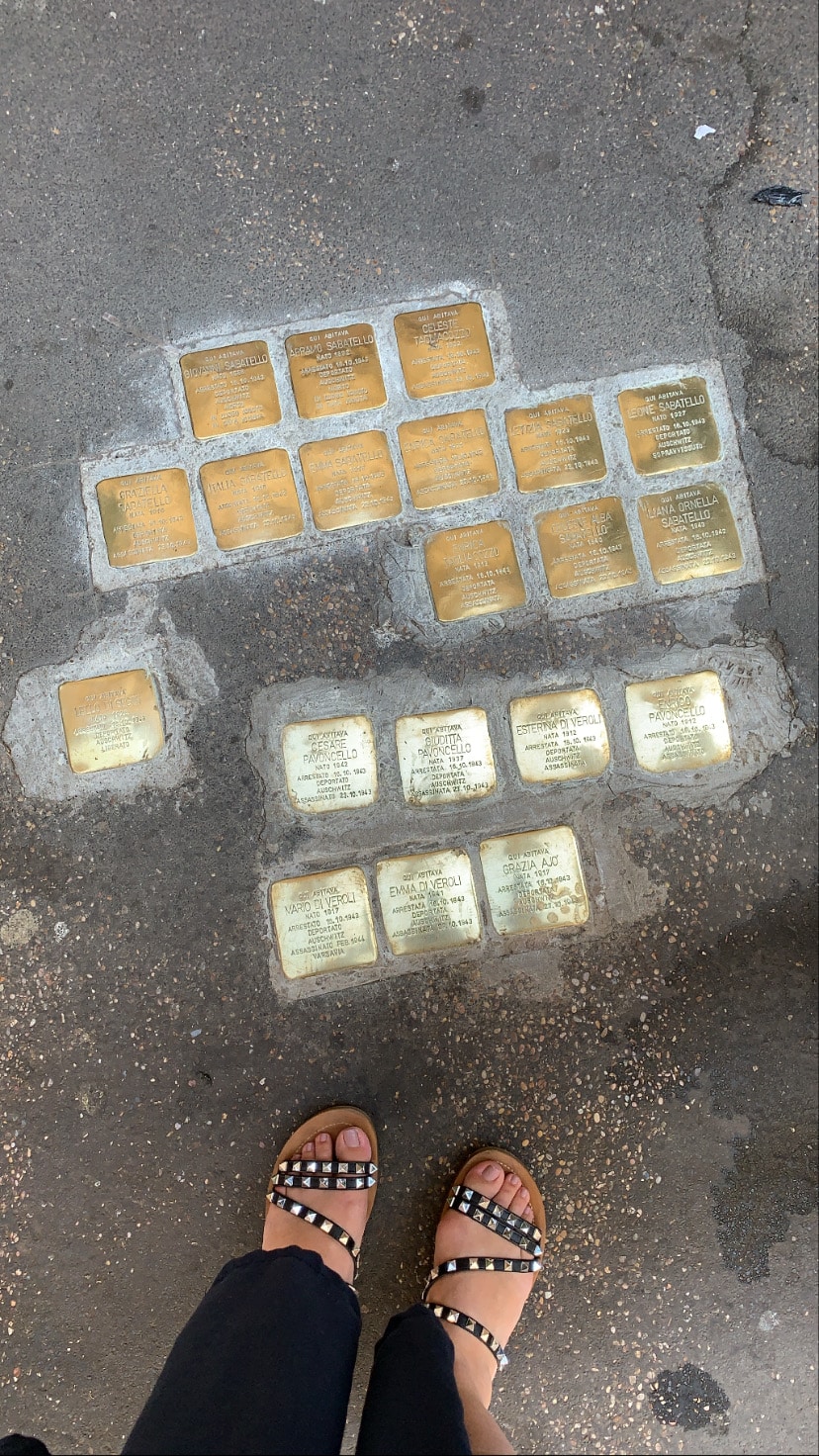 Memorial for Holocaust victims in the Jewish Ghetto.
Having eaten enough for days, we headed with our guide, Laura, to the Jewish museum and synagogue which was just as breathtaking as the one we had seen in Florence. The synagogues are fashioned similarly to churches (they even have an organ!), truly a site to behold.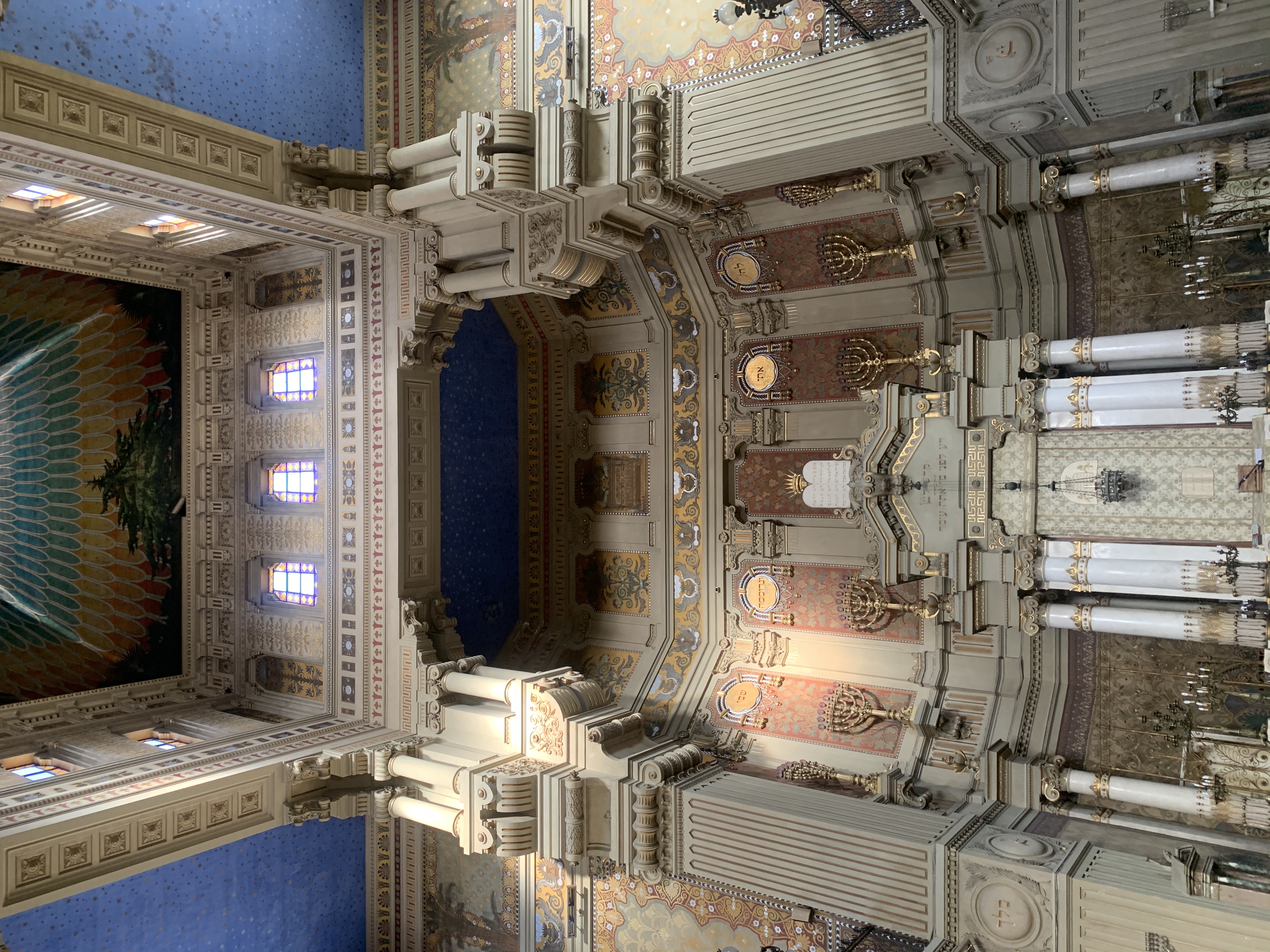 Jewish synogugue in Rome
We headed back to the ghetto for dinner, with a stop at Cremeria Romana for a taste of true Italian gelato. The rosewater, biscotti (made from the biscotti from the burnt cake bakery next door) and Amarena cherry were as good as they sound!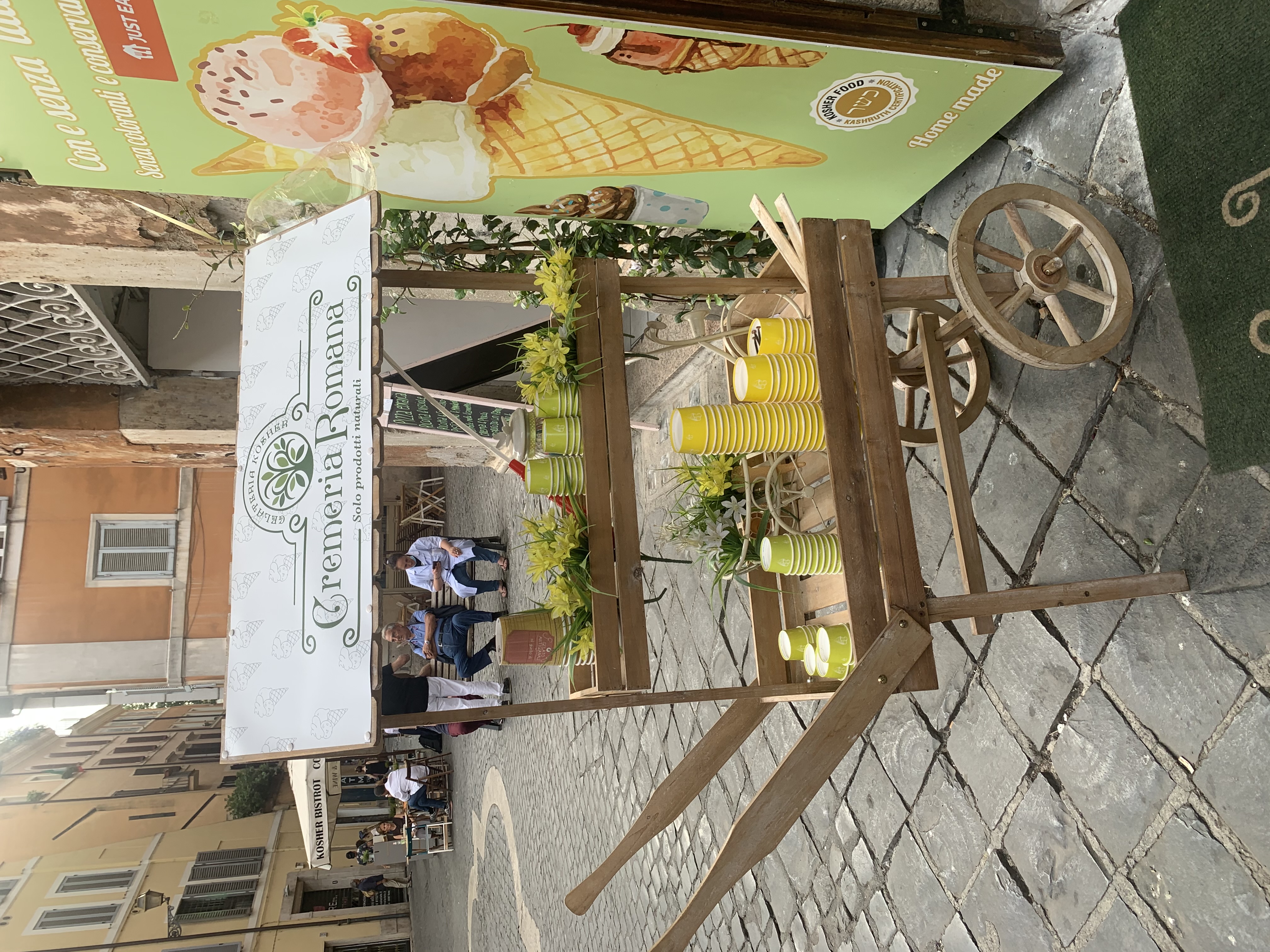 Cremeria Romana Gelato in Jewish Ghetto in Rome
For aperitivo, we headed to Ba'ghetto of Rome, where Elan, the owner and nicest guy all around, gave us a taste of Roman tradition – Jewish fried artichokes, Roman artichokes, the most amazing house made bresaola, lamb shoulder al forno, veal al forno, and their award winning carbonara. As if I wasn't full enough, we headed back to Renato al Ghetto to put their carbonara to the test, with chef Kevin Coen making it live (you can watch it on my IGTV!).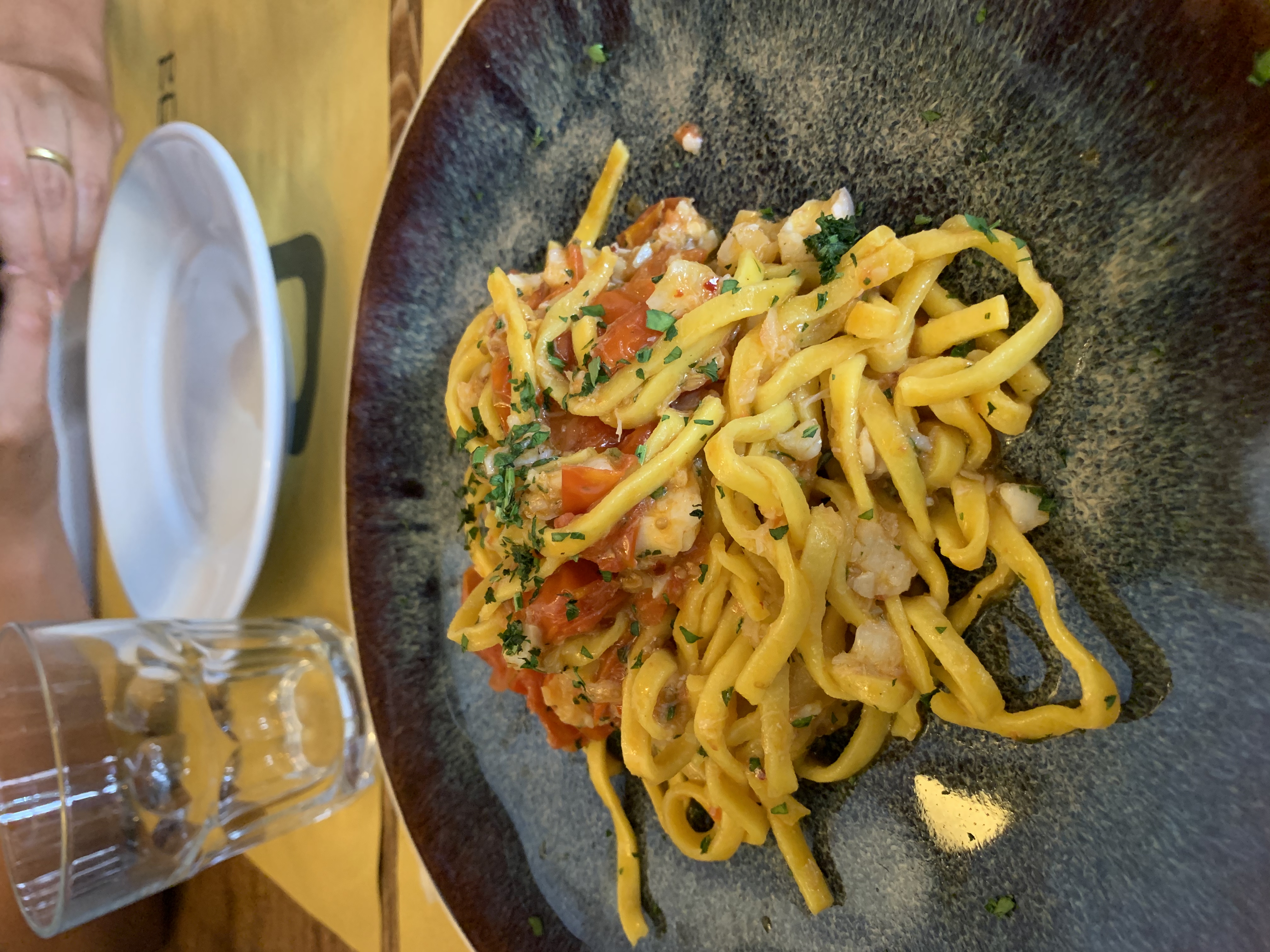 Homemade pasta with sofrito and cod at Renato al Ghetto
As if Nofar had not done enough for us all day, we hopped in her car and she took us for a final trip around Rome to see some of the most famous spots including the Colosseum (where we went live to answer your questions!) and the Trevi Fountain, where we threw in a coin and made a wish! We then rented some electric scooters via the Lime app and rode around the city, stopping at the Spanish Steps, the Pantheon, and more! It was 3AM but it was our last night and we lived. it. up!!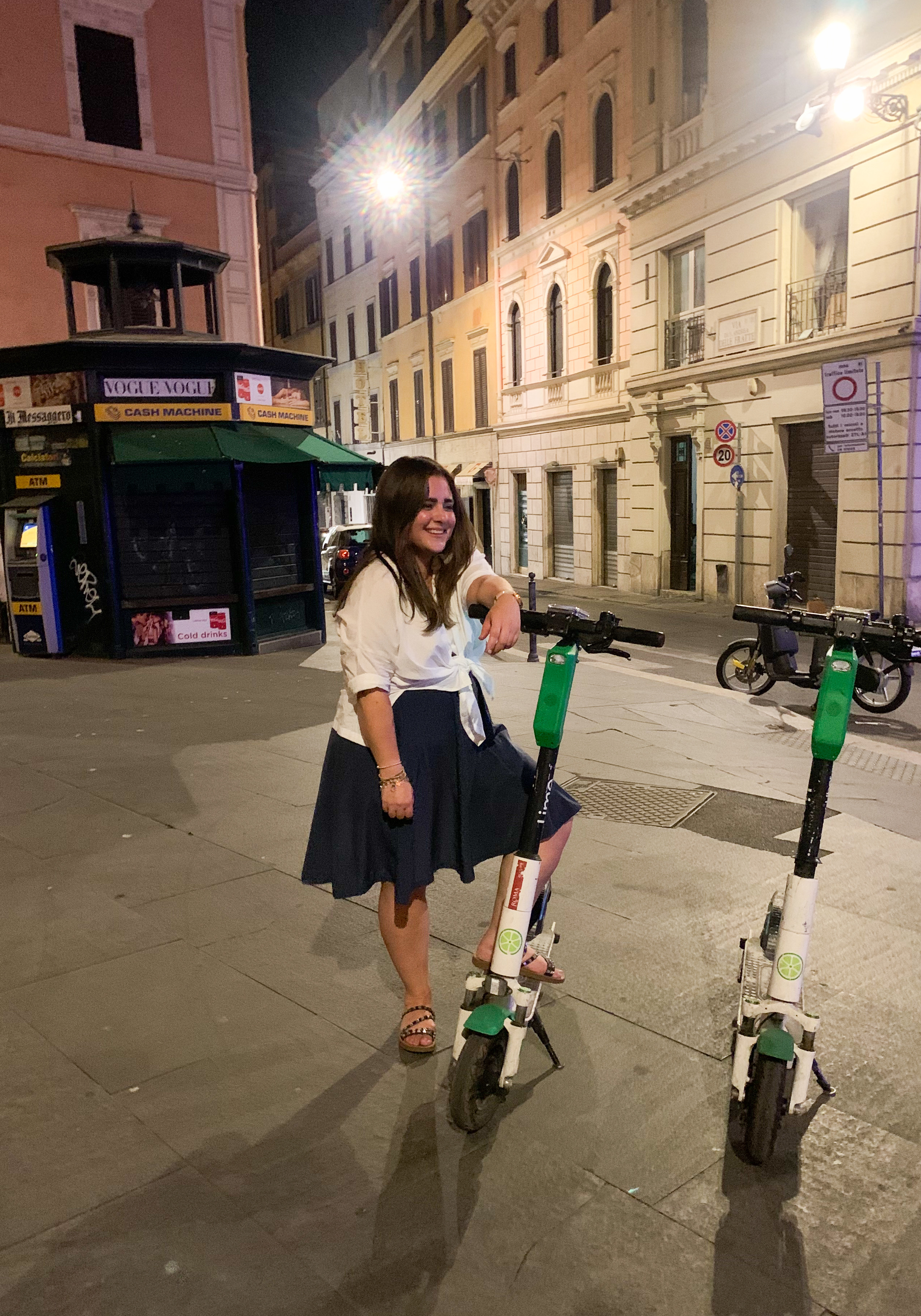 Scooter Rentals in Rome
Day 7: Rome + Home :(
We didn't have much time till our flight so I watched the Jewish Ghetto come alive, bumped into all the chef's I had met the night before (Elan made us some amazing bresaola sandwiches for the plane!), walked over to Roscioli (the coffee shop is not kosher so don't order food from there) for a shakerato, stopping at Kosher Delight, the local kosher market for some goodies, the local Judaica shop for some souvenirs and of course the kosher bakery for a maritozzo. With my heart full and my luggage stuffed to capacity, I headed to the airport, so sad to go, but with memories for a lifetime!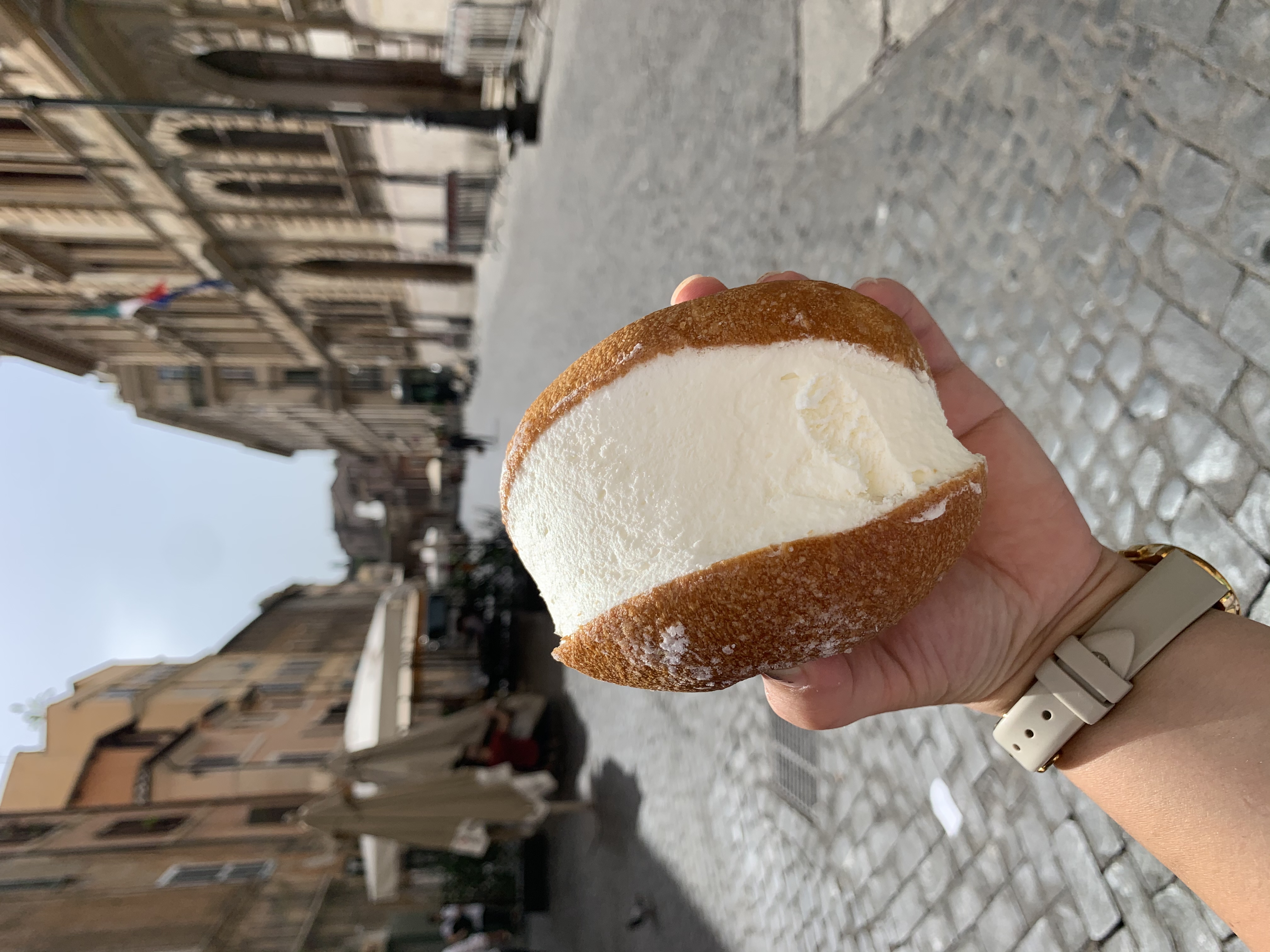 Marritozzo, from "marito"=husband, because men would propose by hiding the ring inside!
THE BIGGEST THANK YOU goes out to Noah, Judith, Nofar, Rebbetzin Banin, Elan,and our tour guides Moshe, Laura, and Antonella, but especially to my partner in crime and greatest travel buddy, Rifky!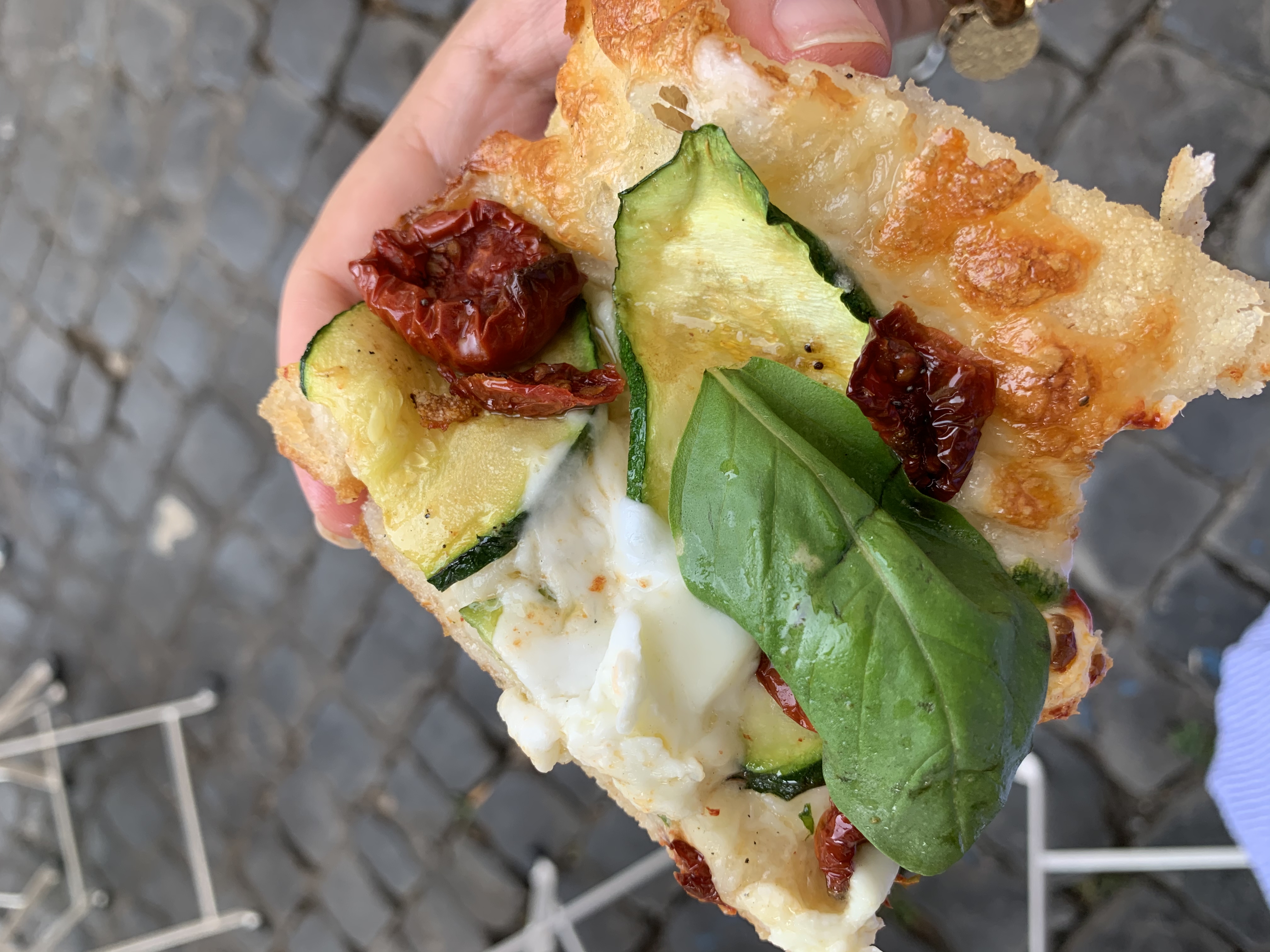 Pizza at Bona in Rome
Restaurants in Rome:
If you had to choose just one place to travel to in Italy, I would choose Rome. There is so much history, culture, arichitechture, nature, and most of all, endless kosher food! There simply wasn't enough time (or space in my belly!) for all of the amazing restaurants, but here are the few that I tried.
Baccione Burnt Cake bakery, known for their biscotti, via del Portico d'Ottavia, Jewish Ghetto
Kosher Cakes bakery, get the maritozzo!, via del Portico d'Ottavia 1, Jewish Ghetto
Cremeria Gelata Gelato, via del Portico d'Ottavia 1b, Jewish Ghetto
Renato al Ghetto, meat, via del Portico d'Ottavia 5, Jewish Ghetto
Casalina Osteria, dairy, via del Portico d'Ottavia 1e, Jewish Ghetto
Ba'Ghetto, dairy, via del Portico d'Ottavia 2A, Jewish Ghetto
Ba'Ghetto, meat, via del Portico d'Ottavia 57, Jewish Ghetto
Bona Pizza, dairy, via del Portico d'Ottavia 13/15, Jewish Ghetto
Other restaurants I did not try, but came highly recommended:
Daruma Sushi, via del Portico d'Ottavia 14, Jewish Ghetto
Fonzie The Burger House, meat, Via di Santa Maria del Pianto 13 (won many awards as the best burger in Rome!)
Bella Carne, meat, Via del Portico d'Ottavia 51, Jewish Ghetto
Yotvata, dairy, mehadrin, Piazza Cenci 70 (2 blocks from Via Arenula)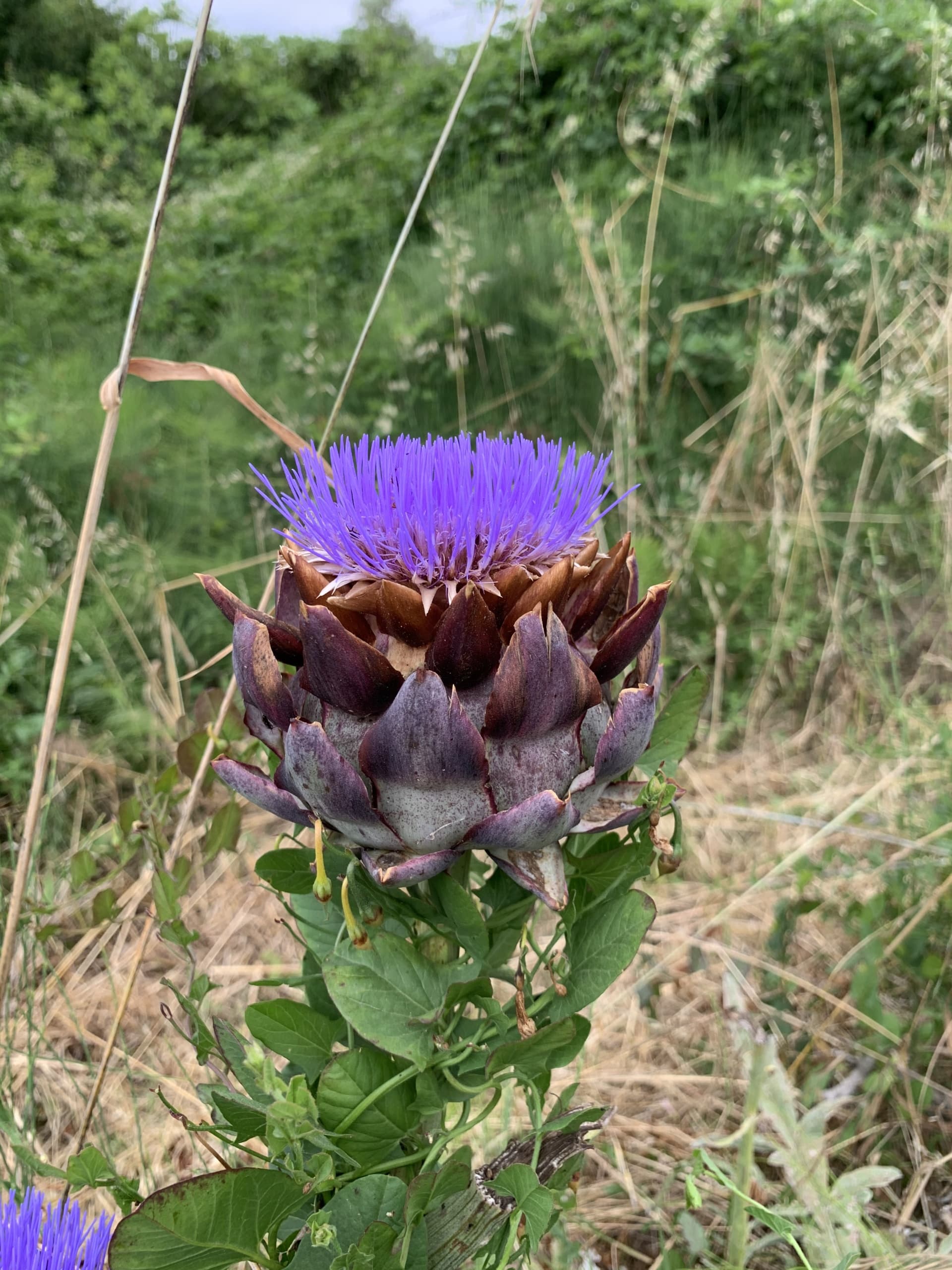 Blossoming artichokes in the heart of Tuscany
Please note: restaurants are constantly changing their kosher status and supervision so please check before eating anywhere posted above. Also, there are some restaurants in the Jewish Ghetto in Rome serving "jewish food" but they are not actually kosher so please do your research before eating anywhere.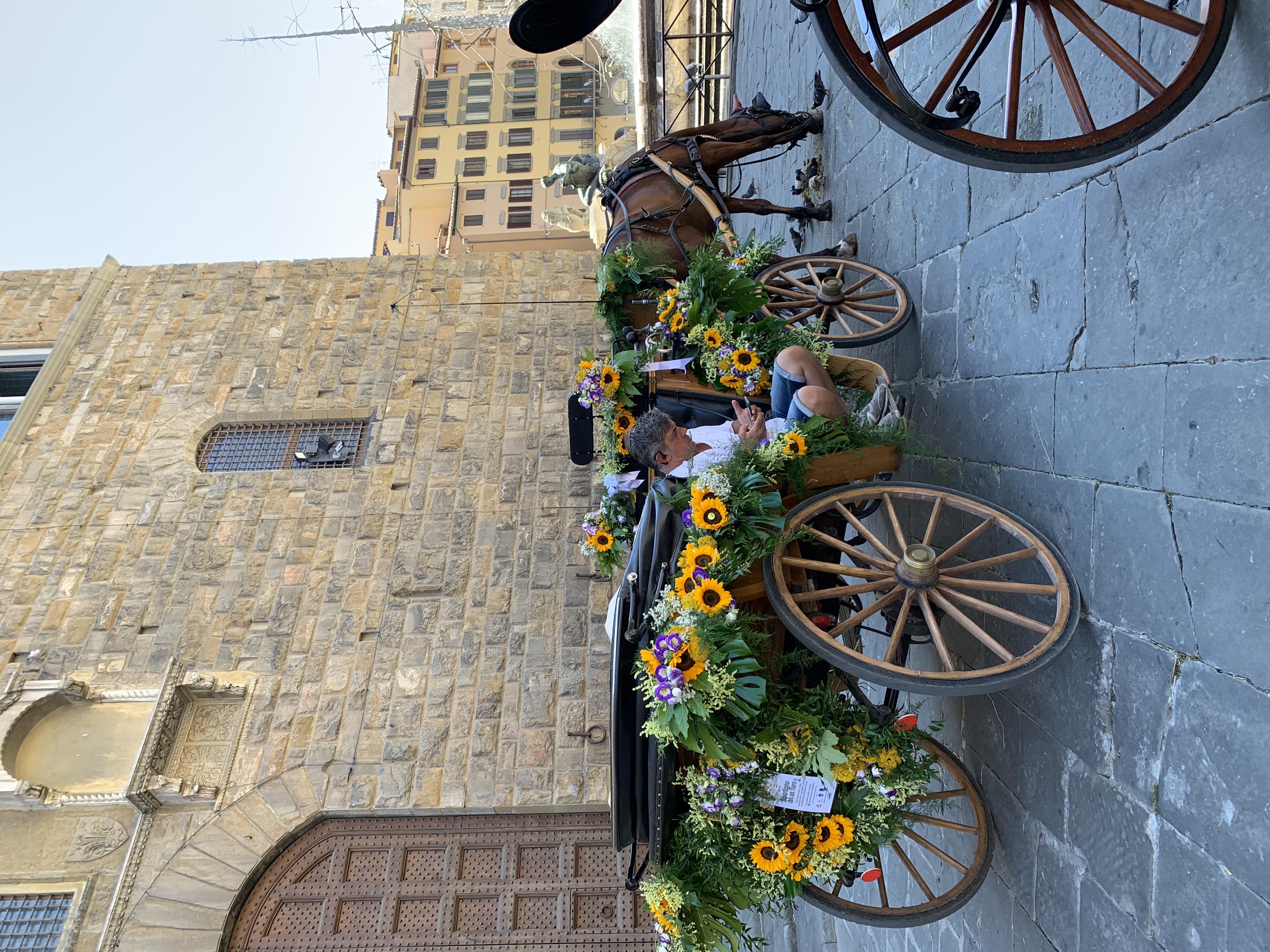 Horse Ride in Florence
What you need to know about Italy travel with Covid19:
As of 7/13/21, as per the U.S. embassy in Italy, U.S. citizens may enter Italy for tourism purposes and do not need to quarantine. You will need one of these three things to enter Italy:
1. Proof of vaccination
2. Proof of recovery from Covid
3. Negative Covid test taken within 48 hours of travel.
You must also fill out the Digital Passenger Locator Form.
To re-enter the U.S., you will also need a negative Covid test, taken within 48 hours of travel. I took mine at Data Medica, speak to your hotel to help you book a testing facility.
Covid restrictions in Italy: no masks are required outdoors, however, masks are strictly required indoors, in shops as well as restaurants unless you are eating.
Please check requirements for your particular country, and check for updates as Covid restrictions are constantly changing.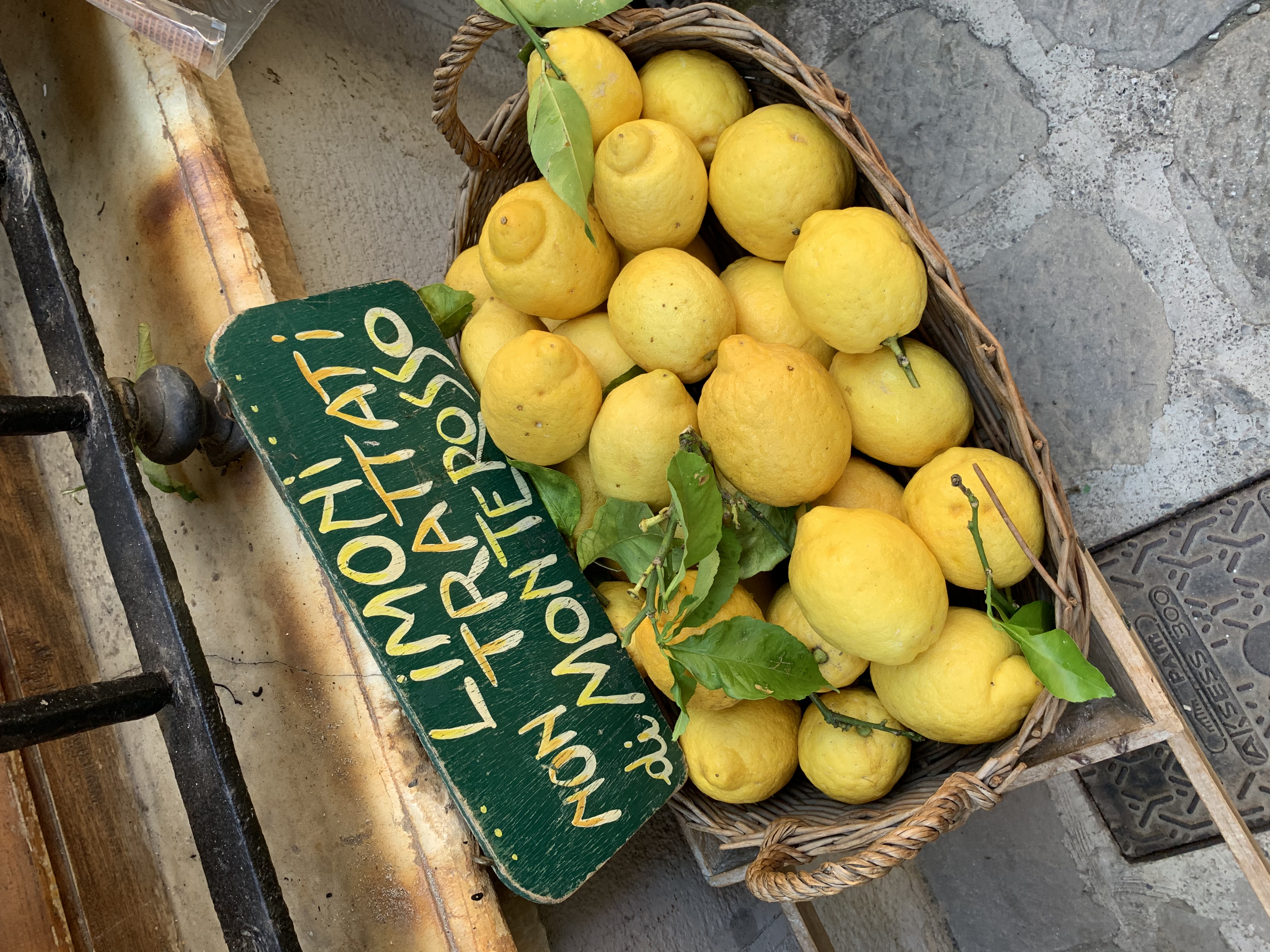 Italy, the home of Limoncello and the most beautiful lemons you've ever seen!
Traveling to Italy:
Due to the various travel restrictions in different countries, try to book a direct flight. I flew with a stopover in Spain which made things a bit more complicated. I flew into Venice and I flew out of Rome.
Traveling around Italy:
If you plan to visit several cities during your trip, it's best to travel light as it's difficult to get around with luggage. I took a carry-on a big shoulder bag.
Italo services the main axes such as Venice, Florence and Rome, while Trenitalia is the national railway company that you can take to regional stops. I recommend purchasing first class tickets, when possible.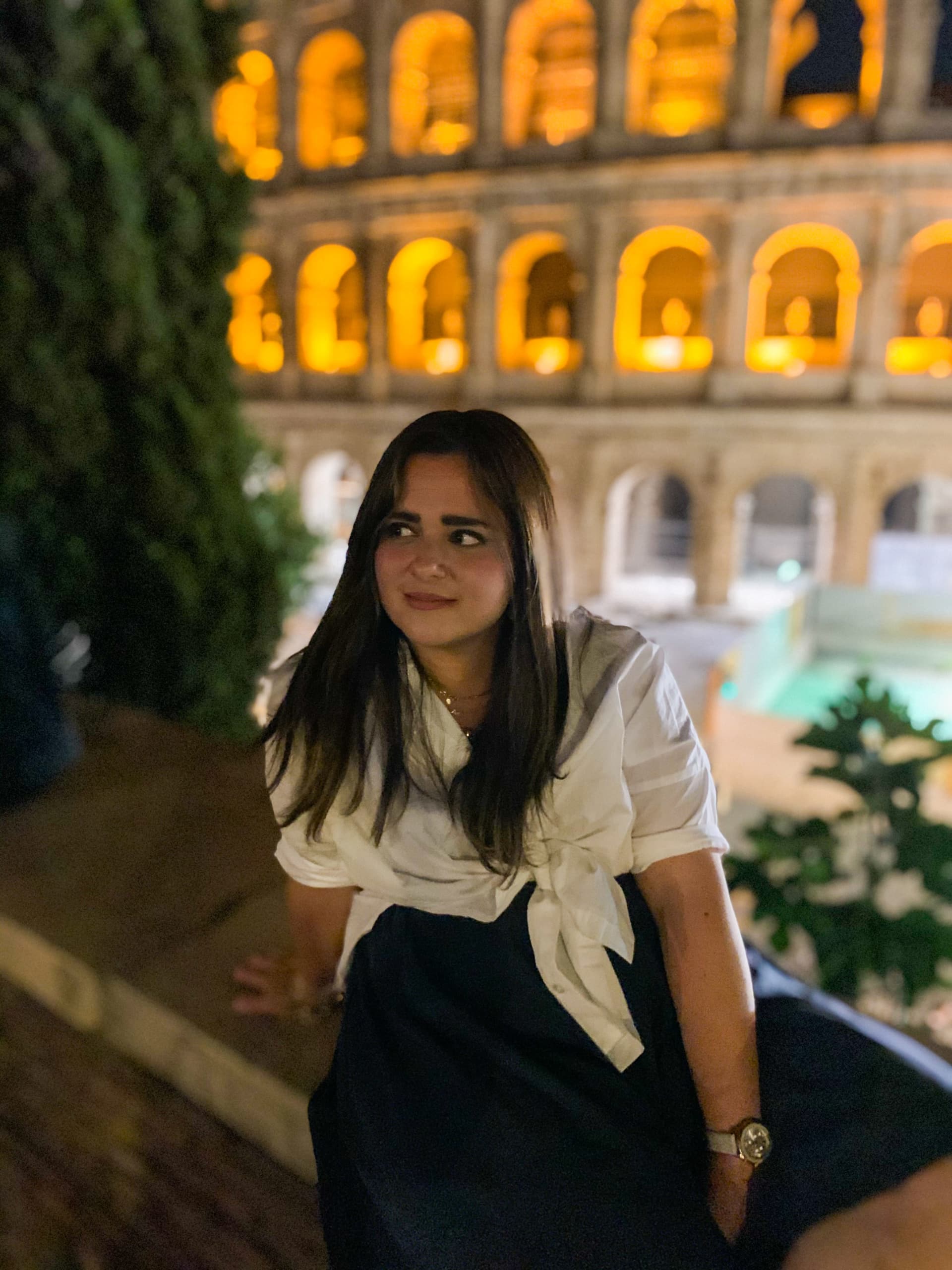 Colosseum, Rome
Related Posts: Italy! Rome, Florence, Tuscany, Naples & Amalfi Coast