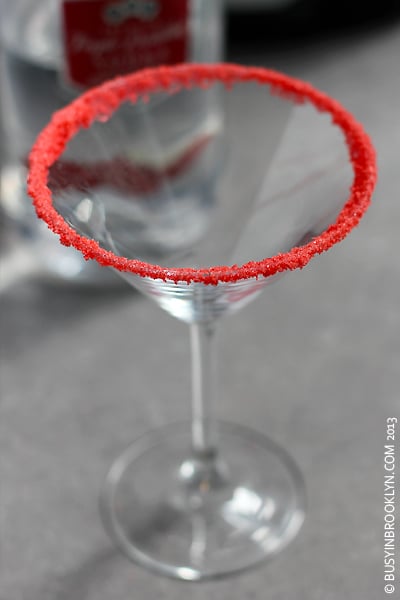 Have you always wondered how they manage to coat the rim of a cocktail in colored sugar so beautifully? It's just picture perfect, isn't it? Well let me clue you in on the secret – it's super easy! Rimming a cocktail in colored sugar (or salt) makes for a stunning presentation and a finished look on your glass.
The secret to rock-solid finishing sugar that doesn't come off is egg whites. They act as a sticky glue, and keep the sugar sealed tightly to the rim of the glass.
What you'll need:
Granulated sugar
Food coloring
Food Processor
1 egg white
Cocktail glass
How To:
Pour some granulated sugar into your food processor and begin adding drops of food coloring until desired colored is achieved. Pour the colored sugar onto a plate. Add the egg white to a second plate and dip the cocktail rim into it. Dip the cocktail glass into the colored sugar and put aside to set and harden.
VARIATION: To make colored salt, use the same method using kosher salt instead of the granulated sugar.