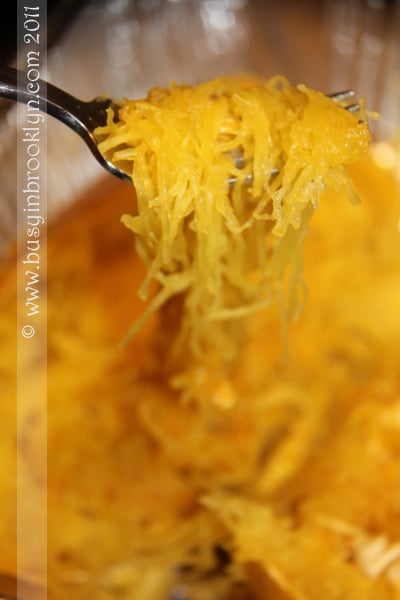 Spaghetti squash is a favorite among dieters, many of whom like to use it in place of pasta in recipes. The squash is low glycemic (<20 on the GI index), low calorie (42 calories per cup) and high in folic acid, potassium, Vitamin A, and beta carotene.
Spaghetti squash can be baked, boiled, steamed or microwaved. May favorite way of preparing it is to bake it – no peeling required.
Method:
Preheat oven to 375 degrees. Cut spaghetti squash in half lengthwise and scoop out the seeds. Place flesh-side-down on a cookie sheet and bake for approximately 45 minutes until it pierces easily with a fork. Remove from oven and let cool. With a fork, scrape the insides of the squash and add the spaghetti strands to a bowl. Continue scraping until you've emptied the entire squash. If it's hard to scrape, try returning the squash to the oven for another 10-15 minutes. The strands will be soft with just a little bite to them.
Alternatively, you can microwave the spaghetti squash for approximately 6-8 minutes until soft. Remove from microwave and let it cool for several minutes. Prepare as above.
Uses:
You can use spaghetti squash much the same way as you would spaghetti – as a bed for marinara sauce, as lukshin in kugel or as noodles in soup.