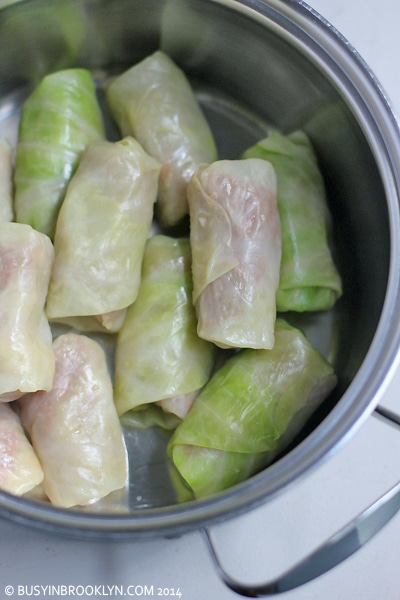 Stuffed cabbage, or holipches, is a classic Hungarian dish that is popular among Jews of Ashkenazi descent. But stuffing cabbage leaves is not purely a Jewish concept. Asian-style stuffed cabbage is popularly made with Napa cabbage and flavored with ginger. The Swedes serve up their stuffed cabbage with boiled potatoes and lingonberry jam. Whichever way choose you make them, one thing is certain – you've got to roll them up nice and tight so that they stay intact during cooking. Here's how!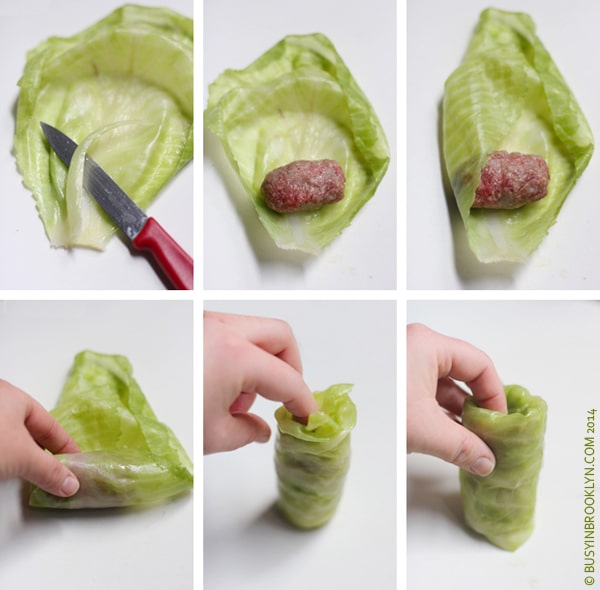 Place the cabbage in the freezer overnight (about 12 hours). Remove and place in a colander in the sink to defrost. This makes the cabbage pliable for rolling and stuffing. (see note)
Remove the outer leaves of the cabbage and discard. Peel the remaining large leaves, taking care not to tear the cabbage as you go.
Set up a stuffing station with your whole cabbage leaves and filling. With a paring knife, trim the thick part of the stem off the base of the leaves, taking care not to cut through the rest of the leaf. Place the leaves upright so that they are curling upward like a bowl.
Place a small handful of filling towards the base of each leaf and fold over the leaf from the left side. Roll the cabbage leaf up and using your finger, stuff the loose end of the leaf inward, pushing it into the center. Rolling the cabbage this way ensures that they hold together nicely during cooking.
NOTE: If you prefer not to the freeze the cabbage, you may also cook it in a pot of boiling water for 5-10 minutes until leaves are soft and pliable. Drain and cool before handling.
Watch the video tutorial here:

Related recipes: Passover Stuffed Cabbage