I hate my scale. It tells me how to feel about my body regardless of how I look in the mirror. I hate my scale. But like a magnetic force of nature, it draws me to it each morning and it dictates my day. I hate my scale. Today I weigh more, so I will feel bad about myself and I will hate how I look. Today I've lost a lb. so I will feel good about myself and like how I look. I hate my scale.
I want to break free of my morning ritual and throw the damned machine out the window! A number should not dictate how I feel about myself.
Rant over. (feel free to chime in).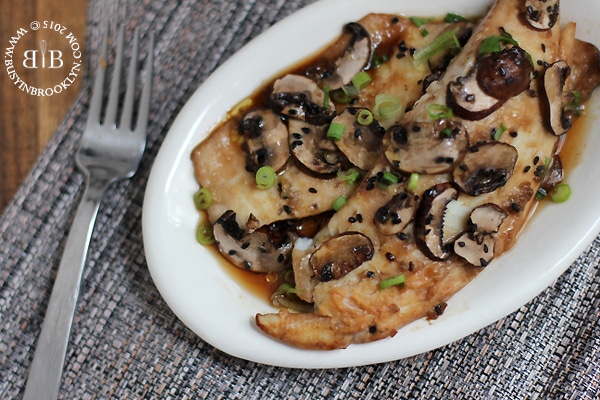 Speaking of weighing myself, I"ve dropped a couple of digits on that godforsaken machine due to the South Beach Diet. After a Pesach filled with nonstop meals, I hopped straight onto the diet as soon as I got back from Aspen, and I've been sailing through due to delicious dishes such as this. Honestly, I'm not a big fan of tilapia (bottom-feeder fish that are farm-raised) so I rarely buy it, but I know that many people eat it regularly. If you don't like tilapia, flounder makes a great substitute, so just use that instead.
Miso Glazed Tilapia
3 slices tilapia or flounder
1 heaping tbsp white miso paste
1 clove garlic, minced
2 tsp minced fresh ginger
1 tbsp soy sauce
1/2 package baby bella mushrooms, sliced
1 1/2 tbsp olive oil
2 tsp black sesame seeds
salt and pepper, to taste
1 scallion, chopped, for garnish
Preheat oven to 400 degrees.
In a bowl, mix the miso with garlic and ginger and spread over the fish fillets. Drizzle soy sauce over the fish and top with sliced mushrooms. Drizzle olive oil over everything and season with salt and pepper. Sprinkle with sesame seeds and bake, covered, for approximately 10 minutes. Uncover and bake an additional 5 minutes, until the fish is opaque and flakes easily with a fork. Garnish with scallions.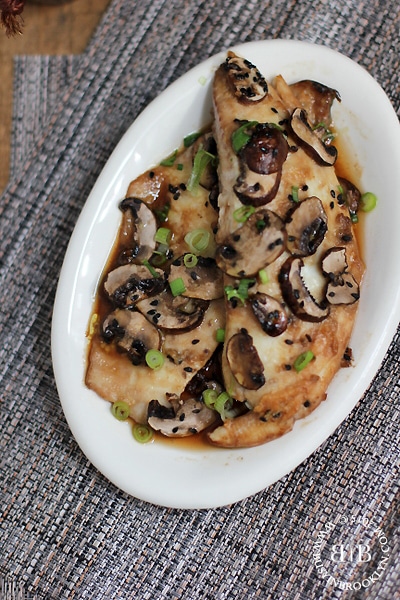 Related Recipes: miso glazed eggplant