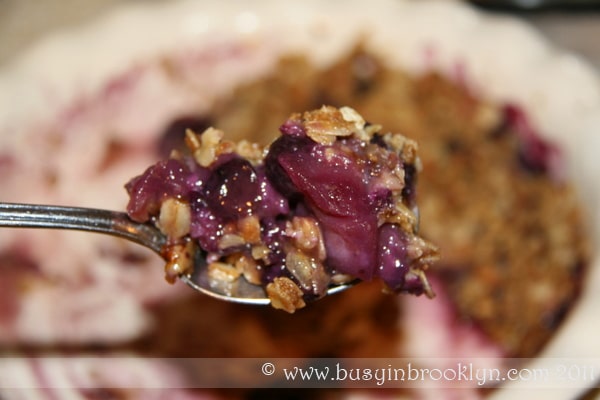 I'm not much of a reader. I don't have the patience to read page by page and wait for the good stuff to happen. I'd rather just watch the movie. I'm more of a magazine kind of gal, and I read them from back to front. I like short articles, little tidbits of information, and pictures – I let them do the talking! So instead of curling up to a good book on Shabbos, I have my trusty Binah magazine, the Jewish Press, and if I'm lucky, a few good food or gossip mags to boot. But I have to be honest. When it comes to The Jewish Press, I only read 2 columns – The Agunah Chronicles and Dear Dr. Yael. My husband always makes fun of me, but can I tell you a little secret? He only reads the classifieds and he's not looking for a job!
One thing I did get out of The Jewish Press though, is the inspiration for this recipe. They used to have a health column written by a nutritionist named Shani Goldner. I actually became a client of hers, but that's a story for another day. She has a litened up apple crisp recipe which I've adapted to use different types of fruits. I love to make it because it doesn't have any margarine and it only uses one bowl. Here is my apple-blueberry version, but I have also tried this with apples and cranberries, apples and peaches, and just plain old apples. Whichever way you make it, this crisp is sure to please. You can serve it up as a side dish, or for dessert topped with vanilla ice cream.
Apple Blueberry Crisp
5 apples
1/2 container blueberries (about 1 1/2 cups)
1/4 cup sugar (increase to 1/2 cup if using tart cranberries)
1 tsp cinnamon
1 tbsp whole wheat flour
3/4 cup rolled oats
1/4 cup whole wheat flour
1/4 cup brown sugar
1/2 cup chopped walnuts
4 tbsp canola oil
Method:
Peel and dice apples. Rinse blueberries. Add apples, blueberries, sugar, cinnamon and flour into a bowl and mix. Add to a greased pie dish. In the same bowl, mix oats, flour, brown sugar, walnuts and oil and sprinkle on top of fruit. Bake at 350 for 45 minutes – 1 hour, until topping is golden brown and fruit begins to bubble.
VARIATION: instead of the oat topping,  use this vanilla crumb topping and sprinkle with cinnamon.