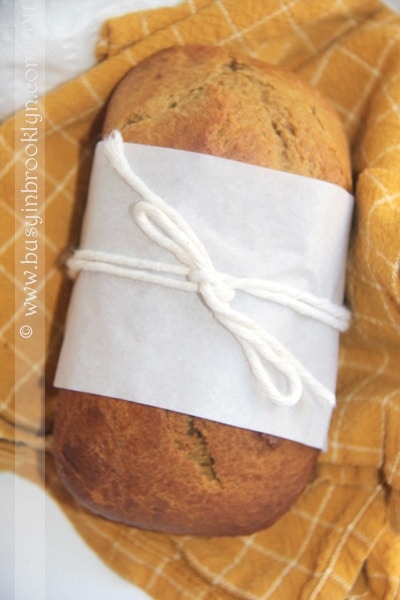 I'm officially done with my baby food stash. I had 3 jars of bananas left, and although they are my son's favorite, he has long since graduated to the real thing. I'm not one to throw anything away, so I concocted this delicious recipe for pumpkin banana bread. It's the first time I've experimented with baking, and I'm so proud of how it turned out.
When it comes to breads, cakes and cookies, I always have to follow a recipe, with only minor adjustments. I'm sure there is some kind of science behind baking that teaches you the proper flour:sugar:egg ratio, but I've never learned it. As much as baking is not my "thing", finding a use for leftover ingredients, is. So I set my lack of baking skills aside and just went for it. I'm thinking I should probably do it more often. The results were outstanding!
Pumpkin Banana Bread
4 cups all-purpose flour
4 teaspoons baking powder
2 teaspoons baking soda
2 teaspoons ground cinnamon
1/2 teaspoon salt
1 cup LIBBYS® 100% Pure Pumpkin
3 large eggs
1/3 cup milk
1 cup granulated sugar
3 6 oz. jars of banana puree or 2 cups mashed bananas
3/4 cup melted butter or oil
Method:
Preheat oven to 350 degrees. In a bowl, combine the dry ingredients, including flour, baking powder, baking soda, cinnamon and salt. In a second bowl, combine the wet ingredients, including pumpkin, eggs, milk, sugar, bananas and butter. Add the dry ingredients to the wet ingredients and mix until incorporated. Pour batter into medium-sized loaf pans and bake for 45-50 minutes, or until toothpick inserted comes out clean.
1 year ago: quick & easy chocolate rugelach