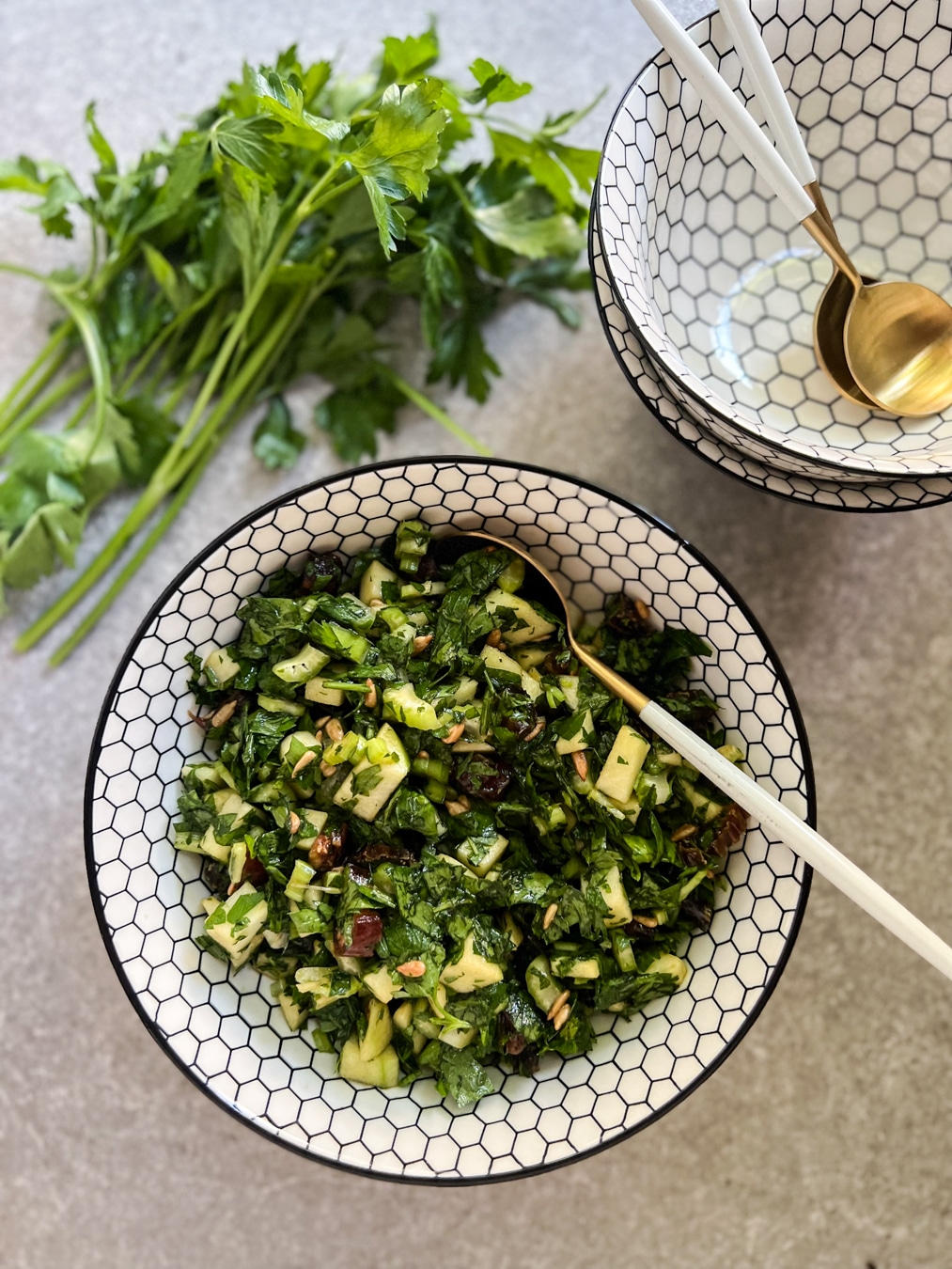 I was lucky enough to spend the last week of the summer in Israel to join a close friend in celebrating a Bar Mitzvah (full itinerary to be posted after the Chagim!), but also for some inspiration for both my body (food!) and soul. What's amazing about Israel is that you don't have to seek those things out – they find you. Whether you're going to the kotel for Friday night prayers, or taking a stroll through the shuk – beauty – in the form of soulful connections, culinary delights, Jerusalem stone, artisan creations, magical energy – surrounds you.
One such culinary delight that I found repeatedly in various forms – is this delicious herb salad. With loads of fresh parsley, crunchy celery, some kind of dried fruit (usually raisins) and nuts (often pecans or walnuts), the salad was simply dressed and so refreshing! I knew when I took my first bite that I needed to create a Rosh Hashanah version, and here it is!
Shana Tova! – to a SWEET New Year indeed.
Herbed Apple & Date Salad
1 bunch fresh parsley, chopped
3 stalks celery, diced small (use the leaves as well!)
1 green apple, peeled and diced small
4 medjool dates, pitted and diced small
1/3 cup roasted and salted sunflower seeds
3 tbsp olive oil
2 tbsp silan
juice of 1/2 lemon
kosher salt, to taste
Related Recipes:
holiday salad with apple & honey vinaigrette
pomegranate coleslaw
roasted beet salsa