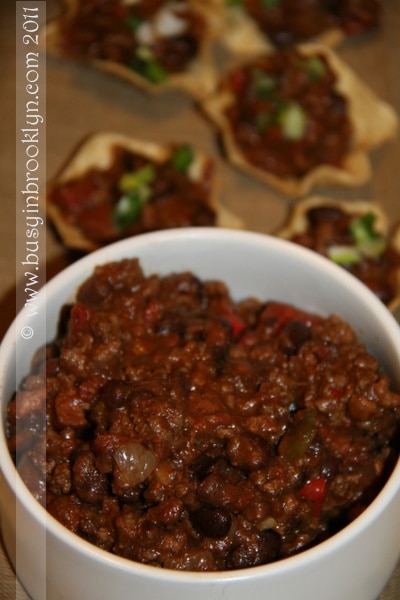 Chorizo chocolate chili is a real tongue twister, and, a real tongue pleaser too! :) I happened to read a few recipes recently that used chorizo as a base. Having seen Jack's Gourmet at KosherFest a few months back, I knew that their amazing array of gourmet kosher sausages had recently hit the market, including spicy Mexican Chorizo, and I wanted to give them a try. To me, the absolute best chili offers sweetness, spice and depth of flavor. That's where the chocolate comes in. It adds that little something that takes the chili from delicious, to over the top.
Chili makes a great kids meal when served in Taco shells or Tostito scoops. Serve alongside diced tomatoes, corn, salsa, guacamole and scallions with a side of rice. I was lucky enough to host my nieces and nephew (who live across the globe) when I made this for dinner, and they loved being able to eat their dinner out of miniature chip bowls!
In general, the longer you cook the chili, the better it will taste as the flavors will have a chance to blend. It tends to taste even better the second day, but this is pretty next to perfect when fresh!
Black Bean & Chorizo Chocolate Chili
2  Jack's Gourmet Mexican Style Chorizo sausage, finely diced (use 1 if you don't want it too spicy)
1 spanish onion, diced
1 green bell pepper, diced
1 red bell pepper, diced
4 garlic cloves, minced
1 2 lb. pkg ground beef
3 (15-ounce) cans black beans, rinsed and drained
3 (14-ounce) cans diced tomatoes (do not drain)
1 1/2 tablespoons chili powder
1 tablespoon ground cumin
1 1/2 teaspoons dried oregano
1/2 teaspoon cinnamon
1/3 cup dark brown sugar
salt, to taste
juice of 1 lime
1/2 bar Noblesse 72 percent cocoa bittersweet chocolate
tortilla chips (optional)
Method:
Heat a large nonstick pot over medium-high heat. Saute the chorizo until it renders some of its fat and gets slightly crispy. Remove chorizo from the pot (leave the fat for sauteing the vegetables). Add chopped onion, bell peppers and garlic and saute until tender. Remove from the pot. Add ground beef and cook, breaking up the meat until it is browned. Drain the fat from the meat and add chorizo and vegetables back to the pot. Add beans and tomatoes and mix well. Add remaining ingredients, besides for chocolate, and bring to a boil. Reduce heat, and simmer, covered, for 20 minutes, stirring occasionally. Add chocolate and simmer for an additional 30 minutes-1 hour, until the chili has thickened and the flavors have blended.
NOTE: If you are decreasing the amount of sausage, you may want to cut down on the brown sugar as well, otherwise it may come out too sweet.
TIP: Use your leftover chili to make Shepherd's Pie! Spoon chili into bottom of a greased ovenproof dish. Top with mashed potatoes, sprinkle with paprika and bake until set.