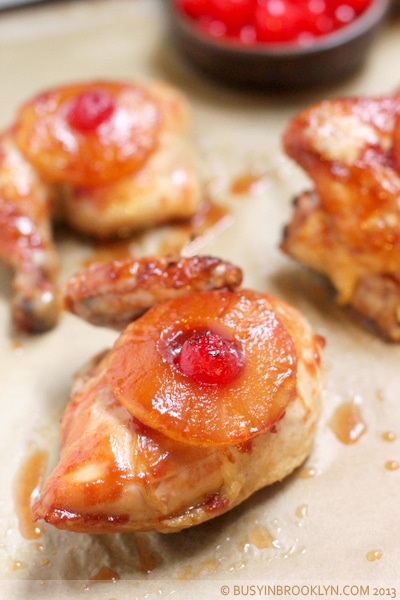 Sometimes I'm so busy dreaming up new dishes to wow you all, that I forget about the oldie but goody recipes like this one. This sweet and delicious chicken is a recipe I grew up eating. My mother has been making it for years, and it's just one of those dishes that's a keeper. The pineapple and maraschino topping provide a lovely garnish, making this the perfect chicken dish to serve over the holidays or at your next party.
If you've got leftover pineapple, try this delicious tropical smoothie for dessert!
Sweet Hawaiian Chicken
8 chicken quarters, skin on
1 can pineapple rings
1 cup ketchup
1 cup brown sugar
Maraschino cherries
Method:
Preheat oven to 400 degrees. Drain the juice from the can of pineapple rings into a bowl. Whisk in the ketchup and brown sugar. Place the chicken skin-side up in a baking dish and top  with a slice of pineapple and a maraschino cherry. Pour the sauce over the chicken and bake, covered, for 30 minutes. Uncover, baste with the sauce, and bake for an additional 30 minutes, basting every 10 minutes.
1 year ago: rice pilaf
2 years ago: pretty perfection, headbands in a pinch!