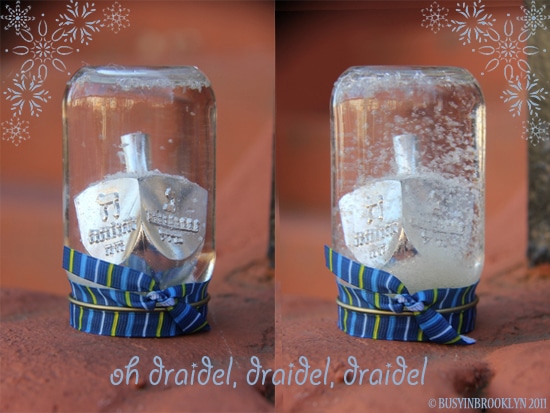 Who doesn't love Chanukah? We get to eat fried foods, unwrap presents, eat pockets full of chocolate change and gample on draidel games. For me, Chanukah is UBER special because it's my birthday, my anniversary, and the anniversary of my son's bris. I know, I know, I lose out on the presents, but the truth is, it doesn't really matter. Chanukah makes me realize just how blessed I am and that is good enough for me!
Nothing evokes the spirit of the holidays more than snowglobes. But try and find one that doesn't include a reindeer, evergreen or snowman – pretty impossible. This year, I decided to make my own Chanukah creation. It was inspired by the landmark dreidel that sits in front of the Jewish Children's Museum in Brooklyn (if you haven't gone yet, you must take your kids there for Chanukah!).
You'll be surprised just how easy it is to make your own snowglobe. Go ahead and include whatever figurine you'd like. A menorah would work really well too.
What you'll need:
A resealable glass jar (slightly bigger than your figurine)
draidel, menorah, or other holiday figurine
glass tile or cork
white glitter
glycerin (available at drugstores)
ribbon
glue gun
How to:
1. Start by removing the paper wrapping from your jar. Goo gone works well to remove the sticky stuff. Wash the inside of the jar and set aside.
2. Turn the lid over, makes sure it's clean and dry. Using a glue gun, glue a glass or ceramic tile, cork, or anything waterproof, to the center of the lid. This will be the base for your figurine to stand on. (Without it, part of the figurine will be covered by the lid).
3. Glue your figurine to the base. To glue the draidel on a slant, set the draidel on it's side and starting from underneath the base, begin adding glue. As the glue dries, add more and more glue until the draidel has a firm glob of glue to rest on. Make sure the gimmel side is facing up :)
4. Add a tbsp or so of white glitter to your jar (you can always add more later, you don't want to overdo it at first).
5. Fill jar with water.
6. Add a few drops of glycerin to the water. This will help the glitter fall slowly so that it resembles a snowfall.
7. Insert the figurine upside down and screw the lid tightly closed.* Check to see if the jar needs more water, glitter, or glycerin. Adjust, if needed.
8. Glue ribbon around the jar cover and tie into a bow.
9. Turn upside down and shake. Now let it snow. Let it snow. Let it snow.
* If you can't get the lid to seal tightly enough, you can seal around the edges with silicone.