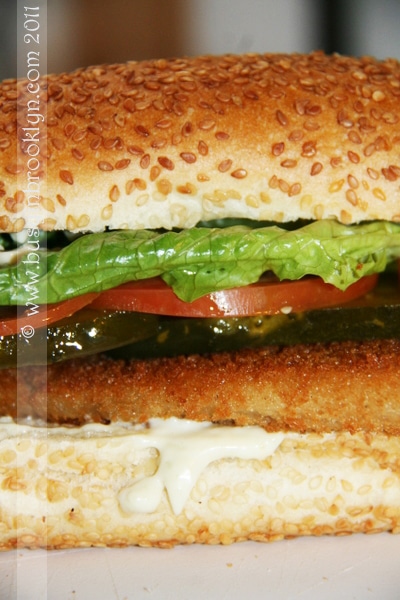 Growing up, fried flounder (with a side of mashed potatoes) was always on the menu in our house during the nine days, as well as erev Tisha B'av. The fish was always perfectly golden with a crunchy breaded coating; simple and delicious. When I married my husband, I found that fried fish was a favorite of his as well, except his mother made it with tilapia in a tempura-style batter, and served it with lemon wedges. No matter how it's coated or served, in sticks or fillets, fried fish is a favorite everywhere. You'll find many cafe's serving it "fish 'n chips" style, but my absolute favorite way to eat it is in a sesame sub with wasabi mayo.
Fried Fish Sandwich Essentials:
Fish: You can use any mild white fish such as sole, cod, flounder or tilapia.
Crispy Coating: bread crumbs, panko crumbs, corn flake crumbs, cornmeal, crushed potato chips, tempura batter, beer batter.
Bun: baguette, soft bun, kaiser roll, sesame roll, rye bread, whole wheat bread, ciabatta.
Sauce: mayo, tartar sauce, wasabi sauce, pesto, remoulade.
Veggies: lettuce, tomato, pickles or onions.
Accompaniments: french fries, sweet potato fries, potato chips, mashed potatoes, lemon wedges.
When frying fish, it helps to set up a dredging station and use separate tongs or forks for each coating. Most people like to dip the fish into flour, egg, and then crumbs of choice. Personally, i find that my fish comes out perfectly crispy when dipped into eggs and panko or bread crumbs. You can season the fish, crumbs, flour or eggs with spices of choice, such as, seafood spice, paprika, garlic, or salt & pepper.
For a quick and easy alternative, you can pan-fry frozen breaded fish fillets such as Dagim's.
Fried Fish Sandwich
Sesame baguette
Wasabi mayo (recipe follows)
Fried flounder or tilapia (see my easy recipe here)
Rommaine lettuce
Plum tomatoes
Pickles
Method:
Pan fry fish. To prepare wasabi mayo, add 1-2 tbsps Gold's wasabi sauce and 1 tsp lemon juice to 1/4 cup mayonnaise. Spread mayo generously on baguette. Top with fish and veggies. Serve with chips or fries.
TIP: When frying fish, prepare a cookie sheet with a few paper towels to absorb excess oil. If you layer the hot fish on top of each other, the steam will make the breading soft and soggy. Laying the fish out in a single layer will keep them crispy.