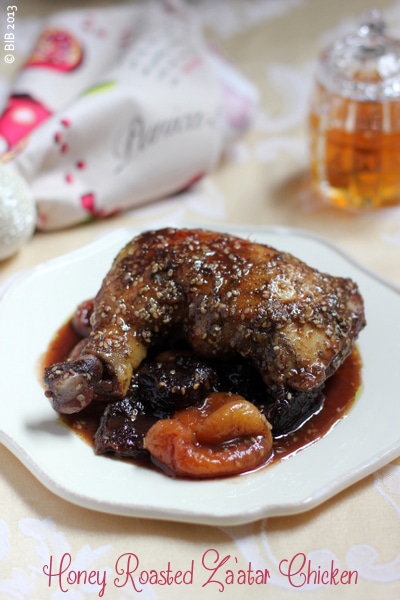 In case you haven't noticed, I'm pretty big on za'atar right now. But regardless of my newfound love of the spice mix, I've been making a variation of this chicken for quite some time. I decided to kick it up a notch for the holidays by adding red wine, honey and dried fruit for a festive finish.
Za'atar is a mixed herb and spice blend popular in the Middle East. It's primarily made up of sumac, thyme, oregano, sesame seeds and salt. The spice blend is widely available in supermarkets, but you can also find it on amazon.
Other za'atar recipes:
grilled corn with za'atar garlic compound butter
malawach cheese pastries with dipping sauce
Honey Roasted Za'atar Chicken with Dried Fruit
1 pkg chicken, quartered
3 tbsp za'atar
1-2 tbsp extra virgin olive oil
approximately 20oz. dried fruit (I use apricots and pitted prunes)
1/2 cup dry red wine
kosher salt, to taste
1/3 cup honey
Method:
Preheat oven to 375 degrees. Spread out dried fruit on the bottom of a 9×13 pan. In a bowl, combine the za'atar and olive oil to create a paste. Rub the za'atar over the chicken (skin-on) and place on top of dried fruit. Pour wine into the pan and sprinkle everything with salt. Cover and bake for 1 hour.
Uncover the chicken and drizzle honey all around. Raise the oven temperature to 400 degrees. Bake, uncovered, for an additional 30 minutes, basting occasionally with the sauce.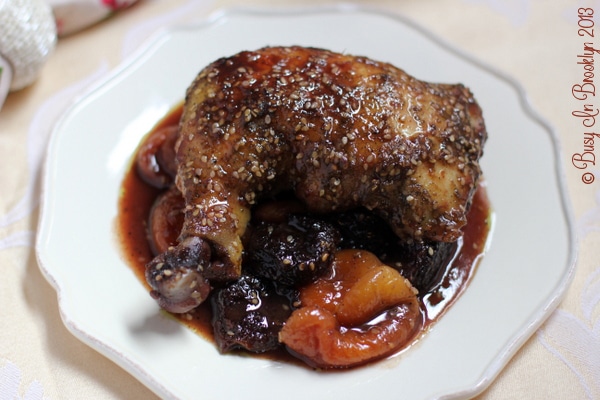 Related recipes:
sweet Hawaiian chicken
Rosh Hashanah roast
honey mustard chicken pastrami roulade