Every since I got my spiralizer, my mind is racing with spiralized recipes. I can't get enough! From fun curly fries, to healthy zoodle (zucchini noodle) dishes, and creative rice recipes, this compact machine is a powerhouse of possibilities!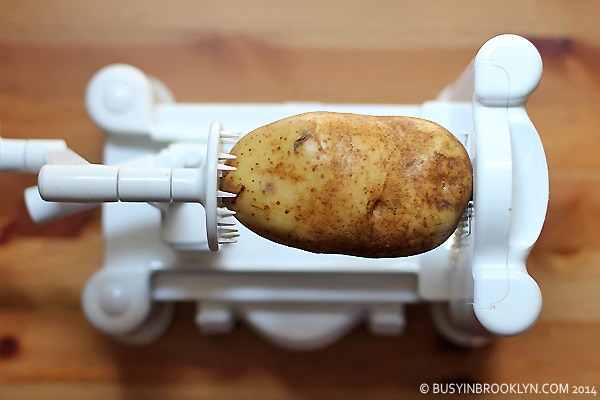 What don't I love about the spiralizer? It's easy to use, requires little muscle and fits easily into my small kitchen. The blades tuck right into the machine for easy storage.
Sure, I have a julienne peeler, and even the vegemagic gadget, but they don't come close to creating authentic-looking noodles with as much ease as the Paderno spiralizer. I've spiralized russet potatoes, sweet potatoes, butternut squash, beets, carrots, apples, cucumbers, and zucchini's (my favorite!).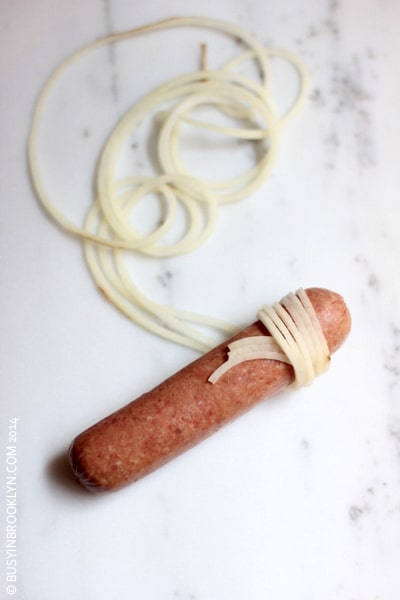 The great thing about spiralized veggies are the endless possiblities. Sure you can make noodles – but you can also pulse them in a food processor to make veggie "rice". Or you can mix some noodles with spices and eggs and stuff them into ramekins to make "buns" or "latkes". I weigh down the mixture with a can to form patties and pan-fry or bake until crispy and tender. I do the same to make a "pizza pie" or "rosti" in a frying pan. Such fun ways with veggies, right? It makes dieting SO much easier!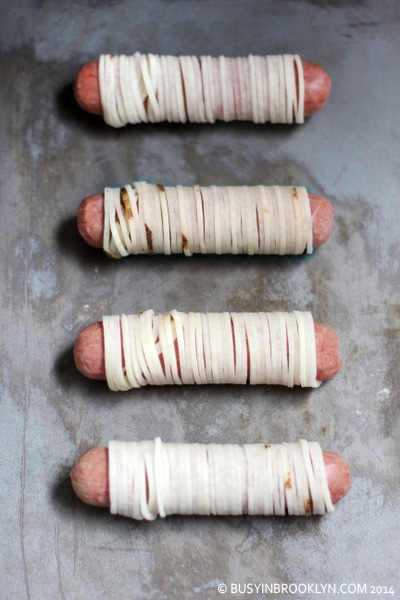 So enough about spiralizing in general…lets get into specifics! Would you look at these ADORABLE spud dogs??? How cute are they?!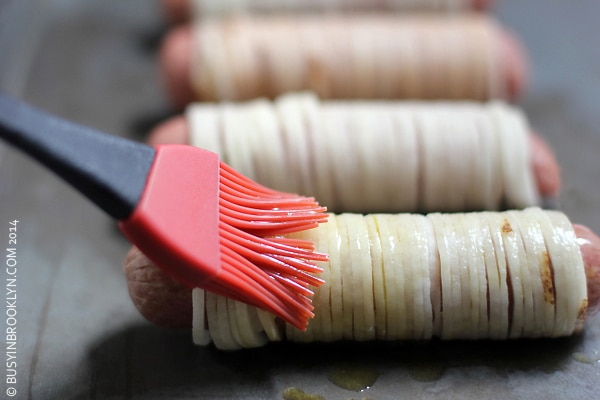 Wrapped in spiralized potatoes, these crispy spud dogs are like french-fry-wrapped franks – two favorite BBQ dishes in one! I was SO excited when I came up with the idea – but I was equally lost by what to call them. So, I did what any blogger would do – I made a #NAMETHISRECIPE contest! My Instagram readers really pulled out all the stops on this one, with creative names like "The Tatered Dog", Dog-Eat-Chips, "Doggie Fries", SlinkyDog, "Twisty Frank", FrankNFries, "Piggy In a Slinky", "The French Dog", DogNChips and more! But my all time favorite was "Spud Dog", a name that both Esther Chase and Perry Wolff came up with. They both won a copy of my ebook and the title of an innovative new way to serve up an American favorite.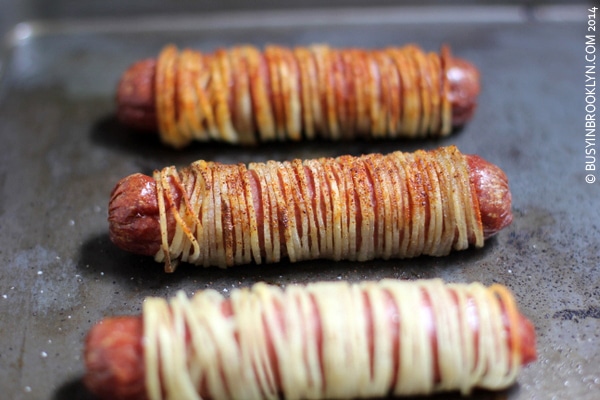 I think the best part of this recipe is that it's not a recipe at all. You can make the potatoes thick or thin, or wrap them up in ribbon slices. Spice them up with your favorite french-fry seasoning, or keep them simple! Roast or pan-fry, fill or top them – any way you go, they're sure to be a crowd-pleaser!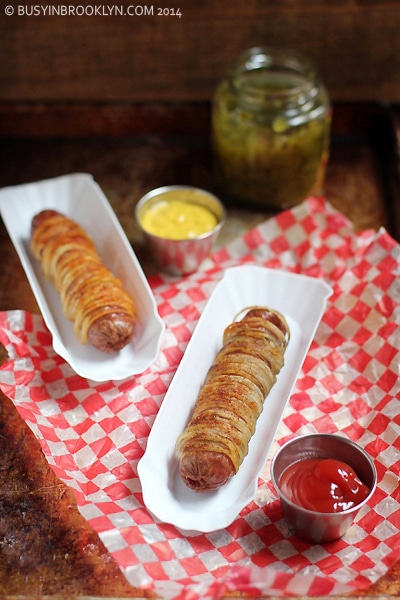 Spiralized Spud Dogs
russet potatoes, scrubbed clean
hot dogs or sausages
olive oil
kosher salt
optional spices: smoked paprika, garlic powder, chili powder, cayenne
optional fillings/toppings: sauerkraut, pickle relish, BBQ sauce, ketchup, mustard
SPECIAL EQUIPMENT:  spiralizer (I recommend this one)
Method:
For simple spiralized spud dogs, spiralize a potato using the smaller blade (1/8″ cuts). Take 3 long strips of potato and wrap them around the hot dog, starting an inch or two from either end. Continue wrapping the potatoes so that you wrap around the place where you started (see photo). Place the hot dog(s) on a parchment-lined baking sheet, with the ends of the potatoes tucked under (if you have any extra potato strips, just cut them off, or double wrap, if you wish). Brush with olive oil and sprinkle with kosher salt. Bake at 400 degrees, turning every 15-20 minutes, until crispy, about 40 minutes.
For spicy spiralized spud dogs, prepare the hot dogs as above. After brushing with olive oil, sprinkle with kosher salt, smoked paprika, garlic powder, chili powder and a pinch of cayenne. Continue to bake, as above.
For loaded spiralized spud dogs, top the hot dogs with sauerkraut, and wrap with potatoes. Continue as above.
Garnish with toppings of choice.
TIP: if you are not using the spiralized potatoes right away, place them in a bowl of water, to keep them from browning. Pat dry before wrapping.
VARIATION: For super-crispy spud dogs, pan fry them until browned and crispy on all sides.
NOTE: Feel free to play around with the different blades to create a thicker french-fried crust.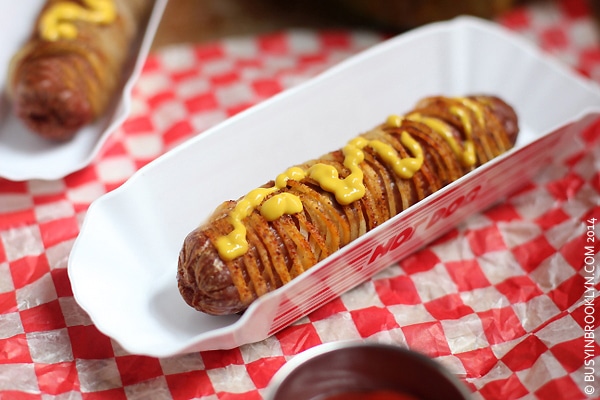 Other Labor Day BBQ recipes:
grilled marinated chicken
grilled corn with za'atar garlic butter
grilled chickpea burgers
portobello burgers with sundried tomato aioli
best BBQ potato salad