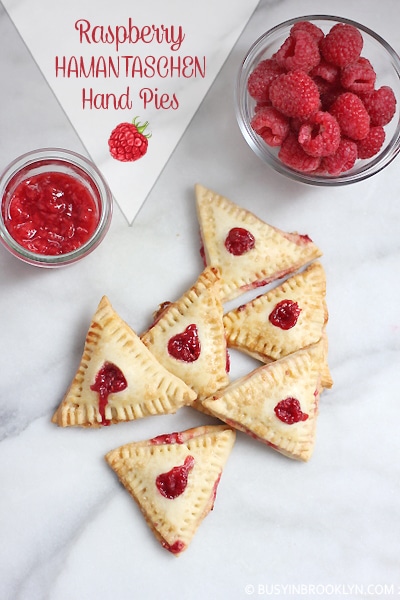 I can't believe the blogosphere is already awash with hamantaschen recipes. Is it just me or has this year literally flown by?!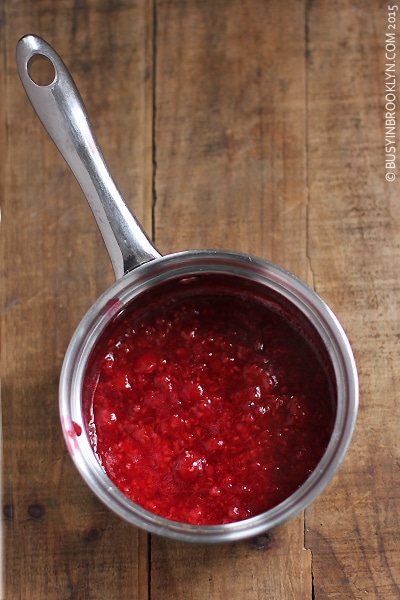 Purim is one of my favorite holidays, and I'm sure it is for you too! Any holiday where we get to dress up in fun costumes, eat a nonsensical amount of candy and drink until we don't know the difference between Haman and Mordechai is fine. by. me.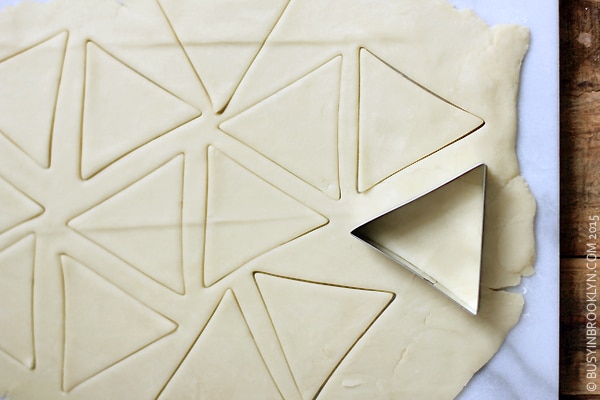 Purim is about JOY and FAMILY and TRADITION and I love to shake things up with fun and exciting recipes. Last year, my drunken hasselback salami went out all out viral and my Hamantini cocktail took a festive cookie to the next level. We can't forget my sushi hamantaschen, baklava hamantaschen, mustache glasses, and other Purim fun, all easily accessible in my Purim column. There are some really great recipes coming up as well that I can't wait to share with you!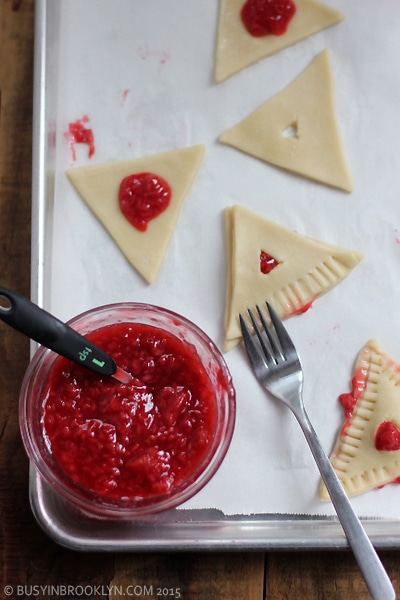 As you can see, I love shaking things up, and whenever I get a chance to deconstruct a traditional holiday food, I take it and run! Hybrid recipes are my all time favorite and these hamantaschen hand pies are just the thing. If you're not familiar with hand pies, they are basically a handheld pie made with a flaky pie crust and filled with fruit filling. They're usually folded over into a semicircle shape, but are sometimes rectangular or even round. I've never seen triangular hand pies so I thought they'd make the perfect hamantasch!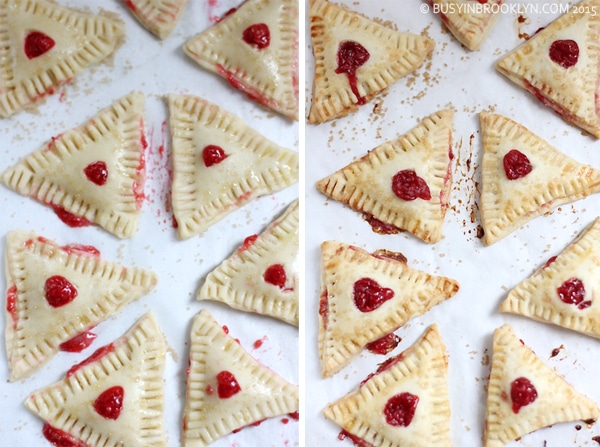 My first batch was not as successfull as these beauties here. At first, I just made slits in the dough, ala classic pie, but they just looked like rustic hand pies, not hamantaschen. I troubleshooted and then these were born. And I couldn't love them any more. They're not only rustic and adorable, they taste AMAZING too. I think I even like them more than the traditional!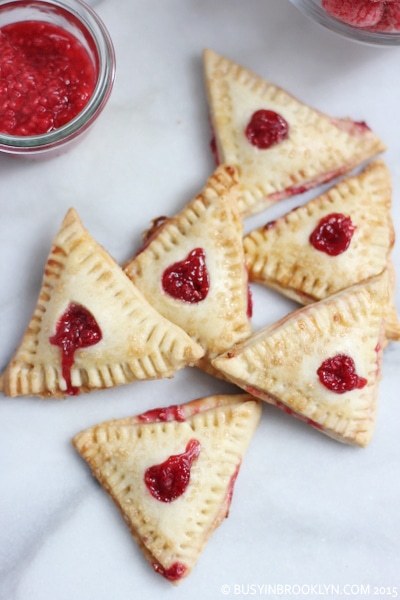 Would you believe that I've never made real, traditional hamantaschen? I was always scared away by those sob stories where the hamantaschen opened during baking and all the jam bled out. I also love the packaged store-bought variety that is full of additivies and junk. I mean it's Purim after all. So if you're gonna gorge on candy, you might as well eat a hamatasch. The real, margarine and preservative kind (so says the Paleo enthusiast lol).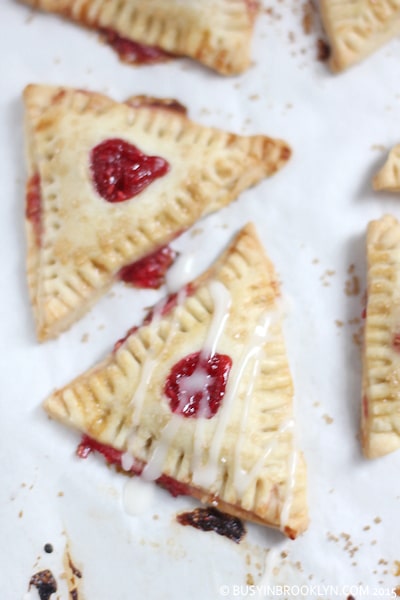 While we're on the topic of fun hamantasch recipes, here are some of my favorites from around the web: rainbow hamantaschen, funfetti hamataschen, fluffernutter hamantaschen, speculoos hamantaschen, smores hamantaschen, and halva hamantaschen. I also love the idea of savory hamantaschen, Bon Appetit's got a great variety from around the world.
What's your favorite version? Share it with me in the comments below!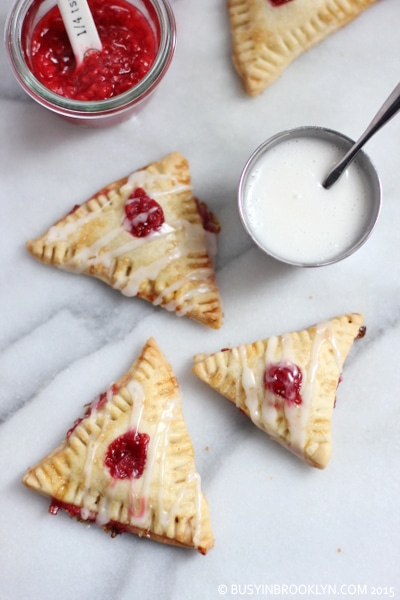 Raspberry Hamantaschen Hand Pies
1 recipe pie crust (recipe follows)
1 recipe raspberry pie filling (recipe follows)
1 egg + 1 tbsp water, for eggwash
demerara sugar, for sprinkling
glaze, recipe follows
Method:
Roll out the pie crust and cut out triangle shapes with a cookie cutter. Repeat until you've used up all the scraps of dough. Reserve half to be used for the top of the hamantaschen and half to be used for the bottom. Using the triangles that you reserved for the top, cut a tiny triangle in the center of each with a sharp knife.
Fill each of the triangles that you reserved for the bottom with about 1/2 teaspoon of raspberry pie filling. Brush the edges of the dough with water and top each one carefully with the triangles that you reserved for the top. Using a fork, press down all around the dough to seal. Brush with eggwash and sprinkle with demerara sugar. Bake at 375 degrees for approximately 20 minutes, or until golden brown. Cool completely and drizzle with glaze.
For Pie Crust:
1 1/2 cups all-purpose flour
2 tsp sugar
1/4 tsp kosher salt
1/2 cup (1 stick) cold unsalted butter, cut into pieces
1/4 cup ice water
Method:
Pulse the flour, sugar, and salt in a food processor. Add butter and continue to pulse until the mixture is the texture of a coarse meal. Add the water and blend until the dough comes together in clumps. Form the dough into a ball and wrap in plastic wrap. Refrigerate for 1 hour or until chilled.
For Raspberry Pie Filling:
6 oz fresh raspberries
2 tbsp sugar
1 tsp lemon
1 tsp cornstarch
1 tbsp water
Method:
Place the raspberries, sugar and lemon in a small saucepan. Dissolve the cornstarch in the water and add to the pot. Cook the mixture over medium heat for 10-15 minutes, stirring occasionally, until raspberries are soft and the mixture has thickened. Set aside to cool.
NOTE: You may use frozen raspberries as well. If needed, add an additional teaspoon of cornstarch dissolved in a tablespoon of water to thicken up the juices.
For Glaze:
1 1/2 cup powdered sugar
6 tsp milk or water
splash of vanilla
Mix all the ingredients together until the powdered sugar is completely dissolved and the mixture is thick, but slightly runny.
VARIATION: Try the filling with other berries, or use canned pie filling or jam for a quick and easy substitute. For the drizzle, you may also use white or dark chocolate.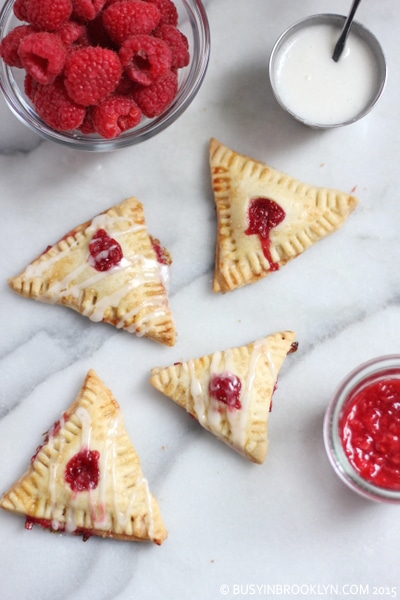 Related Recipes:
date and almond marzipan hamantaschen
baklava hamantaschen
sushi hamantaschen
savory hamantaschen trio
The Hamantini