Nine years. NINE. WHOLE. YEARS. Somebody pinch me!!!!!! It's almost like I've been pregnant with a blog, and now what? I've had a baby? Do I retire now? ha!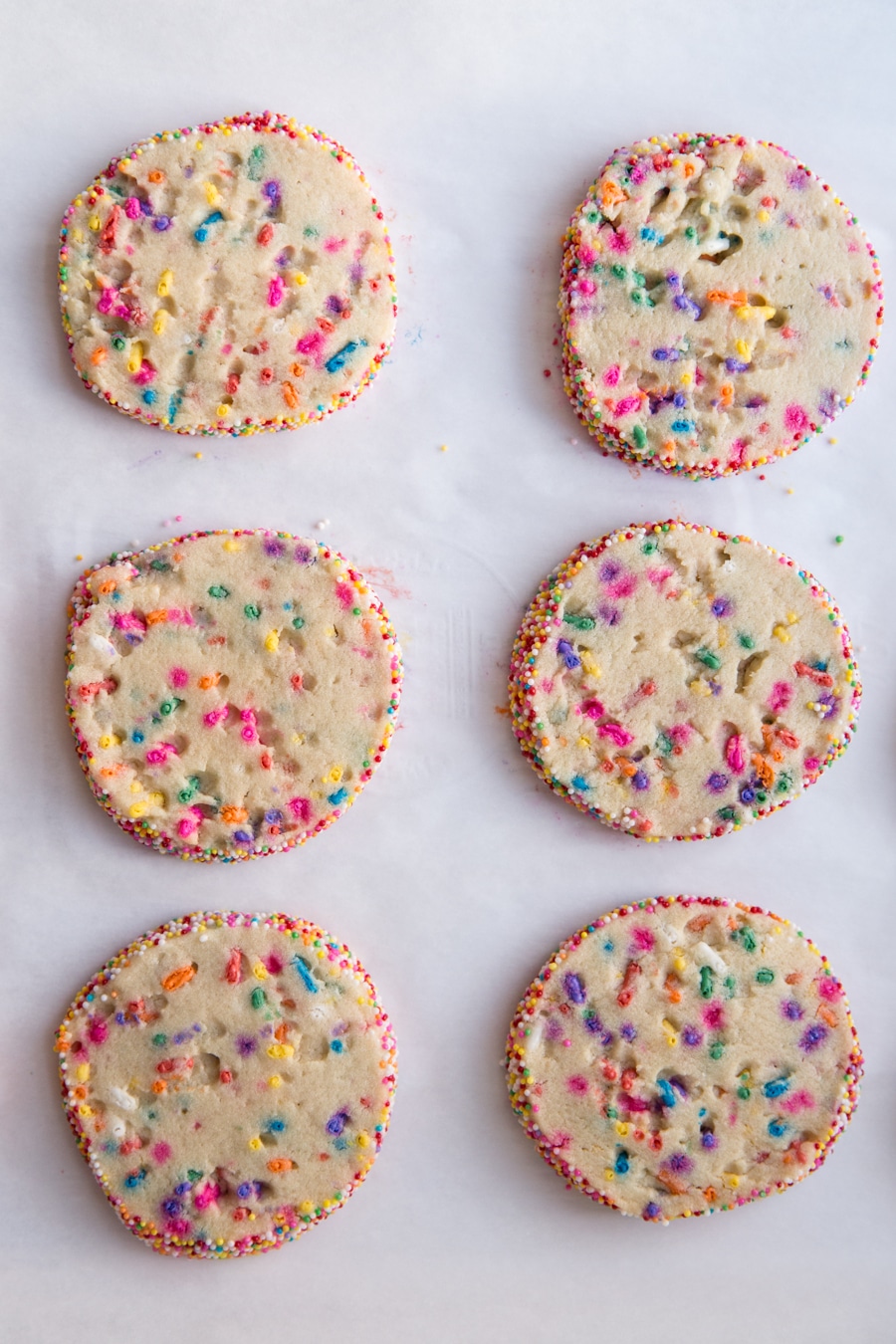 I've always kind of wondered that actually. Do bloggers actually retire? How does that work? Do you just stop posting? Not that it's on the agenda or anything. I'd like to do this until I'm old and gray. Oh wait. I AM old and gray. Ok – I'd like to do this until I'm very old, and very gray.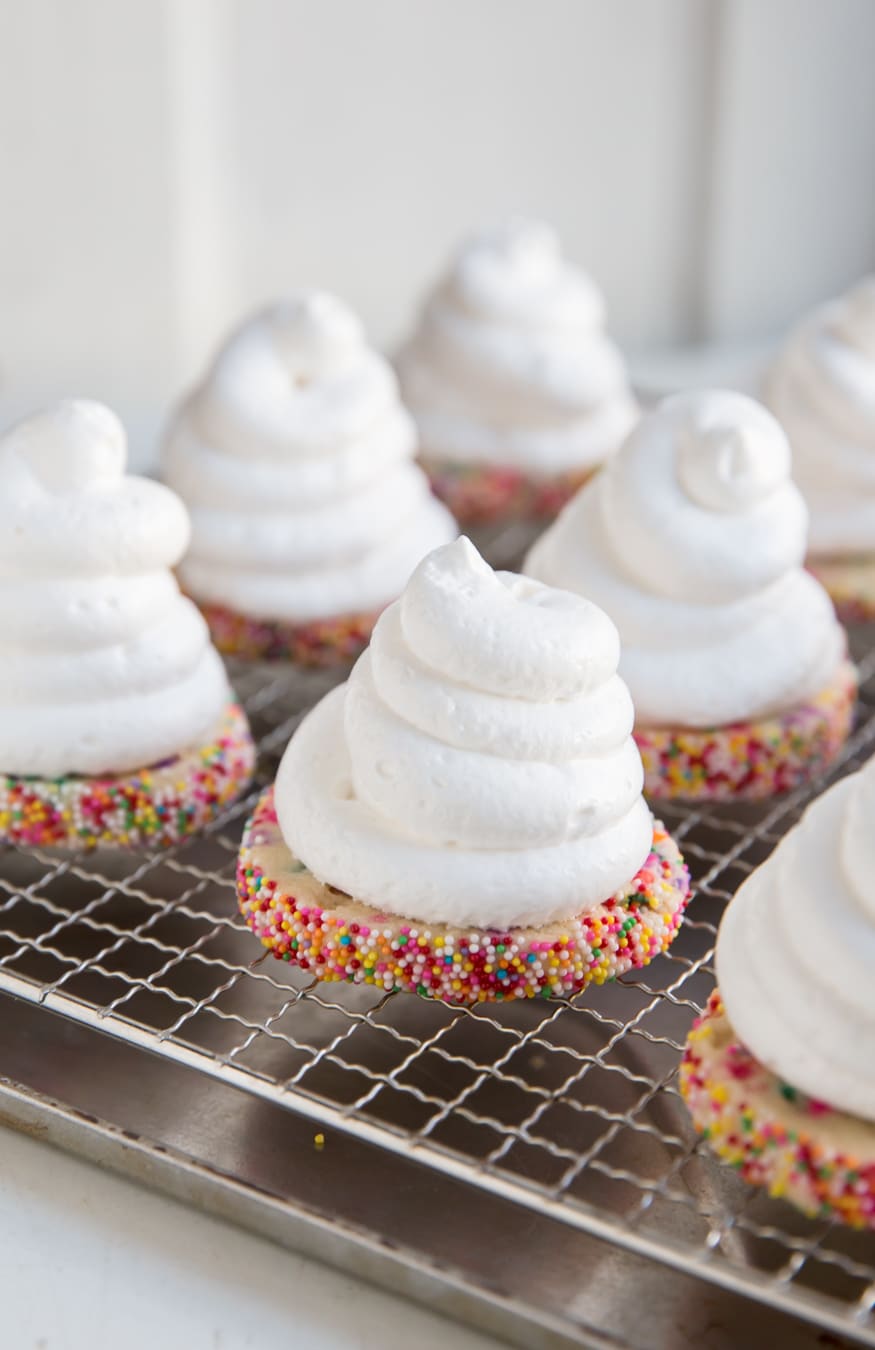 I constantly surprise myself that I still haven't gotten bored by all of this. I still jump up and down when I nail a recipe, and I do the happy dance when I shoot the perfect photo. I stay up at night dreaming up my next viral recipe and I cry happy tears when the hundreds of photos roll in and it actually happens!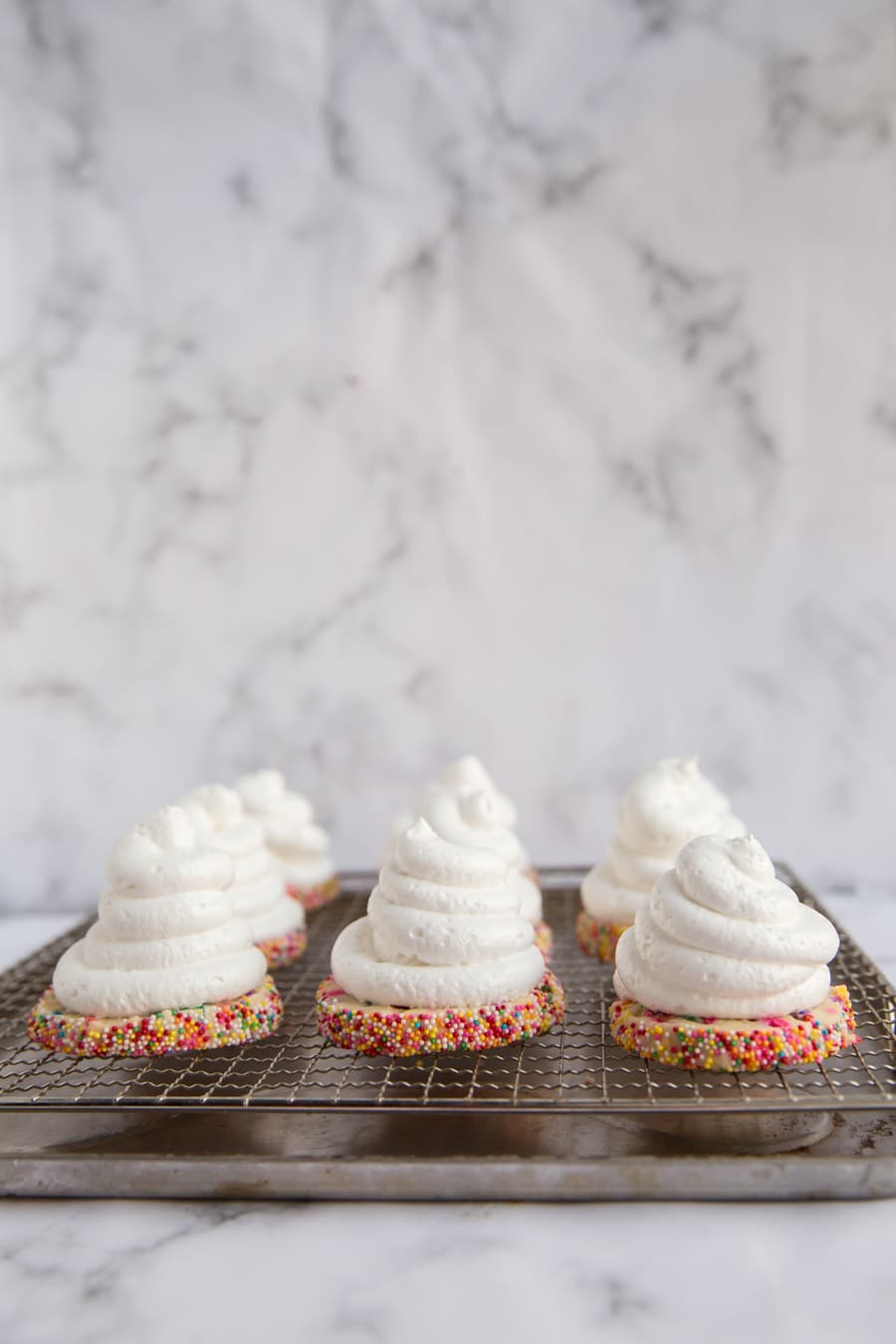 Speaking of tears, I'm crying tears of gratitude as I write this because I am just SO. DANG. GRATEFUL. Grateful to have a job that nurtures me – mind, body and soul. Grateful that any of you even take the time to read this, cook my recipes, message me, share photos with me, and allow me to take a humble place upon your dinner table. THANK YOU, THANK YOU, THANK YOU.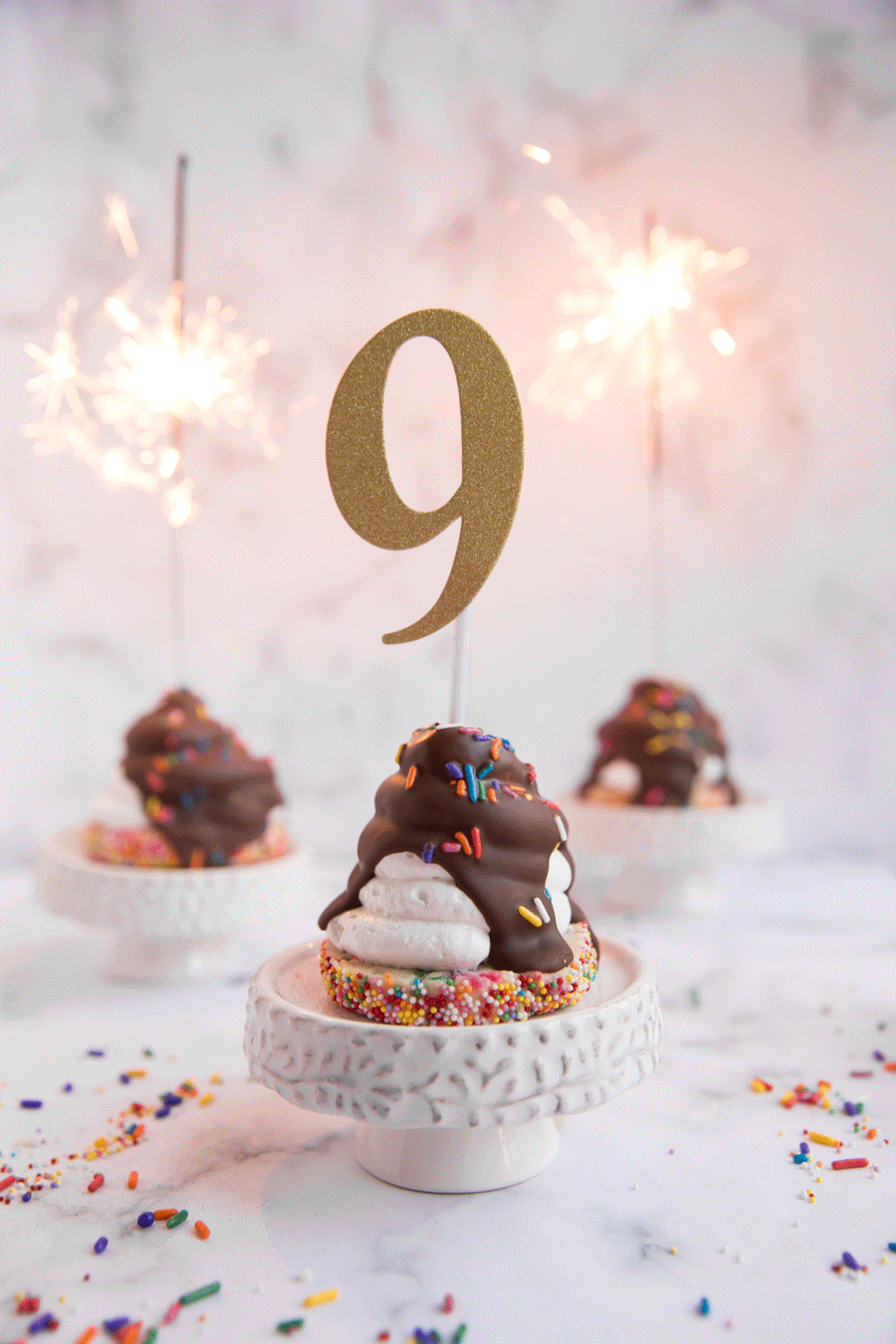 This year, I was kinda more excited about using sparklers in my photos than anything else! This house was covered in firecrackers and I loved every minute of it! The krembos were a big surprise too, and my kids were so thrilled to come home to such a special treat!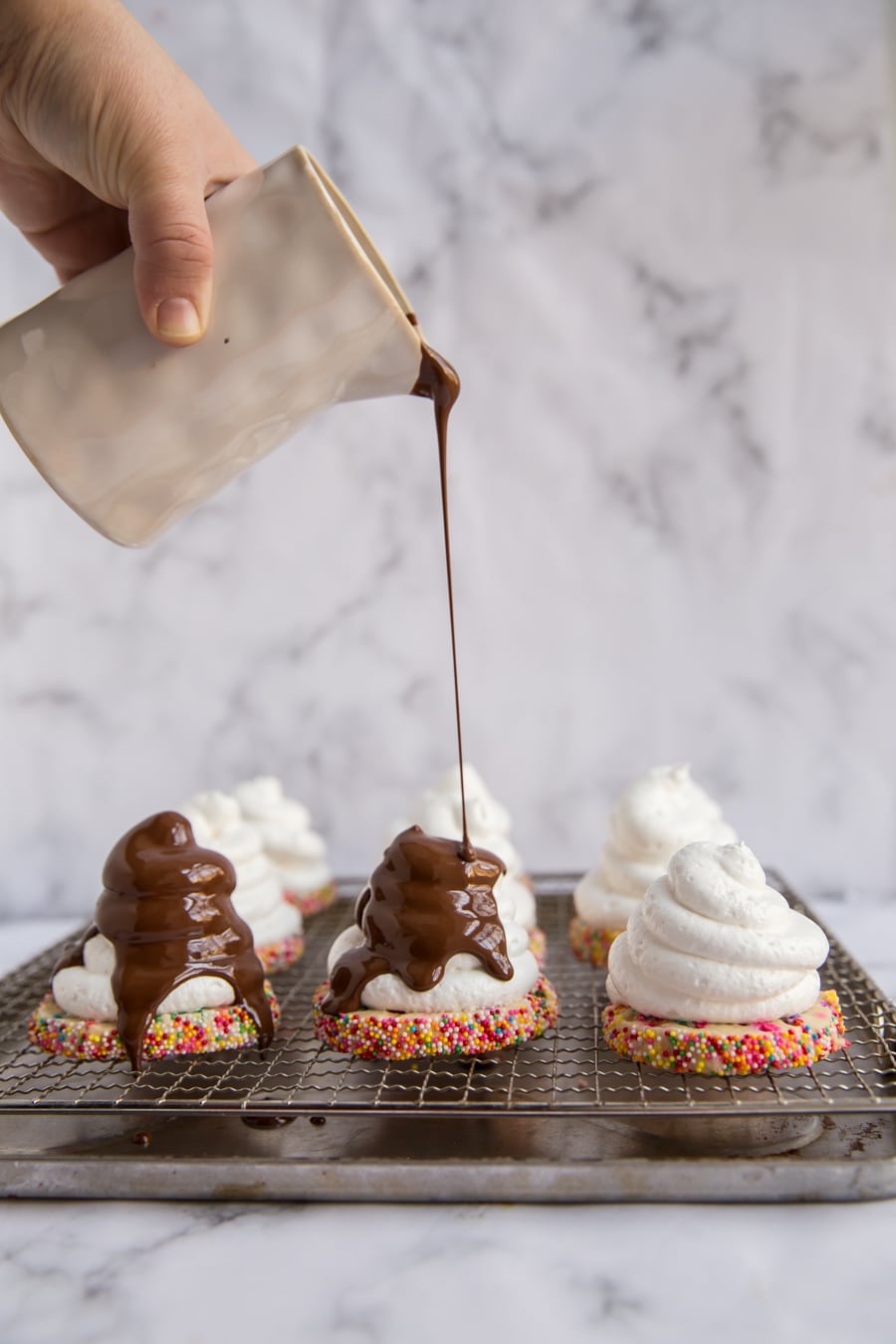 Me? I've never been much of a cream person, I definitely prefer salty over sweet, but I love how pretty these turned out, and they are basically a kids cream come true.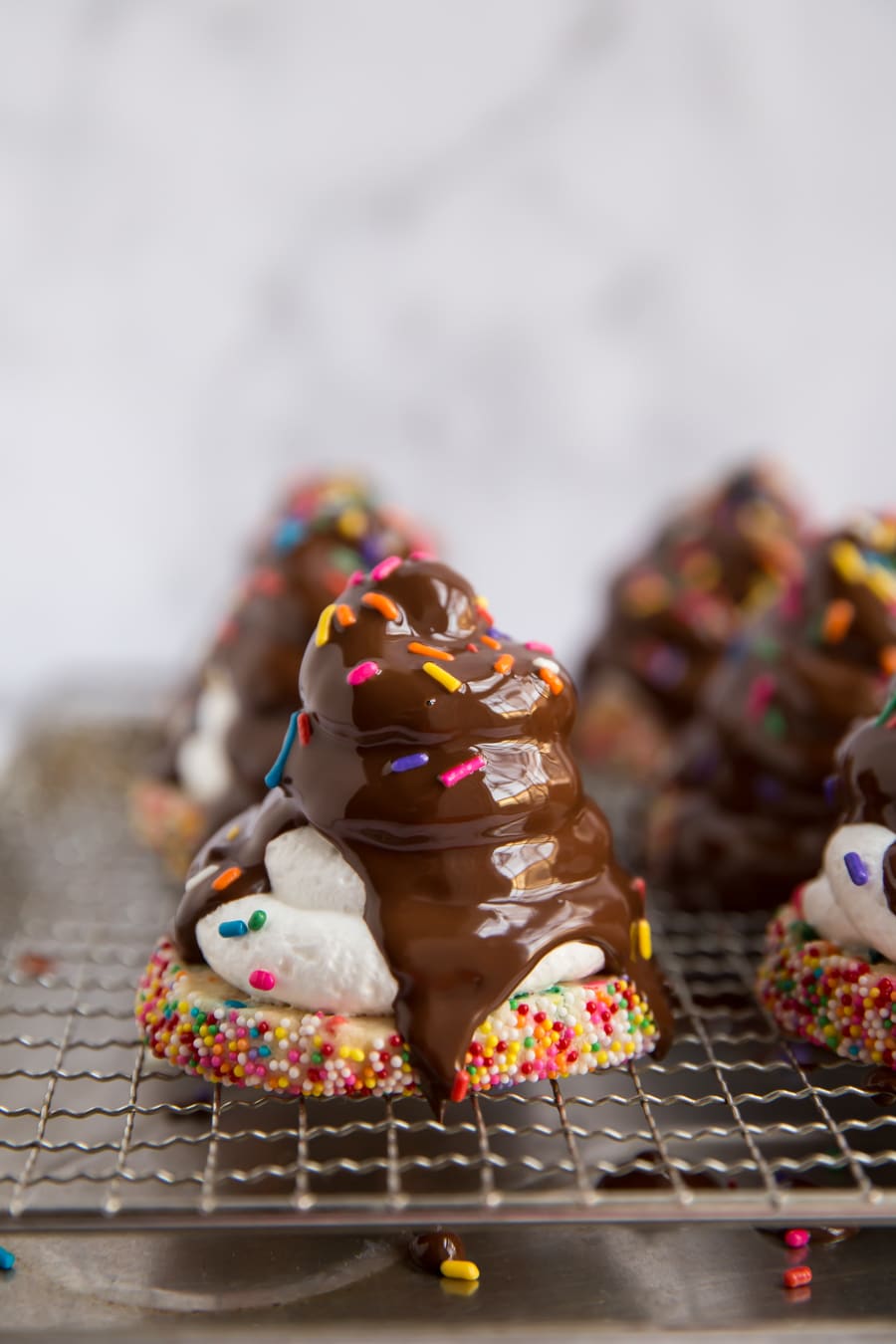 Think about customizing them for a party with your sprinkle color of choice, or just bake up a batch of cookies and roll them in whatever fun toppings you have around.
Thank you for sticking around for 9 wonderful years. To many, many more!!
Funfetti Krembo
Yield: 12 krembo (plus extra cookie dough)
12 funfetti slice and bake cookies
1 recipe meringue cream
1 recipe chocolate magic shell
sprinkles, for garnish
Method:
Place the cream in a piping bag with a wide tip. Pipe onto the cookies, creating a mound. Place the cookies into the freezer for 30 minutes – 1 hour.
Pour the chocolate magic shell into a large mug. Place the cookies on a rack set over a parchment-lined baking sheet. Pour the chocolate over the cookies to coat. Garnish with sprinkles and set aside to harden, or freeze until set.
For the cookies:
YIELD: 24 cookies
1 1/2 sticks butter or trans-fat-free margarine
1/2 cup white sugar
1/4 cup dark brown sugar
1 large egg
1 1/2 tsp vanilla
2 cups flour
1/4 tsp salt
1/2 c sprinkles
1/3 cup nonpareils
In a large bowl using a hand-held mixer, beat the butter and sugar until creamy. Beat in egg and vanilla, scraping down the sides of the bowl as needed. Add in the flour and salt and beat until fully combined. Add in the sprinkles.
Turn the dough out onto a work surface and divide into two. Shape each half into an 8-inch log, about 2.5 inches in diameter. The measurements don't have to be exact. Tightly wrap the logs in plastic wrap and chill in the freezer for one hour.
Preheat oven to 350°F. Line a baking sheet with parchment paper.
Remove 1 log (or both, if desired) from the freezer and roll into nonpareils. Slice into about 12 equally thick cookies and place on baking sheet about 2 inches apart. Bake the cookies for 12-15 minutes or until lightly browned around the edges. Cool completely.
For the meringue cream:
1 cup sugar
⅓ cup water
½ teaspoon fresh lemon juice
4 egg whites
1/2 tsp vanilla extract
Place the sugar, water, and lemon juice in a small saucepan and dissolve completely over low heat. Simmer until a candy thermometer reads 235°F.
While the sugar is heating, whip the egg whites with an electric mixer until foamy. Once the syrup is ready, carefully and slowly drizzle the syrup into the mixing bowl with the egg whites while the mixer is running. Add the vanilla. Keep whipping the whites until the mixture is stiff and glossy, 5 to 7 minutes.
For the chocolate magic shell:
8 ounces chocolate chips
2 tablespoons coconut oil
Melt the chocolate chips and coconut oil over a double boiler, or in the microwave. Stir until smooth.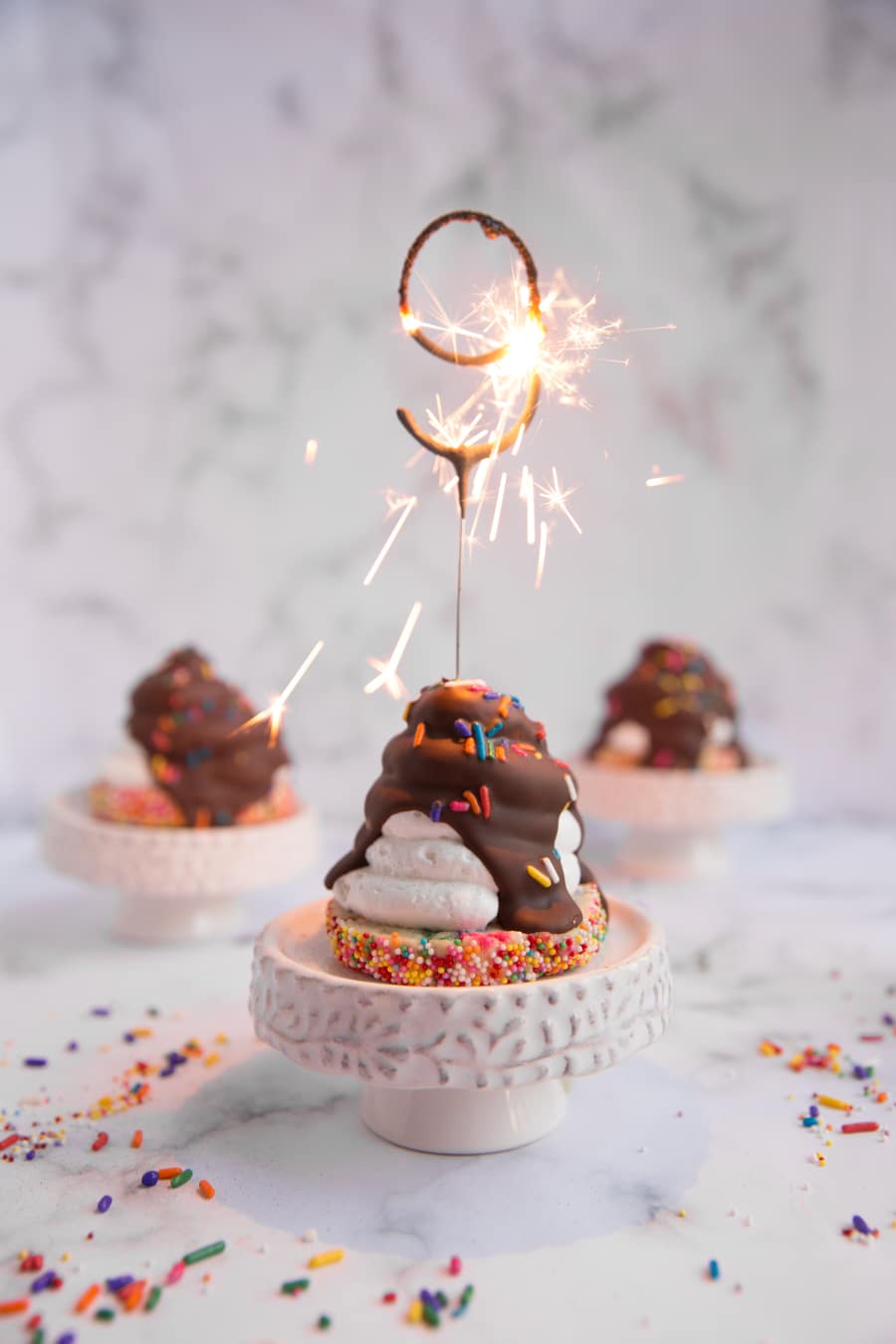 Related Posts:
8th Blogoversary} Funfetti Tart Number Cake
7th Blogoversary} Funfetti Rice Krispie Bites
6th Blogoversary} Funfetti Raspberry Palmiers
5th Blogoversary} Funfetti Pecan Turtles
4th Blogoversary} Funfetti Cake
2nd Blogoversary} BBQ Brisket
1st Blogoversary} Mulled Wine