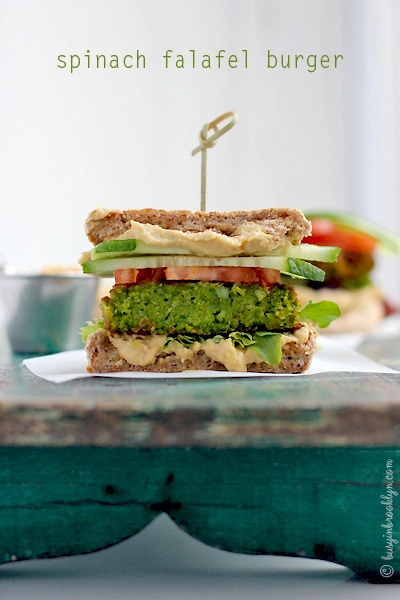 I'm pretty particular about how I like my falafel. And if you're a true falafel lover, then I'm sure you are too! My first falafel rule of thumb is: it's got to be GREEN!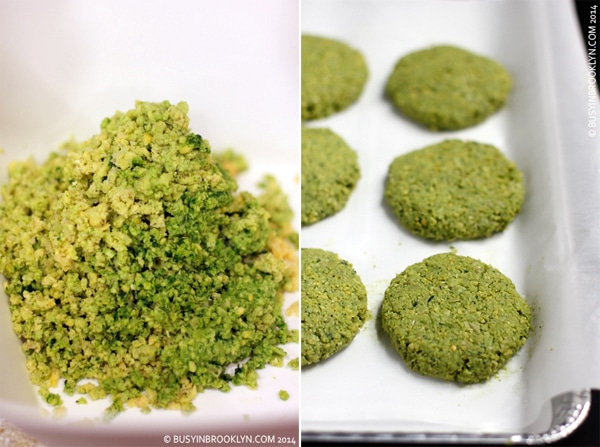 Green falafel means it's got a lot of herbs mixed in, which make them incredibly moist. If they're too beige, they almost certainly have flour added, which makes them especially dry. The worst thing about dry falafel is that it gets stuck in your throat and you're almost choking on the cardboard bits. YUCK.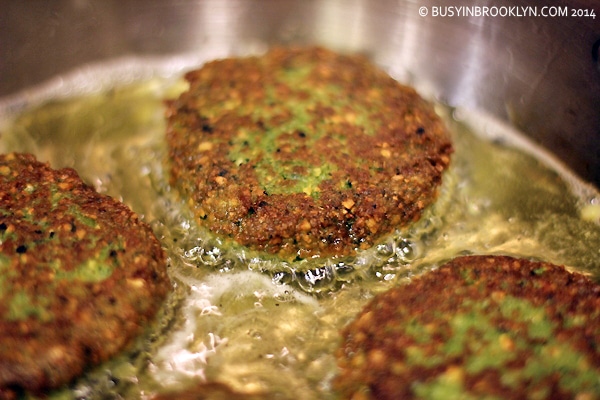 That's the other thing about falafel – it's got to be fried. Baked falafel just isn't the same! It's the same thing with donuts. If you're gonna have a donut, then have a donut. Just don't bake it and squeeze the life out of the crispy fried donut dream.
And I'm not just saying it. I know because I put this recipe to the test – baked vs. fried. Sure the baked falafel patties were edible. A bit crispy, even. But they didn't stand a chance near the uber crispy fried ones – with a moist and fluffy center and the crunchiest crust you've ever had.
You're probably wondering where I came up with the idea of making spinach falafel. Well, I'll tell you. My husband and I are both seriously averse to cilantro. It's good that we're on the same page about it, because otherwise we'd be having a fight every time I make Pad Thai. But there's another issue too. My husband doesn't like parsley either. And I do. So when it comes to dishes like falafel (especially green falafel), what's a girl to do? Especially a girl with a cardinal rule of green falafel. She adds spinach (and sneaks in a little parsley!)…just don't tell the hubby ;)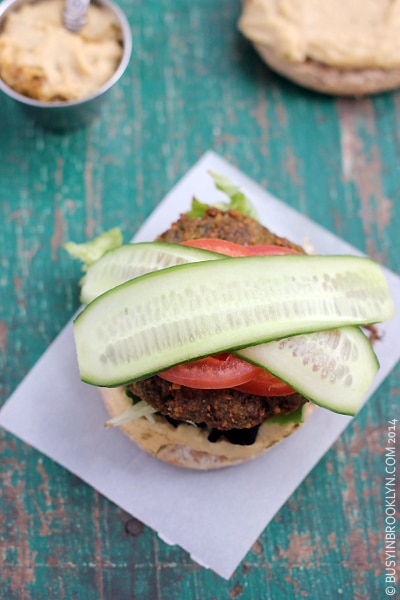 Spinach Falafel Burger
1 lb dried chickpeas (garbanzo beans)
1 1/2 cups baby spinach (lightly packed)
1/2 cup parsley
3 cloves garlic
1 lg onion, chopped
2 1/2 tsp coriander
2 1/2 tsp cumin
2-3 tsp kosher salt, or, to taste
1/2 tsp baking soda
1 tsp fresh squeezed lemon juice
light olive oil or canola oil, for frying
sliced cucumbers and tomatoes, for serving
hummus and/or tehina, for serving
burger buns, for serving
Method:
Soak the chickpeas in water (they should be covered by 3-4 inches) overnight, or for at least 12 hours. Rinse and drain well. Working in batches (I do half at a time), add chickpeas, spinach, parsley, garlic and onion to a food processor and pulse until the mixture is very finely minced, but not pureed (it should have a bit of texture). Scrape down the sides of the bowl as you are working so that the mixture is evenly chopped. Place the processed bean mixture in a bowl and add the coriander, cumin, salt, baking soda and lemon juice. Refrigerate for 30 minutes (don't worry if the mixture seems wet/loose, it will stiffen up a bit in the fridge).
Fry a small patty in hot oil and taste to check seasoning. Adjust, if needed. If the mixture still seems too loose and appears to be falling apart, add 1 tbsp of flour at a time until it stiffens up (I prefer garbanzo bean flour to keep it gluten free) .
Divide the falafel batter into patties. Heat enough oil in a frying pan, so that it reaches halfway up the sides of the falafel burgers. Fry until deeply golden and crisp on both sides and drain on a rack set over a baking sheet. It's a good idea to line the baking sheet with paper towels to absorb any drips (if you drain the patties directly onto the paper towels, they won't remain as crisp).
Spread hummus or tehina over burger buns and top with falafel patties. Garnish with cucumber and tomato.
VARIATION:  you can sub some of the spinach with cilantro or try using other greens like kale or chard.
NOTE: due to the texture of the falafel mixture, I am not sure if it can be deep fried into balls (it may fall apart). However, you may make mini patties instead. Fry as above.
GRINDING OPTION: I tried this recipe using a meat grinder and a food processor and I found that it wasn't necessary to go through the trouble of using a meat grinder. If you are careful about pulsing the mixture while still keeping some of the texture intact, you can definitely use a food processor. However, if you prefer to use a meat grinder, run it through the machine at least twice to get the right consistency.
BAKING OPTION: Although I recommend frying, you may bake them as well. Place patties on a greased baking sheet and brush with oil. Bake at 400 degrees until browned and crispy.
YIELD: OK, I forgot to count how many this made, but it was quite a bit. Feel free to halve the recipe. Or make the full amount and freeze the extra (they freeze really well).