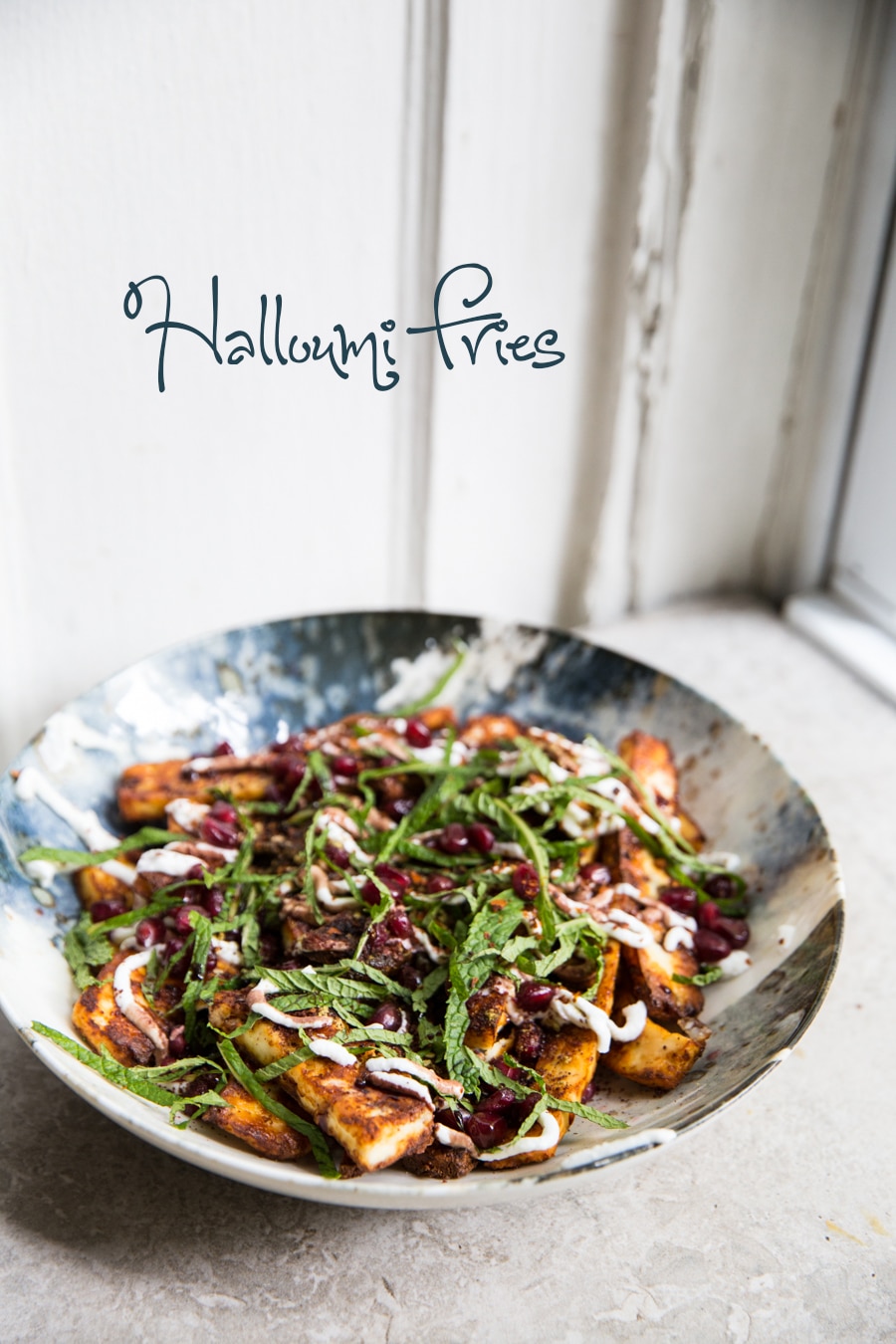 Well it's been just about 8 weeks since my last pre-Passover blog post, which means the holiday of dairy delights, Shavuot, is upon us. I've traveled to Prague, Berlin and London in that time and while I was able to put many feathers in my traveling cap, I am tired.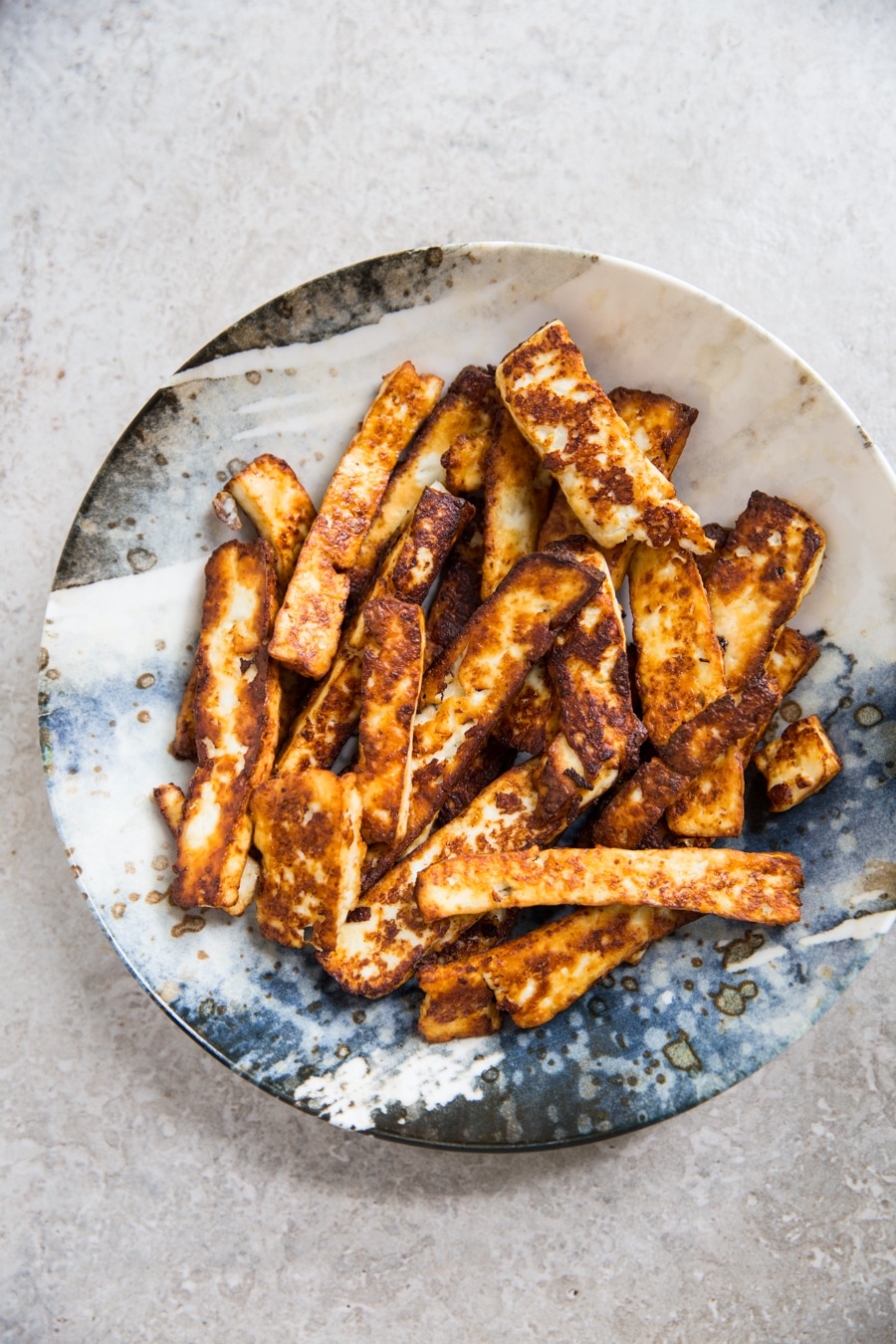 In between traveling, I've been editing and re-editing the manuscript for my upcoming cookbook, so when it comes to cooking, I'm a bit burnt out creatively! I've been drawing a lot of inspiration from my trips, like these Halloumi Fries which they sold in Camden Market in London, and I was determined to try them.
Halloumi is like a cross between feta and mozzarella, and the benefit of this cheese is that you can fry it! It's delicious doused in all types of sauces (I had an amazing honey sriracha version at Kanteen in London) – but this Middle Eastern take really appealed to my tastes.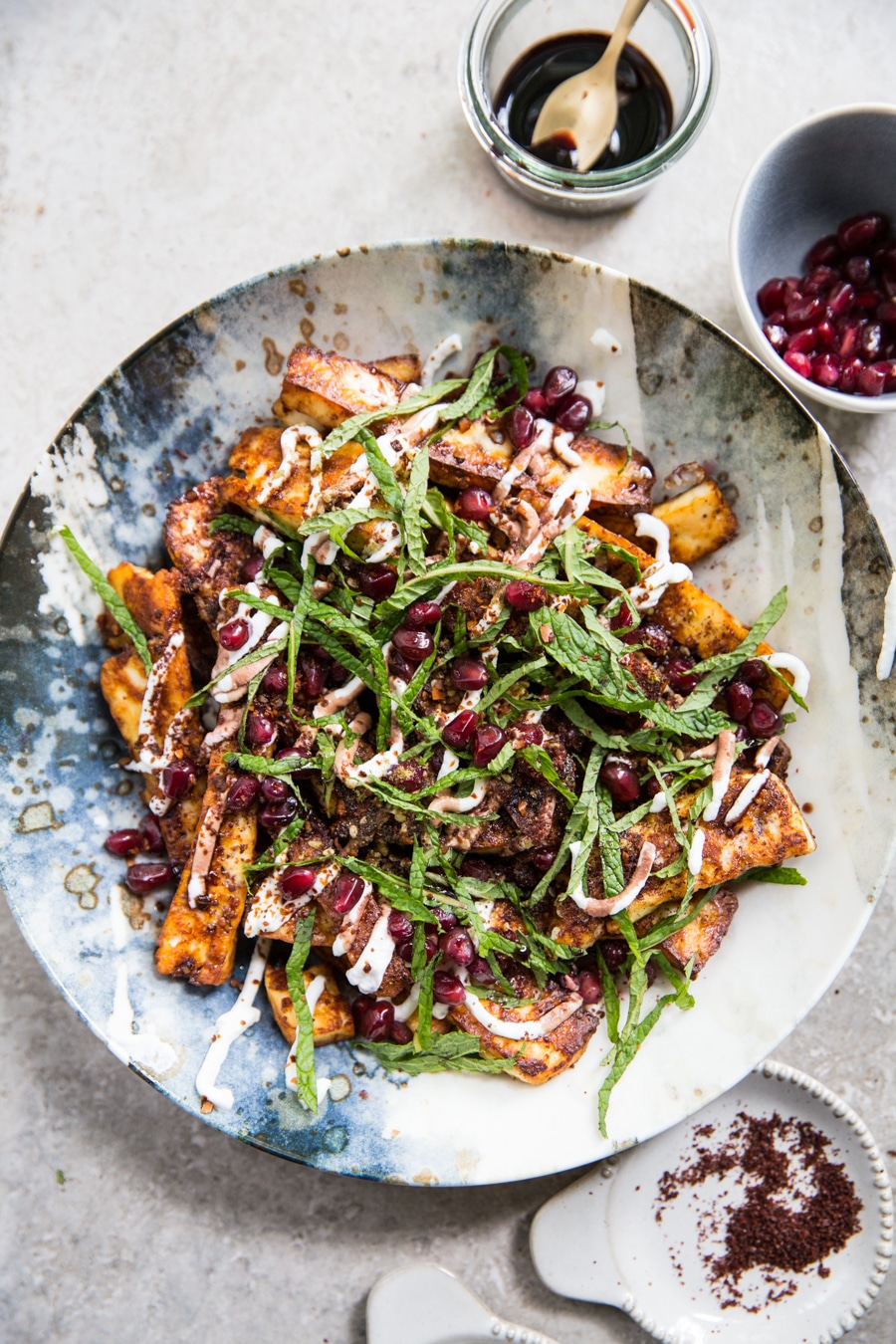 I don't know what I loved better about making these – getting back behind the camera, and styling the shot or getting to eat it for lunch! I miss blogging and wish I had more time for it these days – but thank you for always coming back here and supporting BIB, I appreciate you!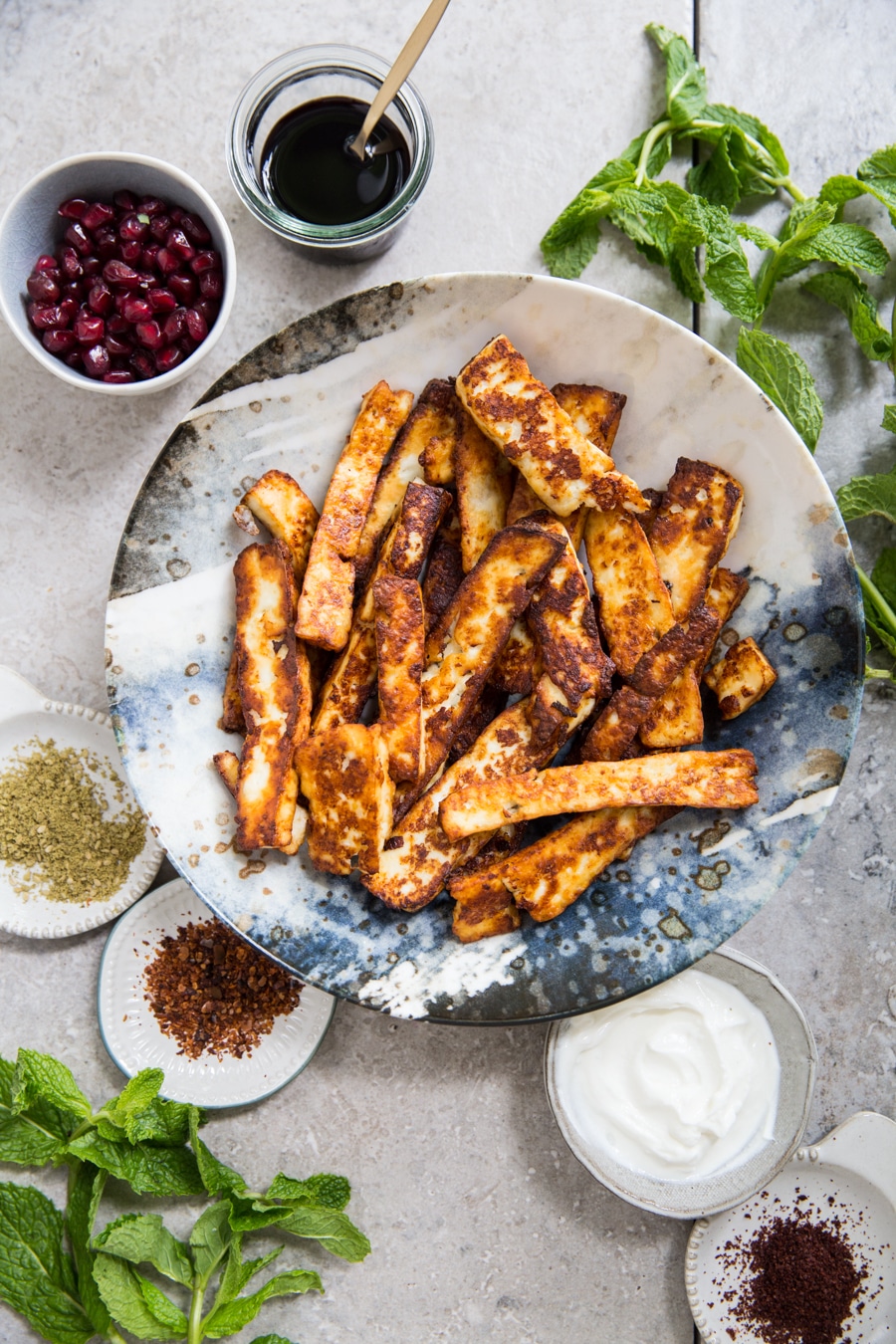 Wishing you a Chag Sameach! XOXO
Halloumi Fries
1 pkg halloumi cheese, cut into 1/3″ thick strips
canola oil, for frying
for topping:
labneh or yogurt
pomegranate molasses
za'atar, sumac and Aleppo pepper
fresh mint
Method:
Heat 1″ of oil in a frying pan and fry the halloumi cheese in batches until golden brown and crispy. Drain on paper towels and transfer to a serving plate. Drizzle with yogurt, pomegranate molasses and top with za'atar, sumac, Aleppo pepper, pomegranate seeds and fresh mint. Serve warm.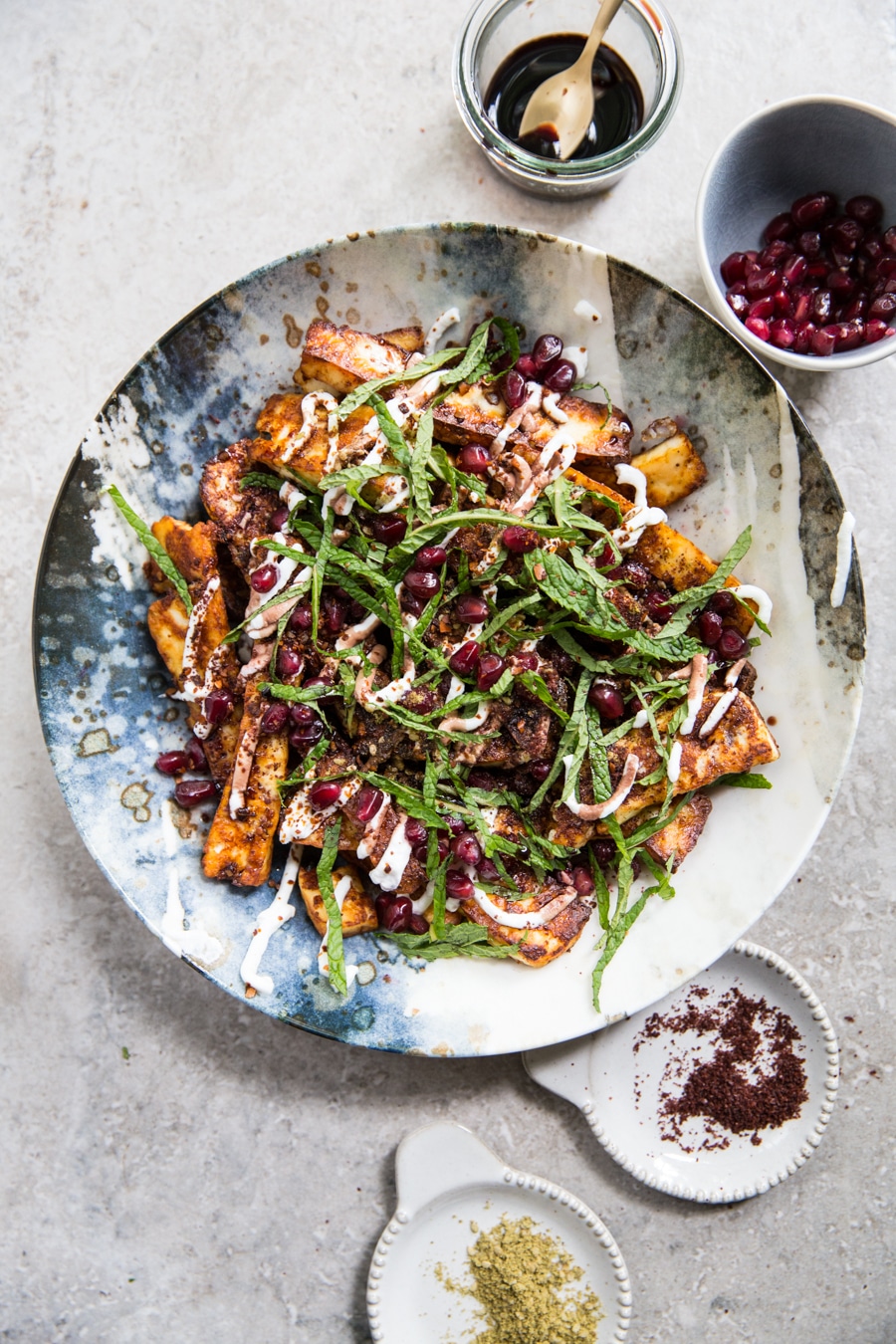 Related Recipes:
halloumi waffles with tomato jam and balsamic syrup
Greek salad with feta croutons
camembert en croute salad
brie marsala pizza