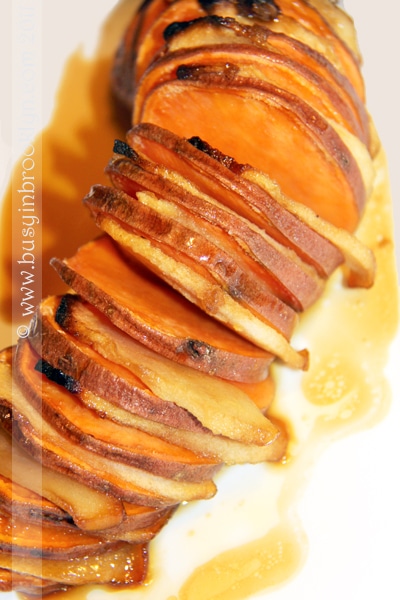 Hassleback potatoes are the Swedish version of a baked potato, and are named for Hasslebacken, the Stockholm restaurant where it was first served. Traditionally, hassleback potatoes are made with white potatoes and are sometimes stuffed with garlic cloves. I came up with this sweeter version, using thin slices of apples, and topping it off with some sweet maple syrup and a sprinkle of brown sugar. The sweet potatoes came out soft on the inside, and crispy on the outside while the apples caramelized and crisped around the edges. With the autumn colors, rustic styling, and sweet taste, hassleback sweet potatoes make the perfect accompaniment to your Thanksgiving feast!
Hassleback Sweet Potatoes
4 organic sweet potatoes
2 crispy sweet apples, such as honeycrisp
3 tbsp butter or margarine, melted
1/3 cup dark brown sugar
1/4 cup maple syrup
kosher salt
Method:
Preheat oven to 400 degrees. Scrub potatoes well and pat dry. Lay them flat on a cutting board and set one chopstick on each side. The chopsticks will ensure that you don't cut all the way through. Starting from one end, make slits about 1/8″ thick. Peel and core apples and slice very thinly. Place apple slices in between each slit in the potatoes. Brush potatoes with butter and sprinkle with brown sugar. Drizzle with maple syrup and finish with a sprinkle of kosher salt. Bake, uncovered for about 1 hour, until the insides are cooked through and the outsides are crispy. If the apples begin to burn around the edges, and the sweet potatoes are still not soft, cover the pan with foil to prevent more burning.