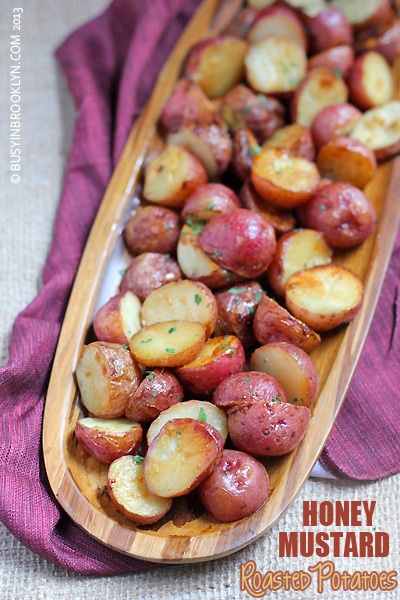 This is one of those recipes where you whack yourself over the head and wonder, "why haven't I thought of this sooner?"
Potatoes are my thing. I just can't get enough. I'll eat them any way, pretty much. But sweet? who would have thunk it? I mean sweet potatoes are usually reserved for "sweet potatoes". But these little starchy red pillows need to be savory. Some thyme or rosemary and fresh garlic – now that's a good roasted potato, right? Wrong.
Don't mistake these for over-the-top sweet. They've got just enough honey to caramelize the edges without being cloying. Plus, the garlic, onion and mustard give it that savory quality that makes for the perfect balance.
CASE IN POINT: I've got two daughters. One loves honey to the point that she was dipping her finger in the jar during every Rosh Hashanah meal. The other one things it tastes like raisins. And she doesn't like raisins. When I made these potatoes, my honey-loving daughter couldn't get enough. She kept telling her sister how amazing they tasted. But my honey-hating daughter wouldn't hear of it. She likes her potatoes prepared as simply as possible. Preferably just potato – cooked. Now somehow, some way, we got her to try one. And her eyes lit up. And then she grabbed her fork.
So there. Honey mustard roasted potatoes. For those that love sweet. And those that love savory.
Happy Holidays!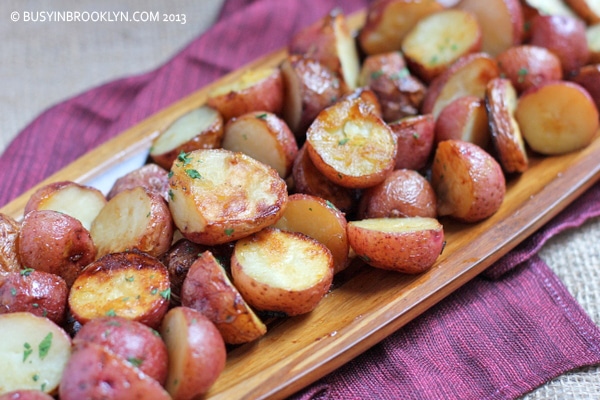 Honey Mustard Roasted Potatoes
2 lbs red potatoes
2 tbsp olive oil
1/2 tsp onion powder
1/2 tsp garlic powder
1/2 tsp mustard powder
1-2 tbsp honey
kosher salt, to taste
Method:
Preheat oven to 400 degrees. Wash potatoes well and pat dry. Cut in half and place on a baking sheet. Add remaining ingredients and stir until potatoes are well-coated. Bake, uncovered, for 45 minutes – 1 hour, stirring occasionally.