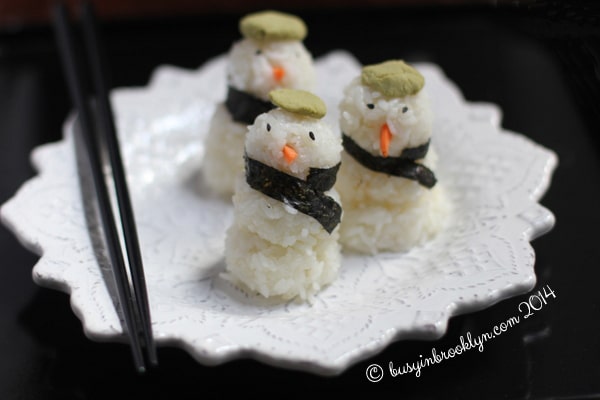 OK so I like to play with my food. Is that such a bad thing? I mean, would you look at these cute little guys? Don't you just want to eat them up?! I don't know why I can't just eat regular sushi like everyone else. If I'm not making this sushi salad, I'm whipping up sushi hamantaschen or sushi candy. Somebody save me from my sushi obsession!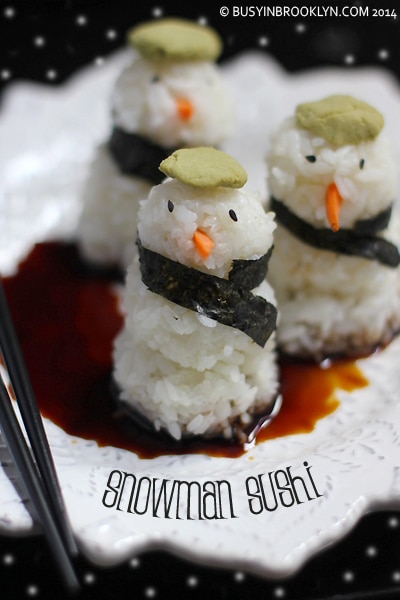 And when I set my sights even higher, I make things like this incredible 3-tier sushi wedding "cake".  I made it for a charity fundraiser a few years ago, and people walked right past it thinking it was covered in fondant. The rose is made of pickled ginger and the leaves are molded from wasabi paste. Each layer is filled with a different vegetable and wrapped in nori "ribbon".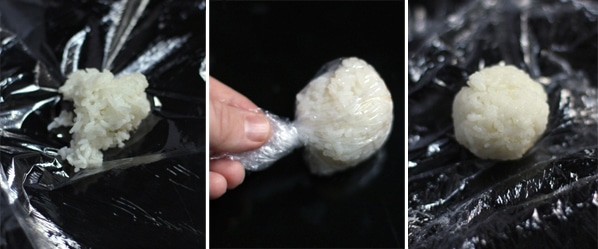 The thing about sushi is – it's sticky. So sticky, in fact, that when you try to work with it, it gets glued to your fingers. The trick is, to let some plastic wrap do the work for you. Just squeeze as tight as you can and the rice will mold itself into whatever shape you wish. And right now, I wish for adorable sweet little snowmen!
Snowman Sushi
1 cup sushi rice, cooked according to package directions
1 sheet nori
1 small carrot
wasabi powder
black sesame seeds
soy sauce
fillings of your choice such as kani, sushi-grade tuna, umeboshi etc.
Method:
With wet hands, take a small handful of rice and place it on a piece of plastic wrap. If you wish, you may add fillings to the rice at this point. Twist the wrap tightly so that the sushi compacts around the filling. Remove the rice ball and set aside. Repeat with remaining rice and filling.
Layer  three of the rice balls one on top of the other. Cut a strip of nori and wrap it between the first and second sushi balls to resemble a scarf. Decorate the snowman using strips of carrot for the nose and black sesame seeds for the eyes.
Mix some wasabi powder with water to form a paste. Make small flat discs out of the paste and place it on top of the snowman to resemble a beret.
Serve with soy sauce and enjoy!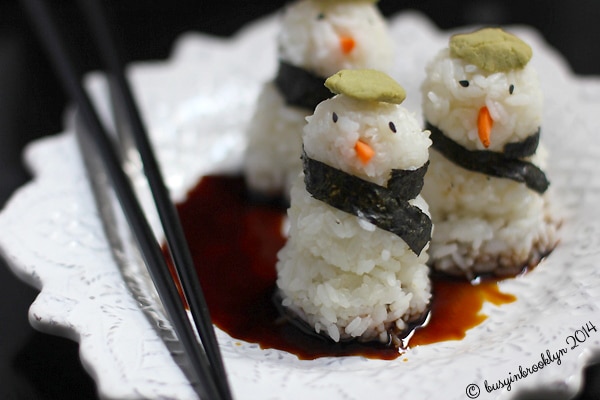 Other Sushi Recipes:
sushi salad
sushi salad II
kani salad
sushi hamantaschen (onigiri)
candy sushi