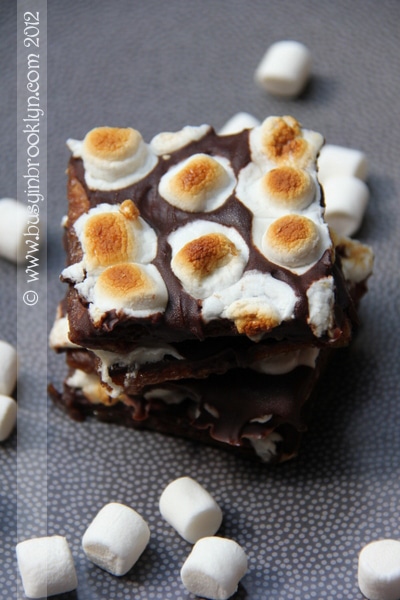 It has been quite a few years since the hype of matza crack (made famous by Marcy Goldman of BetterBaking.com), but the thrill of the chocolate & toffee covered matza cracker has not been lost on me. I can eat it nonstop (that's why they call it crack!) In the spirit of summer and Fourth of July celebrations everywhere, I decided to reinvent traditional matza crack into a s'mores version with graham crackers and marshmallows. Would you believe it if I told you that it's even better than the original?! If there is one dessert recipe that you try from my blog, make it this one, you will not regret it!
Smore's Chocolate Toffee Bark AKA Graham Crack(er) Bark
15 graham crackers
1 cup (2 sticks) unsalted butter or margarine, cut into pieces
1 cup packed light brown sugar
1/2 teaspoon pure vanilla extract
a pinch of sea salt
1 9 oz. bag good quality chocolate chips
2 cups mini marshmallows
Method:
Preheat the oven to 350 degrees. Line a cookie sheet with graham crackers, making sure to fill in any gaps (you can break the graham crackers into pieces to do this).  In a small pan, melt the butter and brown sugar over low heat, whisking the mixture so that it combines into a caramel . Once it has begun boiling, let it bubble for 3-5 minutes, until thickened. Remove from the heat and add the salt and vanilla. Pour the toffee over the graham crackers and spread it over the crackers with a spatula. Bake for 15 minutes. The toffee will bubble as it bakes but watch carefully to make sure that it doesn't burn (if it starts burning, reduce the heat to 325 or 300 degrees). Remove the crackers from the oven and pour on the chocolate chips. Let it sit for a few minutes until the chocolate melts, and spread over the caramel. Sprinkle the marshmallows over the chocolate and place under the broiler (set to high) for approximately 3 minutes, until the marshmallows start to brown. Remove the crackers from the oven and with a spatula, press down lightly on the marshmallows so that they melt into the bark a bit.
Place the bark in the fridge or freezer to set for a few hours. Once it has set completely, break into pieces. Place in a container with layers of parchment paper between the pieces to keep them from sticking together. I find that it keeps better in the fridge (especially in the summer), but it will keep for up to 1 week when tightly sealed (I doubt it will last that long though!)
Variation: To make matza or saltine bark, just use matza or saltines instead of the graham crackers. Top with toffee, chocolate and then sprinkle with nuts (sliced almonds, pecans, walnuts or whatever you prefer).
NOTE: I used a disposable cookie sheet, but if you are using a sheet pan, it might be a good idea to line it with foil and/or parchment paper for easier clean up.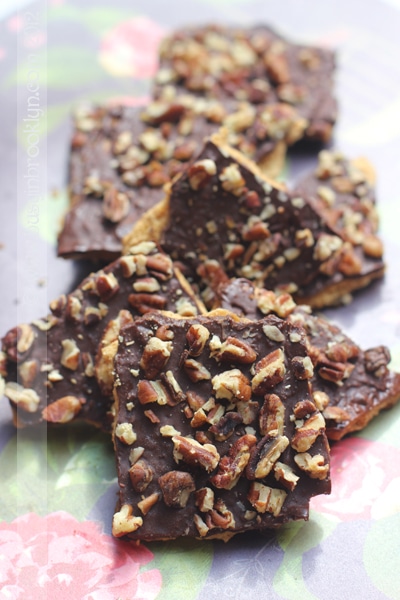 Saltine bark made with pecans, another favorite!
1 year ago: grilled chickpea burgers
Post a Comment