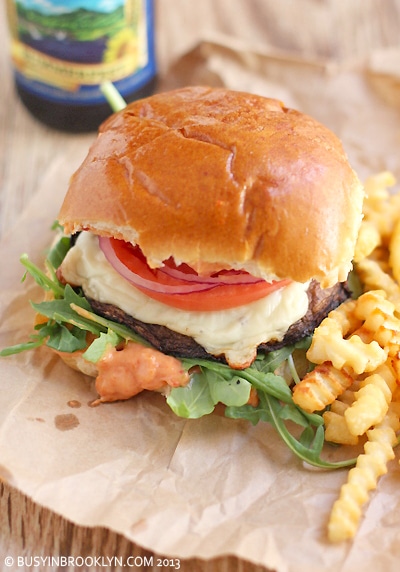 When Dena from Chai & Home contacted me about a collaboration between Jewish bloggers to celebrate summer recipes, I was more than happy to join the team. I love the opportunity to work with and promote other bloggers, especially those that share the same traditions and customs as me. "A Very Jewish Summer Week" has been underway since Monday, with fun and exciting posts ranging from tablescapes to summer camp packages.
You can join in on the fun, by visiting the following blog posts:
Monday: Evoking Childhood Shabbat Memories on YentaMamas
Tuesday: Shabbat Style: Alfresco Orange Tablescape on Chai&Home
Wednesday: Summer Camp Care Packages on MadeByMamaleh
Thursday:  Grilled Portobello Burgers with Sundried Tomato Aioli by ME ;)
Friday: Ceviche & Champagne on Bisstyle. English translation here.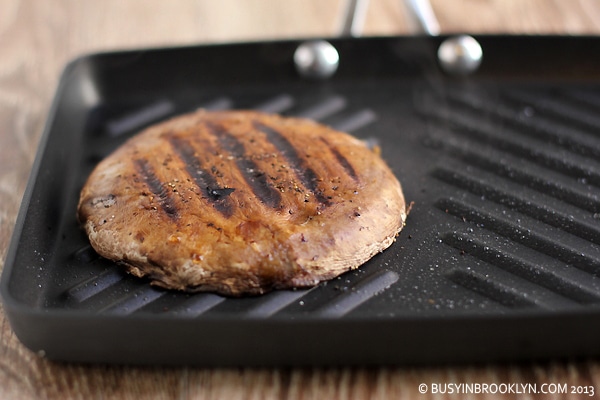 When I thought about what kind of recipe to post as part of a weeklong summerfest, I just knew it had to involve grilling. It doesn't hurt that my newly purchased grill pan was waiting to be broken into! Well what better way to celebrate "A Very Jewish Summer Week" than with the  quintessential American summer food – burgers. Burgers, especially grilled ones on the BBQ, are a summer staple in our culture. When you think of summer BBQ's – burgers and hot dogs are the very first things that come to mind. They cook up rather quickly on a hot grill, and paired with some fresh lettuce, tomato and onion, make the perfect summertime meal.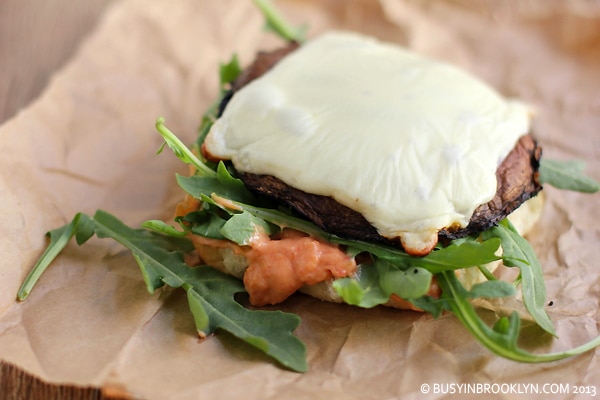 The only problem with featuring an authentic burger on "A Very Jewish Summer Week" is that as an observant Jew who keeps kosher, cheeseburgers are a no-no (we don't eat milk and meat together). I've never been to McDonalds or Burger King, and I've never tried a slice of melted cheese on a beef patty.
So what's a kosher blogger to do? I decided to celebrate both my Jewishness, and the joy of Summer BBQing with something even better. A grilled portobello burger with all the fixings. With the Nine Days (a period of mourning in which observant Jews abstain from eating meat). soon approaching, we'll be thankful for this delicious vegetarian take on a summer classic!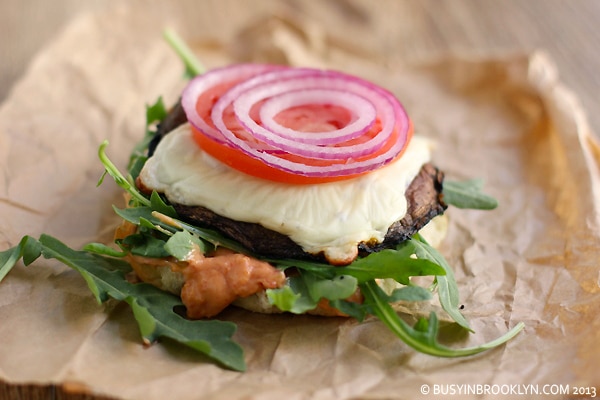 Now, back why you're all here. The burger. I decided on a portobello mushroom cheeseburger because thick and meaty portobellos are the perfect stand-in for beef in a vegetarian sandwich. They also lend themselves really well to grilling. To take this vegetarian burger over the top, I topped it off with some sundried tomato aioli, the perfect complement to grilled mushrooms. The addition of mozzarella cheese, beefsteak tomatoes, bitter arugula and red onions leaves nothing behind. One bite of this heavenly sandwich and you'll forget what meat burgers are all about!
UPDATE 10/2/13: This recipe won 2nd place in The Mushroom Channel's Swap It or Top It Contest. To watch me make the burger for News 12 Brooklyn, click here.
Grilled Portobello Burgers with Sundried Tomato Aioli
portobello mushrooms
olive oil
salt & pepper, to taste
mozzarella cheese
arugula
beefsteak tomato
red onion
burger bun
sundried tomato aioli, recipe follows
Method:
Heat up your grill pan until it's nice and hot. Lightly clean the mushrooms and brush with olive oil. Season with salt and pepper. Grill for approximately 5 minutes per side. While the mushroom is still on the grill, top with slice of mozzarella cheese.
If desired, toast the burger bun on the grill. Top with sundried tomato aioli, arugula, portobello mushroom with cheese, tomato & red onion.
VARIATION: For added flavor, you may marinate the mushrooms for several hours in some Italian dressing, garlic-infused olive oil, or any marinade of your choice.
Sundried Tomato Aioli
1/2 cup mayo
3 sundried tomatoes packed in olive oil
1 tbsp olive oil from sundried tomato jar
1 clove garlic
juice of 1/2 lemon
s&p to taste
Method:
Add all ingredients to a blender or food processor and puree until smooth.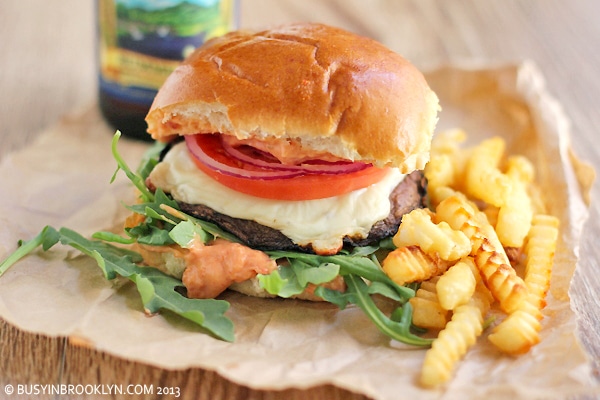 1 year ago: kid-friendly dirty rice
2 years ago: easy strawberry shortcake