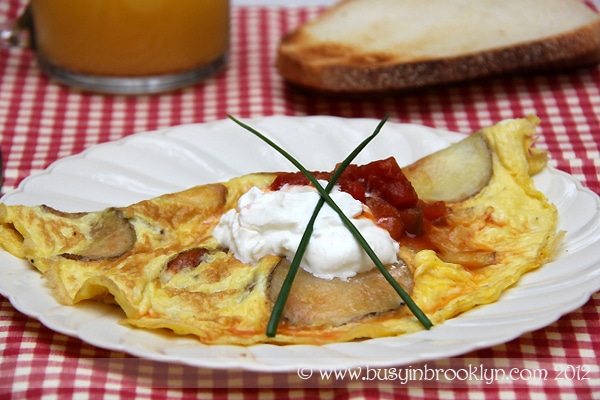 Potatoes have got to be my all time favorite food. I'll eat any type of spud, in just about any preparation. I can't say the same about eggs though. I don't especially love omelettes, (I prefer sunny side up) but because these have potatoes in them, I kind of forget about it. You can use any type of potatoes in these, or even some leftover french fries. Top it off with your favorite baked potato toppings like sour cream, salsa, chives or cheddar cheese for the authentic baked potato experience!
Loaded Baked Potato Omelette
1 russet potato
2 eggs
salt and pepper, to taste
toppings of choice (chives, sour cream, salsa, cheddar cheese)
Method:
Heat up a frying pan with cooking spray. In the meantime, scrub the potato to remove dirt. Dry the potato and slice into rounds. Beat the eggs and season with salt and pepper. Add the potatoes to the pan and cook until softened and browned. Flip the potatoes over and pour in the eggs. When eggs are browned and set, flip the omelette over and cook on the opposite side. Remove from pan and garnish with desired toppings.
1 year ago: strawberry rhubarb soup