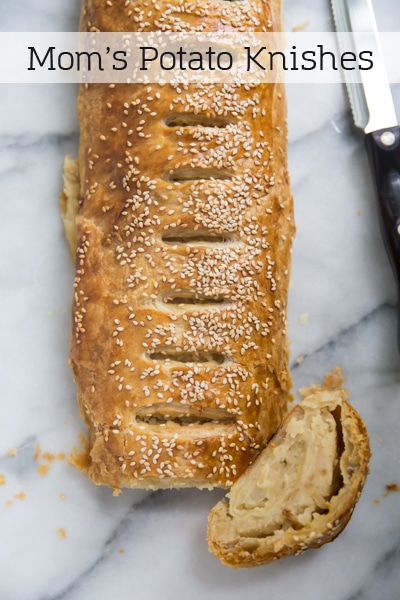 As a recipe developer, it's not often that I make other peoples recipes, and when I do, it's often ones that have been in my family for years. I usually find myself cooking my mom's dishes around the High Holidays – there's just something about the Days of Awe that makes me want to connect to my roots, and how more so than with food.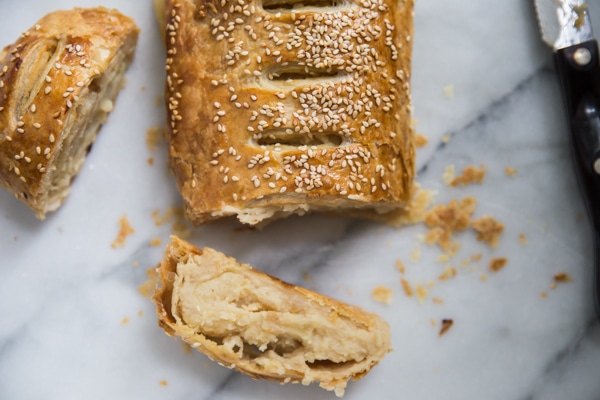 Mom's potato knishes are a staple at every holiday meal, and it has always been my favorite, because, well… potatoes. It's probably the only time you'll see me using margarine – EVER – because coconut oil just doesn't fly here and to keep the knishes pareve, I've got no other choice. Plus, puff pastry is basically 80% margarine anyway, so what's a little more, amiright?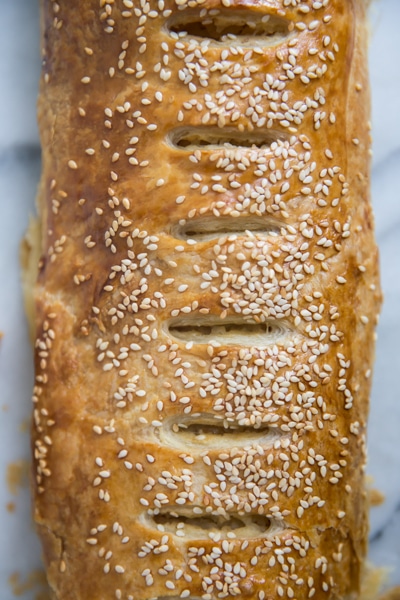 What I love about this recipe is that the filling makes enough to fill 3 whole rolls and they freeze great! And since they're frozen unbaked, they taste like you just made them when you bake them up before serving. = a perfect recipe for long holidays like Succos coming up! If you have a custom to eat stuffed foods for the Harvest Holiday, I've got you covered there too!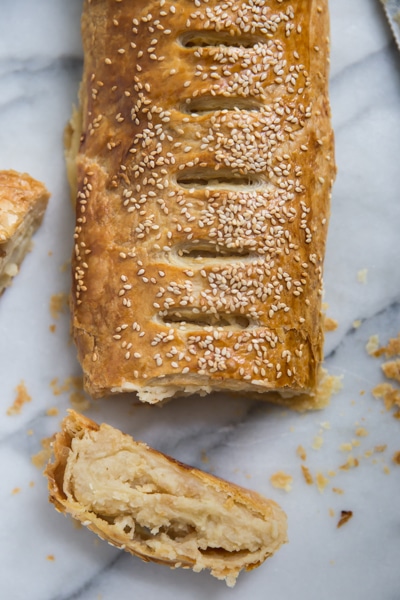 Mom's Potato Knishes
8 russet potatoes, peeled and diced
3 medium onions, sliced into half moons
3 tbsp olive oil
2 eggs
1/2 stick trans-fat-free margarine
salt and pepper, to taste
3 sheets puff pastry, thawed
1 egg + 1 tbsp water, for egg wash
1-2 tbsp sesame seeds
Method:
Preheat oven to 375 degrees.
Add the potatoes to a pot and cover with salted water. Bring to a boil and simmer until the potatoes are fork tender. Drain well.
While the potatoes are cooking, heat the olive oil in a large skillet. Add the sliced onions and saute until deeply browned and caramelized.
Using a potato masher, mash the potatoes until no lumps remain. Add margarine, onions, salt and pepper. Once the mixture is cool, add in the eggs and stir until creamy.
Unfold the puff pastry onto a sheet of parchment paper and roll it out to form a large rectangle. Spread the potato mixture over it and starting from the longer side, roll up the pastry like a jelly roll with the seam on the bottom. Lift the parchment paper and place the roll on a baking sheet. Brush with egg wash and sprinkle with sesame seeds. Cut slits into the pastry and bake until puffed and golden brown.
Repeat with remaining puff pastry and potatoes.
NOTE: This recipe can be prepared 2 days ahead. Cover and refrigerate before baking. Brush with egg wash and sprinkle with sesame seeds before baking. Alternatively, you can freeze the roll before baking, brush with egg wash and sesame seeds and bake frozen.
VARIATION: You can also try this with sauteed cabbage to make cabbage knishes or sauteed mushroom and onions.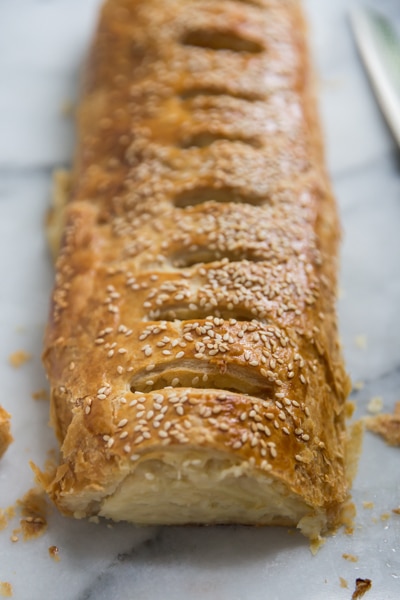 Related Recipes:
cabbage bourekas
deli roll
spanakopita bourekas
salmon en croute with creamed leeks