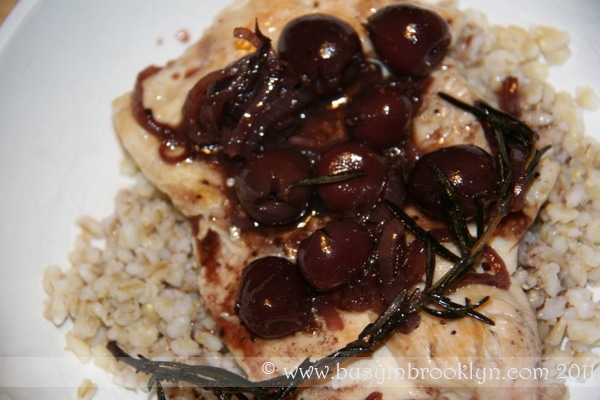 So I figure I've pushed this off long enough! For as long as I can remember, my husband, family, and friends have been encouraging me to start my own blog. Of course, I procrastinated. Then, I looked for excuses. I'm not a gourmand. Nor a professional photographer. I can't, I don't, I'm tired!!! And so weeks turned to months and months into years, and so many beautiful dinners have gone lost in the wind (but not on the scale!) Finally, I've decided to do as Nike says, and just "do it!". So here I am. Typing my first blog post…
Without further ado, I give you, tonights supper….
I've long been eyeing the "Turkey Breast with Port Wine Cherry Sauce" recipe from the NEW Jamie Geller cookbook, "Quick & Kosher, Meals in Minutes". (we'll leave the cookbook review for another day). I decided to try it out with chicken breast, and although the recipe pairs it with roasted potatoes, I made some simple barley pilaf instead. The results where a simple, tasty meal that came together quickly.
Chicken Breast with Port Wine Cherry Sauce
adapted from Quick & Kosher, Meals in Minutes
4 boneless, skinless chicken breast cutlets, about 2 lbs.
1 tsp kosher salt
1/4 tsp freshly ground pepper
1 tbsp canola oil
1 shallot, thinly sliced
1/2 c Kedem Port Wine
1/2 c chicken broth
1/2 c canned dark sweet cherries
1 sprig fresh rosemary
Method:
Season the chicken with salt and pepper. Heat oil in a saute pan and add cutlets. Cook for 2-3 minutes on each side, until thoroughly cooked. Transfer to platter and cover to keep warm. To prepare the sauce, add the shallots to the pan and cook for about 1 minute. Add wine, broth, cherries and rosemary. Cook until sauce is reduced by half, about 6 minutes. Pour sauce over the cutlets.