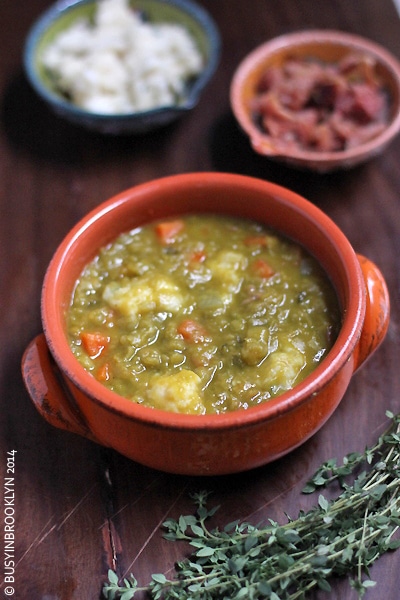 I'm the type of person that crushes on certain foods. Remember my speculoos addiction? Enough said.
My problem is that when I fall for a food, I fall so hard that I eat it the point of being sick.
I remember when I had a thing for those molten chocolate cakes (you know the ones that are on EVERY restaurant dessert menu). I ate my way through so many (I may or may not have been pregnant at the time) that one day, spoon-deep into my chocolate lava explosion, I got so overwhelmingly nauseous (I may or may not have been pregnant at the time) that I couldn't take another bite. Ever. Seriously – If you so much as put that thing near me, you'll need to bring an emesis basin with. Enough said.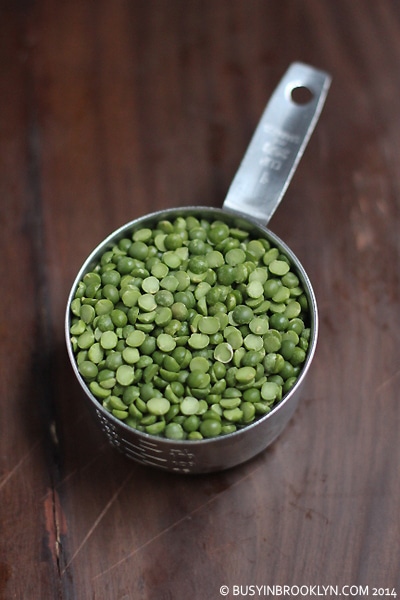 I used to be gaga over split pea soup too. Every time I went out to eat, be it a restaurant or a pizza shop, I'd order one. I just loved how hearty and filling it was. But then one day, I was all split-pead-out. I literally couldn't look at the stuff for years. Me and Mr. Split Pea were estranged, and I moved on to Mr. Lentil.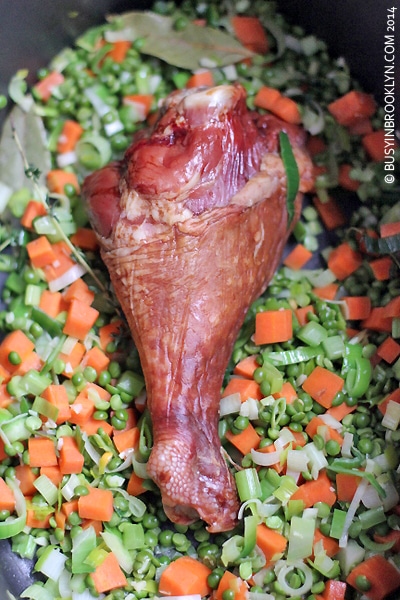 And then, many, many years later (we're talking double digits here), I read about a popular preparation for split peas using ham hocks to impart a smoky flavor to the soup. Of course ham hocks are off the table in my kosher kitchen, but the idea got me thinking, and whetted my appetite for my long lost favorite soup.
I did some research and found that smoked turkey leg would make a good replacement for ham hocks, adding smokiness and flavor to the soup. The results were even better than I'd imagined – smoky and savory with a deep, rich flavor! Braising the turkey leg also made it buttery soft – it's meat fell apart instantly and made a great addition to the soup.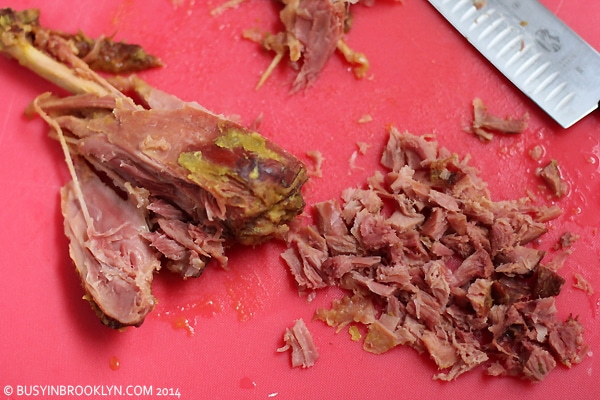 To really up the ante, I added some fresh thyme dumpling that meld perfectly into the soup. The results are so hearty, it's literally a meal in itself.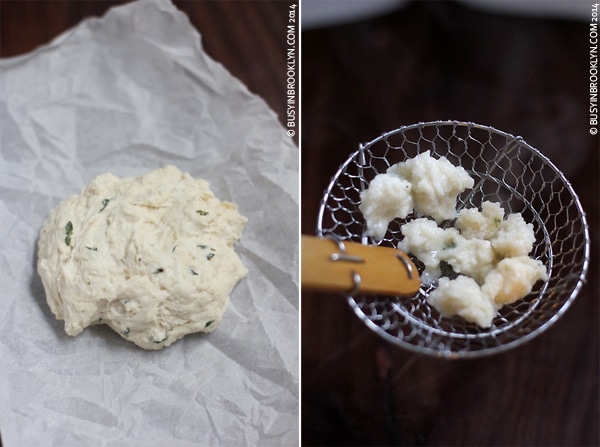 Thanks to this amazing recipe, I'm a born-again split pea fan and I hope you will be too. And don't worry, this time, I'm treading carefully.
Smoky Split Pea soup
2 leeks, white and pale green parts only, chopped
2 large carrots, peeled and chopped
2 stalks celery, chopped
5 cloves garlic, minced
2 tbsp extra virgin olive oil
2 cups split peas, picked over and rinsed
3 bay leaves
5 sprigs thyme
1 smoked turkey leg
4 cups chicken broth
4 cups water
salt & pepper, to taste
Method:
Saute leeks and garlic until fragrant. Add carrots and celery. When they begin to soften, add split peas, bay leaves and thyme and saute for 2 minutes. Place turkey leg into the pot and add stock and water. Bring to boil, lower the heat and simmer for 1 hour. Remove the turkey leg from the soup and shred it into small pieces. Return the shredded turkey to the soup and season with salt and pepper, to taste. Adjust the consistency by adding more water, if desired.
Thyme Dumplings
1 cup flour
3/4 tsp salt
1/2 tbsp baking powder
1 tbsp oil
1/2 cup lukewarm water
1 tbsp chopped fresh thyme
Method:
Whisk flour, salt and baking powder. Add remaining ingredients to form a dough. Drop spoon-sized pieces of dough into salted boiling water and simmer until they rise to the top. Remove with a slotted spoon and add to the  soup.
NOTE: While I prefer to cook my dumplings separately (since not everyone in my house likes dumplings in their soup), you can definitely cook them directly in the soup.
VARIATION: Instead of dumplings, add diced potatoes along with the carrots and celery.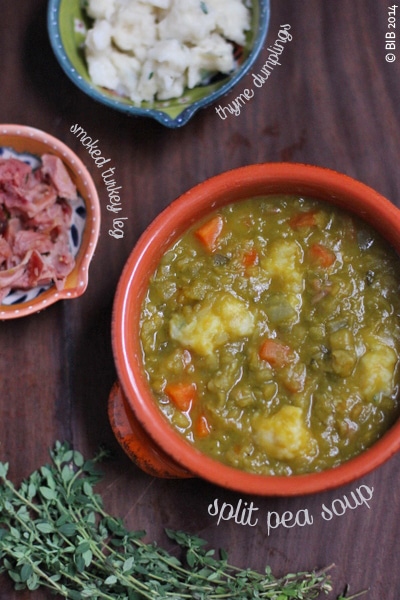 1 year ago: dried fruit brie bites
2 years ago: honey mustard salad dressing
3 years ago: homemade granola